Tata Steel R10: A pretty easy day for Magnus
by Satanick Mukhuty - 22/01/2020
Magnus Carlsen started off the Tata Steel Masters in Wijk Aan Zee with seven draws in a row. But now the World Champion has magically entered plus three and is breathing down the leader's neck just half a point behind. First he beat Nikita Vitiugov in round eight, then he crushed Alireza Firouzja yesterday in his hallmark Boa constrictor style, and today he stunned once again by simply outplaying Vladislav Kovalev in a Queen's Gambit Declined. Magnus falters now and then which only shows he is a human. But everytime he falls, he always seems to return twice as stronger. He does this better than anyone else in the world and perhaps that is why he is the Numero uno!
Magnus Carlsen defeated Vladislav Kovalev to register his third victory in a row in the tenth round of Tata Steel Masters 2020. With back to back victories the World Champion has suddenly soared up the leaderboard and is now in the sole second place just half a point behind Fabiano Caruana."I think today was a pretty easy day", said Magnus after the game, he actually managed to take Kovalev out of the book pretty early on in the game and once the Belarusian was out of his comfort zone, the world no.1 didn't have much difficulty to steer things his way.
After the rest day tomorrow Magnus will be facing Jan-Krzysztof Duda on the 23rd and if his spell continues in this way, it would be hard for Fabiano to maintain his lead. Let's now get into the game without further ado.
Step by step breakdown of Carlsen's round 10 game
Magnus Carlsen - Vladislav Kovalev, Round 10
Magnus chose the very normal 5.Bg5 variation of the Queen's Gambit Declined. Kovalev responded with 5...h6 here and the World Champion simply retreated his bishop with 6.Bf4. This looks a bit unusual but he explained the following after the game: "In some lines h6 is an advantage and in some lines it is a disadvantage but it forces him to think on his own and I think it served its purpose nicely". Therefore, the whole point of Bg5-f4 was to sort of provoke a weakness in Black's structure and take Kovalev out of theory!
The critical moment arose with the move 15.Bb1 intending Qh7#. Black played 15...f5 here but this wasn't wise as it exposed the black king quite precariously. The right move would have been 15...g6 after which 16.Nh4 Nxg3 17.Nxg6 Nf5 18.Nxe7+ Ncxe7 19.g4 Rd8 20.gxf5 exf5 21.Rg1+ Kf8 22.Rxd8+ Qxd8 is how a very interesting line runs.
Analysis Board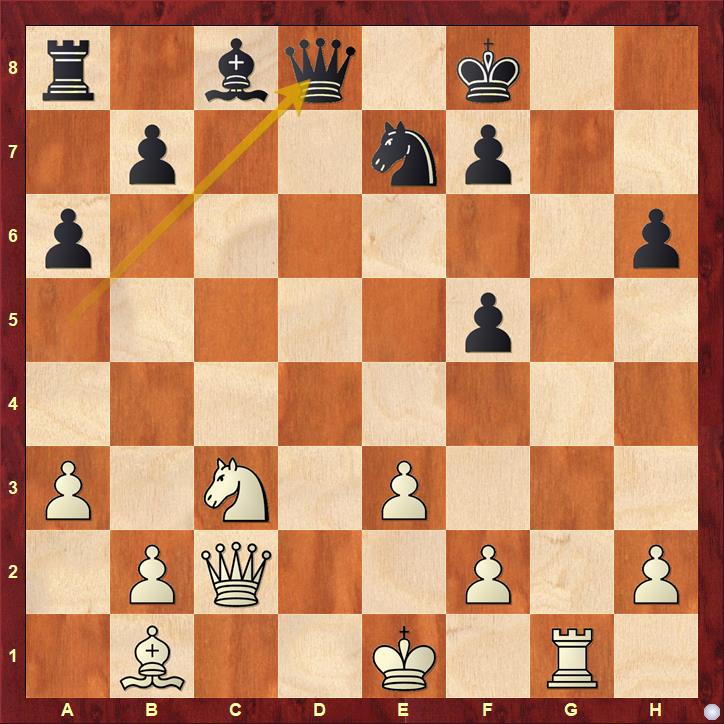 The game followed 16.O-O Nxg3 17.hxg3 Bf6 18.e4 and White prepared to break open the e-file. This was nothing but death for Kovalev, all the more so because he was playing Carlsen!
---
Related news
:
Gukesh, Praggnanandhaa, Vidit, Leon, Harika and Divya will play at 86th Tata Steel Chess 2024

@ 25/11/2023 by Shahid Ahmed (en)
टाटा स्टील 2024 : भारत से गुकेश , प्रज्ञानन्दा और विदित को फिर मिला मौका

@ 23/11/2023 by Niklesh Jain (hi)
Soham Bhattacharyya dominates Tata Steel Chess Festival 2023 Under-19 Rapid

@ 22/09/2023 by Shahid Ahmed (en)
Arpita Mukherjee wins Tata Steel Chess Festival 2023 Women Rapid

@ 18/09/2023 by Shahid Ahmed (en)
Mitrabha Guha dominates Tata Steel Chess Festival 2023 Blitz Open

@ 12/09/2023 by Shahid Ahmed (en)
Alexander Grischuk wins Tata Steel India 2023 Blitz, Praggnanandhaa third

@ 11/09/2023 by Shahid Ahmed (en)
Tata Steel India 2023 Blitz R1-9: Praggnanandhaaa gains sole lead, Vidit in pursuit

@ 08/09/2023 by Shahid Ahmed (en)
Maxime Vachier-Lagrave dominates Tata Steel India 2023 Rapid, Praggnanandhaa third

@ 08/09/2023 by Shahid Ahmed (en)
Tata Steel India 2023 Rapid R4-6: MVL emerges sole leader, A relatively good day for Vidit

@ 07/09/2023 by Shahid Ahmed (en)
टाटा स्टील इंडिया रैपिड : मकसीम नें बनाई एकल बढ़त

@ 06/09/2023 by Niklesh Jain (hi)
Shrayan Majumder clinches Tata Steel Chess Festival 2023 Rating Open convincingly

@ 06/09/2023 by Shahid Ahmed (en)
Tata Steel India 2023 Rapid R1-3: Gukesh shows why he is India no.1 with majestic play against Harikrishna

@ 06/09/2023 by Shahid Ahmed (en)
Wenjun Ju conquers Tata Steel India 2023 Women Blitz, Humpy second and Harika third

@ 05/09/2023 by Shahid Ahmed (en)
टाटा स्टील इंडिया ब्लिट्ज़ - हरिका नें दिखाया दम

@ 04/09/2023 by Niklesh Jain (hi)
Tata Steel India 2023 Women Blitz R1-9: Harika and Wenjun are the coleaders

@ 03/09/2023 by Shahid Ahmed (en)
The 'Dawn of Divya Deshmukh era' starts with a thumping triumph at Tata Steel India 2023 Women Rapid

@ 02/09/2023 by Shahid Ahmed (en)
Tata Steel India 2023 Women Rapid R4-6: Divya Deshmukh domination continues

@ 02/09/2023 by Shahid Ahmed (en)
Tata Steel India 2023 Women Rapid R1-3: Divya and Vantika dazzle!

@ 31/08/2023 by Shahid Ahmed (en)
हम्पी - वेंजून की टक्कर से शुरू होगा टाटा स्टील इंडिया रैपिड

@ 30/08/2023 by Niklesh Jain (hi)
India's strongest tournament - Tata Steel Chess India 2023 starts earlier this year

@ 30/08/2023 by Shahid Ahmed (en)
The Anish Giri Interview: Winning Tata Steel Masters 2023

@ 02/02/2023 by Himank Ghosh (en)
अनीश का सपना हुआ पूरा , जीता टाटा स्टील मास्टर्स

@ 30/01/2023 by Niklesh Jain (hi)
Anish Giri deservedly conquers 85th Tata Steel Chess Masters 2023

@ 30/01/2023 by Shahid Ahmed (en)
Tata Steel 2023 R12: Praggnanandhaa makes an epic draw against Carlsen

@ 29/01/2023 by Shahid Ahmed (en)
क्या अब्दुसत्तारोव जीतेंगे टाटा स्टील मास्टर्स ?

@ 29/01/2023 by Niklesh Jain (hi)
Tata Steel 2023 R11: Calm before storm

@ 28/01/2023 by Shahid Ahmed (en)
टाटा स्टील मास्टर्स : अर्जुन - गुकेश ने खेला ड्रॉ, प्रज्ञानन्दा हारे

@ 28/01/2023 by Niklesh Jain (hi)
टाटा स्टील मास्टर्स शतरंज – गुकेश से हारे प्रज्ञानंदा

@ 27/01/2023 by Niklesh Jain (hi)
Tata Steel 2023 R10: Gukesh bests Praggnanandhaa, Carlsen makes a comeback

@ 26/01/2023 by Shahid Ahmed (en)
Tata Steel 2023 R9: Gukesh aces the Magnus Carlsen test, Praggnanandhaa draws with Caruana

@ 25/01/2023 by Shahid Ahmed (en)
टाटा स्टील मास्टर्स : चार हार के बाद जीते गुकेश

@ 23/01/2023 by Niklesh Jain (hi)
Tata Steel 2023 R8: A day of firsts

@ 23/01/2023 by Shahid Ahmed (en)
Tata Steel 2023 R7: Abdusattorov increases his lead, Praggnanandhaa in pursuit

@ 22/01/2023 by Shahid Ahmed (en)
Tata Steel 2023 R6: So and Caruana win, Abdusattorov still in sole lead

@ 21/01/2023 by Shahid Ahmed (en)
टाटा स्टील मास्टर्स :7 साल 7 माह बाद लगातार 2 बार हारे कार्लसन

@ 20/01/2023 by Niklesh Jain (hi)
Tata Steel Masters 2023 R5: Abdusattorov beats Carlsen, gains sole lead and now World no.18

@ 20/01/2023 by Shahid Ahmed (en)
Tata Steel Challengers 2023 R5: Vaishali splits the point with Adhiban

@ 19/01/2023 by Shahid Ahmed (en)
टाटा स्टील मास्टर्स:R4: प्रज्ञानंदा ने रचा इतिहास,विश्व नंबर 2 डिंग को हराया तो 12 साल बाद कार्लसन से जीते अनीश

@ 18/01/2023 by Niklesh Jain (hi)
Tata Steel 2023 R4: Praggnanandhaa stuns World no.2 Ding Liren, Giri beats Carlsen

@ 18/01/2023 by Shahid Ahmed (en)
Delving deep into the Arjun Erigaisi vs Levon Aronian endgame from Tata Steel Masters 2023

@ 17/01/2023 by Sagar Shah (en)
Tata Steel 2023 R3: Caruana joins the leaders

@ 17/01/2023 by Shahid Ahmed (en)
टाटा स्टील मास्टर्स 2023 :R2: अनीश से हारे गुकेश

@ 16/01/2023 by Niklesh Jain (hi)
Tata Steel 2023 R2: Anish Giri plays spectacularly against Gukesh

@ 16/01/2023 by Shahid Ahmed (en)
टाटा स्टील मास्टर्स 2023 का हुआ आगाज

@ 15/01/2023 by Niklesh Jain (hi)
Tata Steel 2023 R1: Maximum start for Warmerdam

@ 15/01/2023 by Shahid Ahmed (en)
Gukesh, Arjun Erigaisi, Praggnanandhaa, Adhiban and Vaishali ready for 85th Tata Steel Chess 2023

@ 14/01/2023 by Shahid Ahmed (en)
Bristy Mukherjee wins Tata Steel Chess Festival 2022 Women Rapid

@ 21/12/2022 by Shahid Ahmed (en)
Aronyak Ghosh wins Tata Steel Chess Festival 2022 Blitz Open

@ 18/12/2022 by Shahid Ahmed (en)
Neelash Saha wins Tata Steel Chess Festival 2022 Rapid Rating Open

@ 15/12/2022 by Shahid Ahmed (en)
Arjun Erigaisi wins Tata Steel Chess India 2022 Blitz with a round to spare, now World no.10

@ 05/12/2022 by Shahid Ahmed (en)
Vaishali clinches Tata Steel Chess India 2022 Women Blitz convincingly, Harika third

@ 05/12/2022 by Shahid Ahmed (en)
अर्जुन और वैशाली बने टाटा स्टील ब्लिट्ज़ के विजेता

@ 04/12/2022 by Niklesh Jain (hi)
Tata Steel India 2022 Blitz R1-9: Arjun Erigaisi grabs sole lead, performs at 2871, now World no.12

@ 04/12/2022 by Shahid Ahmed (en)
Tata Steel India 2022 Women Blitz R1-9: Mariya scores a staggering 8/9 with a performance of 2719

@ 03/12/2022 by Shahid Ahmed (en)
टाटा स्टील ब्लिट्ज : पहले दिन चला अर्जुन का पराक्रम

@ 03/12/2022 by Niklesh Jain (hi)
टाटा स्टील रैपिड :एना बनी विजेता,हरिका को तीसरा स्थान

@ 02/12/2022 by Niklesh Jain (hi)
टाटा स्टील रैपिड में भारत का जलवा , निहाल विजेता , अर्जुन उपविजेता ,विदित को मिला तीसरा स्थान

@ 02/12/2022 by Niklesh Jain (hi)
Anna Ushenina wins Tata Steel Chess India 2022 Women Rapid on tie-breaks, Harika third

@ 02/12/2022 by Shahid Ahmed (en)
Nihal Sarin triumphs at Tata Steel Chess India 2022 Rapid with a round to spare

@ 01/12/2022 by Shahid Ahmed (en)
Tata Steel India 2022 Rapid R4-6: Unbeaten Nihal Sarin leaps to the pole position

@ 30/11/2022 by Shahid Ahmed (en)
टाटा स्टील रैपिड D 2 : निहाल ने किया कमाल

@ 30/11/2022 by Niklesh Jain (hi)
Tata Steel India 2022 Women Rapid R4-6: Humpy almost displaces Dzagnidze at the top

@ 30/11/2022 by Shahid Ahmed (en)
Tata Steel India 2022 Rapid R1-3: The 'Shakh Attack' Unleashed

@ 29/11/2022 by Shahid Ahmed (en)
टाटा स्टील रैपिड :अर्जुन - निहाल की शानदार शुरुआत

@ 29/11/2022 by Niklesh Jain (hi)
Tata Steel India 2022 Women Rapid R1-3: Nana Dzagnidze makes a perfect start

@ 29/11/2022 by Shahid Ahmed (en)
Tata Steel Chess India 2022 Rapid and Blitz preview

@ 28/11/2022 by Shahid Ahmed (en)
Tata Steel Chess India 2022 gets bigger and stronger

@ 28/11/2022 by Shahid Ahmed (en)
Shakhriyar Mamedyarov's words of ultimate praise for Magnus Carlsen

@ 02/02/2022 by Sagar Shah (en)
अर्जुन ने साधा लक्ष्य पर निशाना,जीता टाटा स्टील चैलेंजर्स

@ 01/02/2022 by Niklesh Jain (hi)
कार्लसन नें रिकॉर्ड 8वीं बार जीता टाटा स्टील मास्टर्स

@ 01/02/2022 by Niklesh Jain (hi)
Arjun Erigaisi becomes the fourth Indian to win Tata Steel Chess Challengers

@ 31/01/2022 by Shahid Ahmed (en)
Magnus Carlsen and Arjun Erigaisi clinch Tata Steel Chess 2022 with a round to spare

@ 30/01/2022 by Shahid Ahmed (en)
Tata Steel 2022 R11: Vidit Gujrathi holds Magnus to a draw in a thrilling rook endgame

@ 29/01/2022 by Shahid Ahmed (en)
टाटा स्टील R11 : हार के करीब जाके विदित नें कार्लसन को ड्रॉ पर रोका

@ 29/01/2022 by Niklesh Jain (hi)
Tata Steel 2022 R10: Praggnanandhaa bests Vidit in over 6.5 hour-long grueling battle on India's 73rd Republic Day

@ 27/01/2022 by Shahid Ahmed (en)
टाटा स्टील R10 : प्रग्गानंधा नें विदित को चौंकाया

@ 27/01/2022 by Niklesh Jain (hi)
टाटा स्टील R9 : ममेद्यारोव को हरा कार्लसन नें बनाई बढ़त ,अर्जुन बने भारत के चौंथे नंबर के खिलाड़ी

@ 26/01/2022 by Niklesh Jain (hi)
Tata Steel 2022 R9: Too strong Arjun Erigaisi is two points ahead

@ 26/01/2022 by Shahid Ahmed (en)
Tata Steel 2022 R8: Vidit bounces back with a win

@ 24/01/2022 by Shahid Ahmed (en)
टाटा स्टील शतरंज R8 : विदित की शानदार वापसी

@ 24/01/2022 by Niklesh Jain (hi)
Tata Steel 2022 R7: Dubov stands by his principle

@ 23/01/2022 by Shahid Ahmed (en)
Tata Steel 2022 R6: Unstoppable Arjun Erigaisi wins again, storms into World Top 100

@ 22/01/2022 by Shahid Ahmed (en)
टाटा स्टील R6 : अर्जुन की पाँचवीं जीत ,विश्व टॉप 100 में बनाई जगह

@ 22/01/2022 by Niklesh Jain (hi)
Tata Steel 2022 R5: Arjun Erigaisi increases his sole lead by a full point

@ 21/01/2022 by Shahid Ahmed (en)
टाटा स्टील R5 : भारत के अर्जुन की लगातार चौंथी जीत

@ 21/01/2022 by Niklesh Jain (hi)
Tata Steel 2022 R4: Vidit and Arjun Erigaisi in sole lead

@ 19/01/2022 by Shahid Ahmed (en)
टाटा स्टील चैलेंजर्स : R4: भारत के अर्जुन सबसे आगे

@ 19/01/2022 by Niklesh Jain (hi)
टाटा स्टील मास्टर्स R4 : विदित की बढ़त बरकरार , प्रग्गानंधा को मिली पहली जीत

@ 19/01/2022 by Niklesh Jain (hi)
Tata Steel 2022 R3: Defiant Vidit defeats Dubov, takes sole lead, now World no.19

@ 18/01/2022 by Shahid Ahmed (en)
टाटा स्टील 2022 : R3 : विदित और अर्जुन नें जमाया रंग

@ 18/01/2022 by Niklesh Jain (hi)
Magnus Carlsen beats Anish Giri for the first time in 11 years at Tata Steel Chess

@ 17/01/2022 by Shahid Ahmed (en)
टाटा स्टील मास्टर्स R2 : कार्लसन नें अनीश को हराया

@ 17/01/2022 by Niklesh Jain (hi)
Tata Steel 2022 R1: Vidit beats Shankland after a six-hour grind, now World no.20

@ 16/01/2022 by Shahid Ahmed (en)
टाटा स्टील शतरंज R1: विदित की विराट जीत से शुरुआत

@ 16/01/2022 by Niklesh Jain (hi)
टाटा स्टील R1: विदित -शंकलंद और प्रग्गा - अनीश में होगी टक्कर

@ 14/01/2022 by Niklesh Jain (hi)
टाटा स्टील मास्टर्स : विदित और प्रग्गानंधा पर होंगी नजरे

@ 12/01/2022 by Niklesh Jain (hi)
Aronyak Ghosh dominates Tata Steel Chess Festival 2021 All India Rapid Rating Open

@ 25/11/2021 by Shahid Ahmed (en)
Arjun Erigaisi and Levon Aronian are the winners of Tata Steel Chess India 2021 Rapid and Blitz

@ 22/11/2021 by Shahid Ahmed (en)
Express Report: Levon Aronian wins Tata Steel Chess Blitz in Armageddon Playoffs

@ 21/11/2021 by Shahid Ahmed (en)
अर्जुन बने टाटा स्टील इंडिया रैपिड विजेता " इस अर्जुन का निशाना सटीक है !

@ 20/11/2021 by Niklesh Jain (hi)
Tata Steel Chess Blitz: Arjun grabs sole lead, now World no.14 in Blitz

@ 20/11/2021 by Shahid Ahmed (en)
Mitrabha Guha clinches Tata Steel Chess Festival 2021 All India Open Blitz

@ 20/11/2021 by Shahid Ahmed (en)
The 'Age of Arjun Erigaisi' begins with a monumental triumph at Tata Steel Chess India 2021 Rapid

@ 19/11/2021 by Shahid Ahmed (en)
टाटा स्टील रैपिड D2:छा गए भारत के अर्जुन,बनाई बढ़त

@ 18/11/2021 by Niklesh Jain (hi)
Tata Steel Chess Rapid R4-6: The Arjun Erigaisi day

@ 18/11/2021 by Shahid Ahmed (en)
Deep Dive into Day 1 of Tata Steel Chess India 2021

@ 18/11/2021 by Sagar Shah (en)
Tata Steel Chess Rapid R1-3: Arjun bests Karthikeyan in 17 moves

@ 17/11/2021 by Shahid Ahmed (en)
टाटा स्टील रैपिड D1: अरोनियन नें बनाई एकल बढ़त

@ 17/11/2021 by Niklesh Jain (hi)
Tata Steel Chess India Rapid & Blitz 2021 preview

@ 17/11/2021 by Shahid Ahmed (en)
टाटा स्टील इंडिया शतरंज - इंतजार की घड़ियाँ अब खत्म

@ 13/11/2021 by Niklesh Jain (hi)
Tata Steel Chess India Rapid and Blitz 2021 is here!

@ 03/11/2021 by Sagar Shah (en)
Praggnanandhaa will fight against Carlsen, Caruana & Co. at the Tata Steel Masters 2022

@ 27/10/2021 by Sagar Shah (en)
जॉर्डन वान फॉरेस्ट नें जीता टाटा स्टील मास्टर्स शतरंज

@ 01/02/2021 by Niklesh Jain (hi)
टाटा स्टील मास्टर्स R12 - आखिरकार जीते हरिकृष्णा

@ 31/01/2021 by Niklesh Jain (hi)
टाटा स्टील मास्टर्स R11 : अनीश गिरि खिताब की ओर

@ 30/01/2021 by Niklesh Jain (hi)
टाटा स्टील मास्टर्स R10 : अनीश नें बनाई एकल बढ़त

@ 28/01/2021 by Niklesh Jain (hi)
टाटा स्टील R9 : अनीश,करूआना,अलीरेजा सबसे आगे

@ 27/01/2021 by Niklesh Jain (hi)
टाटा स्टील मास्टर्स R8 : एसीपेंकों से हारे कार्लसन

@ 25/01/2021 by Niklesh Jain (hi)
टाटा स्टील मास्टर्स R7 : हरिकृष्णा -कार्लसन से बांटा अंक

@ 24/01/2021 by Niklesh Jain (hi)
टाटा स्टील मास्टर्स R 5 & 6 - हरिकृष्णा नें फिर बांटा अंक

@ 22/01/2021 by Niklesh Jain (hi)
टाटा स्टील मास्टर्स R4 : हरिकृष्णा विश्व टॉप 20 में पहुंचे

@ 20/01/2021 by Niklesh Jain (hi)
टाटा स्टील मास्टर्स 3 : हरिकृष्णा नें दी निल्स को मात

@ 19/01/2021 by Niklesh Jain (hi)
टाटा स्टील मास्टर्स R 2 - निल्स की लगातार दूसरी जीत

@ 18/01/2021 by Niklesh Jain (hi)
टाटा स्टील R1 : कार्लसन ,अनीश नें किया जीत से आरंभ

@ 17/01/2021 by Niklesh Jain (hi)
टाटा स्टील : सबसे पहले एमवीएल से खेलेंगे हरिकृष्णा

@ 15/01/2021 by Niklesh Jain (hi)
शतरंज का विम्बलडन :टाटा स्टील 2021: 3 दिन बाकी

@ 12/01/2021 by Niklesh Jain (hi)
टाटा स्टील मास्टर्स - भारत से हरिकृष्णा करेंगे शिरकत

@ 23/12/2020 by Niklesh Jain (hi)
Tata Steel Chess India Rapid and Blitz 2020 cancelled owing to Covid-19 pandemic

@ 19/11/2020 by Shahid Ahmed (en)
Fabiano's fabulous finale

@ 27/01/2020 by Satanick Mukhuty (en)
Caruana conquers the Wimbledon of Chess

@ 26/01/2020 by Satanick Mukhuty (en)
Alireza yet to scale the ultimate height

@ 23/01/2020 by Satanick Mukhuty (en)
Tata Steel R08: Fabi joins Alireza in the lead

@ 20/01/2020 by Satanick Mukhuty (en)
Tata Steel R07: The grind of a future World Champion

@ 19/01/2020 by Satanick Mukhuty (en)
Tata Steel R06: A dastardly Dubov onslaught

@ 18/01/2020 by Satanick Mukhuty (en)
A valiant Vishy in Eindhoven

@ 17/01/2020 by Satanick Mukhuty (en)
Ganguly's Catalan masterclass, Nihal's robust endgame play

@ 15/01/2020 by Satanick Mukhuty (en)
Alireza Firouzja leads Tata Steel Masters

@ 14/01/2020 by Satanick Mukhuty (en)
Vishy's vexation in the Italian

@ 13/01/2020 by Satanick Mukhuty (en)
How a 2700+ prodigy punishes an opening mess-up

@ 12/01/2020 by Satanick Mukhuty (en)
The Tata Steel Chess Tournament is all set to begin in Wijk Aan Zee

@ 11/01/2020 by Satanick Mukhuty (en)
A thrilling experience at the Tata Steel Chess India 2019

@ 09/12/2019 by Lokesh Natoo (en)
Final words of the two chess greats before they bade adieu to the city of joy

@ 02/12/2019 by Satanick Mukhuty (en)
Wesley So on becoming the first Fischer Random World Champion

@ 01/12/2019 by Satanick Mukhuty (en)
10 things that made the Tata Steel Chess India 2019 special

@ 30/11/2019 by Sagar Shah (en)
Vishy on Vishy gems!

@ 29/11/2019 by Satanick Mukhuty (en)
Aronyak Ghosh wins Tata Steel Chess Festival 2019 Open Rapid

@ 27/11/2019 by Shahid Ahmed (en)
Magnus Carlsen is the winner of Tata Steel Chess India 2019

@ 26/11/2019 by Satanick Mukhuty (en)
Scandinavian, cheap tricks, brilliant tactics at Tata Steel Chess India blitz

@ 25/11/2019 by Sagar Shah (en)
Carlsen performs at an astronomical 3027 at the Tata Steel India Rapid

@ 25/11/2019 by Sagar Shah (en)
Praloy Sahoo wins a 'Dream Moment'

@ 25/11/2019 by Shahid Ahmed (en)
Somak Palit wins Tata Steel Chess Festival 2019 Open Blitz

@ 23/11/2019 by Shahid Ahmed (en)
Magnus Carlsen takes on the Vishy Anand best games quiz

@ 22/11/2019 by Sagar Shah (en)
So, Ding, Nakamura, Giri and Hari take Kolkata by storm

@ 21/11/2019 by Shahid Ahmed (en)
Tata Steel Chess Rapid and Blitz 2019 Press Conference

@ 07/11/2019 by Shahid Ahmed (en)
Anish Giri - The Indian connection

@ 05/02/2019 by Aditya Pai (en)
Anand on Wijk: "It's a bit like coming home"

@ 04/02/2019 by Aditya Pai (en)
Tata Steel Chess 2019: Carlsen wins his seventh title

@ 28/01/2019 by Aditya Pai (en)
Tata Steel Chess: Giri's win stands out among the rest

@ 26/01/2019 by Aditya Pai (en)
Tata Steel Chess: Vidit crushes Vladimir Kramnik in merely 29 moves!

@ 24/01/2019 by Aditya Pai (en)
Tata Steel Chess: Nepo joins Anand and Carlsen at the top

@ 23/01/2019 by Aditya Pai (en)
टाटा स्टील 2019 - भारत के लिए आनंद ही आनंद !

@ 22/01/2019 by Niklesh Jain (hi)
Tata Steel Chess: Carlsen and Anand lead after round 8

@ 21/01/2019 by Aditya Pai (en)
Tata Steel Chess: Anand beats Kramnik and joins the lead!

@ 20/01/2019 by Aditya Pai (en)
Vidit Gujrathi: "I, like everyone else, want to perform well"

@ 18/01/2019 by Aditya Pai (en)
Tata Steel Chess: Ding joins Nepo as tournament leader

@ 17/01/2019 by Aditya Pai (en)
Tata Steel Chess: Vidit Gujrathi, Anish Giri join Anand and Ding in second place

@ 16/01/2019 by Aditya Pai (en)
Tata Steel Chess: Vidit stands strong against Carlsen's trademark grind

@ 15/01/2019 by Aditya Pai (en)
Tata Steel Chess: Anand, Nepo retain lead after short but sharp draws

@ 14/01/2019 by Aditya Pai (en)
Tata Steel Chess 2019 Round 1: Anand and Nepomniachtchi open with wins

@ 13/01/2019 by Aditya Pai (en)
Vintage Vishy wins blitz and hearts in Kolkata

@ 16/11/2018 by Sagar Shah (en)
What lies under the surface!

@ 13/11/2018 by Sagar Shah (en)
6 major things that happened on the final day of Tata Steel Chess India Rapid 2018

@ 12/11/2018 by Sagar Shah (en)
Tata Steel India Rapid Day 2: Nakamura sets the stage on fire!

@ 11/11/2018 by Sagar Shah (en)
Tata Steel India Round 1-3: Harikrishna, Mamedyarov and Aronian lead with 2.0/3

@ 10/11/2018 by Sagar Shah (en)
The opening ceremony of the first super tournament on Indian soil

@ 09/11/2018 by Sagar Shah (en)
Historical moment: Super tournament to be held in India for the first time ever!

@ 15/09/2018 by Sagar Shah (en)