Magnus Carlsen and Arjun Erigaisi clinch Tata Steel Chess 2022 with a round to spare
The tournament favorites - Magnus Carlsen and Arjun Erigaisi lived up to all expectations as they won the 84th Tata Steel Chess 2022 Masters and Challengers convincingly with a round to spare. While the tournament ended for Magnus, Arjun still has one more game to go. The 18-year-old's meteoric rise started last summer, the juggernaut continued at Tata Steel Chess India 2021 Rapid and Blitz. As he mentioned in the post-match interview, Tata Steel tournaments have always been good for him. He now has almost one year to level up further and get ready to face Magnus and the world's best next year. Round 13 starts today at 4:30 p.m. IST. Photo: Jurriaan Hoefsmit/Tata Steel Chess Tournament 2022
Magnus wins his eighth title at Wijk aan Zee
"I think there have been a lot of good moments here in this tournament. I think I have had nine winning positions and I converted five of them which is probably one or two too little, considering what I had. There are a lot of positives, especially compared to the last couple of years where I didn't play well and frankly didn't get many chances. So the huge amount of chances that I got, it's of course partly due to my opponents playing a bit weaker than usual but I think I also managed to create more of them than normal. Obviously the total score +5 is great and more than enough for tournament victory but there is always this thought that it could have been even better, that will have to be another time. I am really satisfied in general." - Magnus Carlsen on his performance at 84th Tata Steel Chess 2022 Masters. "As I said I am very happy to get back to winning ways here. I also got back to winning more than 50% of my A-groups here which is something that I am kind of thinking of a bit last year. I didn't want it to dip below. If I do the same thing next few years, I have great chances." - The world champion on winning the Tata Steel for a record eighth time.
"This is probably the best classical tournament I have ever played, so I am very glad. Tata Steel has always been good. My best rapid event is Tata Steel India 2021 rapid." - Arjun Erigaisi on his monumental victory at Tata Steel Chess 2022 Challengers.
Caruana - Magnus: 0-1
Magnus Carlsen sacrificed an exchange at an opportune moment against Fabiano Caruana.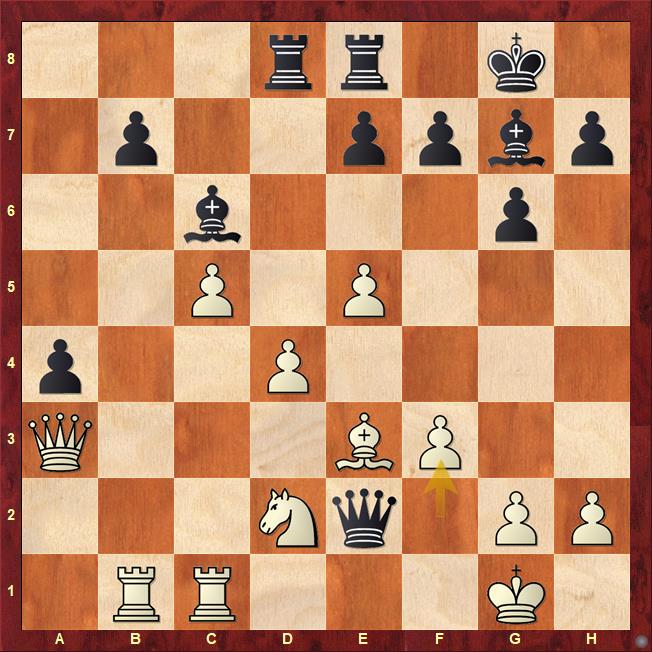 Magnus mentioned in the post-match interview that the position was screaming for 26...Rxd4 to be played. 27.Bxd4 Qxd2 28.Rd1 Qf4 29.Qb4 e6 30.Bc3 Qxb4 31.Bxb4 and it became completely winning for Black. White needed to keep the queens on the board. 29.Qb2 was a better alternative. Exchanging the queens despite being paradoxical, was actually better for Black according to the world champion.
Vidit - Mamedyarov: 0-1
Vidit made an interesting choice to sacrifice his bishop to create some attacking chances against Shakhriyar Mamedyarov.
If Black does not accept the sacrifice, then 25.Bxh6 does not work. Black played 25...Qxd4 and now White needed to retreat his bishop 26.Bf4. Instead, he opted for 27.Qg4 which is a blunder as 27...f5 attacks both queen and knight. There is no way for White to avoid material loss. White managed to get another pawn for the piece, however soon White fell for another tactic in an already dwindling position to lose the game.
Shankland - Karjakin: 1-0
Sam Shankland had a sharp game against Sergey Karjakin. The Russian picked a poisoned pawn on b2 which did not turn out well for him.
Black's position was already quite difficult. 18...Qxb2 did not help the case. Find out the best continuation for White which Shankland played in the game.
Magnus made two tweets after his triumph
Vishy Anand congratulated Arjun on his triumph
Replay Round 12 Masters games
Replay Round 12 Challengers games
Round 12 results
Round 13 pairings
Standings after Round 12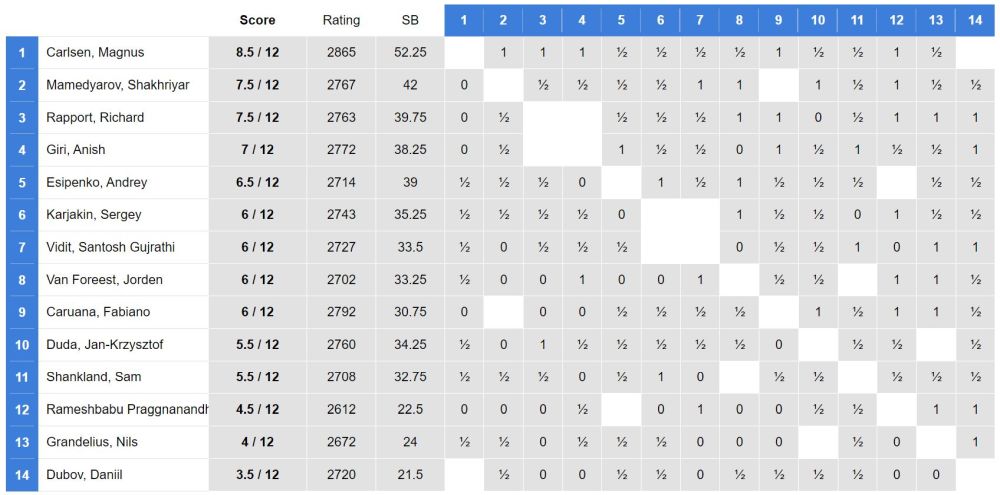 Schedule
Starting from Saturday 15th January, all round starts at 6:30 p.m. IST, only Sunday 30th January, the final round will start at 4:30 p.m. IST. Rest days are - 19th, 24th and 27th January.
Time Control
100 minutes for 40 moves, followed by 50 minutes for 20 moves, then 15 minutes for the remaining moves with 30 seconds cumulative increment for each move starting from the first move.
Links
---