Shrayan Majumder clinches Tata Steel Chess Festival 2023 Rating Open convincingly
Shrayan Majumder (MAH) scored an unbeaten 7.5/9 to win Tata Steel Chess Festival 2023 All India Rating Open. He finished a half point ahead of the field. Six players - Rupam Mukherjee (WB), Arindam Mukherjee (Railways), Ritabrata Chakraborty (WB), Bivor Adak (WB), Kunal Chatterjee (WB) and Aatreya Saha (WB) scored 7/9 each. They were placed second to seventh respectively. The total cash prize fund of the tournament was ₹300000 + trophies. Top three prizes were ₹50000 + trophy, ₹30000 and ₹20000 each respectively. This was Shrayan's first rating tournament triumph of his career. 11-year-old reigning West Bengal State Women's champion, Arhashirsha Biswas scored 6.5/9 to finish ninth. She is the sole female player to make a top ten finish at this event. Photos: Shahid Ahmed
Six players score 7/9
Shrayan Majumder (MAH) went into the final round with a sole lead 7/8. He drew his final round game against Kunal Chatterjee (WB) to become the champion. Rupam Mukherjee (WB) drew with Bivor Adak (WB) to secure second place 7/9. Arindam Mukherjee (Railways) defeated Anis Mukhopadhyay (WB) to finish third 7/9.
Shrayan - Mrityunjay, Round 6
Black cannot save the a5-pawn. However, computer says that Black can salvage the game even after 48.Nxa5. Find out how. Shrayan's opponent was a human, Mrityunjay Kumar (1704). He was unable to find a machine-like precision. Thus, he lost the game.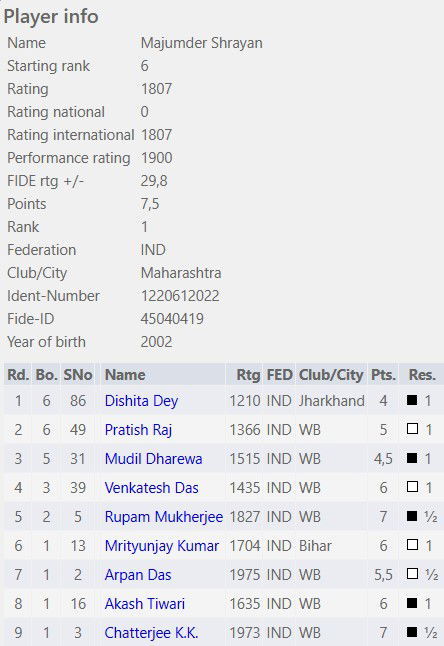 For more photos, please check out the album here.
Video Gallery
More game videos will be published over time on our channel and page, stay tuned!
A total of 163 players took part from various states across the country in this six-day nine round Swiss-league Rating tournament which was organized by Dhanuka Dhunseri Dibyendu Barua Chess Academy at Bhasha Bhavan, National Library in Kolkata, West Bengal from 31st August to 5th September 2023. The time control of the event was 90 minutes + 30 seconds increment from move no.1.
Replay all available games
Final standings
| | | | | | | | | | | | | |
| --- | --- | --- | --- | --- | --- | --- | --- | --- | --- | --- | --- | --- |
| Rk. | SNo | | Name | Typ | sex | FED | Rtg | Club/City | Pts. | TB1 | TB2 | TB3 |
| 1 | 6 | | Majumder Shrayan | | | IND | 1807 | Maharashtra | 7,5 | 47,5 | 51 | 41,50 |
| 2 | 5 | | Rupam Mukherjee | | | IND | 1827 | WB | 7 | 48,5 | 52 | 38,50 |
| 3 | 1 | | Arindam Mukherjee | | | IND | 2010 | Railways | 7 | 48 | 52,5 | 39,75 |
| 4 | 7 | | Ritabrata Chakraborty | | | IND | 1799 | WB | 7 | 48 | 52 | 40,00 |
| 5 | 10 | | Bivor Adak | | | IND | 1718 | WB | 7 | 46 | 50,5 | 38,25 |
| 6 | 3 | | Chatterjee K.K. | S60 | | IND | 1973 | WB | 7 | 44 | 47,5 | 35,50 |
| 7 | 19 | ACM | Aatreya Saha | | | IND | 1613 | WB | 7 | 44 | 47,5 | 35,25 |
| 8 | 24 | | Ayush Das | | | IND | 1584 | WB | 6,5 | 51 | 54,5 | 36,50 |
| 9 | 34 | | Arhashirsha Biswas | F12 | w | IND | 1472 | WB | 6,5 | 47,5 | 51 | 33,25 |
| 10 | 8 | | Basak Bishal | | | IND | 1790 | WB | 6,5 | 45 | 50 | 35,25 |
| 11 | 11 | | Anurag Jaiswal | | | IND | 1708 | WB | 6,5 | 44 | 47 | 33,00 |
| 12 | 22 | | Arghya Sen | | | IND | 1590 | WB | 6,5 | 43 | 46 | 29,50 |
| 13 | 43 | | Rounaq Biswas | | | IND | 1400 | WB | 6,5 | 43 | 45,5 | 30,00 |
| 14 | 28 | | Manna Chiranjit | | | IND | 1545 | WB | 6 | 49 | 54 | 34,75 |
| 15 | 16 | | Akash Tiwari | | | IND | 1635 | WB | 6 | 49 | 52,5 | 32,00 |
| 16 | 13 | | Mrityunjay Kumar | | | IND | 1704 | Bihar | 6 | 48,5 | 53 | 33,00 |
| 17 | 33 | | Niladri Banerjee | U12 | | IND | 1475 | WB | 6 | 47,5 | 51,5 | 32,50 |
| 18 | 12 | | Snehil Raj Singh | | | IND | 1707 | WB | 6 | 47 | 51,5 | 32,50 |
| 19 | 26 | | Gairick Saha | | | IND | 1573 | WB | 6 | 45,5 | 49 | 30,50 |
| 20 | 39 | | Venkatesh Das | U12 | | IND | 1435 | WB | 6 | 44 | 47,5 | 28,00 |
---