Maxime Vachier-Lagrave dominates Tata Steel India 2023 Rapid, Praggnanandhaa third
The World Blitz 2021 champion, Maxime Vachier-Lagrave (FRA) won Tata Steel Chess India 2023 Rapid with an unbeaten 7/9. It was his debut tournament in Kolkata, India where he won the event with one round to spare. He defeated Arjun Erigaisi and Pentala Harikrishna to clinch the first place. The last round result became immaterial. Thus, he made a quick six move draw against the eventual runner-up, Teimour Radjabov (AZE). R Praggnaanandhaa defeated Vidit Gujrathi, lost to D Gukesh and then won against his good friend, Arjun Erigaisi to finish third 5/9. Alexander Grischuk and Vidit also scored the same 5/9. Nine rounds of Blitz will be played today, starting from 3 p.m. IST. Photos: IA Vivek Sohani/Tata Steel Chess India
MVL wins the tournament with a round to spare, remains invincible
Fun fact: Both Women and Open winners - IM Divya Deshmukh and GM Maxime Vachier-Lagrave (FRA) won Tata Steel Chess India 2023 on their debut at this event. That's not all. Both of them drew number 10 at the Draw of lots too.
Round 7: Praggnanandhaa - Vidit: 1-0
Last year, in the Blitz event, GM R Praggnanandhaa (2703) and GM Vidit Gujrathi (2694) traded wins in the Blitz event. Two years at Tata Steel India Rapid, their sole Rapid rated game ended in a draw.
32...c5? turned things in White's favor after 33.Nd5 Rh8?? hastened Black's demise 34.Rb7+ Kd8 35.Bh4+ Kc8 36.Re7 Bf1 37.Nb6+ Kd8 38.Rd7+ and checkmate is unstoppable in the next move.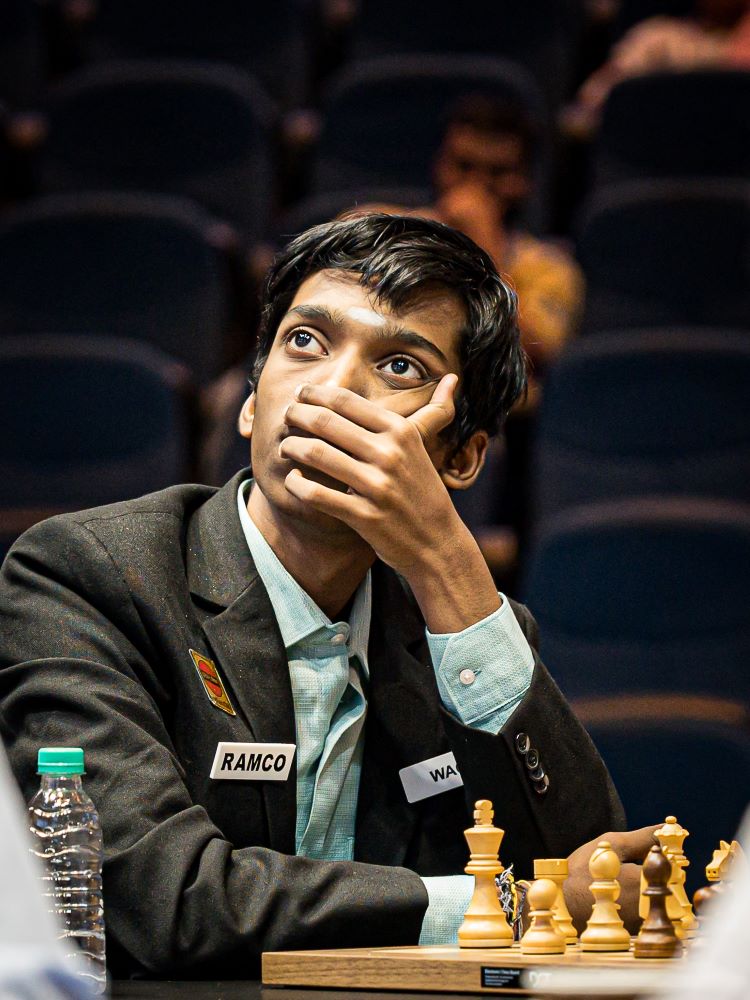 Round 8: Vidit - Keymer: 1-0
The only Rapid rated game between GM Vidit Gujrathi (2694) and GM Vincent Keymer (GER, 2633) took place last year at World Rapid. Vidit won that game. This time also, he repeated the same result and maintained his unbeaten streak against Keymer in rated games.
Vidit made an excellent exchange sacrifice in a sharp position 30.Nf5! White was not guaranteed anything. However, he knew that he could not keep the exchange, so might as well get something out of it, at least an initiative. 30...Nxf5 31.Rxf5 Rxe1 32.Rxg5+ Kf7 33.Rxh5 Rc1 34.Kg2 Re7?? 35.Qa8+- started turning things in White's way. 35...Qe6 36.Re5 Qd7 37.Rxd5 and White went on to win the game using his extra pawns.
Gukesh - Praggnanandhaa: 1-0
The India no.1 D Gukesh (2651) has defeated R Praggnanandhaa (2703) twice earlier in Classical rated games. His overall score is better against the FIDE World Cup 2023 Silver medalist in rated games. This time also, the outcome was the same.
In a race between the passed pawns, White's passed pawns proved to be much superior than Black's. 36.Qxb8! Rxb8 37.a7 Nd7 38.a8Q! even if Black takes the queen, White will replace it by promoting a new one. What an amazing play by Gukesh.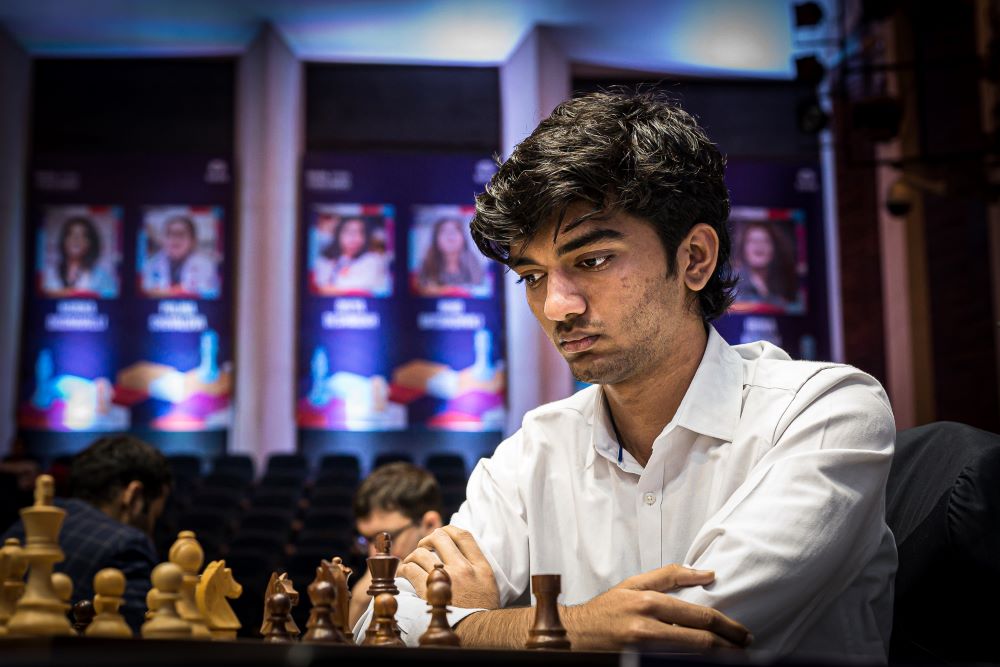 Round 9: Praggnanandhaa - Arjun: 1-0
Praggnanandhaa and Arjun Erigaisi played a lot of games in various time controls at the recently concluded FIDE World Cup 2023 Quarterfinals. We all know, Praggnanandhaa came out victorious in that. The final round at this event was no different either.
20...dxe5?? is a blunder. Find out why Black's position falls apart after that unforced error.
Replay live stream
Replay Round 7-9 games
Round 7-9 results
Round 7 on 2023/09/07 at 1500 h
Bo.
No.
Rtg
Name
Result
Name
Rtg
No.
PGN
1
4
2675
GM
Erigaisi, Arjun
0 - 1
GM
Vachier-Lagrave, Maxime
2755
10
2
5
2680
GM
Radjabov, Teimour
½ - ½
GM
Gukesh, D
2651
3
3
6
2703
GM
Praggnanandhaa, R
1 - 0
GM
Vidit, Santosh Gujrathi
2694
2
4
7
2633
GM
Keymer, Vincent
0 - 1
GM
Grischuk, Alexander
2709
1
5
8
2731
GM
Abdusattorov, Nodirbek
1 - 0
GM
Harikrishna, Pentala
2646
9
Round 8 on 2023/09/07 at 1630 h
Bo.
No.
Rtg
Name
Result
Name
Rtg
No.
PGN
1
10
2755
GM
Vachier-Lagrave, Maxime
1 - 0
GM
Harikrishna, Pentala
2646
9
2
1
2709
GM
Grischuk, Alexander
½ - ½
GM
Abdusattorov, Nodirbek
2731
8
3
2
2694
GM
Vidit, Santosh Gujrathi
1 - 0
GM
Keymer, Vincent
2633
7
4
3
2651
GM
Gukesh, D
1 - 0
GM
Praggnanandhaa, R
2703
6
5
4
2675
GM
Erigaisi, Arjun
½ - ½
GM
Radjabov, Teimour
2680
5
Round 9 on 2023/09/07 at 1800 h
Bo.
No.
Rtg
Name
Result
Name
Rtg
No.
PGN
1
5
2680
GM
Radjabov, Teimour
½ - ½
GM
Vachier-Lagrave, Maxime
2755
10
2
6
2703
GM
Praggnanandhaa, R
1 - 0
GM
Erigaisi, Arjun
2675
4
3
7
2633
GM
Keymer, Vincent
1 - 0
GM
Gukesh, D
2651
3
4
8
2731
GM
Abdusattorov, Nodirbek
0 - 1
GM
Vidit, Santosh Gujrathi
2694
2
5
9
2646
GM
Harikrishna, Pentala
½ - ½
GM
Grischuk, Alexander
2709
1
Final standings in Rapid
| | | | | | | | | | | | | |
| --- | --- | --- | --- | --- | --- | --- | --- | --- | --- | --- | --- | --- |
| Rk. | SNo | | | Name | FED | Rtg | Pts. | TB1 | TB2 | TB3 | TB4 | TB5 |
| 1 | 10 | | GM | Vachier-Lagrave, Maxime | FRA | 2755 | 7 | 0 | 0 | 28,00 | 5 | 2 |
| 2 | 5 | | GM | Radjabov, Teimour | AZE | 2680 | 5,5 | 0 | 0 | 22,25 | 4 | 2 |
| 3 | 6 | | GM | Praggnanandhaa, R | IND | 2703 | 5 | 0 | 1,5 | 23,50 | 4 | 2 |
| 4 | 1 | | GM | Grischuk, Alexander | FID | 2709 | 5 | 0 | 1 | 20,50 | 2 | 1 |
| 5 | 2 | | GM | Vidit, Santosh Gujrathi | IND | 2694 | 5 | 0 | 0,5 | 21,25 | 4 | 1 |
| 6 | 3 | | GM | Gukesh, D | IND | 2651 | 4,5 | 0 | 0 | 19,75 | 2 | 1 |
| 7 | 8 | | GM | Abdusattorov, Nodirbek | UZB | 2731 | 4 | 0 | 0 | 13,75 | 3 | 1 |
| 8 | 7 | | GM | Keymer, Vincent | GER | 2633 | 3,5 | 0 | 0 | 13,75 | 3 | 2 |
| 9 | 4 | | GM | Erigaisi, Arjun | IND | 2675 | 3 | 0 | 0 | 12,50 | 2 | 0 |
| 10 | 9 | | GM | Harikrishna, Pentala | IND | 2646 | 2,5 | 0 | 0 | 11,75 | 1 | 1 |
Blitz Round 1 pairings
Round 1 on 2023/09/08 at 1500 h
Bo.
No.
Rtg
Name
Result
Name
Rtg
No.
1
1
2693
GM
Grischuk, Alexander
GM
Vachier-Lagrave, Maxime
2740
10
2
2
2641
GM
Vidit, Santosh Gujrathi
GM
Harikrishna, Pentala
2634
9
3
3
2659
GM
Gukesh, D
GM
Abdusattorov, Nodirbek
2708
8
4
4
2728
GM
Erigaisi, Arjun
GM
Keymer, Vincent
2645
7
5
5
2707
GM
Radjabov, Teimour
GM
Praggnanandhaa, R
2632
6
Links
---