Tata Steel India 2023 Rapid R4-6: MVL emerges sole leader, A relatively good day for Vidit
The World Blitz 2021 champion, Maxime Vachier-Lagrave (FRA) scored 2.5/3 today to gain sole lead 4.5/6. He is the only player to remain undefeated so far. Teimour Radjabov (AZE) is the sole player at 4/6. Four players - R Praggnanandhaa, Vidit Gujrathi, Alexander Grischuk, D Gukesh are at a full behind him 3/6. Among the Indians, only Vidit scored 2/3 which is the highest. He defeated Gukesh and Radjabov, lost to Arjun. Arjun probably had the most saddening loss of the day. He was completely winning against Grischuk until he landed himself in a mating net. Last three rounds left. Indians to have their best day tomorrow to make a great finish. Round 7 starts today at 3 p.m. IST. Photos: IA Vivek Sohani/Tata Steel Chess India
Praggnanandhaa, Vidit and Gukesh have a lot to catch up
It was a tough day for the Indians as everyone lost at least one game each.
Round 4: Abdusattorov - Praggnanandhaa: 0-1
GM R Praggnanandhaa (2703) has never lost a rated game against GM Nodirbek Abdusattorov (UZB, 2731). Their last decisive game was last year at the same event in Blitz. Praggnanandhaa won it. This time the result was also the same.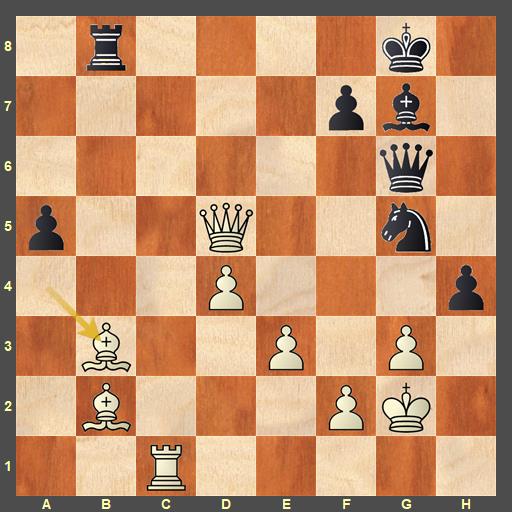 Taking the b3-pawn was a bad idea 35.Bxb3?? hxg3 36.f3 a4 37.f4 Rxb3 38.fxg5 Rxb2+ Black just gained a bishop for free with ease. He converted his advantage into a win eventually.
Grischuk - Arjun
GM Arjun Erigaisi (2675) was winning the better part of the complex major piece endgame against GM Alexander Grischuk (2709). Arjun could have won almost by playing any move. However, he made some grave mistakes which landed him in a mate in five situation. 51...e5 was the best choice for Black here. 52.Qg4 Rf4 53.Qg7+ to prevent checkmate at e2. 53...Qxg7 54.hxg7 Kxg7 the double rook endgame would have been a walk in the park for the recently turned 20-year-old.
Round 5: Praggnanandhaa - Harikrishna: 0-1
The only time R Praggnanandhaa and GM Pentala Harikrishna (2646) played against each other in rated game was at the same event nearly five years ago, in Blitz. Harikrishna won one and drew the next.
It is not easy to figure out where White should move his knight, especially if you are low on time. White went 52.Nd5? b4-+ and things turned quickly in Black's favor. He arrived at a winning rook and pawn endgame.
Round 6: Vidit - Radjabov: 1-0
Vidit Gujrathi (2694) has not beaten Teimour Radjabov (2680) in any rated game since December 2016. Well, today it was time to change that statistic.
Vidit found a beautiful finish after 36...Qc2? Find out what it is.
Replay Round 4-6 games
Round 4-6 results
Round 4 on 2023/09/06 at 1500 h
Bo.
No.
Rtg
Name
Result
Name
Rtg
No.
PGN
1
10
2755
GM
Vachier-Lagrave, Maxime
1 - 0
GM
Keymer, Vincent
2633
7
2
8
2731
GM
Abdusattorov, Nodirbek
0 - 1
GM
Praggnanandhaa, R
2703
6
3
9
2646
GM
Harikrishna, Pentala
0 - 1
GM
Radjabov, Teimour
2680
5
4
1
2709
GM
Grischuk, Alexander
1 - 0
GM
Erigaisi, Arjun
2675
4
5
2
2694
GM
Vidit, Santosh Gujrathi
1 - 0
GM
Gukesh, D
2651
3
Round 5 on 2023/09/06 at 1630 h
Bo.
No.
Rtg
Name
Result
Name
Rtg
No.
PGN
1
3
2651
GM
Gukesh, D
½ - ½
GM
Vachier-Lagrave, Maxime
2755
10
2
4
2675
GM
Erigaisi, Arjun
1 - 0
GM
Vidit, Santosh Gujrathi
2694
2
3
5
2680
GM
Radjabov, Teimour
1 - 0
GM
Grischuk, Alexander
2709
1
4
6
2703
GM
Praggnanandhaa, R
0 - 1
GM
Harikrishna, Pentala
2646
9
5
7
2633
GM
Keymer, Vincent
0 - 1
GM
Abdusattorov, Nodirbek
2731
8
Round 6 on 2023/09/06 at 1800 h
Bo.
No.
Rtg
Name
Result
Name
Rtg
No.
PGN
1
10
2755
GM
Vachier-Lagrave, Maxime
1 - 0
GM
Abdusattorov, Nodirbek
2731
8
2
9
2646
GM
Harikrishna, Pentala
½ - ½
GM
Keymer, Vincent
2633
7
3
1
2709
GM
Grischuk, Alexander
½ - ½
GM
Praggnanandhaa, R
2703
6
4
2
2694
GM
Vidit, Santosh Gujrathi
1 - 0
GM
Radjabov, Teimour
2680
5
5
3
2651
GM
Gukesh, D
½ - ½
GM
Erigaisi, Arjun
2675
4
Standings after Round 6
| | | | | | | | | | | | | |
| --- | --- | --- | --- | --- | --- | --- | --- | --- | --- | --- | --- | --- |
| Rk. | SNo | | | Name | FED | Rtg | Pts. | TB1 | TB2 | TB3 | TB4 | TB5 |
| 1 | 10 | | GM | Vachier-Lagrave, Maxime | FRA | 2755 | 4,5 | 0 | 0 | 12,50 | 3 | 1 |
| 2 | 5 | | GM | Radjabov, Teimour | AZE | 2680 | 4 | 0 | 0 | 10,00 | 4 | 2 |
| 3 | 6 | | GM | Praggnanandhaa, R | IND | 2703 | 3 | 0 | 0 | 10,25 | 2 | 2 |
| 4 | 2 | | GM | Vidit, Santosh Gujrathi | IND | 2694 | 3 | 0 | 0 | 9,50 | 2 | 0 |
| 5 | 1 | | GM | Grischuk, Alexander | FID | 2709 | 3 | 0 | 0 | 9,25 | 1 | 0 |
| 6 | 3 | | GM | Gukesh, D | IND | 2651 | 3 | 0 | 0 | 8,25 | 1 | 1 |
| 7 | 8 | | GM | Abdusattorov, Nodirbek | UZB | 2731 | 2,5 | 0 | 2 | 6,50 | 2 | 1 |
| 8 | 7 | | GM | Keymer, Vincent | GER | 2633 | 2,5 | 0 | 1 | 6,50 | 2 | 2 |
| 9 | 4 | | GM | Erigaisi, Arjun | IND | 2675 | 2,5 | 0 | 0 | 6,50 | 2 | 0 |
| 10 | 9 | | GM | Harikrishna, Pentala | IND | 2646 | 2 | 0 | 0 | 5,75 | 1 | 1 |
Round 7-9 pairings
Round 7 on 2023/09/07 at 1500 h
Bo.
No.
Rtg
Name
Result
Name
Rtg
No.
PGN
1
4
2675
GM
Erigaisi, Arjun
GM
Vachier-Lagrave, Maxime
2755
10
2
5
2680
GM
Radjabov, Teimour
GM
Gukesh, D
2651
3
3
6
2703
GM
Praggnanandhaa, R
GM
Vidit, Santosh Gujrathi
2694
2
4
7
2633
GM
Keymer, Vincent
GM
Grischuk, Alexander
2709
1
5
8
2731
GM
Abdusattorov, Nodirbek
GM
Harikrishna, Pentala
2646
9
Round 8 on 2023/09/07 at 1630 h
Bo.
No.
Rtg
Name
Result
Name
Rtg
No.
PGN
1
10
2755
GM
Vachier-Lagrave, Maxime
GM
Harikrishna, Pentala
2646
9
2
1
2709
GM
Grischuk, Alexander
GM
Abdusattorov, Nodirbek
2731
8
3
2
2694
GM
Vidit, Santosh Gujrathi
GM
Keymer, Vincent
2633
7
4
3
2651
GM
Gukesh, D
GM
Praggnanandhaa, R
2703
6
5
4
2675
GM
Erigaisi, Arjun
GM
Radjabov, Teimour
2680
5
Round 9 on 2023/09/07 at 1800 h
Bo.
No.
Rtg
Name
Result
Name
Rtg
No.
PGN
1
5
2680
GM
Radjabov, Teimour
GM
Vachier-Lagrave, Maxime
2755
10
2
6
2703
GM
Praggnanandhaa, R
GM
Erigaisi, Arjun
2675
4
3
7
2633
GM
Keymer, Vincent
GM
Gukesh, D
2651
3
4
8
2731
GM
Abdusattorov, Nodirbek
GM
Vidit, Santosh Gujrathi
2694
2
5
9
2646
GM
Harikrishna, Pentala
GM
Grischuk, Alexander
2709
1

Links
---