Tata Steel India 2023 Rapid R1-3: Gukesh shows why he is India no.1 with majestic play against Harikrishna
D Gukesh climbed the ranks and created history after history for reason. He makes a steady progress, plays human chess, makes good decisions on the board. In the first round, he made a great save against his nemesis - Nodirbek Abdusattorov (UZB). In Round 2, he exchanged his queen for three minor pieces of Harikrishna within first 20 moves. He beautifully played the rest of the game and won it convincingly. In the third round, Gukesh had a great decisive advantage against Alexander Grischuk. However, the teenager pushed the pawn a bit early which lacked support. The three-time World Blitz champion, escaped with a draw. Teimour Radjabov (AZE), Vincent Keymer (GER) and Maxime Vachier-Lagrave (FRA) are also at 2/3 along with Gukesh. Round 4 starts today at 3 p.m. IST. Photos: IA Vivek Sohani/Tata Steel Chess India
Radjabov, Keymer, Vachier-Lagrave and Gukesh at 2/3
The field of the fifth edition of Tata Steel Chess India 2023 is stronger than the previous. Last year the average rating was 2674. This year it is 2688. The first day results create a great impression of the field. Four players at 2/3, three at 1.5/3, two at 1/3 and one at 0.5/3. So it is going to be a very closely contested event.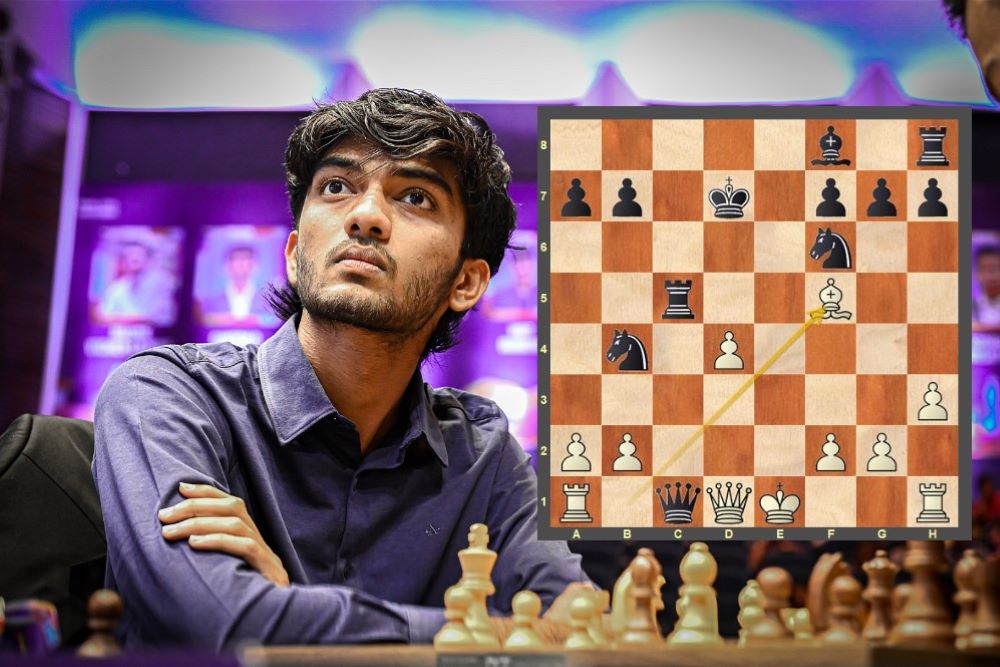 Round 1: Vidit - Harikrishna: 0.5-0.5
The last time GM Vidit Gujrathi (2694) faced GM Pentala Harikrishna (2646) at the very same event was almost five years ago at the first edition. Harikrishna won that game. This time also, it was Harikrishna who had the first opportunity which he missed it. Later, Vidit also missed his chance.
38...Ra3+ 39.Ke2 Bd3+ 40.Kf2 Bc2 41.Rf1 e4 now Black gains material. The game continued 38...Bc2 39.Rc1 Ra3+ and after few moves it was White who got his opportunity.
52...Bf3?? created an opportunity for White 53.Nc4 Ra4 54.Nxe5 Bg2 55.Rf6+ Ke7 56.Rf4 Ra5 57.Kxd4? Rd5+ and Black regains the lost knight immediately. Instead, first 57.Ng6+ intermediate check King moves anywhere and then 58.Rxd4+ would have been winning for White.
Round 2: Vachier-Lagrave - Praggnanandhaa: 0.5-0.5
GM R Praggnanandhaa (2727) faced World Blitz 2021 champion, GM Maxime Vachier-Lagrave (FRA, 2755) only twice in a rated game at FIDE World Cup 2021. The teenager got eliminated by the Frenchman. However, we all are well aware of the fact that things have changed a lot. The boy has grown leaps and bounds. There was a tiny window of the opportunity in the queen and same color bishop endgame. It was not easy to spot, especially if you do not have enough time on the clock.
40.Kh3? is a mistake according to the computer. Black needed to go 40...b5 41.axb6 Qxb6 42.Qe6 a5 43.Qxd6 Qg1/b1 gives Black a huge decisive advantage, but of course this is a computer line, something that is not easy for humans to calculate in time scramble. The game ended in a draw soon.
Abdusattorov - Arjun
GM Nodirbek Abdusattorov's (UZB, 2731) king-walk was majestic against GM Arjun Erigaisi (2675).
Harikrishna - Gukesh: 0-1
In their very first rated game encounter against each other, GM D Gukesh (2651) showed his class against GM Pentala Harikrishna (2646). There is a reason why he is India no.1 and World no.8.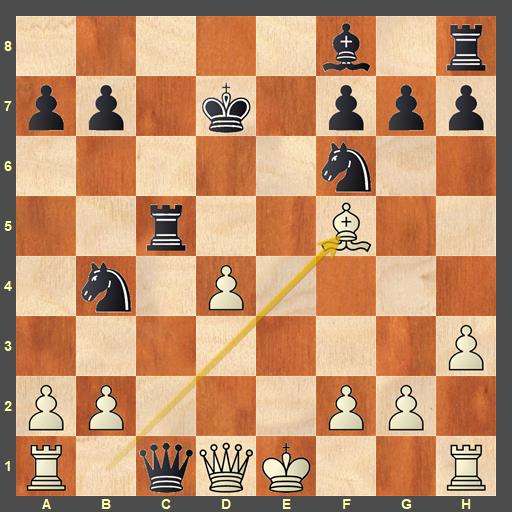 Black's king, queen and rook all are under attack and it's not even 20 moves yet. The good thing is Black has already gained two minor pieces, so there is no harm in taking other while giving up the queen. 17...Rxf5 18.Rxc1 meant Black had three minor pieces against a queen. Although his king was at the center of the board, still the teenager showed some fine play to win the game eventually.
Round 3: Gukesh - Grischuk: 0.5-0.5
Gukesh is yet to beat GM Alexander Grischuk (2709) in a rated game. This time, he had a great opportunity to beat him and got himself very close to it in a queen and rook endgame.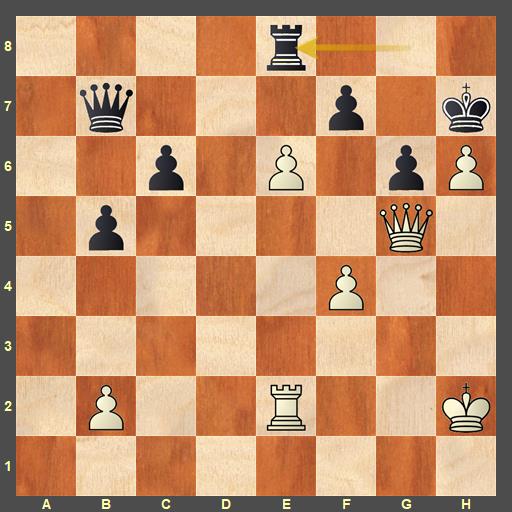 White created a passed pawn 56.e7. Generally, passed pawns prefer to have another pawn to its adjacent file. In this case, 56.f5 would have been deadly and White would have won the game in just a matter of few moves. 56...Qd7 allowed Black to get back in the game 57.Qe5 Kxh6 58.Re3 Qd2+ 59.Re2 Qd5 and White's attack fizzled out.
Arjun - Harikrishna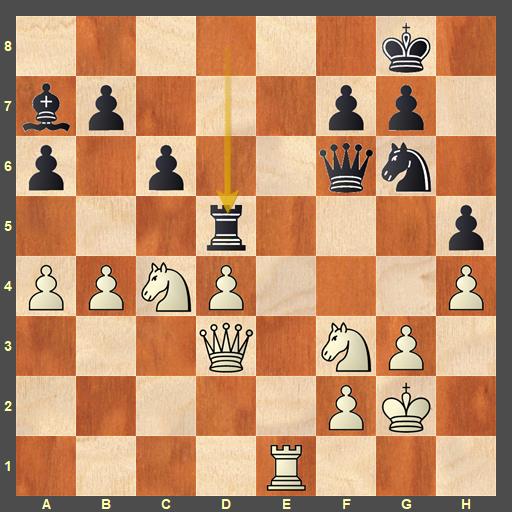 24...Rxd5?? is a blunder. Find out why. Arjun won his first-ever rated game encounter against Harikrishna.
Replay Round 1-3 games
Round 1-3 results
Round 1 on 2023/09/05 at 1500 h
Bo.
No.
Rtg
Name
Result
Name
Rtg
No.
1
1
2709
GM
Grischuk, Alexander
½ - ½
GM
Vachier-Lagrave, Maxime
2755
10
2
2
2694
GM
Vidit, Santosh Gujrathi
½ - ½
GM
Harikrishna, Pentala
2646
9
3
3
2651
GM
Gukesh, D
½ - ½
GM
Abdusattorov, Nodirbek
2731
8
4
4
2675
GM
Erigaisi, Arjun
0 - 1
GM
Keymer, Vincent
2633
7
5
5
2680
GM
Radjabov, Teimour
0 - 1
GM
Praggnanandhaa, R
2703
6
Round 2 on 2023/09/05 at 1630 h
Bo.
No.
Rtg
Name
Result
Name
Rtg
No.
1
10
2755
GM
Vachier-Lagrave, Maxime
½ - ½
GM
Praggnanandhaa, R
2703
6
2
7
2633
GM
Keymer, Vincent
0 - 1
GM
Radjabov, Teimour
2680
5
3
8
2731
GM
Abdusattorov, Nodirbek
1 - 0
GM
Erigaisi, Arjun
2675
4
4
9
2646
GM
Harikrishna, Pentala
0 - 1
GM
Gukesh, D
2651
3
5
1
2709
GM
Grischuk, Alexander
½ - ½
GM
Vidit, Santosh Gujrathi
2694
2
Round 3 on 2023/09/05 at 1800 h
Bo.
No.
Rtg
Name
Result
Name
Rtg
No.
1
2
2694
GM
Vidit, Santosh Gujrathi
0 - 1
GM
Vachier-Lagrave, Maxime
2755
10
2
3
2651
GM
Gukesh, D
½ - ½
GM
Grischuk, Alexander
2709
1
3
4
2675
GM
Erigaisi, Arjun
1 - 0
GM
Harikrishna, Pentala
2646
9
4
5
2680
GM
Radjabov, Teimour
1 - 0
GM
Abdusattorov, Nodirbek
2731
8
5
6
2703
GM
Praggnanandhaa, R
0 - 1
GM
Keymer, Vincent
2633
7
Standings after Round 3
| | | | | | | | | | | | | |
| --- | --- | --- | --- | --- | --- | --- | --- | --- | --- | --- | --- | --- |
| Rk. | SNo | | | Name | FED | Rtg | Pts. | TB1 | TB2 | TB3 | TB4 | TB5 |
| 1 | 5 | | GM | Radjabov, Teimour | AZE | 2680 | 2 | 0 | 0 | 3,50 | 2 | 1 |
| 2 | 7 | | GM | Keymer, Vincent | GER | 2633 | 2 | 0 | 0 | 2,50 | 2 | 2 |
| 3 | 10 | | GM | Vachier-Lagrave, Maxime | FRA | 2755 | 2 | 0 | 0 | 2,50 | 1 | 1 |
| 4 | 3 | | GM | Gukesh, D | IND | 2651 | 2 | 0 | 0 | 2,00 | 1 | 1 |
| 5 | 6 | | GM | Praggnanandhaa, R | IND | 2703 | 1,5 | 0 | 0 | 3,00 | 1 | 1 |
| 6 | 1 | | GM | Grischuk, Alexander | FID | 2709 | 1,5 | 0 | 0 | 2,50 | 0 | 0 |
| 7 | 8 | | GM | Abdusattorov, Nodirbek | UZB | 2731 | 1,5 | 0 | 0 | 2,00 | 1 | 0 |
| 8 | 2 | | GM | Vidit, Santosh Gujrathi | IND | 2694 | 1 | 0 | 0 | 1,00 | 0 | 0 |
| 9 | 4 | | GM | Erigaisi, Arjun | IND | 2675 | 1 | 0 | 0 | 0,50 | 1 | 0 |
| 10 | 9 | | GM | Harikrishna, Pentala | IND | 2646 | 0,5 | 0 | 0 | 0,50 | 0 | 0 |
Round 4-6 pairings
Round 4 on 2023/09/06 at 1500 h
Bo.
No.
Rtg
Name
Result
Name
Rtg
No.
1
10
2755
GM
Vachier-Lagrave, Maxime
GM
Keymer, Vincent
2633
7
2
8
2731
GM
Abdusattorov, Nodirbek
GM
Praggnanandhaa, R
2703
6
3
9
2646
GM
Harikrishna, Pentala
GM
Radjabov, Teimour
2680
5
4
1
2709
GM
Grischuk, Alexander
GM
Erigaisi, Arjun
2675
4
5
2
2694
GM
Vidit, Santosh Gujrathi
GM
Gukesh, D
2651
3
Round 5 on 2023/09/06 at 1630 h
Bo.
No.
Rtg
Name
Result
Name
Rtg
No.
1
3
2651
GM
Gukesh, D
GM
Vachier-Lagrave, Maxime
2755
10
2
4
2675
GM
Erigaisi, Arjun
GM
Vidit, Santosh Gujrathi
2694
2
3
5
2680
GM
Radjabov, Teimour
GM
Grischuk, Alexander
2709
1
4
6
2703
GM
Praggnanandhaa, R
GM
Harikrishna, Pentala
2646
9
5
7
2633
GM
Keymer, Vincent
GM
Abdusattorov, Nodirbek
2731
8
Round 6 on 2023/09/06 at 1800 h
Bo.
No.
Rtg
Name
Result
Name
Rtg
No.
1
10
2755
GM
Vachier-Lagrave, Maxime
GM
Abdusattorov, Nodirbek
2731
8
2
9
2646
GM
Harikrishna, Pentala
GM
Keymer, Vincent
2633
7
3
1
2709
GM
Grischuk, Alexander
GM
Praggnanandhaa, R
2703
6
4
2
2694
GM
Vidit, Santosh Gujrathi
GM
Radjabov, Teimour
2680
5
5
3
2651
GM
Gukesh, D
GM
Erigaisi, Arjun
2675
4
Links
---