Tata Steel India 2023 Women Blitz R1-9: Harika and Wenjun are the coleaders
GM Harika Dronavalli and GM Wenjun Ju (CHN) are the coleaders 6.5/9 of Tata Steel Chess India 2023 Women Blitz. Harika made her intentions clear from the very get go when she grinded an equal rook endgame until her opponent, yesterday's winner, IM Divya Deshmukh crumbled. It was the longest game of the day which lasted 137 moves. Harika's sole loss of the day was against GM Koneru Humpy. The reigning four-time Women's World Champion started with a draw against Humpy. She won the next three games before losing two in-a-row against IM Polina Shuvalova and Harika. Then she won the next three to share the lead. Humpy and Divya are in pursuit at 5/9 each. Who will become the champion? The last nine rounds of Blitz will be played tomorrow, starting from 2 p.m. IST. Photos: IA Vivek Sohani/Tata Steel Chess India
Humpy and Divya in pursuit
It is said that Blitz games should not be analyzed for obvious reasons. However, we will take a quick look at some key moments and highlights.
Harika - Divya, Round 1
It was clear that neither Harika nor Divya wanted to take a draw. Both players wanted to push for a win. White went 127.Kg5 and here Black needed to go 127...a5 128.bxa5 Ra6 129.Rd7+Kc4 to stay in the game. 127...Ke4 128.Rf7 Kf3?? 129.Rg7 and after a bit of back and forth play, White won the game.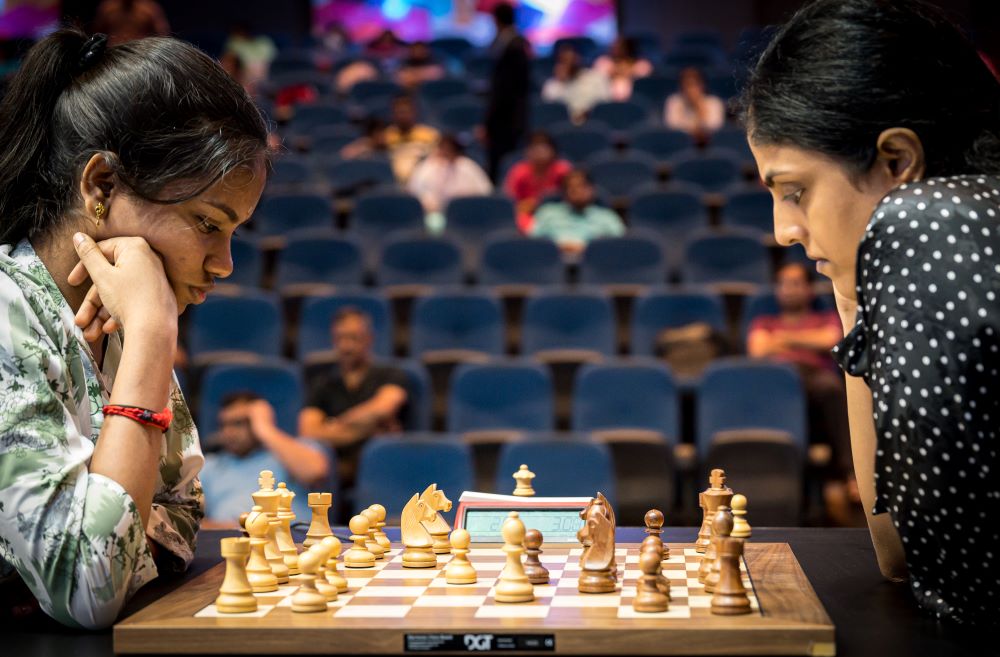 Humpy- Harika, Round 5
White already had a substantial advantage. 27...Rad8 accelerated Black's demise. Find out the winning continuation for White.
Harika - Wenjun, Round 6
GM Wenjun Ju (CHN, 2536) made a positional error of misplacing her bishop at h6. Her opponent, GM Harika Dronavalli (2429) correctly seized her opportunity 22.Rb4 Rb8 23.Rh4 Bg7 24.Rxh7 and White outplayed her opponent to win the game.
Humpy - Savitha, Round 7
52.Nd4 is what White needed to go. 52.Ne5? allowed Black to apply a nice trick! Find out what it is.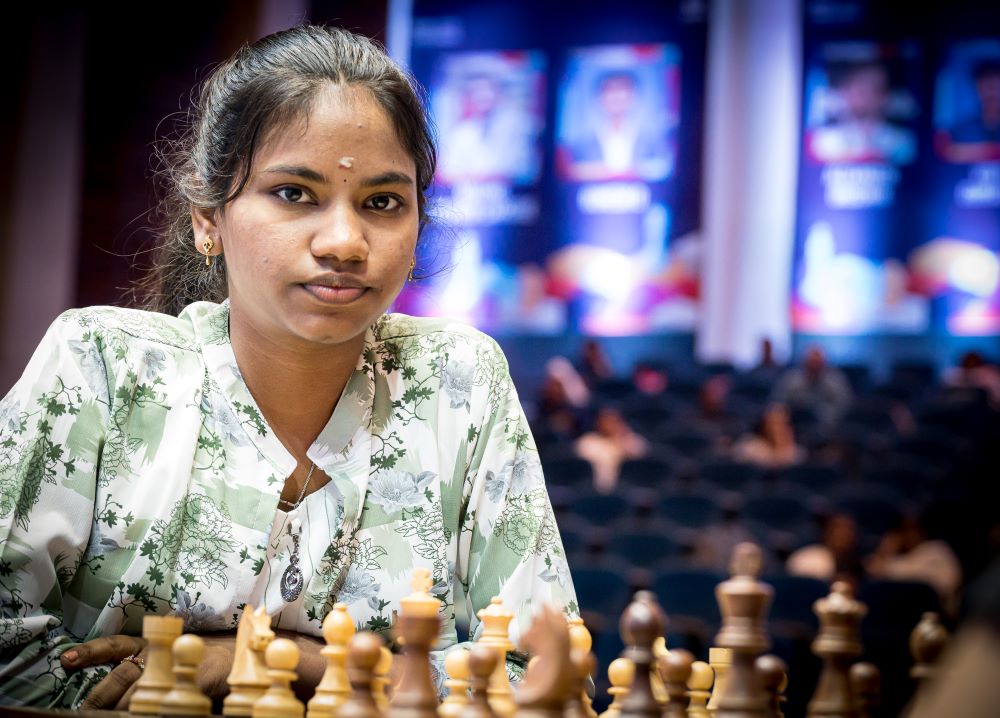 Ushenina - Divya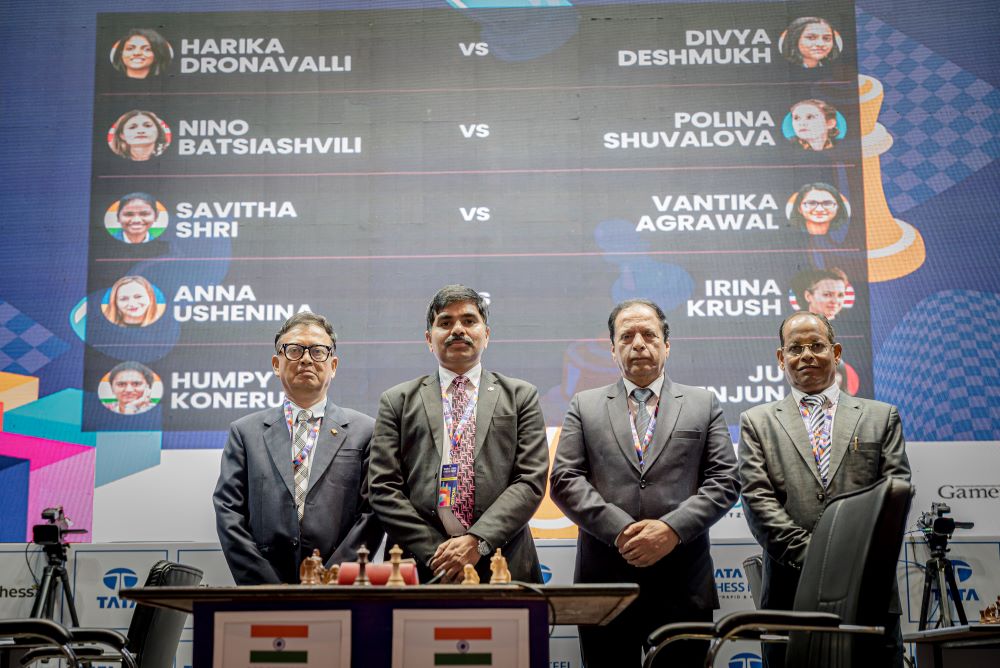 Replay Blitz Round 1-9 games
Round 9 results
Bo.
No.
Rtg
Name
Result
Name
Rtg
No.
1
5
2460
GM
Koneru, Humpy
1 - 0
WGM
Divya, Deshmukh
2231
10
2
6
2536
GM
Ju, Wenjun
1 - 0
GM
Ushenina, Anna
2361
4
3
7
2367
GM
Krush, Irina
1 - 0
WIM
Savitha, Shri B
2172
3
4
8
2267
IM
Vantika, Agrawal
1 - 0
GM
Batsiashvili, Nino
2231
2
5
9
2306
IM
Shuvalova, Polina
0 - 1
GM
Dronavalli, Harika
2429
1

Standings after Round 9
| | | | | | | | | | | | | |
| --- | --- | --- | --- | --- | --- | --- | --- | --- | --- | --- | --- | --- |
| Rk. | SNo | | | Name | FED | Rtg | Pts. | TB1 | TB2 | TB3 | TB4 | TB5 |
| 1 | 1 | | GM | Dronavalli, Harika | IND | 2429 | 6,5 | 0 | 1 | 28,00 | 5 | 2 |
| 2 | 6 | | GM | Ju, Wenjun | CHN | 2536 | 6,5 | 0 | 0 | 25,00 | 6 | 3 |
| 3 | 5 | | GM | Koneru, Humpy | IND | 2460 | 5 | 0 | 1 | 24,25 | 3 | 1 |
| 4 | 10 | | WGM | Divya, Deshmukh | IND | 2231 | 5 | 0 | 0 | 18,00 | 4 | 2 |
| 5 | 9 | | IM | Shuvalova, Polina | FID | 2306 | 4,5 | 0 | 0 | 19,00 | 3 | 2 |
| 6 | 7 | | GM | Krush, Irina | USA | 2367 | 4 | 0 | 1 | 16,50 | 2 | 1 |
| 7 | 3 | | WIM | Savitha, Shri B | IND | 2172 | 4 | 0 | 0 | 16,75 | 3 | 1 |
| 8 | 4 | | GM | Ushenina, Anna | UKR | 2361 | 3,5 | 0 | 1 | 15,00 | 2 | 1 |
| 9 | 8 | | IM | Vantika, Agrawal | IND | 2267 | 3,5 | 0 | 0 | 14,50 | 2 | 1 |
| 10 | 2 | | GM | Batsiashvili, Nino | GEO | 2231 | 2,5 | 0 | 0 | 10,50 | 1 | 0 |
Round 10 pairings
Bo.
No.
Rtg
Name
Result
Name
Rtg
No.
1
10
2231
WGM
Divya, Deshmukh
GM
Dronavalli, Harika
2429
1
2
9
2306
IM
Shuvalova, Polina
GM
Batsiashvili, Nino
2231
2
3
8
2267
IM
Vantika, Agrawal
WIM
Savitha, Shri B
2172
3
4
7
2367
GM
Krush, Irina
GM
Ushenina, Anna
2361
4
5
6
2536
GM
Ju, Wenjun
GM
Koneru, Humpy
2460
5
Links
---