India's strongest tournament - Tata Steel Chess India 2023 starts earlier this year
Tata Steel Chess India is the strongest Rapid and Blitz tournament to take place in India. Usually, it takes place between September and December. However, due to the calendar being packed with a series of tournaments, this time it starts tomorrow, Thursday 31st August. That's not all. The tournament will last for ten days - 31st August to 4th September for Women and 5th to 9th September for Men. Just like last year, both men and women's section will have equal prize fund of US$ 41500. The five-day Rapid and Blitz tournament will feature 22 of the world's best including India's top players. Maxime Vachier-Lagrave, D Gukesh, Alexander Grischuk, Vidit Gujrathi, Teimour Radjabov, R Praggnanandhaa, Arjun Erigaisi, Pentala Harikrishna, Nodirbek Abdusattorov, Vincent Keymer, Wenjun Ju, Koneru Humpy, Harika Dronavalli, Anna Ushenina, Irina Krush, Nino Batsiashvili, Polina Shuvalova, Divya Deshmukh, Vantika Agrawal and Savitha Shri B. Photo: Tata Steel Chess India
For the second year in-a-row, Men and Women's event to have equal prize fund
Players in Men
The Men section will be headlined by the World Blitz 2021 champion - Maxime Vachier-Lagrave (FRA). He will be joined by the current world no.8 and present India no.1 - D Gukesh, three-time World Blitz champion - Alexander Grischuk, current India no.4 and World no.28 - Vidit Gujrathi, FIDE World Cup 2019 winner - Teimour Radjabov (AZE), current World no.31 and India no.6 - Pentala Harikrishna, World Rapid 2021 champion, Nodirbek Abdusattorov (UZB), FIDE World Cup 2023 runner-up, FIDE World Rapid Team 2023 winner and current India no.3 and World no.20 - R Praggnanandhaa, Germany no.1 and current World no.26 - Vincent Keymer, Tata Steel Chess India 2022 Blitz winner, current India no.5 and World no.30 - Arjun Erigaisi.
Players in Women
The reigning four-time Women World's champion and present World no.2 - GM Wenjun Ju (CHN) will be the top seed among the women. She will be joined by India no.1 and World no.4 - GM Koneru Humpy, current World no.13 and India no.2, GM Harika Dronavalli, 14th Women's World Champion and Tata Steel Chess India 2022 Rapid Women winner - GM Anna Ushenina (UKR), eight-time USA Women's champion - GM Irina Krush, Georgia no.4 woman - GM Nino Batsiashvili, WGM Savitha Shri B, reigning Asian Continental 2023 Women's champion - IM Divya Deshmukh, , IM Polina Shuvalova and IM Vantika Agrawal.
Format
There will be two tournaments: a women's event and a men event. The tournament will be played in two formats - Rapid and Blitz. The Women's event will take place from 31st August to 4th September and the Men event will take place from 5th to 9th September. Three rounds of Rapid games will be played on the first three days, followed by nine rounds of Blitz per day on the remaining two days of each event. The time control is 25 minutes for the entire game with an increment of 10 seconds from move no.1. For Blitz, the time control is 3 minutes with an increment of 2 seconds from move no.1.
Venue
Bhasha Bhawan, National Library of India. The tournament is open to spectators. Tickets will not be sold; passes will be available at the venue on first-come-first-serve basis on the days of the tournament.
Where to watch
The entire event will be live-streamed on chess.com youtube and twitch channels.
Schedule
Everyday round starts at 3 p.m. IST for Women and Men, except on the last day 9th September where the rounds start an hour earlier. Women Rapid: Round 1-3 - 31st August, Round 4-6 - 1st September and Round 7-9 - 2nd September. Women Blitz: Round 1-9 - 3rd September, Round 10-18 - 4th September 2023. Men Rapid: Round 1-3 - 5th September, Round 4-6 - 6th September and Round 7-9 - 7th September. Men Blitz: Round 1-9 - 8th September, Round 10-18 - 9th September 2023.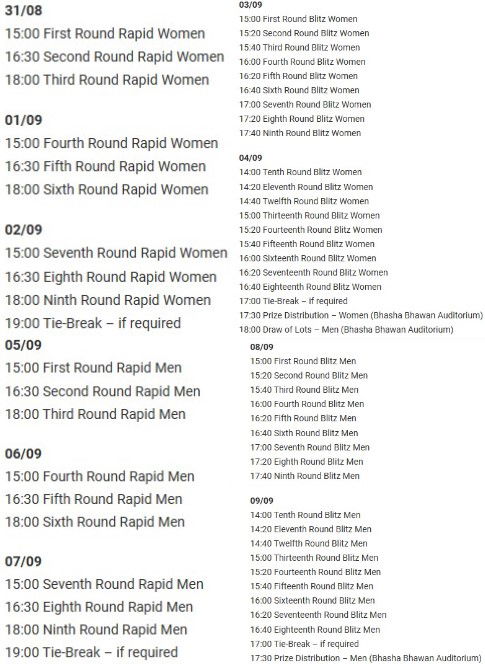 Prize
The total prize fund remains the same as the previous edition US$ 41500.
Links
---