Arjun Erigaisi wins Tata Steel Chess India 2022 Blitz with a round to spare, now World no.10
India no.3 GM Arjun Erigaisi won Tata Steel Chess India 2022 Blitz with a round to spare 12.5/18. His score is the same as Nakamura and Anand tied in the 2018 edition of this event. Arjun scored two crucial wins on the final day against Shakhriyar Mamedyarov in Round 15 and Hikaru Nakamura in Round 17. Bouncing back against the new World Fischer Random champion after suffering a loss against Iran no.1 Parham Maghsoodloo in Round 16 is where Arjun showed what champions are made of. This is Arjun's third Tata Steel event triumph. First one was - Rapid 2021, then Challengers in early 2022 and now this. The teenager is now World no.10 in Blitz in the live ratings. One thing is for sure, this year the World Rapid and Blitz is surely going to be an exciting event, thanks to these impactful performances. Photo: Lennart Ootes
Arjun wins his third Tata Steel event
"Yes for sure. It feels very good to finish first and second last year (Blitz) as well as this year (Rapid). I was slightly upset with my performance in Rapid but I am happy that I won the Blitz event." - Arjun Erigaisi on winning Tata Steel Chess India 2021 Rapid, 84th Tata Steel Chess Challengers earlier this year in Wijk aan Zee, Netherlands and now Tata Steel Chess India 2022 Blitz. "The previous game, I think I shouldn't have lost to Parham. I had a very good position. I should have at least drawn that game. I was super upset after that, I didn't know how I managed to compose myself. I was even thinking to maybe try to make a quiet draw but I went for a very sharp line. I got a better position but it was a very topsy-turvy game. I was lost at some point. It was filled with mutual errors but I am fortunate that I managed to come out on top in the end. I am very thankful to Tata Steel for inviting me. It actually all started here last year in Kolkata, then I won the Wijk Challengers and this went well also. I will be playing in the Masters next year. So I really look forward to it." - Arjun on the importance of the game against Hikaru Nakamura in the penutlimate round, the precursor and aftermath of it.
"I believe it's the same inside as well but there are some exceptions obviously. I think I just collapsed after the game against Parham. Also with Hikaru, I did show some emotions after the game." - Arjun on his composure during tense situations.
"I am extremely happy to win the event. I did not expect to do so well in Rapid honestly. That was a very pleasant surprise. I really managed to play well. Blitz did not go so well at all. Still I am very happy overall and I want to thank Tata Steel for giving me the opportunity to play in this wonderful field, also my sponsor Akshayakalpa for the support." - Nihal Sarin on winning Tata Steel Chess India 2022 Rapid. "Just generally, I haven't done so well in Rapid." - Nihal when asked why he did not expect to do so well in Rapid.
"Yes definitely it's nice to see that we are on the right track at least. They have made remarkable strides in the last year. One of the visions was, to make sure that India was well represented at the top of world chess. They are doing a great job. So full congrats to them and yeah I am very proud that it's working so well." - Vishy Anand on three out of the four champions of Tata Steel Chess India 2022 Rapid and Blitz being a WACA (Westbridge Anand Chess Academy) student.
Round 10: Not an ideal start
GM Arjun Erigaisi (2750) did not have the perfect start. He lost the first game of the day against the reigning World Rapid champion and Olympiad Gold medalist, GM Nodirbek Abdusattorov (UZB, 2666). It was a topsy-turvy encounter which could have gone either player's way. GM Shakhriyar Mamedyarov (AZE, 2733) defeated GM D Gukesh (2632) to jump into sole lead 7/10.
Round 11: Shakh draws, Arjun bounces back
Arjun struck back immediately after a loss, against GM Vidit Gujrathi (2669). Mamedyarov drew his game with GM R Praggnanandhaa (2599). Thus, both Arjun and Mamedyarov are now at 7.5/11 each.
Round 12: Arjun gains sole lead, Shakh loses
Arjun defeated GM D Gukesh (2632). Mamedyarov lost to GM Wesley So (USA, 2763). Meanwhile, GM Hikaru Nakamura (USA, 2909) registered his third consecutive win of the day. Arjun gained sole lead 8.5/12, closely followed by Nakamura 8/12 and Mamedyarov 7.5/12.
Round 13: Arjun stretches his lead by 1.5 points
Praggnanandhaa and Mamedyarov drew with Arjun and Nakamura respectively. Arjun maintaind his sole lead 9/13, Nakamura 8.5/13 and Mamedyarov 8/13.
Round 14: Nakamura maintains his chase
Arjun got back to his winning ways by defeating So. He moved to 10/14 and Nakamura 9.5/14 by handing Vidit his fourth consecutive loss of the day.
Round 15: Arjun gets ahead by 1.5 points again
Arjun Erigaisi avenged his previous loss in the Blitz against Mamedyarov. The latter first overlooked a fork in time trouble before he blundered a piece. Arjun regained his 1.5 point lead, 11/15. Nakamura's inspired comeback was stopped by GM Parham Maghsoodloo (IRI, 2672).
Round 16: A minor setback for Arjun, Hikaru reduces the gap
Arjun suffered his second loss of the day against Parham. Nakamura defeated Gukesh to move to 10.5/16, a half point behind Arjun.
Round 17: Arjun stuns Nakamura
Hikaru Nakamura's hopes of winning the tournament was dashed by the 19-year-old Arjun Erigaisi. The teenager defeated Hikaru in the Rapid and both Blitz games, this win being the most significant one as it earned him the crown.
Photo Gallery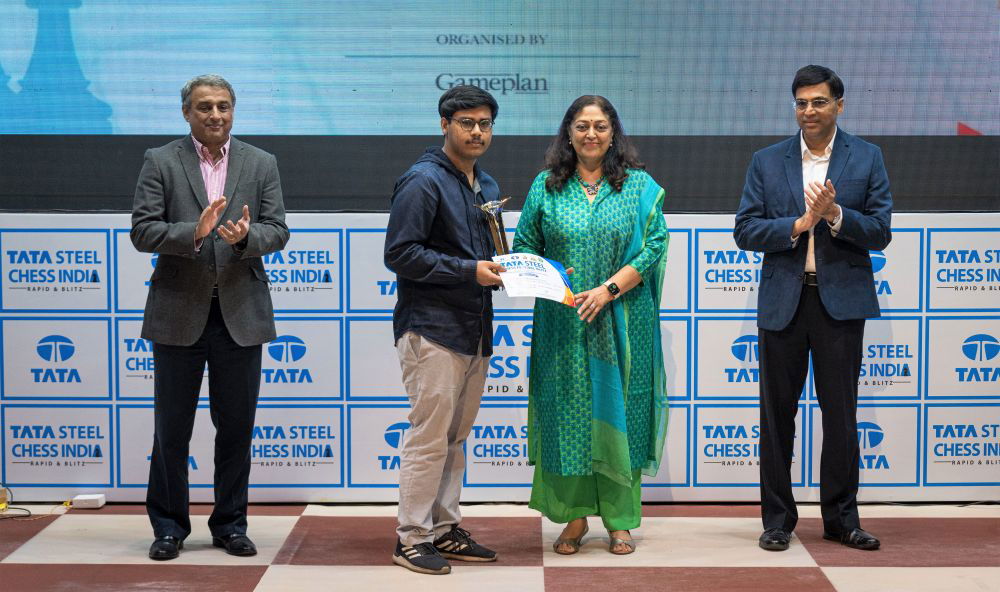 Replay Round 10-18 games
Round 18 results
Round 18 on 2022/12/04 at 1740 h
Bo.
No.
Rtg
Name
Result
Name
Rtg
No.
1
10
2909
GM
Nakamura Hikaru
1 - 0
GM
Praggnanandhaa R
2599
5
2
4
2632
GM
Gukesh D
0 - 1
GM
So Wesley
2763
6
3
3
2669
GM
Vidit Santosh Gujrathi
1 - 0
GM
Mamedyarov Shakhriyar
2733
7
4
2
2666
GM
Abdusattorov Nodirbek
½ - ½
GM
Maghsoodloo Parham
2672
8
5
1
2702
GM
Nihal Sarin
½ - ½
GM
Erigaisi Arjun
2750
9
Final standings after Round 18
| | | | | | | | | | | |
| --- | --- | --- | --- | --- | --- | --- | --- | --- | --- | --- |
| Rk. | SNo | | | Name | Rtg | Pts. | TB1 | TB2 | TB3 | TB4 |
| 1 | 9 | | GM | Erigaisi Arjun | 2750 | 12,5 | 0 | 108,25 | 10 | 6 |
| 2 | 10 | | GM | Nakamura Hikaru | 2909 | 11,5 | 0 | 94,50 | 10 | 3 |
| 3 | 7 | | GM | Mamedyarov Shakhriyar | 2733 | 9,5 | 0 | 82,50 | 6 | 3 |
| 4 | 8 | | GM | Maghsoodloo Parham | 2672 | 9 | 1,5 | 81,00 | 6 | 2 |
| 5 | 3 | | GM | Vidit Santosh Gujrathi | 2669 | 9 | 0,5 | 78,00 | 7 | 3 |
| 6 | 5 | | GM | Praggnanandhaa R | 2599 | 8,5 | 0 | 71,75 | 7 | 3 |
| 7 | 1 | | GM | Nihal Sarin | 2702 | 8 | 1 | 73,50 | 6 | 2 |
| 8 | 6 | | GM | So Wesley | 2763 | 8 | 1 | 65,50 | 6 | 2 |
| 9 | 2 | | GM | Abdusattorov Nodirbek | 2666 | 7,5 | 0 | 68,25 | 4 | 2 |
| 10 | 4 | | GM | Gukesh D | 2632 | 6,5 | 0 | 57,25 | 6 | 1 |
Links
---