Nihal Sarin triumphs at Tata Steel Chess India 2022 Rapid with a round to spare
Nihal Sarin delivered his career best performance to win Tata Steel Chess India 2022 Rapid with a round to spare. Until the final round, he was the only player who remained unscathed. It was fitting that his best friend and the defending champion, Arjun Erigaisi became the sole person to win against the champion. The 18-year-old delivered his career best performance to win the strongest tournament he has ever participated so far. Arjun Erigaisi finished a half point behind Nihal at 6/9, five players finished at 4.5/9. They are - Vidit Gujrathi, Hikaru Nakamura, D Gukesh, Shakhriyar Mamedyarov and Nodirbek Abdusattorov. Vidit was adjudged third according to tie-breaks. Tomorrow 2nd December is a rest day. The Blitz tournament starts on Saturday 3rd December from 4 p.m. IST. Photo: Lennart Ootes
Nihal Sarin delivers his career best, India claims the podium
It has been 16 months since Nihal Sarin won his last event at Biel GMT Blitz 2021. It was part of the Grandmaster Triathlon (GMT). A complete tournament triumph was in July at Serbia Masters 2021. One must not forget Nihal's stellar unbeaten 7.5/10 performance at the 44th Chess Olympiad. However, winning a super tournament as his first triumph in a long time, is undoubtedly special. If Gukesh, Arjun Erigaisi and Praggnanandhaa have announced their arrival at the big stage then Nihal cements the position of the Indian teenagers. Speaking of big stage, Tata Steel Challengers 2023 has announced three out of 14 names so far - GM Abhimanyu Mishra (USA), GM M Amin Tabatabaei (IRI) and GM Luis Paulo Supi (BRA). Out of the remaining 11, one of them has to be the local favorite and prodigy, 16-year-old, IM Eline Roebers (NED). She won the individual Silver on Board no.1 at the 44th Chess Olympiad and recently became IM directly without having any previous titles. Thus, it leaves 10 places, one of them certainly should go towards Nihal. He has earned it.
Round 7: Nihal shocks Shakh
Nihal Sarin (2616) started the day with a very nice victory over Shakhriyar Mamedyarov (AZE, 2747).
Mamedyarov - Nihal
24.Rc2 exposed White's backrank weakness. Nihal is tactically alert. He found a very nice backward move 24...Ne7 25.a3 Bxa3 26.Rd2 Bb4 27.Rd3 Nf5 28.Bb2 Rxd3 29.Bxd3 Qd5 and things finished in a hurry due to the weakness on the long diagonal caused by the queen and bishop battery.
Round 8: Nihal wins the tournament, Arjun beats Nakamura
Arjun Erigaisi (2628) won an extremely complex game against Hikaru Nakamura (2789). If you are like me, who likes the famous words of Tal, "You must take your opponent into a deep dark forest where 2+2=5, and the path leading out is only wide enough for one.", you are certainly in a for a ride.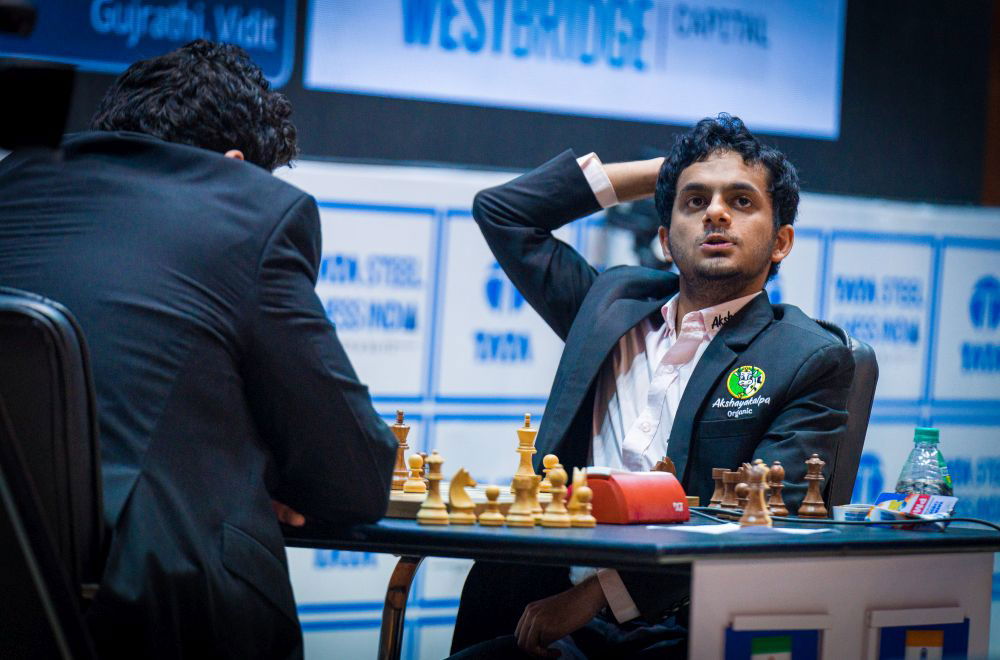 Vidit - So
33.Qc7 created a beautiful combination for Black. If you like extreme calculations, this will certainly whet your appetite. The first candidate move 33...e3 is quite easy to find. However, the real challenge is finding the follow through. Black went 33...Nf8 and the game meandered into a draw.
Round 9: Battle of the best friends
The defending champion Arjun Erigaisi who lost his crown after his very close friend Nihal Sarin won the tournament in the penultimate round, went on to beat him. In the Press Conference, Arjun shared one of the lines which prompted Vishy Anand to say, "That is simply one of the most beautiful lines I have ever heard..."
Arjun - Nihal
28...Rxd4 29.c6 bxc6 30.Rxc6 upto this point was Arjun's preparation as he mentioned in the press conference. He also shared a beautiful variation 28...Nd3 which led to the maestro saying the above-mentioned lines (before the diagram).
Replay Round 7-9 games
Round 7-9 results
Round 7 on 2022/12/01 at 1600 h
Bo.
No.
Rtg
Name
Result
Name
Rtg
No.
1
4
2632
GM
Gukesh D
½ - ½
GM
Nakamura Hikaru
2789
10
2
5
2545
GM
Sethuraman S.P.
½ - ½
GM
Vidit Santosh Gujrathi
2662
3
3
6
2784
GM
So Wesley
0 - 1
GM
Abdusattorov Nodirbek
2676
2
4
7
2747
GM
Mamedyarov Shakhriyar
0 - 1
GM
Nihal Sarin
2616
1
5
8
2656
GM
Maghsoodloo Parham
½ - ½
GM
Erigaisi Arjun
2628
9
Round 8 on 2022/12/01 at 1700 h
Bo.
No.
Rtg
Name
Result
Name
Rtg
No.
1
10
2789
GM
Nakamura Hikaru
0 - 1
GM
Erigaisi Arjun
2628
9
2
1
2616
GM
Nihal Sarin
1 - 0
GM
Maghsoodloo Parham
2656
8
3
2
2676
GM
Abdusattorov Nodirbek
½ - ½
GM
Mamedyarov Shakhriyar
2747
7
4
3
2662
GM
Vidit Santosh Gujrathi
½ - ½
GM
So Wesley
2784
6
5
4
2632
GM
Gukesh D
1 - 0
GM
Sethuraman S.P.
2545
5
Round 9 on 2022/12/01 at 1800 h
Bo.
No.
Rtg
Name
Result
Name
Rtg
No.
1
5
2545
GM
Sethuraman S.P.
0 - 1
GM
Nakamura Hikaru
2789
10
2
6
2784
GM
So Wesley
1 - 0
GM
Gukesh D
2632
4
3
7
2747
GM
Mamedyarov Shakhriyar
½ - ½
GM
Vidit Santosh Gujrathi
2662
3
4
8
2656
GM
Maghsoodloo Parham
½ - ½
GM
Abdusattorov Nodirbek
2676
2
5
9
2628
GM
Erigaisi Arjun
1 - 0
GM
Nihal Sarin
2616
1
Final standings after Round 9
| | | | | | | | | | | | | |
| --- | --- | --- | --- | --- | --- | --- | --- | --- | --- | --- | --- | --- |
| Rk. | SNo | | | Name | Rtg | Pts. | TB1 | TB2 | TB3 | TB4 | K | rtg+/- |
| 1 | 1 | | GM | Nihal Sarin | 2616 | 6,5 | 0 | 26,00 | 5 | 3 | 20 | 55,4 |
| 2 | 9 | | GM | Erigaisi Arjun | 2628 | 6 | 0 | 28,50 | 4 | 2 | 20 | 42,4 |
| 3 | 3 | | GM | Vidit Santosh Gujrathi | 2662 | 4,5 | 2,5 | 19,25 | 1 | 1 | 20 | 3,2 |
| 4 | 10 | | GM | Nakamura Hikaru | 2789 | 4,5 | 2 | 18,25 | 3 | 1 | 20 | -30,4 |
| 5 | 4 | | GM | Gukesh D | 2632 | 4,5 | 2 | 18,00 | 3 | 1 | 20 | 11 |
| 6 | 7 | | GM | Mamedyarov Shakhriyar | 2747 | 4,5 | 2 | 17,00 | 3 | 2 | 20 | -19,8 |
| 7 | 2 | | GM | Abdusattorov Nodirbek | 2676 | 4,5 | 1,5 | 18,00 | 3 | 1 | 20 | -0,8 |
| 8 | 8 | | GM | Maghsoodloo Parham | 2656 | 4 | 1 | 15,75 | 2 | 1 | 20 | -5,4 |
| 9 | 6 | | GM | So Wesley | 2784 | 4 | 0 | 18,50 | 2 | 1 | 20 | -39,2 |
| 10 | 5 | | GM | Sethuraman S.P. | 2545 | 2 | 0 | 10,25 | 1 | 1 | 20 | -16,4 |
Links
---