Tata Steel India 2022 Rapid R1-3: The 'Shakh Attack' Unleashed
Shakhriyar Mamedyarov enchanted the chess universe with his fantastic play on the first day of Tata Steel Chess India 2022 Rapid. After a relatively paltry victory against Gukesh, the World no.14 exhibited some exemplary play scoring wins over Sethuraman and Wesley So. The third round win against So was excellent. Speaking of excellence, Arjun Erigaisi started the day with a brilliant win over Nodirbek Abdusattorov in a clash of the champions. Arjun slipped a bit in the next two games by somehow managing two draws, one was lost and another had a full point fingertips away. Nihal Sarin is also at an unbeaten 2/3 along with Arjun. Round 4 starts tomorrow at 4 p.m. IST. Photo: Aditya Sur Roy
Nakamura loses two in-a-row, Spectacular start to the tournament
When was the last time you saw a super tournament where only three players remained unscathed after the first day? It will certainly be difficult to recall. Yet, no player is at zero point. Statistically the strength of the field is second-highest since the 2019 edition of Tata Steel Chess India. However, the reality is 9/10 if not 10/10 are capable of winning the tournament. Only six out of 15 games ended decisively, the exact same number as the Women's event of the first day.
Round 1: An Instant Classic
The clash of champions between the reigning World Rapid and 44th Chess Olympiad Gold medalist, GM Nodirbek Abduattorov (UZB, 2676) and the defending Tata Steel Chess India 2021 Rapid winner and reigning National champion of India, GM Arjun Erigaisi (2628), was absolutely an instant classic. The head-to-head encounters in rated games between the teenagers was tied at 1-1. That changed today.
Abdusattorov - Arjun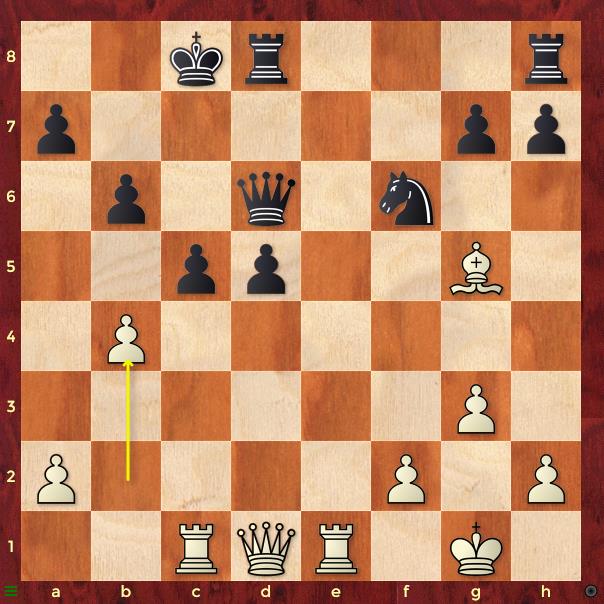 20.b4 might seem to be the obvious move for White to launch an attack on Black's castled king. However, computer does not agree with it. It surmises it as a positional inaccuracy. 20...c4 21.Qf3 Rhe8 22.Re1 Qxb4 yes Black can afford to take another pawn because the king cannot be harmed easily. Soon Black's advantage accentuated and he sacrificed an exchange to eliminate any counterplay possibilities. This game will definitely get into the books in the future for a near-perfect play by Black.
Who nudged the Shakh?
Shakhriyar Mamedyarov (AZE, 2747) scored an easy win over D Gukesh (2632) after the latter made a one-move tactical error.
Gukesh - Mamedyarov
17...Qb6 not only attacks the b2-bishop but also threatens Bb3 in the next move. 18.Qb5 was the sole saving grace for White. 18...Qxb5 19.Bxb5 c4 20.Bc3 Ne4 was a relatively better choice. 18.Bc3 Bb3 dropped an exchange 19.Bxa5 Bxa4 20.Bxb6 Bxd1 and Black went on to win the game without any difficulty.
Round 2: Battle of the World Fischer Random Champions
The one match which we did not get to see at the recently concluded World Fischer Random Champions is between the former and the recent champions - Wesley So (USA, 2784) and Hikaru Nakamura (USA, 2789). Tata Steel Chess India 2022 is certainly the place to have the wish fulfilled.
Nakamura - So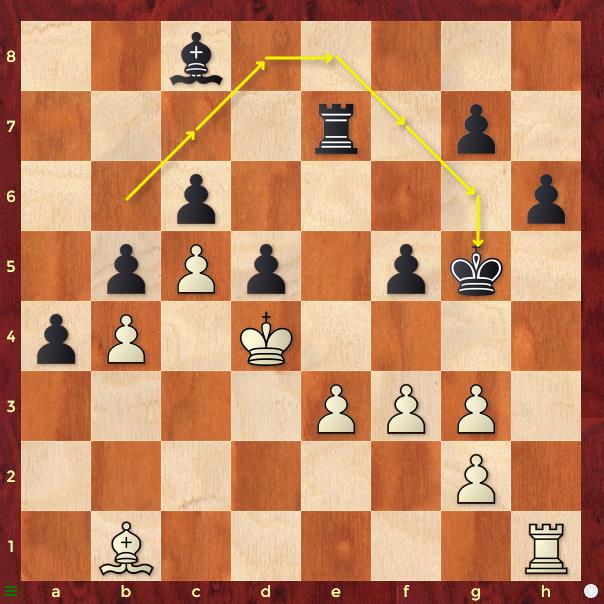 So moved his king all the way from b6 to g5 via c7, d8, e8, f7, g6, g5. Although he was forced to move the first time due to 51.dxc5+, that was certainly intentional as he exchanged knights on c5. What followed next is, a beautiful way of converting his advantage into a full point, even though it was certainly not easy.
Find out the beautiful finish which So executed in the game after 85.Kc3. When there is a book of best games of So written, this will certainly be considered at the very top of the list.
The Stranded King
Playing a sharp game against Shakhriyar Mamedyarov (AZE, 2747) is perhaps not a good idea, especially if you strand your kind at the center of the board. Sethuraman S P (2545) was at the end of a tough loss.
Mamedyarov - Sethuraman
White could have won the game in various ways, yet Mamedyarov opted for a creative and practically sound one 28.Bxa6! Why it is such a good idea? It attempts to neutralize on the long diagonal a8-h1. 28...Qxe6 29.Bxb7 is the only way for Black to stay in the game which is incredibly difficult to find.
The Comeback
India no.2 and World no.23 D Gukesh (2632) bounced back immediately against the Iran no.1 and World no.27 Parham Maghsoodloo (2656).
39.d5 is a neat trick as Rxd5 falls into 40.Rxe4 and the odds increase for White drastically. Black was not going to be greedy for a pawn. His play was evident that he was playing for only one result. 39...Kf5 40.Rc6 Kxd5 41.Rxb6 f3+ 42.Ke1 e3 while computer disagrees with his. One must not forget that time is a factor, human errors and fatigue is something the machine cannot feel. The human psychology will almost always tend to go for 42...e3 instead of the artificial 42...Rd8. One must not forget that Gukesh started using computers only two years ago during the lockdown.
The b3 backfire
Whether 1.b3 is playable against a strong opponent is debatable. It is quite a matter of taste, choice and skill. Arjun Erigaisi (2628) sacrificed his queen against Vidit Gujrathi (2662) on move no.9.
In case you are wondering, whether White was forced to sacrifice the queen. The answer is no. 9.Qa3 would have saved both queen and bishop. 9,Bxg7 Bxa4 10.bxa4 Nf6 11.Bxh8 Qd4 12.Nc3 Qxh4 and White is completely lost. White just had a rook and bishop against a queen, which is a far cry from a decent composition.
27...c3 loosened Black's grip. 28.Nd5 Qc6 allowed White to save the day 29.Rxe7+ Kf8 30.Nb4 c2 31.Nxc6 d1Q 32.a7 Qg5+ 33.Kf1 Qc1+ and Black had to save the game via perpetual check.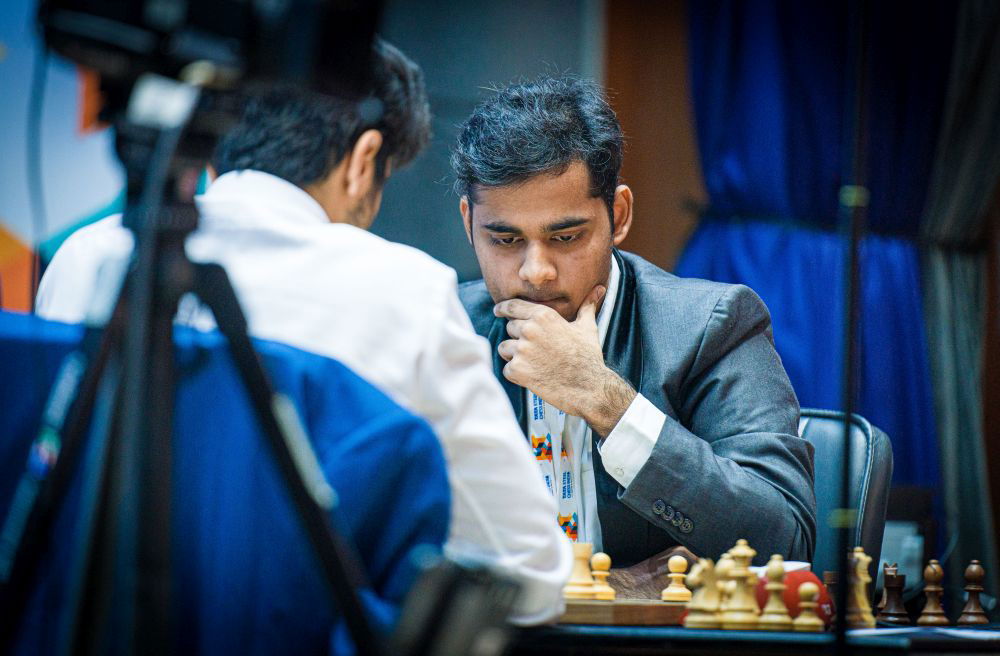 Round 3: Two losses too soon
In a battle of the reigning World Champions and that also for the first time ever in a rated game - Nodirbek Abdusattorov (UZB, 2676) prevailed over Hikaru Nakamura (USA, 2789).
Abdusattorov - Nakamura
The two pawns for the knight was enough compensation for Black. The only move Black shouyld not play here is 76...e4 which is exactly what he did. 77.Bg5 Bc6 78.Bxf4 Kxh4 79.Bg3+ Kg5 80.Ne6+ Kf6 81.Nd4 Bd7 82.Bd6 Bc8 83.Kg3 time to bring the king in the action. 83...Kg5 84.Be7+ and Black resigned as the fragmented pawns would fall soon.
Passive Play
Lately Vidit Gujrathi (2662) is not having trouble getting good positions. However, he is making some passive choices after arriving at a significant advantage.
Vidit - Nihal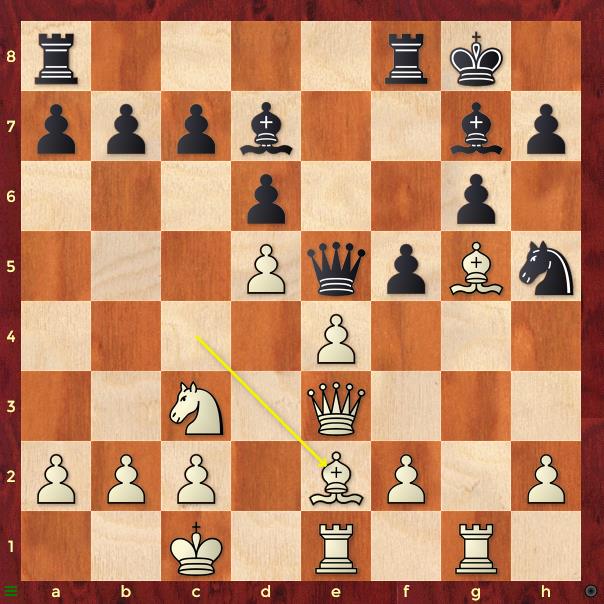 17.Be2 is uncalled for. White needed to do 17.f4 himself before Black could do the same to him. 17...f4 18.Qd3 f3 White's position is now signinficantly worse. 19.Bd1 Nf4 it wouldn't be an understatement to say that Black is positionally winning.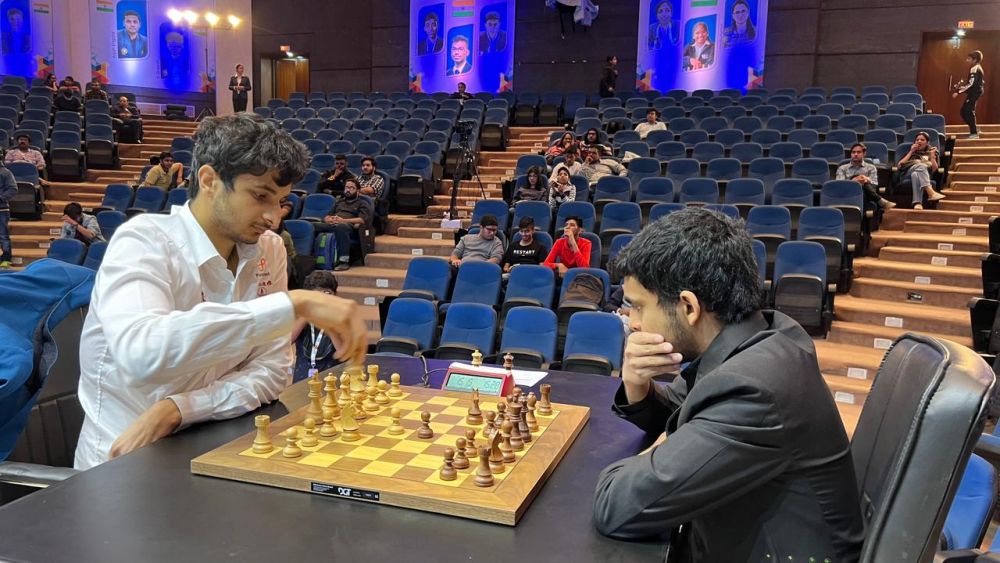 When the aim is off the mark
Arjun Erigaisi (2628) had an opportunity to push for a win against D Gukesh (2632).
Gukesh - Arjun
49...h3 or Ra1 both would have given Black a decent chance to push for a full point. Black eventually got h3 after a few moves, however the king had reached g1 by then which is a theoretical draw.
When Shakh = Tal
The name which often gets lost in the shuffle among the top players of the world is, the World Rapid 2013 champion, Shakhriyar Mamedyarov (AZE, 2747). He can play some creative, strange and whacky chess to beat any opponent in the world. He has known to have a lot of decisive games against Magnus Carlsen too. He denied his opponent Wesley So, the second consecutive victory of the day.
Yes Black just offered his rook at a8 after going 14...Rxg2 and then 16...Rg8 moments ago. This type of chess only a human can play and computers are miles behind it. 18.e4 Qb3 19.Qe3 Bb4+ 20.Bd2 Qb2 and Black went on to win the game.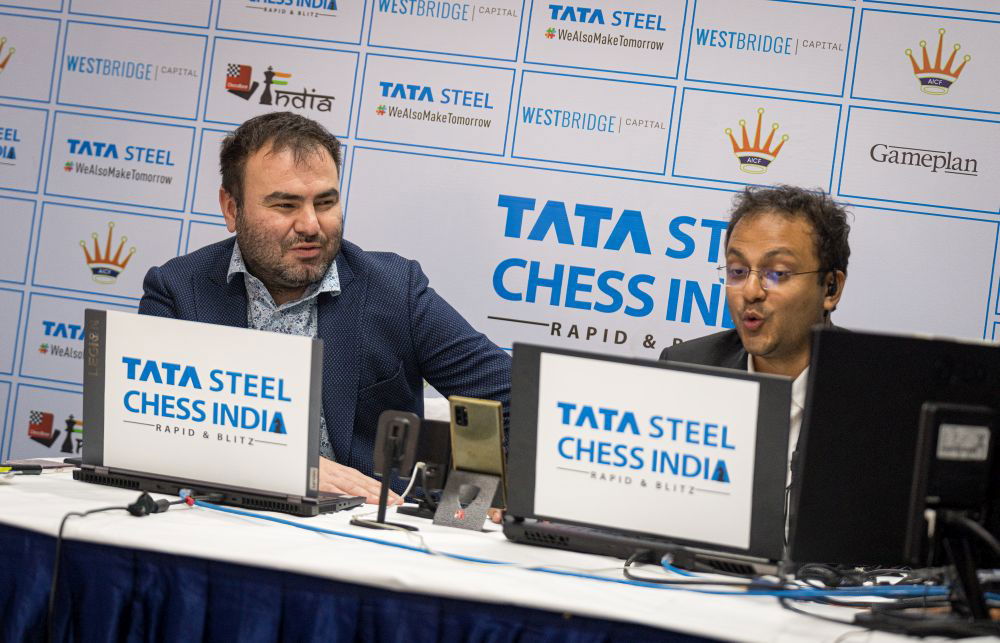 Replay Round 1-3 games
Round 1-3 results
Round 1 on 2022/11/29 at 1600 h
Bo.
No.
Rtg
Name
Result
Name
Rtg
No.
1
1
2616
GM
Nihal Sarin
½ - ½
GM
Nakamura Hikaru
2789
10
2
2
2676
GM
Abdusattorov Nodirbek
0 - 1
GM
Erigaisi Arjun
2628
9
3
3
2662
GM
Vidit Santosh Gujrathi
½ - ½
GM
Maghsoodloo Parham
2656
8
4
4
2632
GM
Gukesh D
0 - 1
GM
Mamedyarov Shakhriyar
2747
7
5
5
2545
GM
Sethuraman S.P.
½ - ½
GM
So Wesley
2784
6
Round 2 on 2022/11/29 at 1700 h
Bo.
No.
Rtg
Name
Result
Name
Rtg
No.
1
10
2789
GM
Nakamura Hikaru
0 - 1
GM
So Wesley
2784
6
2
7
2747
GM
Mamedyarov Shakhriyar
1 - 0
GM
Sethuraman S.P.
2545
5
3
8
2656
GM
Maghsoodloo Parham
0 - 1
GM
Gukesh D
2632
4
4
9
2628
GM
Erigaisi Arjun
½ - ½
GM
Vidit Santosh Gujrathi
2662
3
5
1
2616
GM
Nihal Sarin
½ - ½
GM
Abdusattorov Nodirbek
2676
2
Round 3 on 2022/11/29 at 1800 h
Bo.
No.
Rtg
Name
Result
Name
Rtg
No.
1
2
2676
GM
Abdusattorov Nodirbek
1 - 0
GM
Nakamura Hikaru
2789
10
2
3
2662
GM
Vidit Santosh Gujrathi
0 - 1
GM
Nihal Sarin
2616
1
3
4
2632
GM
Gukesh D
½ - ½
GM
Erigaisi Arjun
2628
9
4
5
2545
GM
Sethuraman S.P.
0 - 1
GM
Maghsoodloo Parham
2656
8
5
6
2784
GM
So Wesley
0 - 1
GM
Mamedyarov Shakhriyar
2747
7
Round 4-6 pairings
Round 4 on 2022/11/30 at 1600 h
Bo.
No.
Rtg
Name
Result
Name
Rtg
No.
1
10
2789
GM
Nakamura Hikaru
GM
Mamedyarov Shakhriyar
2747
7
2
8
2656
GM
Maghsoodloo Parham
GM
So Wesley
2784
6
3
9
2628
GM
Erigaisi Arjun
GM
Sethuraman S.P.
2545
5
4
1
2616
GM
Nihal Sarin
GM
Gukesh D
2632
4
5
2
2676
GM
Abdusattorov Nodirbek
GM
Vidit Santosh Gujrathi
2662
3
Round 5 on 2022/11/30 at 1700 h
Bo.
No.
Rtg
Name
Result
Name
Rtg
No.
1
3
2662
GM
Vidit Santosh Gujrathi
GM
Nakamura Hikaru
2789
10
2
4
2632
GM
Gukesh D
GM
Abdusattorov Nodirbek
2676
2
3
5
2545
GM
Sethuraman S.P.
GM
Nihal Sarin
2616
1
4
6
2784
GM
So Wesley
GM
Erigaisi Arjun
2628
9
5
7
2747
GM
Mamedyarov Shakhriyar
GM
Maghsoodloo Parham
2656
8
Round 6 on 2022/11/30 at 1800 h
Bo.
No.
Rtg
Name
Result
Name
Rtg
No.
1
10
2789
GM
Nakamura Hikaru
GM
Maghsoodloo Parham
2656
8
2
9
2628
GM
Erigaisi Arjun
GM
Mamedyarov Shakhriyar
2747
7
3
1
2616
GM
Nihal Sarin
GM
So Wesley
2784
6
4
2
2676
GM
Abdusattorov Nodirbek
GM
Sethuraman S.P.
2545
5
5
3
2662
GM
Vidit Santosh Gujrathi
GM
Gukesh D
2632
4
Standings after Round 3
| | | | | | | | | | | |
| --- | --- | --- | --- | --- | --- | --- | --- | --- | --- | --- |
| Rk. | SNo | | | Name | Rtg | Pts. | TB1 | TB2 | TB3 | TB4 |
| 1 | 7 | | GM | Mamedyarov Shakhriyar | 2747 | 3 | 0 | 3,50 | 3 | 2 |
| 2 | 9 | | GM | Erigaisi Arjun | 2628 | 2 | 0 | 2,75 | 1 | 1 |
| 3 | 1 | | GM | Nihal Sarin | 2616 | 2 | 0 | 2,00 | 1 | 1 |
| 4 | 4 | | GM | Gukesh D | 2632 | 1,5 | 0 | 2,50 | 1 | 1 |
| 5 | 2 | | GM | Abdusattorov Nodirbek | 2676 | 1,5 | 0 | 1,50 | 1 | 0 |
| 6 | 8 | | GM | Maghsoodloo Parham | 2656 | 1,5 | 0 | 1,00 | 1 | 1 |
| 7 | 6 | | GM | So Wesley | 2784 | 1,5 | 0 | 0,75 | 1 | 1 |
| 8 | 3 | | GM | Vidit Santosh Gujrathi | 2662 | 1 | 0 | 1,75 | 0 | 0 |
| 9 | 10 | | GM | Nakamura Hikaru | 2789 | 0,5 | 0 | 1,00 | 0 | 0 |
| 10 | 5 | | GM | Sethuraman S.P. | 2545 | 0,5 | 0 | 0,75 | 0 | 0 |
Links
---