Tata Steel Chess India 2022 gets bigger and stronger
Tata Steel Chess India is the strongest Rapid and Blitz tournament to take place in India. After the successful completion of 44th Chess Olympiad and Asian Continental Championship, the next big event starts tomorrow at National Library of India in Kolkata. For the first time in the history of the sport, both men and women's section will have equal prize fund of US$ 41500. The five-day Rapid and Blitz tournament will feature 22 of the world's best including India's top players. Newly crowned World Fischer Random champion, Hikaru Nakamura, India no.2 and World no.23 D Gukesh, reigning World Rapid champion - Nodirbek Abdusattorov, new Asian Continental champion, R Praggnanandhaa, defending Tata Steel 2021 Rapid winner, Arjun Erigaisi, Olympiad Gold medalists - Anna Muzychuk, Mariya Muzychuk, Anna Ushenina, Oliwia Kiolbasa, Bronze medalists - Koneru Humpy, Harika Dronavalli, Vaishali R and Bhakti Kulkarni will be some of the participants. Photo: Official site
For the first time ever - Women's event to have equal prize fund
On 10th August 2022, the day after the conclusion of 44th Chess Olympiad 2022, it was announced that Tata Steel Chess India 2022 Rapid and Blitz will have a Women's event for the very first time. The total prize fund combining Rapid and Blitz event is US $41500 each in Men's and Women's category. Draw of Lots will take place later today. We will bring you detailed coverage from their.
Mr. Vishy Anand, Ambassador of Tata Steel Chess India on the occasion said, "I am extremely delighted that today chess is considered as a mainstream sport. Tournaments like Tata Steel Chess India where our young players fight it out with International Grandmasters really helps the cause of producing newer champions. Today, India is considered as chess power-house with both men and women excelling in the sport. The introduction of the women's tournament with equal prize money as the men category is a welcome move and an excellent initiative and we hope it is as well-received by the chess enthusiasts. Chess is and should be an equal sport."
Speaking on the occasion Mr. Chanakya Chaudhary, Vice President, Corporate Services, Tata Steel said, "We are delighted to announce that this year's edition of Tata Steel Chess India will witness the launch of a Women's Tournament as well. What better year to start this than FIDE's 'Year Of The Woman In Chess.' The event will give young Indian talent the opportunity to play against top International Grandmasters. Tata Steel Chess India is part of Tata Steel's continuous and conscious effort to build an equitable and diverse environment while engaging with communities through meaningful activities. We are encouraged by the enthusiasm and participation we have received over the past years and are determined to make this world class chess competition even better."
IM Tania Sachdev expressed their happiness over the introduction of women category in Tata Steel Chess India. She echoed that the introduction of equality in the prize amount by Tata Steel Chess India will encourage more women to take up the sport as a profession.
Mr. Bharat Singh Chauhan, Deputy President, ACF said, "We as a national body for promoting chess is extremely happy to witness resurgence and renewed interest towards this sport from the people of the country. The recently concluded Chess Olympiad is an example of the growing importance of chess in India. Over the past few years, Tata Steel Chess India is helping to popularize the sport and take the game to every corner of the country. And this year, the addition of the Women's tournament is a welcome development."
Players in Men
The Men section will be headlined by the newly crowned World Fischer Random champion - Hikaru Nakamura (USA). He will be joined by the former World Fischer Random champion Wesley So (USA), World no.14 Shakhriyar Mamedyarov (AZE), India no.2 and World no.23 D Gukesh, India no.3 and World no.23 Vidit Gujrathi, Iran no.1 and World no.27, Parham Maghsoodloo, Tata Steel India 2021 Rapid champion, India no.4 and World no.28, Arjun Erigaisi, current World Rapid champion, Nodirbek Abdusattorov (UZB) and chess.com Global championship runner-up, Nihal Sarin. Former Asian Continental champion and 41st Chess Olympiad Bronze medalist, Sethuraman S P will only play the Rapid event. He will be replaced by R Praggnanandhaa in the Blitz event which starts on Saturday 3rd December.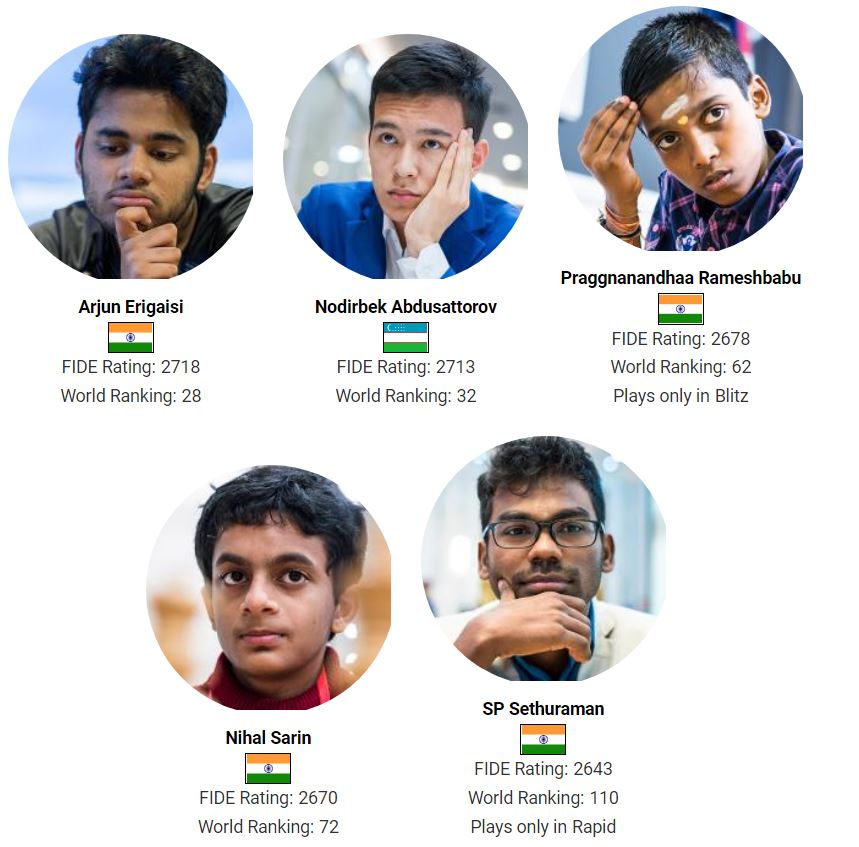 Players in Women
The former World Rapid Women champion and 44th Chess Olympiad Bronze medalist, current World no.3 and India no.1, GM Koneru Humpy will be the top seed of the Women event. She will be joined by the 44th Chess Olympiad Gold medalists from Ukraine - GM Mariya Muzychuk, GM Anna Muzychuk and GM Anna Ushenina, Georgia no.1 and World no.10, GM Nana Dzagnidze. World no.11 and India no.2, GM Harika Dronavalli and her Bronze winning teammates - IM Vaishali R and IM Bhakti Kulkarni. Bhakti will only play the Blitz event, replacing WGM Vantika Agrawal who will play the Rapid. They will be joined by Poland no.3 and 44th Olympiad individual Gold medalist, IM Oliwia Kiolbasa and the youngest player of the event, 15-year-old WIM Savitha Shri B.
Format
There will be two tournaments: a women's event and an open event. The tournament will be played in two formats - Rapid and Blitz. A single 10-player Round-Robin played on November 29, 30 and December 1, with three rounds per day. The time control is 15 minutes for the entire game with an increment of 10 seconds from move no.1. A double 10-player Round-Robin will be played on December 3 and 4, with 9 rounds per day. The time control is 3 minutes with an increment of 2 seconds from move no.1.
Prize
The total prize fund is US$ 41500 each in Open and Women category.
Rapid
1st - $10000
2nd - $5000
3rd - $4000
4th - $3000
5th - $2000
Blitz
1st - $7500
2nd - $4000
3rd - $3000
4th - $2000
5th - $1000
Venue
Bhasha Bhawan, National Library of India. The tournament is open to spectators. Tickets will not be sold; passes will be available at the venue on first-come-first-serve basis on the days of the tournament.
Where to watch
The entire event will be live-streamed on ChessBase India youtube channel.
Schedule
Everyday round starts at 12 p.m. IST for Women and 4 p.m. IST for Open, except on the last day 4th December where the rounds start an hour earlier.. Rapid: Round 1-3 - 29th November, Round 4-6 - 30th November and Round 7-9 - 1st December. Rest day - 2nd December. Blitz: Round 1-9 - 3rd December, Round 11-18 - 4th December 2022.
Source: Announcement
Links
---