Tata Steel India 2022 Women Rapid R1-3: Nana Dzagnidze makes a perfect start
GM Nana Dzagnidze has emerged as the sole leader after the first day of Tata Steel Chess India 2022 Women Rapid. The Georgia no.1 had a shaky start. The youngest player in the field, WIM Savitha Shri B missed a tactical opportunity against the Georgia no.1. However, the teenager overlooked her chance. She went on to beat IM Vaishali R and IM Oliwia Kiolbasa (POL). Four GMs - Koneru Humpy, Mariya Muzychuk, Anna Ushenina and Harika Dronavalli are at 2/3 each. GM Anna Muzychuk is still in search for her first victory. Vaishali scored 1.5/3 and Oliwia had a tough start as she lost all three of her games. Round 4 starts tomorrow at 12 p.m. IST. Photo: Lennart Ootes
Humpy and Harika in a four-way chase
The field of the first edition of Tata Steel Chess India 2022 Women is undoubtedly a strong one. Although it is the GMs who are at the top half after the conclusion of round 3, 14-year-old like WIM Savitha Shri B has already made her presence felt by doing a draw with GM Anna Muzychuk.
Round 1: Anna Muzychuk - Humpy: 0-1
World no.8 GM Anna Muzychuk (UKR, 2458) eliminated World no.3 GM Koneru Humpy (2474) at the FIDE Women's Candidates Pool A Quarterfinals last month. Humpy did not forget it. Anna went all-in against Humpy. The attack certainly looks promising from a human perspective. However, computer feels otherwise.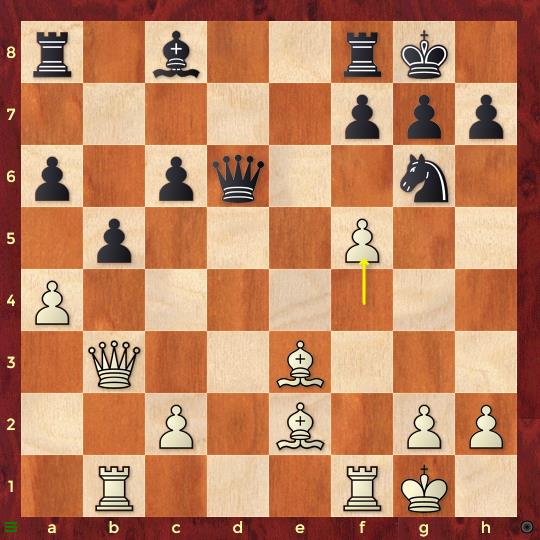 20.f5 Ne7 21.f6 is an attacking player's instinctive way to play in this position. However, Humpy was ready with her rebuttal 21...Nd5 22.Rbd1 Ne5 23.fxg7 Re8 and Black has a decisive advantage. There is no further way for White to continue the attack.
Mariya - Vantika: 1-0
WGM Vantika Agrawal (2262) had a good tactical opportunity to equalize in the endgame against GM Mariya Muzychuk (2476).
28...b5 shifted the balance in White's favor after 29.axb5 axb5 30.Reg3. The kingside attack is too overwhelming for Black. Can you find out what tactic Black could have applied to stay in the game?
Savitha - Dzagnidze: 0-1
The youngest player of the event, WIM Savitha Shri B (2311) missed a great opportunity to score a big upset against Georgia no.1 and World no.10, GM Nana Dzagnidze (2475).
27.Ba6 Kg8 and Black remains fine. However, Black blundered 27...Bxa6 hanging an exchange 28.Nd7+. Unfortunately for the teenager, she missed her golden opportunity and went for 28.Nxa6. White made few positional inaccuracies in the rook and knight endgame, allowing her opponent to walk away with the win.
Round 2: Vantika - Savitha: 1-0
WIM Savitha Shri B (2311) fell into a thematic opening trap against WGM Vantika Agrawal (2262).
One must know this thematic pattern which can occur in King's Indian, Pirc or Modern Defence. Black did not know and played 14...Qc7 inviting 15.Ndb5 cxb5 16.Nxb5 Qe7 17.Nxd6 Ne6 18.e5 Nd7 19.Nxe8 Qxe8 20.f4. White got a substantial advantage and had no trouble converting it into a win.
Round 3: Savitha - Anna Muzychuk: 0.5-0.5
WIM Savitha Shri B (2311) played courageously to hold the 44th Chess Olympiad Gold medalist, GM Anna Muzychuk (UKR, 2458) to a draw.
Vaishali - Vantika: 1-0
IM Vaishali R (2351) completely dominated WGM Vantika Agrawal (2262) with a kingside annihilation.
Black's position was already very difficult to defend. The final nail in the coffin was driven via 28.Nxh6! gxh6 29.Qf5+ Rg6 30.Bxb7 Qxb7 31.hxg6+ and White won the game in another ten moves.
Kiolbasa - Dzagnidze: 0-1
IM Oliwia Kiolbasa (POL, 2304) suffered her third consecutive loss of the day after she made multiple inaccuracies in the endgame.
If Black doesn't take the knight, Black can win this quicker. 63...Bxe6 gave White one last opportunity to fight 64.fxe6 Nd5 65.Bb5 Ke5. Soon the passed e-pawns got exchanged and Black eventually outflanked the white king and went on to win the game.
Replay Round 1-3 games
Round 1-3 results
Round 1 on 2022/11/29 at 1200 h
Bo.
No.
Rtg
Name
Result
Name
Rtg
No.
1
1
2458
GM
Muzychuk Anna
0 - 1
GM
Koneru Humpy
2474
10
2
2
2476
GM
Muzychuk Mariya
1 - 0
WGM
Vantika Agrawal
2262
9
3
3
2311
WIM
Savitha Shri B
0 - 1
GM
Dzagnidze Nana
2475
8
4
4
2351
IM
Vaishali Rameshbabu
½ - ½
GM
Harika Dronavalli
2475
7
5
5
2304
IM
Kiolbasa Oliwia
0 - 1
GM
Ushenina Anna
2371
6
Round 2 on 2022/11/29 at 1300 h
Bo.
No.
Rtg
Name
Result
Name
Rtg
No.
1
10
2474
GM
Koneru Humpy
½ - ½
GM
Ushenina Anna
2371
6
2
7
2475
GM
Harika Dronavalli
1 - 0
IM
Kiolbasa Oliwia
2304
5
3
8
2475
GM
Dzagnidze Nana
1 - 0
IM
Vaishali Rameshbabu
2351
4
4
9
2262
WGM
Vantika Agrawal
1 - 0
WIM
Savitha Shri B
2311
3
5
1
2458
GM
Muzychuk Anna
½ - ½
GM
Muzychuk Mariya
2476
2
Round 3 on 2022/11/29 at 1400 h
Bo.
No.
Rtg
Name
Result
Name
Rtg
No.
1
2
2476
GM
Muzychuk Mariya
½ - ½
GM
Koneru Humpy
2474
10
2
3
2311
WIM
Savitha Shri B
½ - ½
GM
Muzychuk Anna
2458
1
3
4
2351
IM
Vaishali Rameshbabu
1 - 0
WGM
Vantika Agrawal
2262
9
4
5
2304
IM
Kiolbasa Oliwia
0 - 1
GM
Dzagnidze Nana
2475
8
5
6
2371
GM
Ushenina Anna
½ - ½
GM
Harika Dronavalli
2475
7
Round 4-6 pairings
Round 4 on 2022/11/30 at 1200 h
Bo.
No.
Rtg
Name
Result
Name
Rtg
No.
1
10
2474
GM
Koneru Humpy
GM
Harika Dronavalli
2475
7
2
8
2475
GM
Dzagnidze Nana
GM
Ushenina Anna
2371
6
3
9
2262
WGM
Vantika Agrawal
IM
Kiolbasa Oliwia
2304
5
4
1
2458
GM
Muzychuk Anna
IM
Vaishali Rameshbabu
2351
4
5
2
2476
GM
Muzychuk Mariya
WIM
Savitha Shri B
2311
3
Round 5 on 2022/11/30 at 1300 h
Bo.
No.
Rtg
Name
Result
Name
Rtg
No.
1
3
2311
WIM
Savitha Shri B
GM
Koneru Humpy
2474
10
2
4
2351
IM
Vaishali Rameshbabu
GM
Muzychuk Mariya
2476
2
3
5
2304
IM
Kiolbasa Oliwia
GM
Muzychuk Anna
2458
1
4
6
2371
GM
Ushenina Anna
WGM
Vantika Agrawal
2262
9
5
7
2475
GM
Harika Dronavalli
GM
Dzagnidze Nana
2475
8
Round 6 on 2022/11/30 at 1400 h
Bo.
No.
Rtg
Name
Result
Name
Rtg
No.
1
10
2474
GM
Koneru Humpy
GM
Dzagnidze Nana
2475
8
2
9
2262
WGM
Vantika Agrawal
GM
Harika Dronavalli
2475
7
3
1
2458
GM
Muzychuk Anna
GM
Ushenina Anna
2371
6
4
2
2476
GM
Muzychuk Mariya
IM
Kiolbasa Oliwia
2304
5
5
3
2311
WIM
Savitha Shri B
IM
Vaishali Rameshbabu
2351
4
Standings after Round 3
| | | | | | | | | | | |
| --- | --- | --- | --- | --- | --- | --- | --- | --- | --- | --- |
| Rk. | SNo | | | Name | Rtg | Pts. | TB1 | TB2 | TB3 | TB4 |
| 1 | 8 | | GM | Dzagnidze Nana | 2475 | 3 | 0 | 2,00 | 3 | 2 |
| 2 | 10 | | GM | Koneru Humpy | 2474 | 2 | 0 | 3,00 | 1 | 1 |
| 3 | 2 | | GM | Muzychuk Mariya | 2476 | 2 | 0 | 2,50 | 1 | 0 |
| 4 | 6 | | GM | Ushenina Anna | 2371 | 2 | 0 | 2,00 | 1 | 1 |
| 5 | 7 | | GM | Harika Dronavalli | 2475 | 2 | 0 | 1,75 | 1 | 0 |
| 6 | 4 | | IM | Vaishali Rameshbabu | 2351 | 1,5 | 0 | 2,00 | 1 | 0 |
| 7 | 1 | | GM | Muzychuk Anna | 2458 | 1 | 0 | 1,25 | 0 | 0 |
| 8 | 9 | | WGM | Vantika Agrawal | 2262 | 1 | 0 | 0,50 | 1 | 0 |
| 9 | 3 | | WIM | Savitha Shri B | 2311 | 0,5 | 0 | 0,50 | 0 | 0 |
| 10 | 5 | | IM | Kiolbasa Oliwia | 2304 | 0 | 0 | 0,00 | 0 | 0 |
Links
---