Tata Steel India 2022 Women Rapid R4-6: Humpy almost displaces Dzagnidze at the top
GM Nana Dzagnidze continues her sole lead after the sixth round of Tata Steel Chess India 2022 Women Rapid. She drew all three of her games. GM Koneru Humpy got herself closest to ending the Georgian's unbeaten streak. However, despite her fantastic advantage in the opening, the India no.1 and World no.3 was unable to make the most out of her opportunity. She along with three more women - GM Anna Ushenina (UKR), GM Mariya Muzychuk (UKR) and IM Vaishali R are at 4/6 each. Vaishali started the day with a win over Anna Muzychuk, then she drew with GM Harika Dronavalli and went on to defeat WIM Savitha Shri B convincingly in round 6. Round 7 starts tomorrow at 12 p.m. IST. Photo: Lennart Ootes
Vaishali scores an impressive 2.5/3
It was certainly IM Vaishali R who had a great day. She scored an amazing 2.5/3 and moved up to the tied second place. Each of three rounds witnessed only two decisive games each.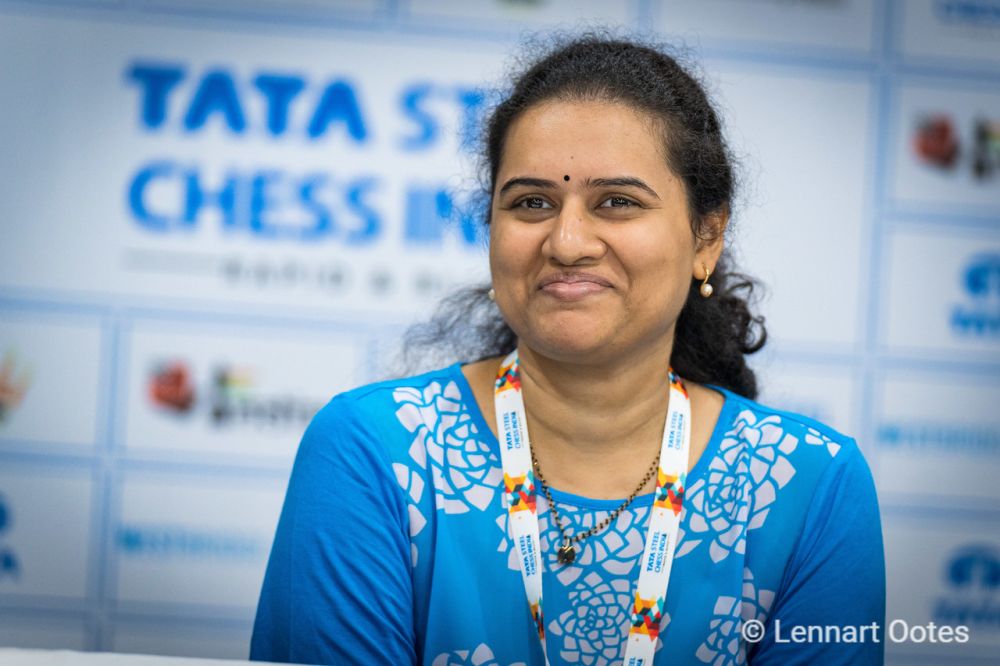 GM Koneru Humpy is one of the four women trailing the sole leader by a half point at 4/6| Photo: Lennart Ootes
Round 4: Vantika - Oliwia: 0-1
WGM Vantika Agrawal (2262) had a good opportunity to turn things around against the 44th Chess Olympiad individual Gold medalist, IM Oliwia Kiolbasa (POL, 2304).
Black had to defend the e6-pawn first 25...Qf7 26.axb5 Rxa1 27.Rxa1 f4 and there is enough counterplay on the kingside for White's passed pawn on b5. White took the pawn 26.Qxe6+ Kh8 27.Rd7 Qa6 28.Qxa6 Rxa6 29.Rd4. White had to bring his other rook on the seventh rank via c1 to seize her chance. 29.Rd4 created an opportunity for Black to get back in the game Nc5. White suffered an unfortunate loss in another five moves as she ran out of time.
Anna Muzychuk - Vaishali: 0-1
GM Anna Muzychuk (2458) blundered her knight against IM Vaishali R (2351).
Try to find out why 30.Ne6 is a blunder. Vaishali spotted it correctly and gained material, however Anna did not give up easily and fought for another 45 more moves.
Mariya - Savitha: 0.5-0.5
The youngest player of the event, WIM Savitha Shri B (2311) missed a great opportunity to score a big upset against Georgia no.1 and World no.10, GM Nana Dzagnidze (2475).
It was quite a complex double rook and opposite color bishop endgame. Neither the defense for White was easy, nor finding the precise continuation for Black. 45.d4 Rxg4+ 46.Kf2 f5 would have had some chances for Black to push for a win. In time trouble, these are certainly not easy to find. Black opted for the humane 46...Rd8 47.Rg1 Rxg1 48.Kxg1 f6 and the game eventually ended in a draw.
Round 5: Savitha - Humpy: 0-1
WIM Savitha Shri B (2311) was pressing quite well against the India no.1 GM Koneru Humpy (2474).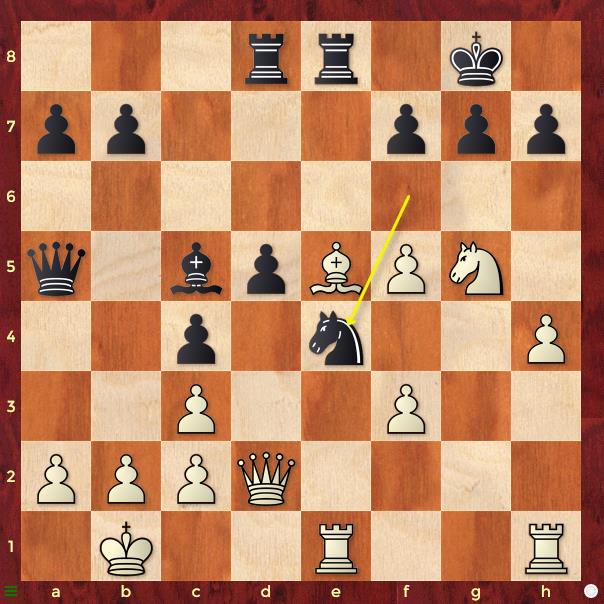 Both 21.Qf4 and fxe4 are plausible replies for White. 21.Qf4 has a nice variation where can Black can force a draw after Rxe5 22.Qxe5 Bd6 23.Qd4 Bc5 and White cannot avoid the repetition. Thus, 22.fxe4 Bd6 23. Qg4 and White continues to have the edge. The game continued 21.Nxe4 dxe4 and then Savitha just had a momentary blindspot 22.Qg5 hung the bishop. Humpy obviously took it 22...Nxe5. Couple of moves later White blundered an exchange which resulted in being behind a rook and she resigned immediately.
Round 6: Humpy - Dzagnidze: 0.5-0.5
GM Koneru Humpy (2474) gained a significant advantage out of the Queen's Indian Opening against the tournament leader, GM Nana Dzagnidze (GEO, 2475).
Can you find the precise continuation for White after 12...Nc7 ? 12...Bb7 would have been a better option for Black. Eventually Humpy could have pushed for a win in the double rook vs rook, knight and endgame but she decided against it and took a safer route of making peace by repeating moves.
Anna Muzychuk - Anna Ushenina: 0.5-0.5
GM Anna Muzychuk (UKR, 2458) was on the verge of her first win of the event. Her opponent and Olympiad Gold medalist teammate, GM Anna Ushenina (UKR, 2371) allowed a devastating attack in a major piece endgame.
Black had to play 33...Qe6 to prevent White from playing e6 in the next move. Anna correctly spotted 34.e6 Qd6 35.Rxf7+ Kg8 but then she had an oversight and traded queens 36.Qxd6 Rxd6. White still had a decisive advantage but it was not the same. 36.Qxb7 and Black would have had to resign in the next few moves as checkmate or heavy material loss is unavoidable.
Replay Round 4-6 games
Round 4-6 results
Round 4 on 2022/11/30 at 1200 h
Bo.
No.
Rtg
Name
Result
Name
Rtg
No.
1
10
2474
GM
Koneru Humpy
½ - ½
GM
Harika Dronavalli
2475
7
2
8
2475
GM
Dzagnidze Nana
½ - ½
GM
Ushenina Anna
2371
6
3
9
2262
WGM
Vantika Agrawal
0 - 1
IM
Kiolbasa Oliwia
2304
5
4
1
2458
GM
Muzychuk Anna
0 - 1
IM
Vaishali Rameshbabu
2351
4
5
2
2476
GM
Muzychuk Mariya
½ - ½
WIM
Savitha Shri B
2311
3
Round 5 on 2022/11/30 at 1300 h
Bo.
No.
Rtg
Name
Result
Name
Rtg
No.
1
3
2311
WIM
Savitha Shri B
0 - 1
GM
Koneru Humpy
2474
10
2
4
2351
IM
Vaishali Rameshbabu
½ - ½
GM
Muzychuk Mariya
2476
2
3
5
2304
IM
Kiolbasa Oliwia
½ - ½
GM
Muzychuk Anna
2458
1
4
6
2371
GM
Ushenina Anna
1 - 0
WGM
Vantika Agrawal
2262
9
5
7
2475
GM
Harika Dronavalli
½ - ½
GM
Dzagnidze Nana
2475
8
Round 6 on 2022/11/30 at 1400 h
Bo.
No.
Rtg
Name
Result
Name
Rtg
No.
1
10
2474
GM
Koneru Humpy
½ - ½
GM
Dzagnidze Nana
2475
8
2
9
2262
WGM
Vantika Agrawal
½ - ½
GM
Harika Dronavalli
2475
7
3
1
2458
GM
Muzychuk Anna
½ - ½
GM
Ushenina Anna
2371
6
4
2
2476
GM
Muzychuk Mariya
1 - 0
IM
Kiolbasa Oliwia
2304
5
5
3
2311
WIM
Savitha Shri B
0 - 1
IM
Vaishali Rameshbabu
2351
4
Round 7-9 pairings
Round 7 on 2022/12/01 at 1200 h
Bo.
No.
Rtg
Name
Result
Name
Rtg
No.
1
4
2351
IM
Vaishali Rameshbabu
GM
Koneru Humpy
2474
10
2
5
2304
IM
Kiolbasa Oliwia
WIM
Savitha Shri B
2311
3
3
6
2371
GM
Ushenina Anna
GM
Muzychuk Mariya
2476
2
4
7
2475
GM
Harika Dronavalli
GM
Muzychuk Anna
2458
1
5
8
2475
GM
Dzagnidze Nana
WGM
Vantika Agrawal
2262
9
Round 8 on 2022/12/01 at 1300 h
Bo.
No.
Rtg
Name
Result
Name
Rtg
No.
1
10
2474
GM
Koneru Humpy
WGM
Vantika Agrawal
2262
9
2
1
2458
GM
Muzychuk Anna
GM
Dzagnidze Nana
2475
8
3
2
2476
GM
Muzychuk Mariya
GM
Harika Dronavalli
2475
7
4
3
2311
WIM
Savitha Shri B
GM
Ushenina Anna
2371
6
5
4
2351
IM
Vaishali Rameshbabu
IM
Kiolbasa Oliwia
2304
5
Round 9 on 2022/12/01 at 1400 h
Bo.
No.
Rtg
Name
Result
Name
Rtg
No.
1
5
2304
IM
Kiolbasa Oliwia
GM
Koneru Humpy
2474
10
2
6
2371
GM
Ushenina Anna
IM
Vaishali Rameshbabu
2351
4
3
7
2475
GM
Harika Dronavalli
WIM
Savitha Shri B
2311
3
4
8
2475
GM
Dzagnidze Nana
GM
Muzychuk Mariya
2476
2
5
9
2262
WGM
Vantika Agrawal
GM
Muzychuk Anna
2458
1
Standings after Round 6
| | | | | | | | | | | |
| --- | --- | --- | --- | --- | --- | --- | --- | --- | --- | --- |
| Rk. | SNo | | | Name | Rtg | Pts. | TB1 | TB2 | TB3 | TB4 |
| 1 | 8 | | GM | Dzagnidze Nana | 2475 | 4,5 | 0 | 12,25 | 3 | 2 |
| 2 | 10 | | GM | Koneru Humpy | 2474 | 4 | 0 | 11,00 | 2 | 2 |
| 3 | 6 | | GM | Ushenina Anna | 2371 | 4 | 0 | 10,00 | 2 | 1 |
| 4 | 2 | | GM | Muzychuk Mariya | 2476 | 4 | 0 | 8,50 | 2 | 0 |
| 5 | 4 | | IM | Vaishali Rameshbabu | 2351 | 4 | 0 | 8,25 | 3 | 2 |
| 6 | 7 | | GM | Harika Dronavalli | 2475 | 3,5 | 0 | 10,50 | 1 | 0 |
| 7 | 1 | | GM | Muzychuk Anna | 2458 | 2 | 0 | 5,25 | 0 | 0 |
| 8 | 5 | | IM | Kiolbasa Oliwia | 2304 | 1,5 | 1 | 2,50 | 1 | 1 |
| 9 | 9 | | WGM | Vantika Agrawal | 2262 | 1,5 | 0 | 2,75 | 1 | 0 |
| 10 | 3 | | WIM | Savitha Shri B | 2311 | 1 | 0 | 3,00 | 0 | 0 |
Links
---