Tata Steel India 2023 Blitz R1-9: Praggnanandhaaa gains sole lead, Vidit in pursuit
R Praggnanandhaa made a blazing start at Tata Steel Chess India 2023 Blitz. He won the first five games claiming Teimour Radjabov (AZE), Maxime Vachier-Lagrave (FRA), Vincent Keymer (GER), Nodirbek Abdusattorov (UZB) and Pentala Harikrishna. The three-time World Blitz champion, Alexander Grischuk, halted the World no.8's winning streak by holding him to a draw. Then he lost the next two games against Vidit Gujrathi and D Gukesh. The FIDE World Cup 2023 Silver medalist, defeated his good friend Arjun Erigaisi to finish the day as the sole leader, 6.5/9. Vidit and Grischuk are trailing by a half point at 6/9 each. The last nine of rounds of Blitz will be played tomorrow, starting from 2 p.m. IST. Photos: IA Vivek Sohani/Tata Steel Chess India
Is Gukesh, Praggnanandhaa's kryptonite?
India no.1 D Gukesh might have scored only 50% today, 4.5/9. However, he once again managed to beat the eventual sole leader, R Praggnanandhaa, in the eighth round.
Round 1: Gukesh - Abdusattorov: 1-0
GM D Gukesh (2659) and GM Nodirbek Abddusattorov (UZB, 2708) have played plenty of Blitz games against each other this year. It is well established by now that their battles are always exciting irrespective of the stage and format of the event.
44.e4 dxe4+ 45.Kxe4 Kg6 46.Kf3 Kf7 47.d5 Qb3 48.Qe6+ Kg7 49.Qe7+ Kg6 50.Qe4+ Kg7 51.g5 fxg5 52.Kg4 White activated his king, used it like a piece to win the game beautifully.
Vachier-Lagrave - Praggnanandhaa, Round 2
GM R Praggnanandhaa (2632) capitalized on his opponent, GM Maxime Vachier-Lagrave's (FRA, 2740) blunder 39.Nf3?? Find out the winning continuation for Black.
Round 3: Vidit - Vachier-Lagrave: 1-0
The last time, GM Vidit Gujrathi (2641) defeated GM Maxime Vachier-Lagrave (FRA) in a rated Blitz game was at World Blitz 2021, when the Frenchman became World Blitz champion. Nearly two years later, Vidit repeated the same result.
Praggnanandhaa - Keymer
29...g5?? is a blunder. Praggnanandhaa not only found a way to recover the exchange, but also arrive at a winning endgame. Find out how.
Gukesh - Vachier-Lagrave, Round 5
MVL made a boisterous sacrifice 17...Rxd4?? Apparently, it's nothing more than a scare tactic. Even 18.exd4 works fine for White. Gukesh opted for 18.a5 Rhd8 19.axb6 Rxd2 20.bxa7 Rxc2 21.a8Q+ Kd7 22.Qa4+ Ke6 23.Qxc2 Qb4+ 24.Ke2 and Black has no compensation for the sacrificed rook.
Praggnanandhaa - Harikrishna
Praggnanandhaa found a beautiful combination 29.Nxh6! Ng5 30.Nhxf7+ a rare knight fork of and by a knight. Black cannot take it for the same reason as earlier - Ng6+ drops the queen. 30...Kg8 31.Nxg5 and White won the game in another three moves. He avenged his loss in Rapid and the Blitz from his first appearance at the event in 2018.
Round 6: Harikrishna - Keymer: 1-0
GM Pentala Harikrishna (2634) has never lost a rated game against GM Vincent Keymer (GER, 2645). He wanted to keep that unbeaten streak against the Germany no.1 in tact.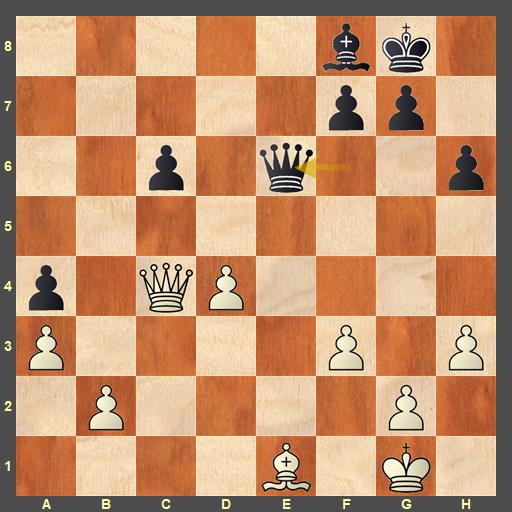 One cannot afford to make big mistakes against the endgame expert - Harikrishna in the endgame. 33...Qe6? allowed White to liquidate into a winning pawn endgame 34.Qxe6 fxe6 35.Bb4 Bxb4 36.axb4 and White went to win the game. Counting the number of pawn islands gives an inkling of who can win it.
Vidit - Radjabov
It won't be an understatement to say that White is completely winning in the above position, thanks to his well-placed knights on c5 and d6. Thus, Vidit beat his good friend, Radjabov for the second time in three days.
Round 7: Arjun - Vachier-Lagrave: 1-0
It was time for Arjun Erigaisi to avenge his Rapid loss of the event against MVL.
Praggnanandhaa - Vidit: 0-1
Vidit Gujrathi ended Praggnanandhaa's unbeaten streak in the seventh rank. He showed exquisite technique to convert his positional advantage into a win.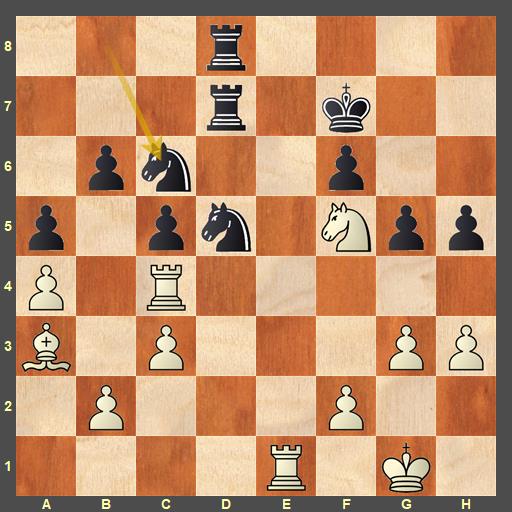 White is virtually down by a piece as his bishop is stuck at a3. Black utilized that fact to his advantage and went on to win the game.
Vidit - Keymer, Round 8
Vidit just simply crashed through Black's wall of defense in front of his king 21.Bxg7! Bxd3?? 22.Bxh6 Be2 23.Qg5+ and White won the game as checkmate is inevitable.
Gukesh - Praggnanandhaa
38...exf3?? is a blunder. Find out why. Gukesh saw it thoroughly and went on to win the game.
Marathon day for Vidit
Vidit Gujrathi played four games which lasted 80 moves or longer today, two of them went for over 150 moves - 173 against Grischuk (draw), 96 against Gukesh (draw), 156 against Arjun (draw) and 80 versus Abdusattorov (win). The draw against Grischuk was declared a draw as Vidit could not checkmate with two knights in 75 moves. Well, practically no one can unless a player willingly falls into a checkmate trap. Vidit gave several moments on the first day of Tata Steel Chess India 2023 Blitz.
Replay live stream
Replay Round 1-9 games
Round 9 results
Bo.
No.
Rtg
Name
Result
Name
Rtg
No.
1
5
2707
GM
Radjabov, Teimour
0 - 1
GM
Vachier-Lagrave, Maxime
2740
10
2
6
2632
GM
Praggnanandhaa, R
1 - 0
GM
Erigaisi, Arjun
2728
4
3
7
2645
GM
Keymer, Vincent
1 - 0
GM
Gukesh, D
2659
3
4
8
2708
GM
Abdusattorov, Nodirbek
1 - 0
GM
Vidit, Santosh Gujrathi
2641
2
5
9
2634
GM
Harikrishna, Pentala
½ - ½
GM
Grischuk, Alexander
2693
1
Standings after Round 9
| | | | | | | | | | | | | |
| --- | --- | --- | --- | --- | --- | --- | --- | --- | --- | --- | --- | --- |
| Rk. | SNo | | | Name | FED | Rtg | Pts. | TB1 | TB2 | TB3 | TB4 | TB5 |
| 1 | 6 | | GM | Praggnanandhaa, R | IND | 2632 | 6,5 | 0 | 0 | 25,00 | 6 | 3 |
| 2 | 2 | | GM | Vidit, Santosh Gujrathi | IND | 2641 | 6 | 0 | 0,5 | 25,50 | 4 | 1 |
| 3 | 1 | | GM | Grischuk, Alexander | FID | 2693 | 6 | 0 | 0,5 | 25,50 | 3 | 2 |
| 4 | 4 | | GM | Erigaisi, Arjun | IND | 2728 | 4,5 | 0 | 1 | 20,25 | 2 | 1 |
| 5 | 3 | | GM | Gukesh, D | IND | 2659 | 4,5 | 0 | 0 | 19,50 | 4 | 1 |
| 6 | 10 | | GM | Vachier-Lagrave, Maxime | FRA | 2740 | 4 | 0 | 2 | 13,50 | 4 | 1 |
| 7 | 8 | | GM | Abdusattorov, Nodirbek | UZB | 2708 | 4 | 0 | 1 | 17,25 | 3 | 1 |
| 8 | 9 | | GM | Harikrishna, Pentala | IND | 2634 | 4 | 0 | 0 | 17,25 | 2 | 0 |
| 9 | 7 | | GM | Keymer, Vincent | GER | 2645 | 3,5 | 0 | 0 | 12,75 | 3 | 0 |
| 10 | 5 | | GM | Radjabov, Teimour | AZE | 2707 | 2 | 0 | 0 | 9,50 | 1 | 1 |
Blitz Round 10 pairings
Bo.
No.
Rtg
Name
Result
Name
Rtg
No.
1
10
2740
GM
Vachier-Lagrave, Maxime
GM
Grischuk, Alexander
2693
1
2
9
2634
GM
Harikrishna, Pentala
GM
Vidit, Santosh Gujrathi
2641
2
3
8
2708
GM
Abdusattorov, Nodirbek
GM
Gukesh, D
2659
3
4
7
2645
GM
Keymer, Vincent
GM
Erigaisi, Arjun
2728
4
5
6
2632
GM
Praggnanandhaa, R
GM
Radjabov, Teimour
2707
5
Links
---