Alexander Grischuk wins Tata Steel India 2023 Blitz, Praggnanandhaa third
R Praggnanandhaa started the final day of Tata Steel Chess India 2023 Blitz with a 2.5/3. In Round 13, he lost against Nodirbek Abdusattorov (UZB) after blundering his knight. He bounced back with a draw against Pentala Harikrishna. Then the teenager lost the next two games against the eventual winner, Alexander Grischuk and Vidit Gujrathi. He finally managed to beat D Gukesh for the first time at Tata Steel Chess India 2023 in the penultimate round. He drew against his good friend, Arjun Erigaisi in the final round to finish third on tie-breaks. Abdusattorov also scored the same 11/18 to secure second place. For the first time since 2018, no Indian won the Open section. The 2019 edition is an exception as Rapid and Blitz events were combined as it was part of Grand Chess Tour. Photos: IA Vivek Sohani/Tata Steel Chess India
No Indian winner in either Open events
Since the first edition of Tata Steel Chess India started in 2018, each edition had at least one Indian winner in either Rapid or Blitz. The only exception is the year 2019 when it was part of Grand Chess Tour which meant both Rapid and Blitz event scores were combined. Magnus Carlsen won that year. Not only there were no Indian winners in either event, there were no Indian runner-up either. GM R Praggnanandhaa finished as the second runner-up in both Rapid and Blitz event.
GM Alexander Grischuk put on the cap he is wearing after he appeared on the stage. He mentioned that he made his son a promise of putting this on next time he wins a tournament. Since he hadn't won any event lately, the promise got prolonged. However, not forgotten. The three-time World Blitz champion thanked Maxime Vachier-Lagrave for playing Blitz practice games before the Rapid event. Although he got smashed in most of the games, a draw before the Blitz event gave him confidence that he can win it. Of course, Grischuk said them all in his usual joking manner.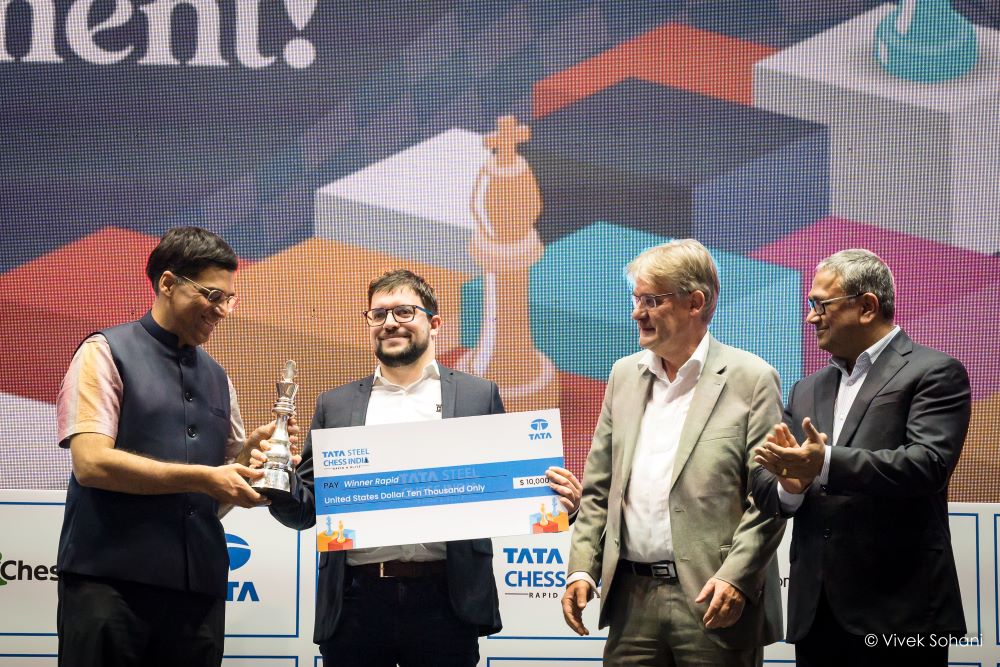 The winners - GM Maxime Vachier-Lagrave (FRA) and GM Alexander Grischuk won US$ 10000 and US$ 7500 along with a trophy each as their prizes for winning the Rapid and Blitz event respectively.
Just like last year, the winner of the festival events - All India Rating Open, All India Blitz Open, All India Women and All Bengal Under-19 tournament winners were called on the stage to receive their trophies from Vishy Anand and Jeroen van den Berg, Tournament Director. This moment is certainly a huge bonus for all the participants. There is no doubt that the Tata Steel Chess India Festival events is one of the most anticipated set of tournaments in calendar where the registration limit reaches in no time once it is announced. Shrayan Majumder, the winner of the Classical Rating Open was absent from the ceremony. The remaining tournament articles of the festivals, games and interviews will be published soon.
Video Gallery
Replay live stream
Replay Round 10-18 games
Round 18 results
Bo.
No.
Rtg
Name
Result
Name
Rtg
No.
PGN
1
10
2740
GM
Vachier-Lagrave, Maxime
½ - ½
GM
Radjabov, Teimour
2707
5
PGN
2
4
2728
GM
Erigaisi, Arjun
½ - ½
GM
Praggnanandhaa, R
2632
6
PGN
3
3
2659
GM
Gukesh, D
0 - 1
GM
Keymer, Vincent
2645
7
PGN
4
2
2641
GM
Vidit, Santosh Gujrathi
0 - 1
GM
Abdusattorov, Nodirbek
2708
8
PGN
5
1
2693
GM
Grischuk, Alexander
½ - ½
GM
Harikrishna, Pentala
2634
9
PGN
Final standings
| | | | | | | | | | | | | |
| --- | --- | --- | --- | --- | --- | --- | --- | --- | --- | --- | --- | --- |
| Rk. | SNo | | | Name | FED | Rtg | Pts. | TB1 | TB2 | TB3 | TB4 | TB5 |
| 1 | 1 | | GM | Grischuk, Alexander | FID | 2693 | 12 | 0 | 0 | 101,00 | 7 | 4 |
| 2 | 8 | | GM | Abdusattorov, Nodirbek | UZB | 2708 | 11 | 0 | 1 | 91,50 | 9 | 4 |
| 3 | 6 | | GM | Praggnanandhaa, R | IND | 2632 | 11 | 0 | 1 | 91,25 | 9 | 4 |
| 4 | 4 | | GM | Erigaisi, Arjun | IND | 2728 | 10,5 | 0 | 0 | 93,25 | 6 | 3 |
| 5 | 10 | | GM | Vachier-Lagrave, Maxime | FRA | 2740 | 9,5 | 0 | 0 | 80,75 | 7 | 2 |
| 6 | 9 | | GM | Harikrishna, Pentala | IND | 2634 | 8,5 | 0 | 0 | 70,25 | 5 | 1 |
| 7 | 2 | | GM | Vidit, Santosh Gujrathi | IND | 2641 | 8 | 0 | 0 | 71,25 | 5 | 1 |
| 8 | 3 | | GM | Gukesh, D | IND | 2659 | 7,5 | 0 | 0 | 63,00 | 7 | 1 |
| 9 | 7 | | GM | Keymer, Vincent | GER | 2645 | 6,5 | 0 | 0 | 56,00 | 5 | 1 |
| 10 | 5 | | GM | Radjabov, Teimour | AZE | 2707 | 5,5 | 0 | 0 | 50,25 | 3 | 1 |
Links
---