Bristy Mukherjee wins Tata Steel Chess Festival 2022 Women Rapid
WCM Bristy Mukherjee and Alka Das scored an unbeaten 6/7 each at the Tata Steel Chess Festival 2022 All India Women Rapid. They were placed first and second according to tie-breaks. This was the first time a Women's only Rapid event took place at the Tata Steel Chess Festival, with an equal prize fund as the Rapid Rating Open event of ₹100000. Top three prizes were ₹20000 + trophy, ₹15000 and ₹10000 each respectively. Three players - WIM Arpita Mukherjee, WIM Chandreyee Hajra and Raima Bhattacharjee scored 5.5/7 each. They secured third, fourth and fifth place respectively. Check out a pictorial report of the tournament. Photo: Lennart Ootes
Bristy's first triumph of the year
The Tata Steel Chess Festival events are generally a much awaited tournament for all. Apart from a strong field and a good prize fund, players know that the winner has something extra special for them. For the last few years, it was a once-in-a-lifetime opportunity to make the first move in the main event. Few winners were able to do it. However, this time, since it was the biggest Tata Steel Chess India event, three champions of the festival were called to receive their prize once again at the closing ceremony of the main event. Receiving the first prize in presence of Vishy Anand and world's best players who participated this year is certainly a huge boost for the winners. The All India Women Rapid is the latest addition to the festival. Just like the main event, Women's Rapid also had the equal prize fund. The reigning West Bengal State Junior Girls champion, WCM Bristy Mukherjee won the inaugural edition of Tata Steel Chess Festival 2022 Women Rapid.
The Jharkhand State Blitz Open runner-up, Alka Das scored an unbeaten 6/7, to finish second according to tie-breaks.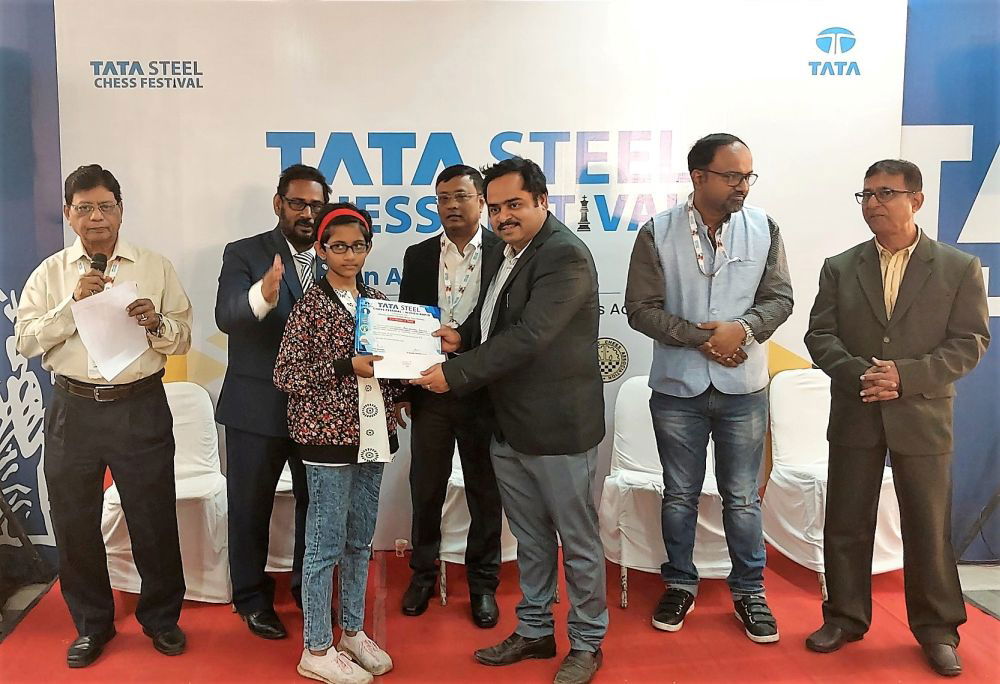 For more photos, please click here.
Final standings
| | | | | | | | | | | | | |
| --- | --- | --- | --- | --- | --- | --- | --- | --- | --- | --- | --- | --- |
| Rk. | SNo | | Name | sex | Gr | FED | Rtg | Club/City | Pts. | TB1 | TB2 | TB3 |
| 1 | 4 | WCM | Bristy Mukherjee | w | | IND | 1715 | WB | 6 | 31 | 33,5 | 27,75 |
| 2 | 2 | | Alka Das | w | | IND | 1780 | Jharkhand | 6 | 30 | 33 | 27,25 |
| 3 | 1 | WIM | Arpita Mukherjee | w | | IND | 2138 | WB | 5,5 | 29 | 32,5 | 23,50 |
| 4 | 3 | WIM | Chandreyee Hajra | w | | IND | 1725 | WB | 5,5 | 28 | 31,5 | 24,50 |
| 5 | 23 | | Raima Bhattacharjee | w | | IND | 1030 | WB | 5,5 | 27 | 30 | 22,00 |
| 6 | 5 | | Diya Chowdhury | w | | IND | 1664 | WB | 5 | 29,5 | 32,5 | 20,50 |
| 7 | 13 | | Arhashirsha Biswas | w | | IND | 1144 | WB | 5 | 26 | 29 | 17,50 |
| 8 | 15 | | Aditri Bag | w | | IND | 1109 | WB | 5 | 25,5 | 28,5 | 17,50 |
| 9 | 14 | | Daksha Rudra | w | | IND | 1124 | WB | 5 | 25 | 26,5 | 16,00 |
| 10 | 16 | | Ishanee Chakraborty | w | | IND | 1102 | WB | 4,5 | 26,5 | 29,5 | 17,00 |
| 11 | 22 | | Dishita Dey | w | | IND | 1038 | Jharkhand | 4,5 | 26 | 28,5 | 15,50 |
| 12 | 20 | | Adrita Purkait | w | | IND | 1046 | WB | 4,5 | 24,5 | 27,5 | 17,00 |
| 13 | 18 | | Akansha Dey | w | | IND | 1086 | WB | 4,5 | 24,5 | 26 | 14,25 |
| 14 | 7 | | Sunetra Dey | w | | IND | 1251 | WB | 4,5 | 23,5 | 23,5 | 12,25 |
| 15 | 6 | | Shreya Shree Bansal | w | | IND | 1277 | WB | 4 | 30 | 33,5 | 17,50 |
| 16 | 9 | | Mrinalini Dhar | w | | IND | 1218 | WB | 4 | 27,5 | 29,5 | 14,50 |
| 17 | 12 | | Subhra Das | w | | IND | 1183 | WB | 4 | 27 | 29 | 13,50 |
| 18 | 8 | | Ayushi Roy | w | | IND | 1221 | WB | 4 | 25,5 | 27 | 13,75 |
| 19 | 17 | | Kasturi Saha | w | | IND | 1089 | WB | 4 | 23,5 | 26,5 | 12,75 |
| 20 | 53 | | Suneli Bera | w | | IND | 0 | WB | 4 | 23 | 25 | 11,50 |
---