Neelash Saha wins Tata Steel Chess Festival 2022 Rapid Rating Open
Five players scored 7/8 at the Tata Steel Chess Festival 2022 All India Rapid Rating Open. They are - IM Neelash Saha, Subhayan Kundu, IM Aronyak Ghosh, Kaustuv Kundu and Swapan Mitra. Neelash, Subhayan and Aronyak secured first, second and third place respectively according to tie-breaks. Top three remained undefeated. A total of 174 players including 3 IMs and two WIMs took part in this eight-round Rapid Rating tournament with a time control of 15 minutes + 10 seconds increment each. The total prize fund was ₹100000. Top three prizes were ₹20000 + trophy, ₹15000 and ₹10000 each respectively. Check out some interesting moments from the tournament. Photo: Lennart Ootes
Five players score 7/8
The Tata Steel Chess Festival events are generally a much awaited tournament for all. Apart from a strong field and a good prize fund, players know that the winner has something extra special for them. For the last few years, it was a once-in-a-lifetime opportunity to make the first move in the main event. Few winners were able to do it. However, this time, since it was the biggest Tata Steel Chess India event, three champions of the festival were called to receive their prize once again at the closing ceremony of the main event. Receiving the first prize in front of Vishy Anand and world's best players who participated this year is certainly a huge boost for the winners.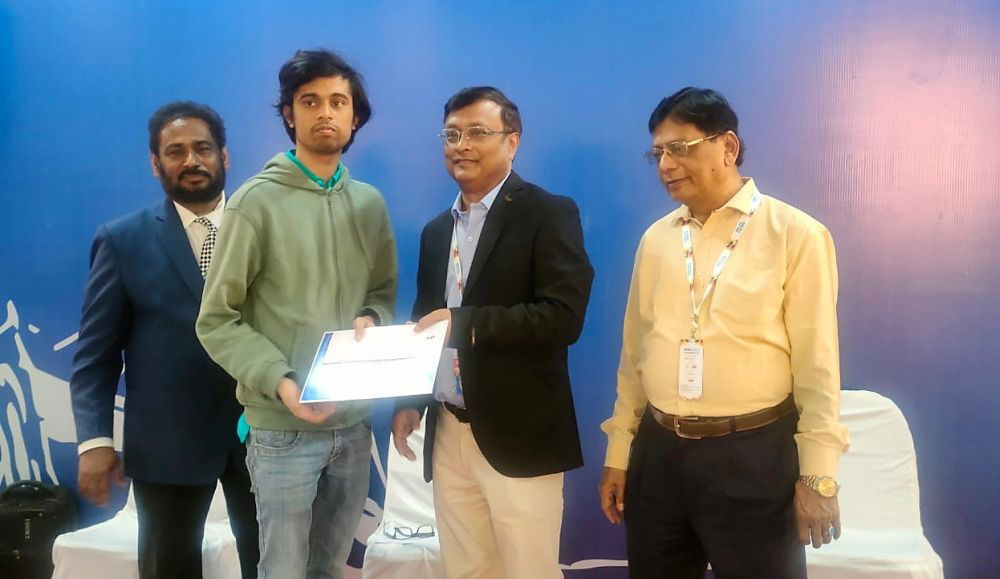 Even at age of 62 years, Swapan Mitra delivered a stellar performance by scoring 7/8 without making a single draw. His love for chess is evident when he plays on the board.
I secured tenth position. 16 players from seventh to 22nd scored 6/8 each. My tie-break turned out to be good enough to make a top ten finish which became my best finish in an open rapid rating tournament in recent times. I was of course playing the tournament, taking photos and capturing interesting moments which you can see in the video gallery of this report.
Shahid - Bishal, Round 4
Before the tournament, I read GM Avetik Grigoryan's blog on lichess - It is never too late to resign in chess. It was originally published on his site, ChessMood. After giving up an exchange, I had a decent compensation. However, I dropped a strong d-pawn and ended up having an isolated passed pawn on e4 instead of connected ones. I contemplated resigning multiple times as it will save time for me to get some other interesting moments since I was unable to create one in mine. It turned out that my game and one of my neighbor's game in the same round were one of the most exciting ones. Too bad, both were missed on camera. The article on 'Never too late to resign' was at the back of my mind. So I was like, okay let's play a couple of moves more, I will resign when there is no semblance left in the position. When my opponent played a3, suddenly the prospect of b4, Rb1, Rxb7+ seemed interesting. Of course, I knew that I was still going to lose but there is no harm in trying. After all, I was playing the tournament to use the inspiration which I drew from the World-Class players who were playing. On the previous day - Mamedyarov won an instant classic, So showed his beautiful endgame technique against Nakamura, Anna Muzychuk was playing in her usual brave style, although she had yet to score a full point then. If I cannot play creatively like my favorites like Tal, Dubov, Duda, Ivanchuk, Rapport and Anna Muzychuk, what is the point in playing a tournament then?
I continued 2.b4 Qxb4 3.Rb1 Qc5 4.Rxb7+ Kh6 this immediately gave me some future Bg8, Rh7# mating ideas. I felt that realizing it was highly improbable. Little did I know that that idea would be my saving grace. 5.Bc4 Qf2 6.Nd1 Qf1+ 7.Qxf1 Rxf1 8.Kg2 I was unable to take the rook at f1 as a2 would have finished things off immediately for me. 8...Rxd1 9.Bg8 the last trick I had. I was thinking he would go 9...Be7 10.Rxe7 g5 and there really wasn't much left to fight. He went 9...Be3 10.h4 g5 and down to my last seconds, I somehow managed to play 11.Rxh7+ and press the clock, averting loss on time. Three pieces dropped, my opponent was kind enough to understand my desperate attempt to save the game. 11...Kg6 12.h5+ Kf6 13.Rf7+ Ke5 14.Rf5+ Kxe4 15.Rxa5 and it is still a draw. Bishal Basak (1659) who is a nice guy, was devastated that I made an insane save from a completely lost position and my confidence level was quite high compared to what it was few seconds ago. I went on to win the game by having g and h-passed pawns in an opposite color bishop endgame. Yes, I deliberately exchanged the rooks as the resultant endgame was winning for me which I thoroughly calculated with ease.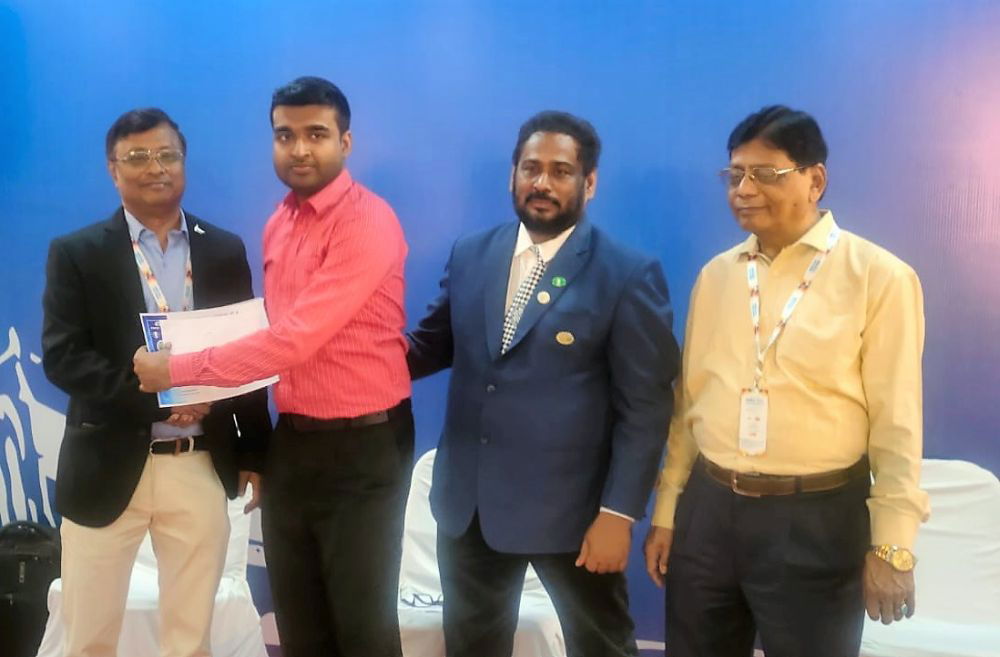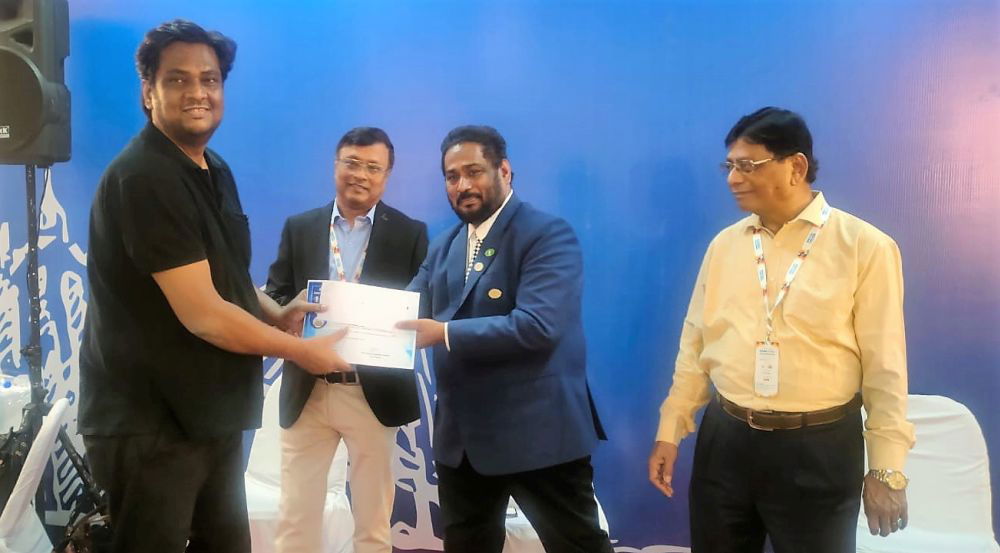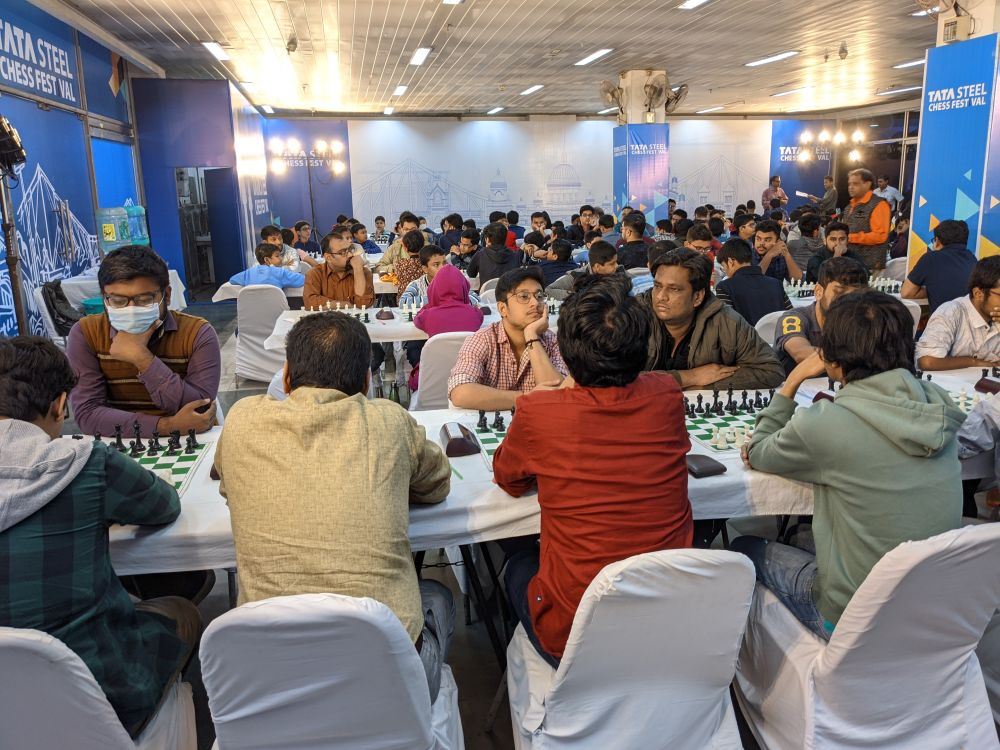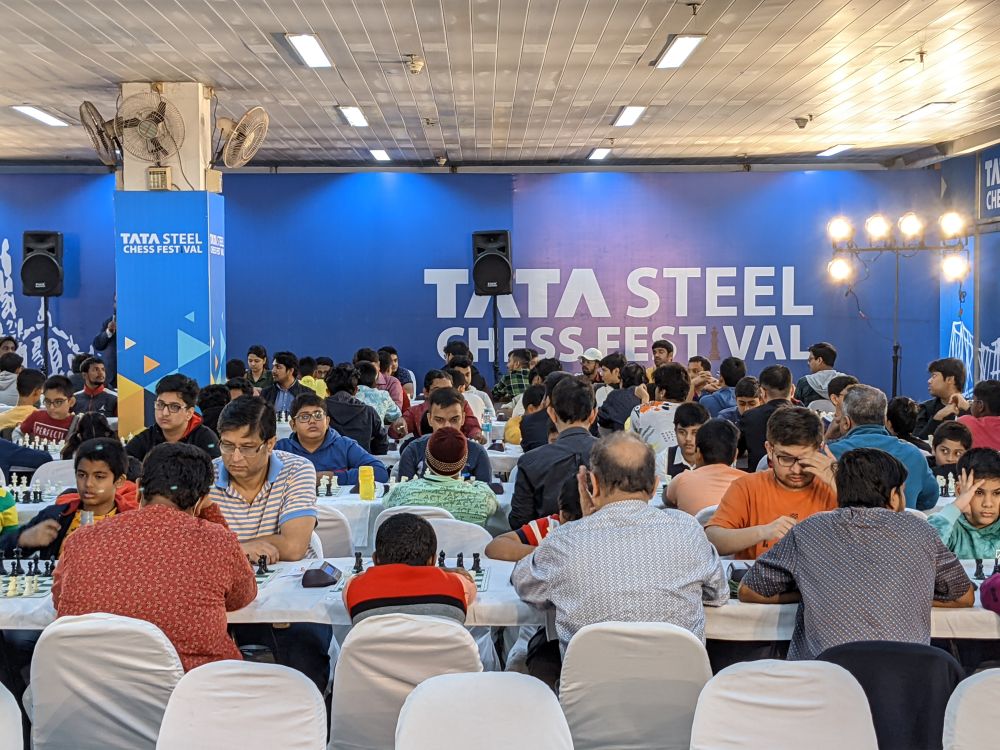 For more photos, click here.
Video Gallery
More exciting games will be shared soon. Stay tuned.
Final standings
| | | | | | | | | | | | | | | |
| --- | --- | --- | --- | --- | --- | --- | --- | --- | --- | --- | --- | --- | --- | --- |
| Rk. | SNo | | Name | sex | Gr | FED | Rtg | Club/City | Pts. | TB1 | TB2 | TB3 | TB4 | TB5 |
| 1 | 2 | IM | Neelash Saha | | | IND | 2346 | WB | 7 | 42 | 46 | 39,25 | 0 | 6 |
| 2 | 6 | | Subhayan Kundu | | | IND | 2207 | WB | 7 | 39,5 | 43 | 37,25 | 0 | 6 |
| 3 | 1 | IM | Aronyak Ghosh | | | IND | 2421 | WB | 7 | 39 | 43,5 | 37,00 | 0 | 6 |
| 4 | 5 | | Kaustuv Kundu | | | IND | 2208 | WB | 7 | 38,5 | 41,5 | 34,50 | 0 | 7 |
| 5 | 13 | | Mitra Swapan | | | IND | 2066 | WB | 7 | 35,5 | 39 | 33,00 | 0 | 7 |
| 6 | 3 | | Utsab Chatterjee | | | IND | 2245 | WB | 6,5 | 39,5 | 43,5 | 34,50 | 0 | 5 |
| 7 | 4 | FM | Ashwath R. | | | IND | 2240 | TN | 6 | 41,5 | 45,5 | 32,25 | 0 | 5 |
| 8 | 11 | WIM | Arpita Mukherjee | w | | IND | 2138 | WB | 6 | 38 | 41,5 | 27,50 | 0 | 6 |
| 9 | 8 | | Anustoop Biswas | | | IND | 2186 | WB | 6 | 37,5 | 41,5 | 29,75 | 0 | 5 |
| 10 | 21 | AGM | Shahid Ahmed S.K. | | | IND | 1823 | WB | 6 | 37,5 | 41 | 28,25 | 0 | 5 |
| 11 | 19 | | Shaon Chowdhury | | | IND | 1893 | WB | 6 | 36,5 | 40,5 | 28,50 | 0 | 6 |
| 12 | 24 | WCM | Bristy Mukherjee | w | | IND | 1715 | WB | 6 | 36,5 | 40 | 28,50 | 0 | 6 |
| 13 | 20 | | Bhattacharya Niladri Shekhar | | | IND | 1827 | WB | 6 | 36,5 | 40 | 28,50 | 0 | 5 |
| 14 | 10 | | Praloy Sahoo | | | IND | 2141 | WB | 6 | 35,5 | 39 | 28,50 | 0 | 6 |
| 15 | 18 | | Anurag Jaiswal | | | IND | 1916 | WB | 6 | 35,5 | 39 | 26,25 | 0 | 5 |
| 16 | 53 | | Puspal Datta | | | IND | 1394 | WB | 6 | 35,5 | 39 | 26,00 | 0 | 6 |
| 17 | 62 | | Agnivo Chakraborty | | | IND | 1304 | WB | 6 | 35 | 37,5 | 26,00 | 0 | 6 |
| 18 | 27 | | Sumit Roy | | | IND | 1685 | WB | 6 | 35 | 37 | 24,00 | 0 | 6 |
| 19 | 14 | | Debasish Mukherjee | | | IND | 2013 | WB | 6 | 34 | 38 | 27,50 | 0 | 6 |
| 20 | 16 | | Arpan Das | | | IND | 1952 | WB | 6 | 34 | 37,5 | 27,00 | 0 | 6 |
---