Neelash Saha and Debashis Das win 2nd G H Raisoni Memorial Rapid and Blitz Rating Open 2021
Starting out as the 20th seed, IM Neelash Saha scored an unbeaten 8.5/9 to win 2nd G H Raisoni Memorial Rapid Rating Open. Eight straight victories put him in a good position to win the tournament. IM Ameya Audi, CM Kushagra Mohan and IM Ravi Teja S - all three scored 8.0/9. They were placed second to fourth according to the tie-breaks. GM Debashis Das won the Blitz Rating Open with an identical performance as Neelash, scored 8.5/9 and remained undefeated. The tournament had the total prize fund of ₹200000 with the first prize being ₹50000 cash and a trophy. It took place on 4th and 5th December at G H Raisoni Institute of Engineering & Technology in Nagpur, Maharashtra. Photo: Bhushan Shriwas
Debashis wins a tournament for the first time in over six years
Top seed of both Rapid and Blitz tournament, GM Debashis Das won his first over-the-board in six years as he scored an unbeaten 8.5/9 to win the Blitz event. IM Anwesh Upadhyay scored sole 8.0/9. He was placed second. Five players finished at 7.5/9, 14-year-old Sidhant Gawai of Maharashtra, was placed third according to the tie-breaks.
National Under-17 2019 champion, IM Neelash Saha scored eight consecutive victories and gained a full point lead heading into a final round. A draw was enough for him to secure the championship, and that's what happened against FM K Senthil Maran.
Ameya - Neelash, Round 8
White can still save the game. However, in time scramble, it is not easy to figure out. White went for simplification 49.a4 which cost him the game 49...bxa4+ 50.Kxa4 Kc5 gives Black decisive advantage as White's king is completely misplaced and the Black king races towards victory.
GM Debashis Das scored six consecutive wins before splitting the point with Kaustuv Kundu in the seventh round. He won the next two games against Harish Sharma and beat his statemate and good friend IM Anwesh Upadhyaya to win the tournament by finishing a half point ahead of the field. Anwesh secured second position and Siddhant Gawai was placed third. The winner of the tournament shared two of his wins with us. One against the Rapid event winner - IM Neelash Saha and the other one is a final round win over Anwesh.
WIM-elect Srishti Pandey started with six consecutive wins including a victory over IM Ameya Audi. However, two consecutive losses including against the eventual runner-up IM Anwesh Upadhyaya, set her back. Nevertheless, she secured tenth place, the only woman to finish in top 10 in Blitz.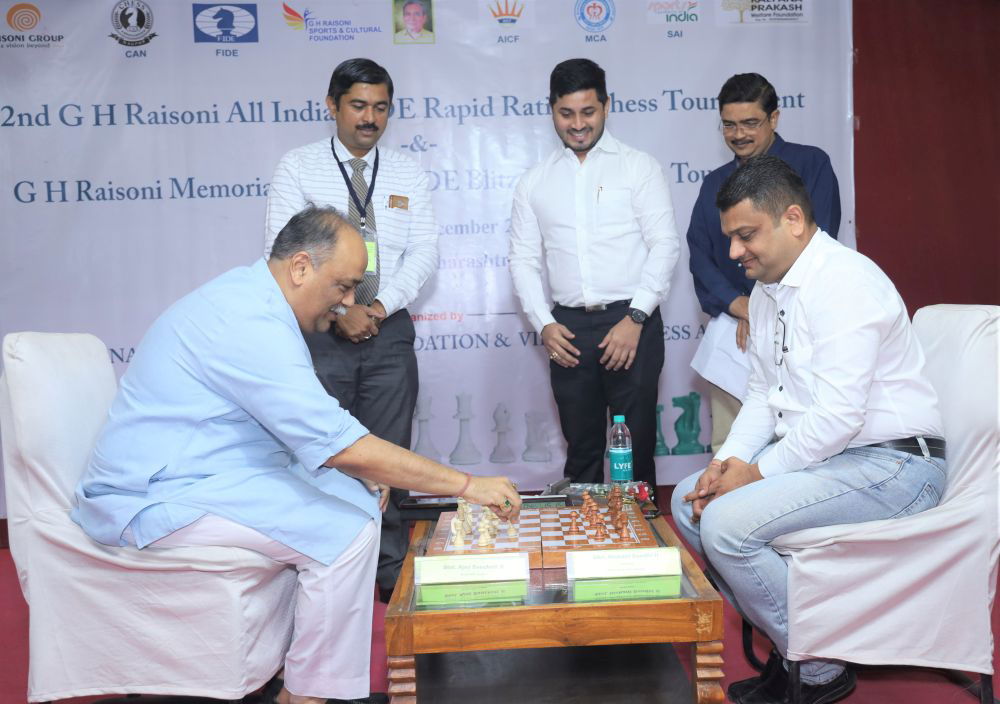 The tournament was organized by Kalpana Prakash Welfare Foundation & Vidarbha Chess Academy on 4th and 5th November 2021 at G H Raisoni Institute of Engineering in Nagpur, Maharashtra. A total of 339 players including a GM and six IMs in Rapid and 292 players including a GM and fives IMs in Blitz, took part in the nine-round Swiss league event which had a time control of 15 minutes + 10 seconds increment from move no.1 in Rapid and 5 minutes + 3 seconds increment in Blitz.
Final Standings in Rapid
| | | | | | | | | | | | | | |
| --- | --- | --- | --- | --- | --- | --- | --- | --- | --- | --- | --- | --- | --- |
| Rk. | SNo | | | Name | Typ | sex | FED | Rtg | Club/City | Pts. | TB1 | TB2 | TB3 |
| 1 | 20 | | IM | Neelash Saha | | | IND | 1887 | WB | 8,5 | 53,5 | 57,5 | 53,25 |
| 2 | 10 | | IM | Audi Ameya | | | IND | 2094 | Goa | 8,0 | 53,5 | 57,0 | 48,00 |
| 3 | 21 | | CM | Kushagra Mohan | | | IND | 1792 | Tel | 8,0 | 51,5 | 55,5 | 47,50 |
| 4 | 3 | | IM | Ravi Teja S. | | | IND | 2316 | AP | 8,0 | 50,5 | 55,5 | 47,50 |
| 5 | 9 | | | Kaustuv Kundu | | | IND | 2102 | WB | 7,5 | 53,5 | 54,5 | 42,50 |
| 6 | 5 | | FM | Thakur Akash | | | IND | 2159 | Mah-Nag | 7,5 | 50,5 | 54,5 | 44,25 |
| 7 | 8 | | FM | Senthil Maran K | | | IND | 2122 | TN | 7,5 | 50,5 | 54,5 | 43,75 |
| 8 | 12 | | | Sharma Harish | | | IND | 2036 | Del | 7,0 | 51,0 | 55,0 | 40,00 |
| 9 | 1 | | GM | Debashis Das | | | IND | 2565 | Ori | 7,0 | 50,5 | 56,0 | 40,50 |
| 10 | 36 | | | Borgaonkar Akshay | U13 | | IND | 1492 | Mah | 7,0 | 50,5 | 54,0 | 40,25 |
| 11 | 31 | | | Ankur Mahesh Gokhale | | | IND | 1577 | Mah | 7,0 | 50,5 | 53,5 | 40,25 |
| 12 | 2 | | IM | Anwesh Upadhyaya | | | IND | 2365 | Ori | 7,0 | 49,5 | 53,5 | 39,50 |
| 13 | 7 | | FM | Sauravh Khherdekar | | | IND | 2142 | Mah | 7,0 | 49,5 | 53,5 | 37,50 |
| 14 | 4 | | FM | Shailesh Dravid | | | IND | 2191 | Mah-Nag | 7,0 | 49,5 | 52,5 | 38,75 |
| 15 | 16 | | | Arpan Das | | | IND | 1957 | WB | 7,0 | 48,0 | 51,5 | 36,00 |
| 16 | 15 | | WFM | Pandey Srishti | | w | IND | 1962 | Mah-Nag | 7,0 | 48,0 | 50,5 | 37,50 |
| 17 | 11 | | IM | Sammed Jaykumar Shete | | | IND | 2081 | Mah | 7,0 | 46,5 | 49,5 | 38,00 |
| 18 | 41 | | | Gawai Siddhant | U15 | | IND | 1452 | Mah-Nag | 7,0 | 44,5 | 48,5 | 35,50 |
| 19 | 27 | | | Tamhankar Siddhant | | | IND | 1647 | Mah | 7,0 | 43,5 | 47,0 | 35,75 |
| 20 | 56 | | | Doshi Khush | | | IND | 1379 | Mah | 7,0 | 43,0 | 47,0 | 34,50 |
Final Standings in Blitz
| | | | | | | | | | | | |
| --- | --- | --- | --- | --- | --- | --- | --- | --- | --- | --- | --- |
| Rk. | SNo | | | Name | FED | Rtg | Club/City | Pts. | TB1 | TB2 | TB3 |
| 1 | 1 | | GM | Debashis Das | IND | 2470 | Ori | 8,5 | 50,0 | 54,5 | 52,25 |
| 2 | 3 | | IM | Anwesh Upadhyaya | IND | 2323 | Ori | 8,0 | 56,5 | 62,0 | 53,50 |
| 3 | 18 | | | Gawai Siddhant | IND | 1756 | Mah | 7,5 | 50,5 | 54,0 | 43,25 |
| 4 | 31 | | | Borgaonkar Akshay | IND | 1574 | Mah | 7,5 | 50,0 | 54,0 | 43,25 |
| 5 | 15 | | IM | Krishnater Kushager | IND | 1871 | Mah | 7,5 | 48,5 | 52,5 | 42,25 |
| 6 | 41 | | | Patil Harshal | IND | 1436 | Mah | 7,5 | 46,5 | 50,5 | 37,50 |
| 7 | 4 | | FM | Shailesh Dravid | IND | 2228 | Mah-Nag | 7,5 | 46,5 | 50,0 | 41,50 |
| 8 | 6 | | | Sharma Harish | IND | 2185 | Del | 7,0 | 52,5 | 56,5 | 40,00 |
| 9 | 8 | | IM | Audi Ameya | IND | 2092 | Goa | 7,0 | 52,0 | 56,0 | 38,50 |
| 10 | 17 | | WFM | Pandey Srishti | IND | 1816 | Mah-Nag | 7,0 | 50,0 | 54,0 | 40,00 |
| 11 | 14 | | CM | Kushagra Mohan | IND | 1901 | Tel | 7,0 | 50,0 | 54,0 | 39,00 |
| 12 | 13 | | | Soham Datar | IND | 1931 | Mah | 7,0 | 50,0 | 54,0 | 36,50 |
| 13 | 36 | | | Prerak Jayant Darvekar | IND | 1487 | Mah-Nag | 7,0 | 49,5 | 54,5 | 39,50 |
| 14 | 21 | | | Aakash Sharadchandra Dalvi | IND | 1710 | Mah | 7,0 | 49,5 | 53,5 | 35,50 |
| 15 | 5 | | FM | Wagh Suyog | IND | 2219 | Mah | 7,0 | 49,0 | 54,0 | 40,00 |
---