Kartik, Ayush and Kartavya are the winners of 16th G H Raisoni Memorial Chess Festival 2023
by Shahid Ahmed - 02/08/2023
15-year-old Kartik Kumar Singh scored an unbeaten 10/11 to win 16th G H Raisoni Memorial Rating Open 2023. He finished a full point ahead of the field. Indrajeet Mahindrakar scored sole 9/11 to secure second position. Daksh Goyal edged past five more players on tie-breaks to finish third with a 8.5/11 score. FM Ayush Sharma scored a perfect 9/9 to win the Rapid Rating event. He also finished a full point ahead of the field. CM Vaibhav Jayant Raut and IM Vikramaditya Kulkarni scored 8/9 each to finish at second and third place. Kartavya Anadkat won the Blitz Rating event scoring 8/9. Daksh and Ayush were adjudged second and third respectively according to tie-breaks. The total prize fund combining all three tournaments was ₹451000, an increase of ₹51000 from the previous edition. Top three prizes in the Classical were ₹51000 and a trophy, ₹31000 and ₹26000. Photo: IA Ajinkya Pingale/Kalpana Prakash Welfare Foundation
Kartik wins Classical, Ayush Rapid and Kartavya Blitz Rating Open
Both Classical and Rapid Rating event winners finished a full point ahead of the field. Top three prizes in the Rapid event were ₹31000 and a trophy, ₹20000 and ₹10000, all three were doubled since last year. The top three finishers in the Blitz won a trophy each, the champion won a DGT Clock.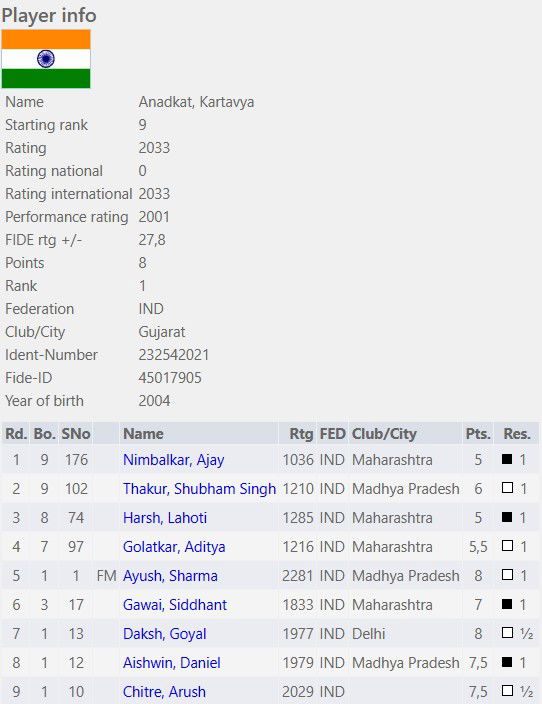 Girish Vyas, Ex-MLC and Vice-President of Maharashtra Chess Association; Amit Gandhare, Director (PR), Raisoni Group: Bhushan Shriwas, Secretary, Kalpana Prakash Welfare Foundation and Chess Association Nagpur, IA Ajinkya Pingale, Chief Arbiter were present on the dias. SS Soman the working president of Chess Association Nagpur, and Member of Maharashtra Chess Association Observer committee conducted the inauguration programme and proposed a vote of thanks.
The Rapid and Blitz events' prizes were distributed by Hariom Gupta, Assistant Director (OL), Central GST, Nagpur and Adv. Chetan Rajkarne, Vice President, Chess Association, Nagpur.
Thanks to IA Ajinkya Pingale, Chief Arbiter, for sharing photos and info about the tournament.
A total of 256 in the Classical, 386 including an IM and a WIM in the Rapid and 316 including a WIM in the Blitz took part in this nine-day three Rating tournaments in three formats of the sport. The events were organized by G H Raisoni Sports and Cultural Foundation and Kalpana Prakash Welfare Foundation at G H Raisoni Institute of Engineering and Technology in Nagpur, Maharashtra from 25th June to 2nd July 2023, exact same dates as last year. The time control for the Classical, Rapid and Blitz Rating Open were 90 minutes + 30 seconds, 15 minutes + 5 seconds and 3 minutes + 2 seconds increment each respectively.
Final standings in Classical
| | | | | | | | | | | | | | | | |
| --- | --- | --- | --- | --- | --- | --- | --- | --- | --- | --- | --- | --- | --- | --- | --- |
| Rk. | SNo | | Name | Typ | sex | Gr | FED | Rtg | Club/City | Pts. | TB1 | TB2 | TB3 | TB4 | TB5 |
| 1 | 7 | | Kartik, Kumar Singh | | | | IND | 1813 | Maharashtra | 10 | 77 | 82 | 73,75 | 0 | 9 |
| 2 | 5 | | Mahindrakar, Indrajeet | | | | IND | 1949 | Maharashtra | 9 | 79 | 84 | 66,50 | 0 | 7 |
| 3 | 19 | | Daksh, Goyal | U15 | | | IND | 1675 | Delhi | 8,5 | 78 | 83 | 54,25 | 0 | 8 |
| 4 | 4 | | Kumar, Gaurav | | | | IND | 1991 | Bihar | 8,5 | 77,5 | 83 | 61,50 | 0 | 6 |
| 5 | 6 | CM | Gopal, K.N. | | | | IND | 1920 | Union Bank Of India | 8,5 | 75,5 | 80,5 | 59,75 | 0 | 7 |
| 6 | 10 | | Saumil, Nair | | | | IND | 1778 | Gujarat | 8,5 | 75,5 | 80 | 59,75 | 0 | 8 |
| 7 | 26 | | Kherdekar, Arnav | | | | IND | 1624 | Maharashtra | 8,5 | 68 | 73 | 52,25 | 0 | 8 |
| 8 | 21 | | Rohith, Yadav B R | | | | IND | 1660 | Telangana | 8,5 | 67,5 | 73 | 55,75 | 0 | 8 |
| 9 | 16 | | Swarna, Nihal | U15 | | | IND | 1717 | Andhra Pradesh | 8 | 78,5 | 83,5 | 55,25 | 0 | 7 |
| 10 | 11 | | Madhvendra, Pratap Sharma | U11 | | | IND | 1766 | Mp | 8 | 74,5 | 78,5 | 54,25 | 0 | 6 |
| 11 | 3 | FM | Ramakrishna, J. | | | | IND | 2019 | Union Bank Of India | 8 | 73,5 | 79 | 53,25 | 0 | 7 |
| 12 | 18 | | Boricha, Yohan | | | | IND | 1678 | Maharashtra | 8 | 73 | 78,5 | 55,00 | 0 | 7 |
| 13 | 34 | | Patil, Akshaj | U15 | | | IND | 1503 | Maharashtra | 8 | 69,5 | 73 | 49,25 | 0 | 6 |
| 14 | 20 | | Bartakke, Aditya | | | | IND | 1660 | Maharashtra | 8 | 69 | 74 | 49,75 | 0 | 7 |
| 15 | 49 | | Mradul, Yadav | U15 | | Nagp | IND | 1404 | Maharashtra | 8 | 65,5 | 70 | 49,50 | 0 | 8 |
Final standings in Rapid
| | | | | | | | | | | | | | | | |
| --- | --- | --- | --- | --- | --- | --- | --- | --- | --- | --- | --- | --- | --- | --- | --- |
| Rk. | SNo | | Name | Typ | sex | Gr | FED | Rtg | Club/City | Pts. | TB1 | TB2 | TB3 | TB4 | TB5 |
| 1 | 6 | FM | Ayush, Sharma | | | | IND | 2085 | Madhya Pradesh | 9 | 53 | 57 | 57,00 | 0 | 9 |
| 2 | 3 | CM | Vaibhav, Jayant Raut | | | Nagp | IND | 2119 | Maharashtra | 8 | 51,5 | 56,5 | 48,00 | 0 | 8 |
| 3 | 2 | IM | Kulkarni, Vikramaditya | | | | IND | 2216 | Maharashtra | 8 | 51 | 55,5 | 48,00 | 0 | 8 |
| 4 | 4 | FM | Thakur, Akash | | | Nagp | IND | 2109 | Maharashtra | 7,5 | 54,5 | 59 | 47,25 | 0 | 7 |
| 5 | 7 | WIM | Pandey, Srishti | | w | | IND | 2075 | Maharashtra | 7,5 | 54 | 59 | 46,75 | 0 | 7 |
| 6 | 8 | FM | Ramakrishna, J. | | | | IND | 2036 | Union Bank Of India | 7,5 | 52,5 | 57 | 46,00 | 0 | 7 |
| 7 | 16 | | Daksh, Goyal | U15 | | | IND | 1781 | Delhi | 7,5 | 51,5 | 56 | 44,75 | 0 | 7 |
| 8 | 11 | | Aishwin, Daniel | | | | IND | 1905 | Madhya Pradesh | 7,5 | 49,5 | 54 | 44,00 | 0 | 7 |
| 9 | 10 | | Mahindrakar, Indrajeet | | | | IND | 1971 | Maharashtra | 7 | 54 | 58 | 41,00 | 0 | 7 |
| 10 | 17 | | Saumil, Nair | | | | IND | 1736 | Gujarat | 7 | 52 | 55,5 | 40,00 | 0 | 7 |
| 11 | 19 | | Patil, Priyanshu | | | | IND | 1714 | Maharashtra | 7 | 52 | 55 | 38,50 | 0 | 7 |
| 12 | 1 | FM | Soman, Satchidanand | | | Nagp | IND | 2231 | Maharashtra | 7 | 50,5 | 54,5 | 40,25 | 0 | 6 |
| 13 | 18 | | Swarna, Nihal | U15 | | | IND | 1720 | Tirupati | 7 | 50 | 54,5 | 41,75 | 0 | 6 |
| 14 | 23 | | Gawai, Siddhant | | | Nagp | IND | 1685 | Maharashtra | 7 | 49,5 | 53,5 | 38,00 | 0 | 7 |
| 15 | 29 | | Vedant, Bhardwaj | | | | IND | 1595 | Mp | 7 | 48,5 | 52,5 | 38,50 | 0 | 7 |
| 16 | 34 | | Badole, Shaunak | U11 | | | IND | 1545 | Maharashtra | 7 | 48 | 51 | 37,50 | 0 | 7 |
| 17 | 9 | | Kumar, Gaurav | | | | IND | 1981 | Bihar | 7 | 47,5 | 51,5 | 39,25 | 0 | 6 |
| 18 | 41 | | Vatsal, Makol | | | | IND | 1468 | Delhi | 7 | 47,5 | 51 | 38,00 | 0 | 7 |
| 19 | 15 | AGM | Sa, Kannan | | | | IND | 1782 | Tn | 7 | 46 | 50 | 33,50 | 0 | 7 |
| 20 | 21 | | Rupam, Mukherjee | | | | IND | 1694 | West Bengal | 7 | 45,5 | 49,5 | 33,75 | 0 | 6 |
| 21 | 36 | | Shirodkar, Aayush | | | | IND | 1522 | Goa | 7 | 45 | 49 | 37,50 | 0 | 5 |
| 22 | 47 | | Prerak, Jayant Darvekar | | | Nagp | IND | 1438 | Maharashtra | 7 | 45 | 48 | 34,50 | 0 | 7 |
| 23 | 45 | AFM | Patil, Sudip | | | | IND | 1445 | Maharashtra | 7 | 42 | 44 | 32,50 | 0 | 7 |
| 24 | 22 | | Kherdekar, Arnav | | | | IND | 1693 | Maharashtra | 6,5 | 52 | 56 | 34,75 | 0 | 6 |
| 25 | 24 | | Dishank, Sachin Bajaj | | | Nagp | IND | 1656 | Maharashtra | 6,5 | 51,5 | 56,5 | 36,75 | 0 | 6 |
| 26 | 46 | | Dalal, Aashi | | w | Nagp | IND | 1438 | Maharashtra | 6,5 | 50 | 54,5 | 36,00 | 0 | 6 |
| 27 | 5 | CM | Gopal, K.N. | | | | IND | 2086 | Union Bank Of India | 6,5 | 49 | 53,5 | 37,50 | 0 | 6 |
| 28 | 35 | | Bartakke, Aditya | | | | IND | 1541 | Maharashtra | 6,5 | 48 | 52 | 33,75 | 0 | 6 |
| 29 | 86 | | Anshul, Nanwani | | | | IND | 1266 | Maharashtra | 6,5 | 47,5 | 50 | 32,25 | 0 | 5 |
| 30 | 13 | | Anadkat, Kartavya | | | | IND | 1827 | Gujarat | 6,5 | 47 | 52 | 36,25 | 0 | 6 |
Final standings in Blitz
| | | | | | | | | | | | | | |
| --- | --- | --- | --- | --- | --- | --- | --- | --- | --- | --- | --- | --- | --- |
| Rk. | SNo | | Name | Typ | sex | Gr | FED | Rtg | Club/City | Pts. | TB1 | TB2 | TB3 |
| 1 | 9 | | Anadkat, Kartavya | | | | IND | 2033 | Gujarat | 8 | 54 | 59 | 51,75 |
| 2 | 13 | | Daksh, Goyal | U15 | | | IND | 1977 | Delhi | 8 | 52 | 56,5 | 49,25 |
| 3 | 1 | FM | Ayush, Sharma | | | | IND | 2281 | Madhya Pradesh | 8 | 51,5 | 55,5 | 47,50 |
| 4 | 27 | | Bartakke, Aditya | | | | IND | 1594 | Maharashtra | 8 | 43 | 46,5 | 42,00 |
| 5 | 12 | | Aishwin, Daniel | | | | IND | 1979 | Madhya Pradesh | 7,5 | 50,5 | 55 | 43,75 |
| 6 | 11 | | Kumar, Gaurav | | | | IND | 2019 | Bihar | 7,5 | 49,5 | 54 | 44,50 |
| 7 | 10 | | Chitre, Arush | U15 | | | IND | 2029 | | 7,5 | 47,5 | 51,5 | 37,50 |
| 8 | 23 | | Dishank, Sachin Bajaj | | | NAGP | IND | 1651 | Maharashtra | 7,5 | 46,5 | 50,5 | 37,25 |
| 9 | 8 | | Mahindrakar, Indrajeet | | | | IND | 2045 | | 7 | 53 | 58 | 42,00 |
| 10 | 20 | | Patil, Priyanshu | | | Nagpur | IND | 1731 | Maharashtra | 7 | 51 | 55 | 39,50 |
| 11 | 41 | | Boricha, Yohan | | | | IND | 1493 | Maharashtra | 7 | 50 | 53,5 | 40,50 |
| 12 | 17 | | Gawai, Siddhant | | | Nagp | IND | 1833 | Maharashtra | 7 | 49,5 | 53,5 | 36,50 |
| 13 | 7 | FM | Ramakrishna, J. | | | | IND | 2078 | Telangana | 7 | 49 | 53 | 39,25 |
| 14 | 76 | | Divith, Reddy Adulla | U11 | | | IND | 1275 | Telangana | 7 | 48,5 | 52 | 39,25 |
| 15 | 39 | | Joglekar, Abhijit | | | | IND | 1500 | Maharashtra | 7 | 48 | 50,5 | 35,50 |
| 16 | 14 | AGM | Sa, Kannan | | | | IND | 1956 | Tn | 7 | 47 | 51 | 38,25 |
| 17 | 33 | | Badole, Shaunak | U11 | | Nagp | IND | 1545 | Maharashtra | 7 | 45 | 49 | 37,50 |
| 18 | 24 | | Vedant, Bhardwaj | | | | IND | 1649 | Mp | 7 | 42 | 46 | 35,50 |
| 19 | 80 | | Ramteke, Ayush | U15 | | Nagp | IND | 1271 | Maharashtra | 7 | 41,5 | 45,5 | 32,00 |
| 20 | 4 | CM | Vaibhav, Jayant Raut | | | Nagp | IND | 2156 | Maharashtra | 6,5 | 51,5 | 55,5 | 36,25 |
| 21 | 55 | | Mahir, Taneja | U11 | | | IND | 1384 | Delhi | 6,5 | 51 | 55 | 38,25 |
| 22 | 3 | CM | Arjun, K | | | | IND | 2187 | Kerala | 6,5 | 50,5 | 54,5 | 37,00 |
| 23 | 43 | | Prerak, Jayant Darvekar | | | Nagp | IND | 1486 | Maharashtra | 6,5 | 47,5 | 50 | 31,75 |
| 24 | 18 | | Shegaonkar, Akshay | | | | IND | 1830 | Maharashtra | 6,5 | 46,5 | 51 | 37,00 |
| 25 | 5 | WIM | Pandey, Srishti | | w | | IND | 2123 | | 6,5 | 46,5 | 51 | 34,25 |
| 26 | 37 | | Patil, Akshaj | U15 | | | IND | 1510 | Maharashtra | 6,5 | 46,5 | 50,5 | 34,75 |
| 27 | 21 | | Rupam, Mukherjee | | | | IND | 1699 | West Bengal | 6,5 | 46,5 | 49,5 | 33,75 |
| 28 | 31 | | Phani, Kanuri | | | | IND | 1555 | Andhra Pradesh | 6,5 | 46 | 50 | 34,25 |
| 29 | 51 | | Gada, Om | | | | IND | 1434 | Maharashtra | 6,5 | 46 | 48 | 33,00 |
| 30 | 16 | | Adhithya, S | | | | IND | 1853 | Tamil Nadu | 6,5 | 45,5 | 49,5 | 33,25 |
---