Prasannaa victorious at Shantikumarji Firodia Rating Open 2022
by Shahid Ahmed - 03/12/2022
Prasannaa S of Tamil Nadu scored 8/9 to win Shantikumarji Firodia All India Rating Open 2022. He finished a half point ahead of the competition. Four players - Shriraj Bhosale, Kaustuv Kundu, Harsh Ghadge and Shlok Sharnarthi scored 7.5/9 each. They were placed second to fifth according to tie-breaks. Shriraj became the only player to beat the eventual champion Prasannaa. The total prize fund of the tournament was ₹200000. The top three prizes were ₹31000, ₹20000 and ₹15000 along with a trophy each. This is Prasannaa's third Rating tournament triumph of the year. Photo: Shahid Ahmed
Prasannaa's third Rating tournament triumph of the year
Prasannaa S won 28th Abu Dhabi Chess Festival Open 2022 in August. Then he won 1st ISC Rating Open in October. Now he won his third Rating Open tournament. Local lad, 13-year-old Harsh Ghadge scored an impressive 7.5/9 to finish fourth in tie-breaks.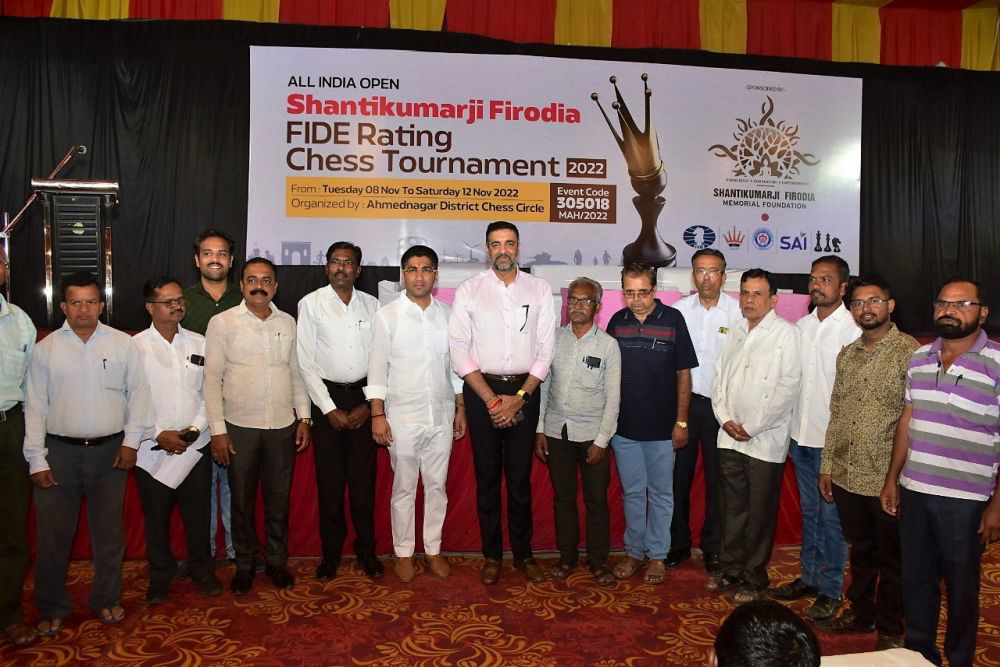 Thanks to the SNA Yashwant Bapat for sharing the photos.
A total of 180 players took part from various parts of the country and one from Canada. The five-day nine-round Swiss league Rating tournament was organized by Ahmednagar District Chess Circle. It took place at Badi Sajan Mangal Karyalaya at Ahmednagar, Maharashtra from 8th to 12th November 2022. The time control of the tournament was 90 minutes + 30 seconds increment from move no.1.
Final standings
| | | | | | | | | | | |
| --- | --- | --- | --- | --- | --- | --- | --- | --- | --- | --- |
| Rk. | SNo | | Name | FED | Rtg | Club/City | Pts. | TB1 | TB2 | TB3 |
| 1 | 2 | FM | Prasannaa.S | IND | 2165 | TN | 8 | 50 | 51 | 0 |
| 2 | 5 | | Bhosale Shriraj | IND | 1922 | Mah | 7,5 | 52,5 | 56,5 | 0 |
| 3 | 1 | | Kaustuv Kundu | IND | 2308 | WB | 7,5 | 51,5 | 56,5 | 0 |
| 4 | 12 | | Ghadge Harsh | IND | 1551 | Mah-Nagar | 7,5 | 49,5 | 53,5 | 0 |
| 5 | 14 | | Sharnarthi Shlok | IND | 1547 | Mah | 7,5 | 48,5 | 49,5 | 0 |
| 6 | 6 | | Majumder Shrayan | IND | 1799 | Mah | 7 | 50,5 | 55 | 1 |
| 7 | 7 | | Sharnarthi Viresh | IND | 1742 | Mah | 7 | 50,5 | 55 | 0 |
| 8 | 3 | | Arpan Das | IND | 2044 | WB | 7 | 45,5 | 49,5 | 0 |
| 9 | 26 | | Jain Hitansh | IND | 1323 | Mah | 7 | 45,5 | 48,5 | 0 |
| 10 | 8 | | Gaikwad Manas | IND | 1738 | Mah | 7 | 45 | 48 | 0 |
---