1st Maharashtra GM Open 2022 R9: Aditya Samant becomes the new International Master of India
15-year-old Aditya S Samant became the latest International Master of India. It happened when he drew his ninth round game against Srihari L at 1st Maharashtra GM Open 2022. Pune's very own Aditya secured his final IM-norm at his home city only. Top seed of the tournament, GM Farrukh Amonatov defeated GM Boris Savchenko to gain sole lead 7.5/9. GM Deep Sengupta, GM Arjun Kalyan and GM Aleksej Aleksandrov are in the chase 7/9. Arjun will face Amonatov and Deep will be up against Aleksandrov in the penultimate round. IM Bhakti Kulkarni is currently the top female scorer 6/9. Round 10 starts today at 10 a.m. IST. Photo: Aditya Sur Roy
Sharan Rao scores his second IM-norm
There were a lot of players who were close to scoring their norms. Apart from Aditya Samant, FM Sharan Rao also scored an IM-norm. This was his second IM-norm. He needs one more norm and touch 2400 in the live ratings to become India's next International Master. IM Srihari L R, IM Aditya Mittal and IM Neelash Saha are at 6.5/9 each.
Deep - Nikitenko: 1-0
GM Mihail Nikitenko (2479) delayed the development of his pieces on the queenside. It cost him the game against GM Deep Sengupta (2526).
27.f6 is the point of no return for Black. There is no way to save the game any longer.
Neelash - Aditya Mittal: 0.5-0.5
IM Aditya Mittal (2490) once again managed to escape with a draw in a difficult endgame. His opponent was reigning National Junior Open champion, IM Neelash Saha (2439).
Generally, Rook and Bishop is considered a better combination in the endgame than a Rook and Knight, especially if the position is open. However, it turns out, in this position 31...Ne2+ was not the best idea. We realize it after a few moves.
The game continued 46.h5 Ra5 47.h6 Be4 48.Rd4 Bh7 49.Rb4 Rxe5 and Black managed to hold a draw in the next few moves. Instead, 46.Nd5+ could have led to a different outcome.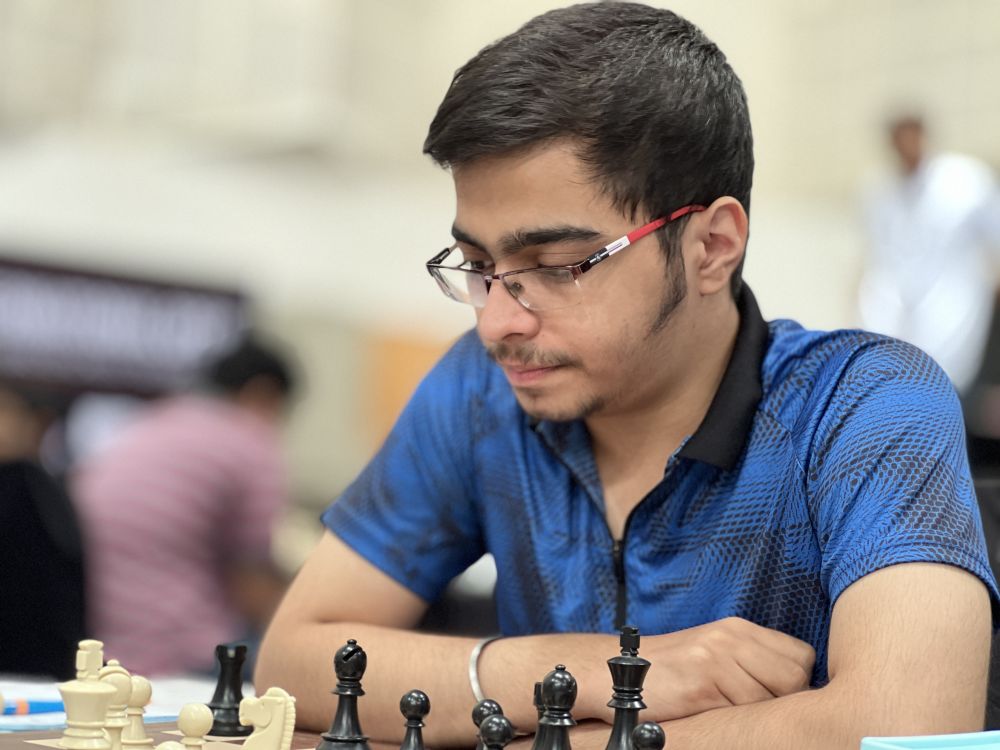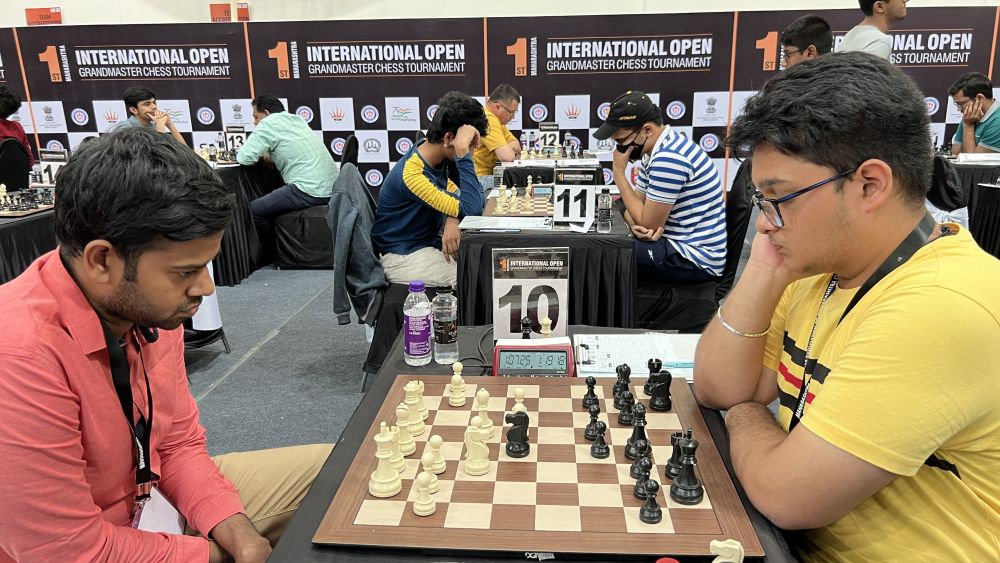 For more Round 9 photos, please click here.
A total of 141 players including 20 GMs, 29 IMs, 6 WGM and 9 WIMs are taking part from 13 countries across the world including India. The tournament is organized by Maharashtra Chess Association from 31st May to 8th June 2022 at Balewadi Sports Complex, Pune, Maharashtra. The eleven-round Swiss league tournament has a time control of 90 minutes + 30 seconds increment from move no.1.
Replay Round 9 games
Round 9 results
Round 10 pairings
---