1st Maharashtra GM Open 2022 R8: Resilient Aditya Mittal
IM Aditya Mittal had a very tough endgame against GM Nguyen Duc Hoa (VIE). However, Aditya showed his resilience and managed to salvage a draw. GM Boris Savchenko, GM Farrukh Amonatov and GM Mihail Nikitenko are in a three-way lead 6.5/8 at 1st Maharashtra International GM Open 2022. Seven players are trailing by a half point at 6/8 each. They are - GM Nguyen Duc Hoa, GM Aleksej Aleksandrov, GM Karthik Venkataraman, GM Deep Sengupta, GM Arjun Kalyan, IM Aditya Mittal and IM Neelash Saha. Both IMs in pursuit, will face each other in the ninth round which starts today at 10 a.m. IST. Photo: Aditya Sur Roy
Divya outplays Nubairshah
To play in a strong tournament, one of the skills required is to seize advantage and convert them. Something WGM Divya Deshmukh did against IM Nubairshah Shaikh. She is currently the top scorer 5.5/8 among female participants. The other skill required is persevere tough positions. IM Aditya Mittal showed his tenacity and salvaged a draw from a tough position.
Luka - Anuj: 0.5-0.5
IM Anuj Shrivatri (2356) had a very good opportunity to go for a win against GM Luka Paichadze (GEO, 2567) who erred in the final moments of the Rook and many Pawns endgame.
44.Rxh7 is certainly a mistake as Black capitalized on it c3. However, after 45.Rf7 Black did not follow through correctly, Rd2+ 46.Ke3 c4 and White managed to escape with a draw. Find out the better continuation for Black instead of 45...Rd2.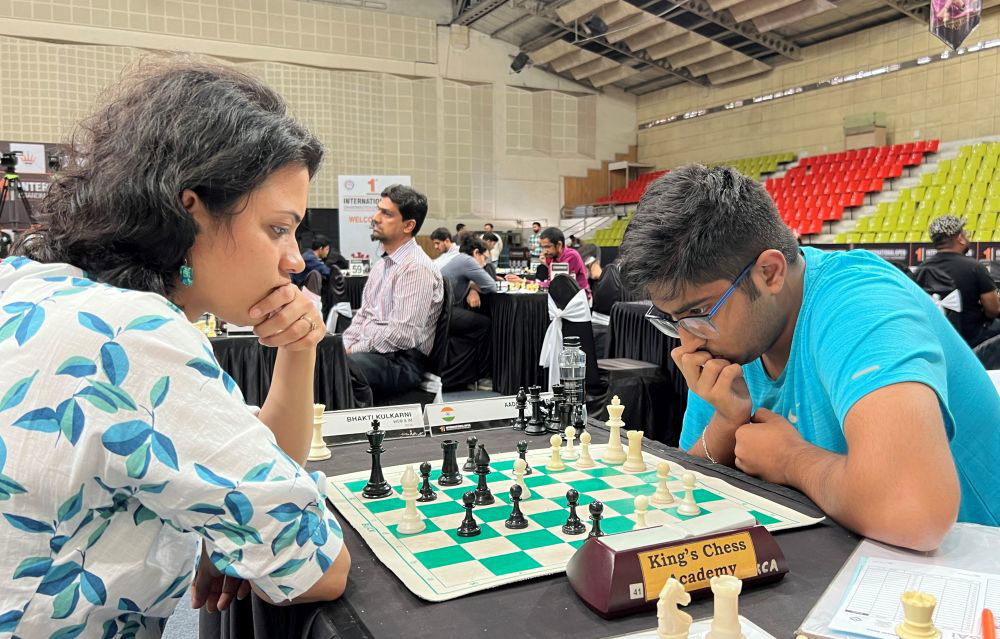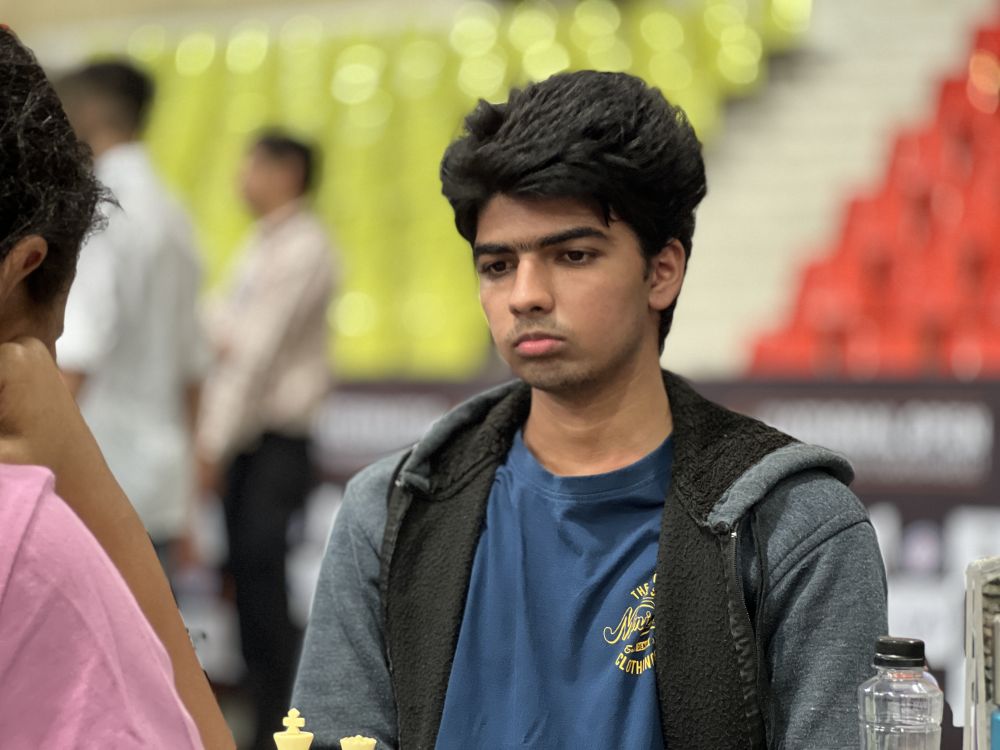 For more Round 8 photos, please click here.
A total of 141 players including 20 GMs, 29 IMs, 6 WGM and 9 WIMs are taking part from 13 countries across the world including India. The tournament is organized by Maharashtra Chess Association from 31st May to 8th June 2022 at Balewadi Sports Complex, Pune, Maharashtra. The eleven-round Swiss league tournament has a time control of 90 minutes + 30 seconds increment from move no.1.
Replay Round 8 games
Round 8 results
Round 9 pairings
---