1st Maharashtra GM Open 2022 R2-3: An epic king hunt by Anup Deshmukh
Revered veteran IM Anup Deshmukh scored an amazing victory over GM Azer Mirzoev (AZE) in the third round of 1st Maharashtra International GM Open 2022. The artist hunted his opponent's king which resulted in a picturesque checkmate. GM Venkatesh M R, GM Karthik Venkataraman and GM Arjun Kalyan are the remaining three Indians who started with a hat-trick of victories. Reigning National Junior Girls champion, WGM Priyanka Nutakki scored an impressive win over GM Mihail Nikitenko in Round 2. She was on the verge of another triumph against GM Karthik Venkataraman in the following round too. However, she could not seize her decisive advantage. Round 4 starts today at 10 a.m. IST. Photo: Aditya Sur Roy
A good day for Sharan Rao
FM Sharan Rao (2274) drew with the reigning National Junior Open champion IM Neelash Saha (2439) in Round 2. The IM-norm holder, Sharan put on a clinic in the third round as he defeated GM Deepan Chakkravarthy (2478).
Round 2: Priyanka Nutakki - Nikitenko: 1-0
GM Mihail Nikitenko (2479) made a thematic mistake in the Semi-Slav against the reigning National Junior Girls champion, WGM Priyanka Nutakki (2303).
There was not a lot of good choices for Black. However, 14...c5 was certainly not the best as it invites d5, Nxf6 and a barrage of attack on the kingside. 15.Nxf6+ Nxf6 16.d5 h6 17.Bd3 Rce8 18.Nh4 Nh5?? instead Nxd5 would have allowed Black to restore the balance to the position. 19.Nf5 Qg5 20.h4 Qd8 21.dxe6 Rxe6 22.Rxe6 fxe6 23.Nxg7 and it's all over for Black. He resigned in another seven moves.
Atharva Godbole - Stupak: 1-0
Atharva Godbole (2210) at one point was in a lost position. However, he did not give up just because he was playing against a Grandmaster. He kept creating chances for himself, waited for his opponent, GM Stupak Kirill (2440) to make a mistake and seize it.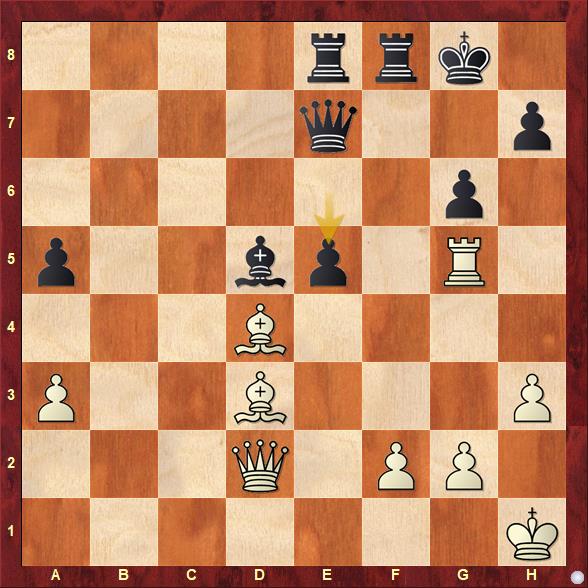 30...e5 is the game losing mistake by Black. Find out the winning continuation for White which Atharva executed on the board.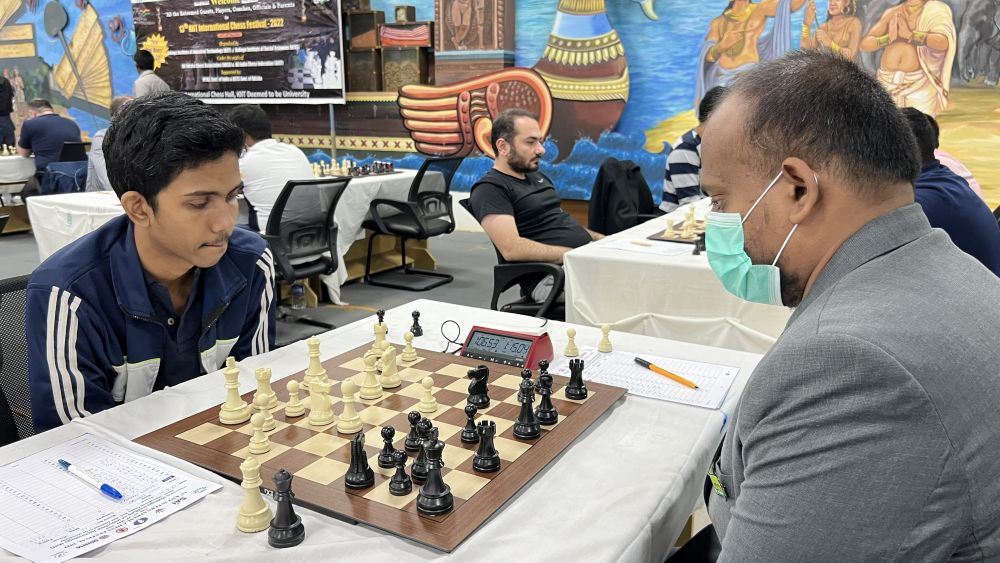 Round 3: Azer - Anup: 0-1
IM Anup Deshmukh (2178) is a very strong and creative player. When he sees there is an opportunity to create some chances, he takes it, irrespective of who the opponent is at that time. GM Azer Mirzoev (AZE, 2476) felt Anup's wrath.
Anup offered a piece sacrifice 11...e5. White grabbed his opportunity 12.e4 exd4 13.exf5 d3!? a very interesting move. The idea is to ensure White loses his castling rights on the kingside. 14.Rc1 Re8+ 15.Kd1 N7b6 16.Nc4 Nxc4 17.Rxc4 Nb6 18.Rxc6 Na4 19.b3?? and everything fell apart for White.
19.f6 Bxf6 20.Rxf6 Qxf6 21.Be5 would have saved the day for White. However, 19.b3 completely loses the game for White. Find out the winning continuation for Black. Find out how.
Sharan - Deepan: 1-0
Having a balanced position and then the art of doing nothing is quite challenging. Since you cannot pass a move, sometimes trying to create something can backfire. GM Deepan Chakkravarthy (2478) in a relatively equal position tried to create some chances against FM Sharan Rao (2274).
First Black went 15...e6 16.Rac1 then b5 17.Na5 Ba8 18.Ba3 Qb6?? was the final decisive mistake by Black. Find out the correct continuation. There is more than one way for White to seize the advantage.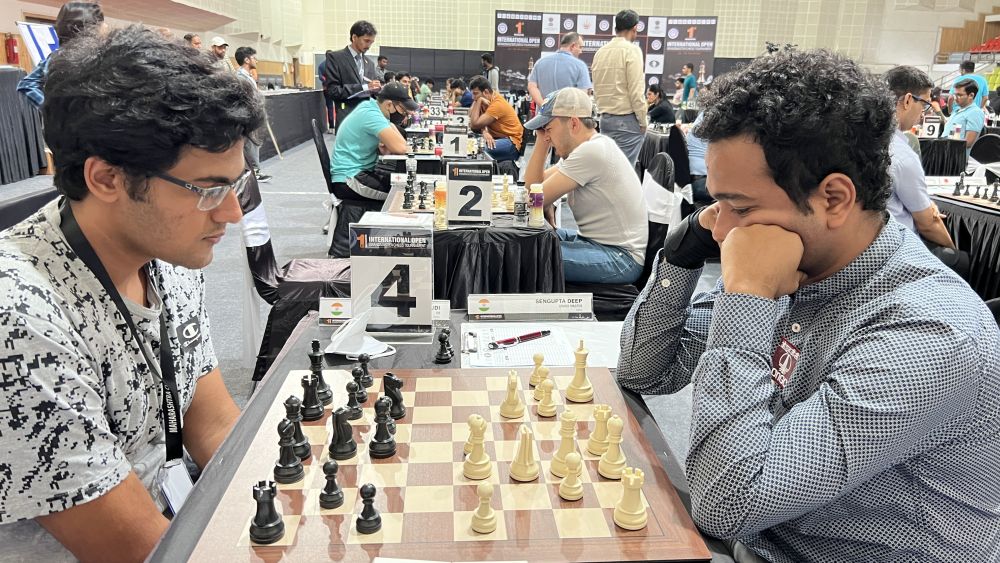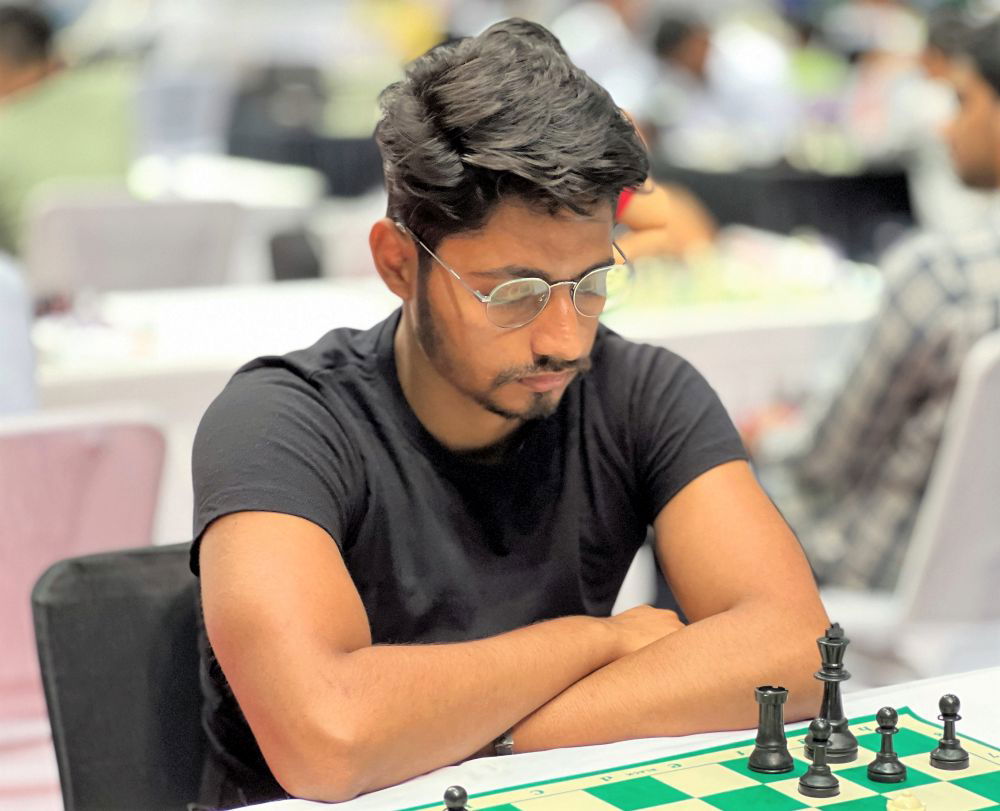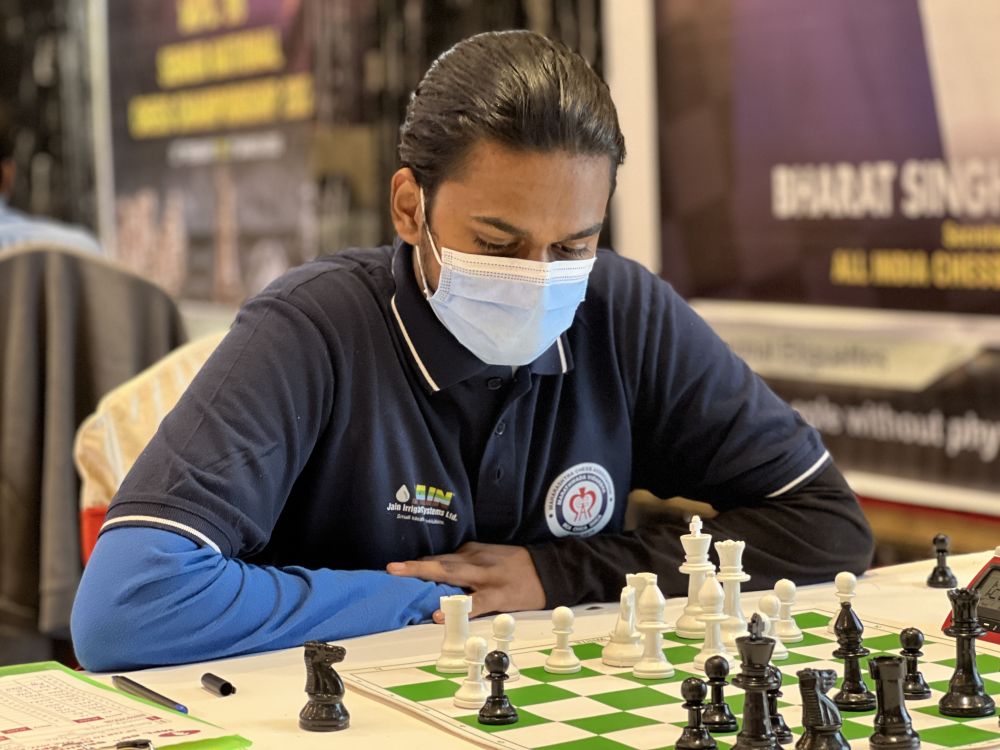 For more Round 2 and Round 3 photos, please click at the respective links.
A total of 141 players including 20 GMs, 29 IMs, 6 WGM and 9 WIMs are taking part from 13 countries across the world including India. The tournament is organized by Maharashtra Chess Association from 31st May to 8th June 2022 at Balewadi Sports Complex, Pune, Maharashtra. The eleven-round Swiss league tournament has a time control of 90 minutes + 30 seconds increment from move no.1.
Replay Round 2-3 games
Round 3 results
Round 4 pairings
---