1st Maharashtra GM Open 2022 R10: Three-way race between Amonatov, Aleksandrov and Arjun Kalyan
Top seed of the tournament, GM Farrukh Amonatov (TJK) drew with GM Arjun Kalyan in the penultimate round. GM Aleksej Aleksandrov defeated GM Deep Sengupta. Amonatov and Aleksandrov are at 8/10 each, closely followed by Arjun 7.5/10. Arjun must win the final round game against GM Alexei Fedorov and hope, Amonatov and Aleksandrov draw their game and also tie-break works out in his favor. Only then, Arjun will have a chance of winning the tournament. FM Ram Aravind L N scored his maiden IM-norm. CM Kushagra Mohan is the highest scorer so far who is neither an IM nor GM. Final Round 11 starts today at 10 a.m. IST. Photo: Aditya Sur Roy
Ram Aravind earns his maiden IM-norm
FM Ram Aravind L N becomes the third player of the tournament to score an IM-norm. IM Bhakti Kulkarni is having a great tournament among female participants. Prasannaa S and Srihari L are the two highest scorer so far among untitled players at 6.5/10 each.
Aleksandrov - Deep: 1-0
GM Deep Sengupta (2526) had a tough decision to make in the Rook, Knight and few Pawns endgame against GM Aleksej Aleksandrov (2492).
Black had to make an important decision - whether to save the e5-pawn or not. The correct answer would be to let it go. Why? Because defending it via 30...Re6 only hampers the mobility of pieces for Black. 30...Nf6 31.Nxe5 Rh6+ is one of the ways to go about it. Keeping the pieces free to move was a better practical decision. Soon, White got the pawn to c6 and exchanged to rooks to transition into a winning Knight endgame.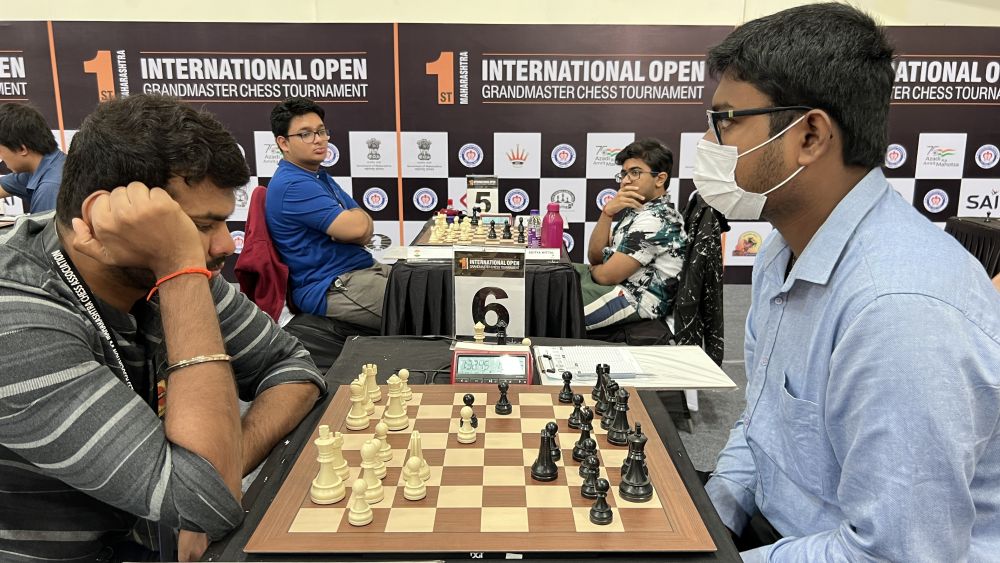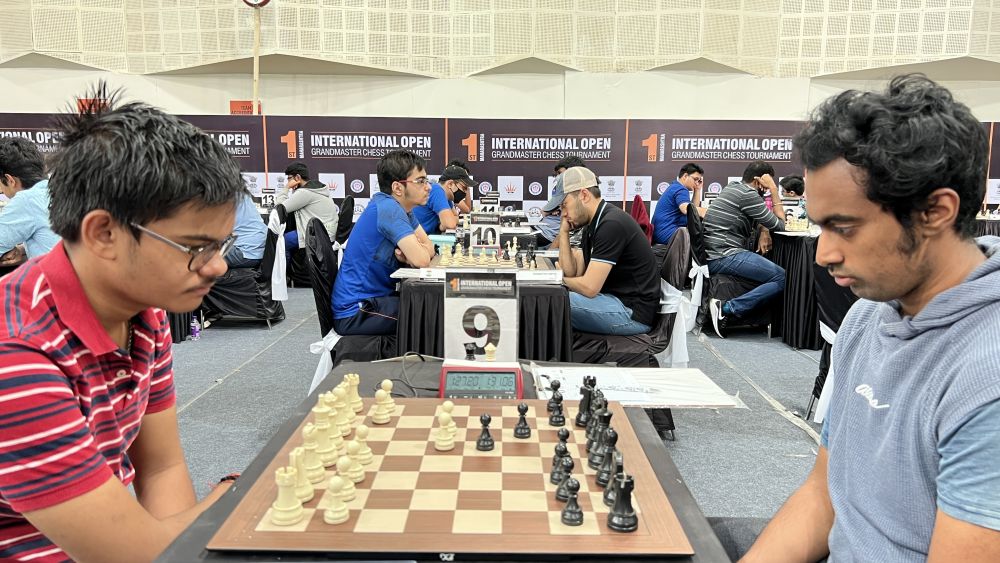 Kushagra - Ortik: 1-0
CM Kushagra Mohan (2343) first survived a massive tactical shot which his opponent IM Nigmatov Ortik (UZB, 2463) missed.
25.c3 is a big mistake. Find out the winning continuation for Black. The game continued 25...Ba5 and White got another opportunity. Kushagra certainly made the most out of his second chance.
In the endgame, Black went wrong 37...Bf7. White played the obvious 38.c5 Ba5 39.c6+ Ka6 40.Ra1 Ba2 41.Re2 and Black resigned in another four moves.
Azer - Konguvel: 0-1
GM Azer Mirzoev (AZE, 2476) offered too many pieces up for exchange, neglecting an onslaught on the kingside by his opponent, IM P Konguvel (2331).
23.hxg4 and Rec2 were better choices, the former was more plausible. 23.Nc5 Bxe5 24.Nxe6 Qxe6 25.dxe5 gxh3 26.Qd3 Qh6 and White's position fell apart in a hurry.
Nubairshah - Sharan: 0-1
FM Sharan Rao (2274) did not slow down after scoring his second IM-norm. He kept the momentum going as he beat IM Nubairshah Shaikh (2443).
19.Qb2 allowed Black to gain an exchange using tactics 19...Nd3. White had to play 20.Bxb4 to keep the fight going.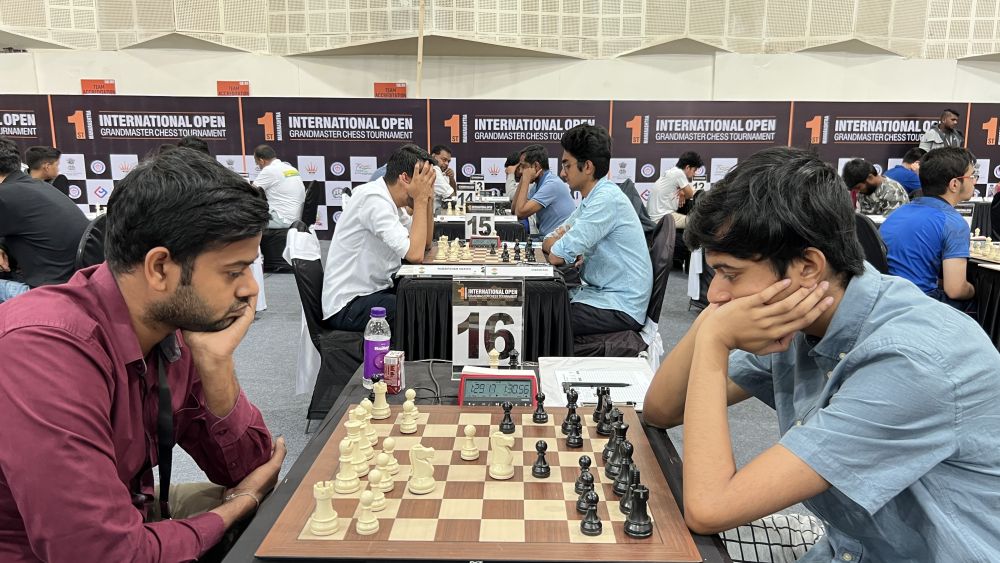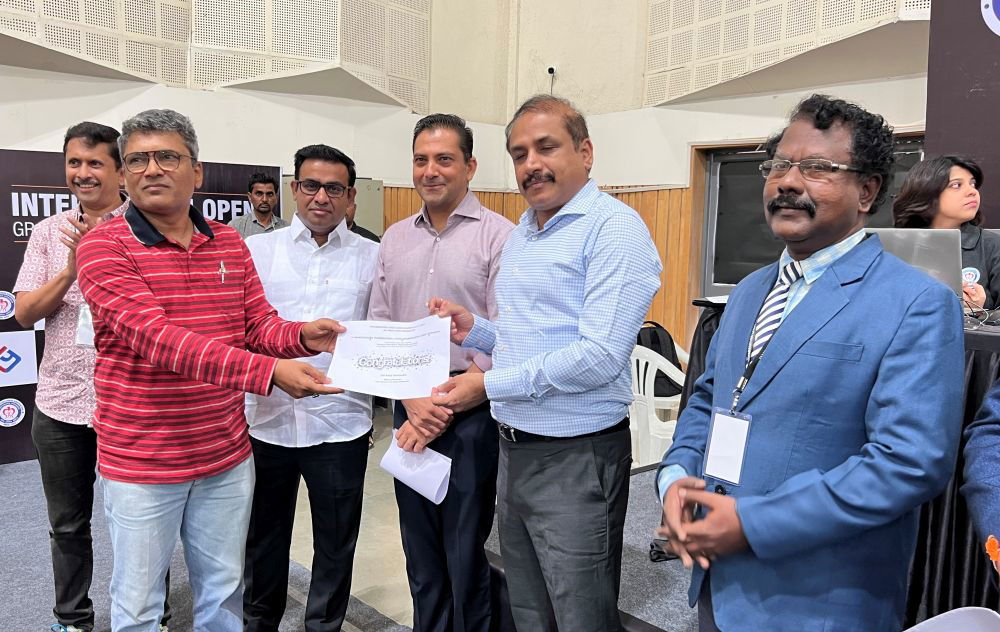 For more Round 10 photos, please click here.
A total of 141 players including 20 GMs, 29 IMs, 6 WGM and 9 WIMs are taking part from 13 countries across the world including India. The tournament is organized by Maharashtra Chess Association from 31st May to 8th June 2022 at Balewadi Sports Complex, Pune, Maharashtra. The eleven-round Swiss league tournament has a time control of 90 minutes + 30 seconds increment from move no.1.
Replay Round 10 games
Round 10 results
Round 11 pairings
---