1st Maharashtra GM Open 2022 R4: The Aditya Samant Ascension
Pune, Maharashtra's next big talent is FM Aditya S Samant. There is no doubt that he is going to become an IM. The 15-year-old already has an IM-norm. He drew with the top seed Farrukh Amonatov in the third round, showing his tenacity. In the fourth round, he scored a win against IM N Krishna Teja with a great display of attack. Currently he is the only non IM/GM player unbeaten at 3.5/4 out of eleven players. IM Anup Deshmukh continues his impressive run as he drew with Amonatov in another exciting battle. Lalit, Deep, Karthik, Arjun Kalyan, Vishnu and Srihari L R are the remaining Indians at 3.5/4 each. Round 5 starts today at 9:30 a.m. IST. Photo: Aditya Sur Roy
Luka Paichadze makes a perfect start
Second seed of the event, GM Luka Paichadze (GEO) defeated GM Venkatesh M R to score 4/4. Although at one point, Venkatesh had one opportunity to turn things around. Luckily for the Georgian, his opponent did not spot it at the right moment.
Aditya Samant - Krishna Teja: 1-0
FM Aditya S Samant (2433) launched a devastating attack on IM N Krishna Teja's (2374) kingside.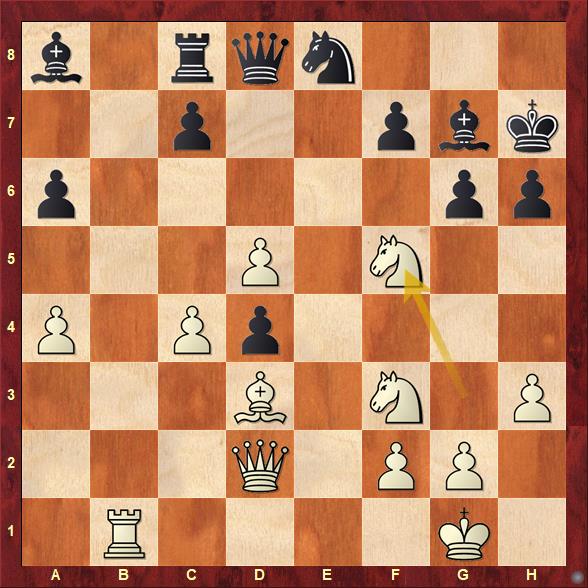 Apart from the g7-bishop, all black pieces are on the back rank which means this is a perfect time to launch an attack. 27.Nf5 is an excellent move. There is no immediate finish, yet it is the prelude to black king's eventual demise. 27...c6 28.Qf4 cxd5 29.Nxh6 dxc4 30.Ng5+
When someone plays like this, it is bound to give them immense joy. Black was forced to give up the queen 30...Qxg5 31.Qxg5 Bxh6 32.Qg4 and rest was just a matter of time to score the victory.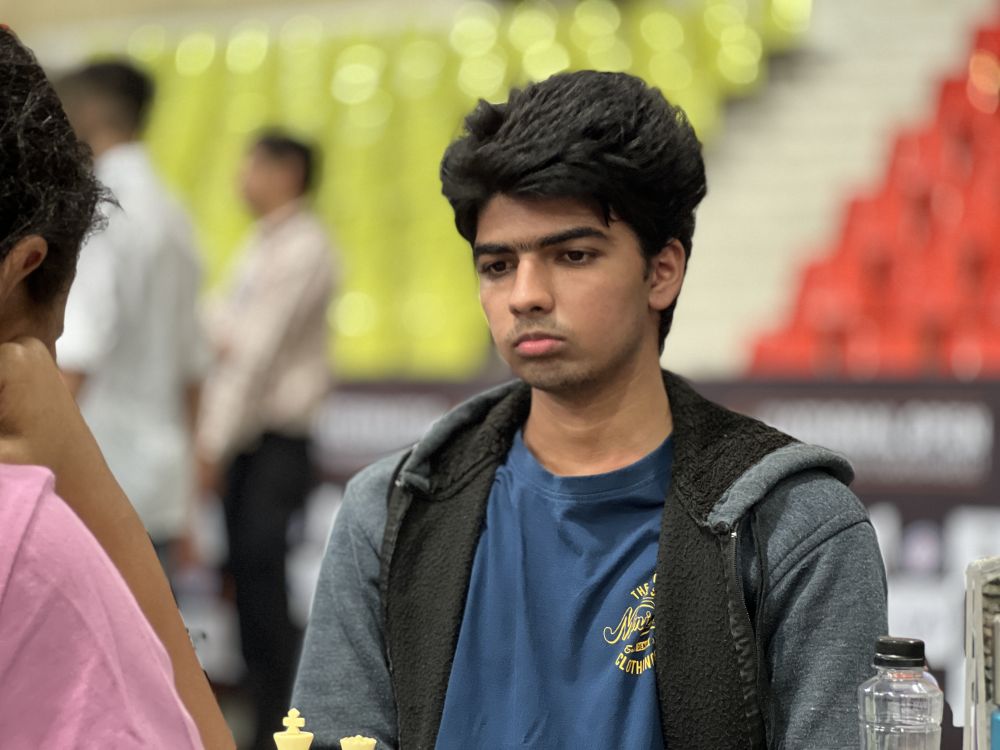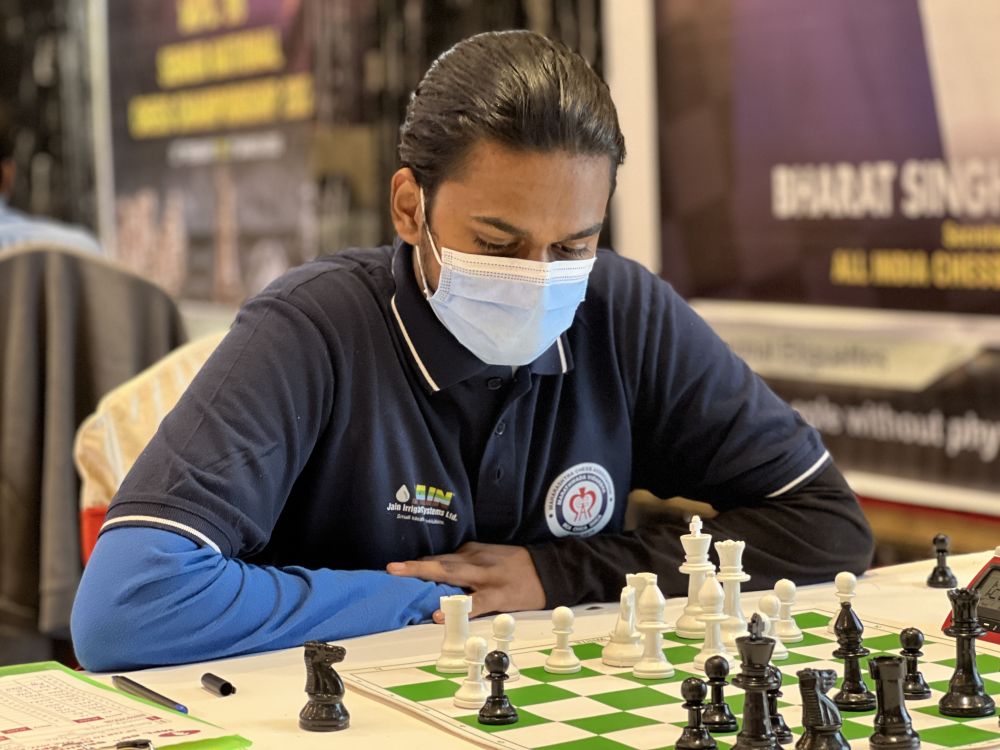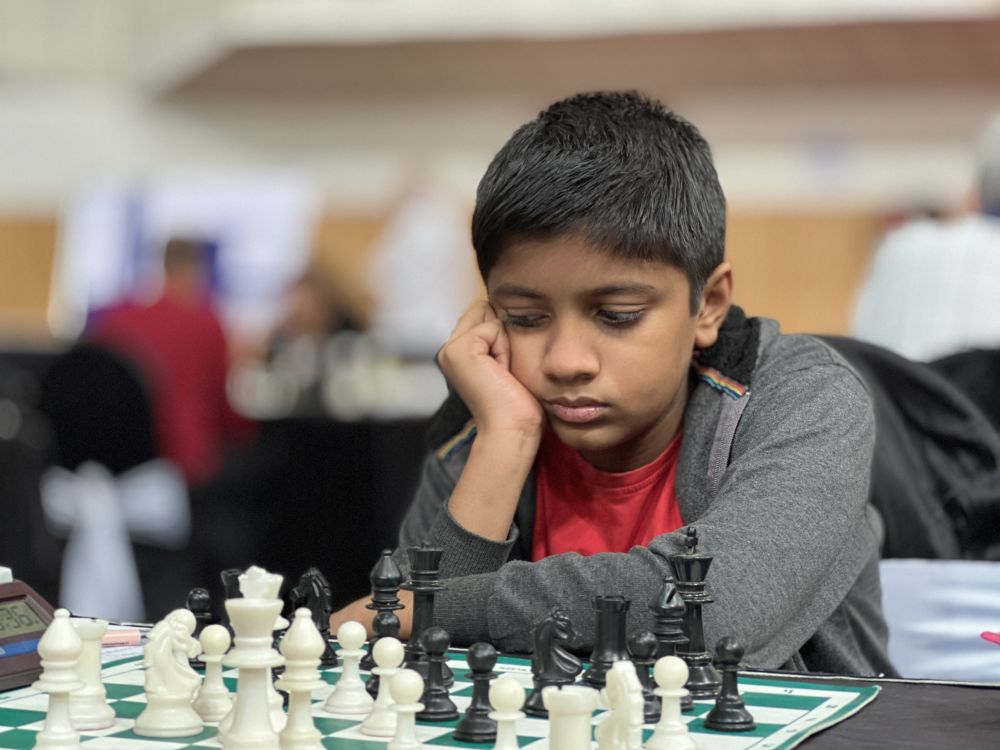 For more Round 4 photos, please click at the respective links.
A total of 141 players including 20 GMs, 29 IMs, 6 WGM and 9 WIMs are taking part from 13 countries across the world including India. The tournament is organized by Maharashtra Chess Association from 31st May to 8th June 2022 at Balewadi Sports Complex, Pune, Maharashtra. The eleven-round Swiss league tournament has a time control of 90 minutes + 30 seconds increment from move no.1.
Replay Round 4 games
Round 4 results
Round 5 pairings
---