1st Maharashtra GM Open 2022 R7: Deep, Arjun Kalyan and Aditya Mittal in pursuit
GM Farrukh Amonatov (TJK) halted IM Srihari L R's fantastic run at 1st Maharashtra GM Open 2022. The top seed and GM Mihail Nikitenko currently share the lead 6/7. They are followed by a pack of six players in the chase at 5.5/7 each. Among them, there are three Indians - GM Deep Sengupta, GM Arjun Kalyan and IM Aditya Mittal. Deep and Arjun will face each other in the eighth round, while Aditya will face GM Nguyen Duc Hoa (VIE). Former National Under-17 Open champion, FM Vedant Panesar and FM Sharan Rao scored big wins over GM Deepan Chakkravarthy and GM Enamul Hossain (BAN) respectively. Round 8 starts today at 10 a.m. IST. Photo: Aditya Sur Roy
Amonatov and Nikitenko are the coleaders
Kaustuv Kundu is currently the highest scorer 5/7 among untitled players. He will face the reigning National Junior (Under-20) Open champion IM Neelash Saha in Round 8. Current National Women champion and a member of Indian Olympiad Women's team member WGM Divya Deshmukh, current National Junior Girls champion, WGM Priyanka Nutakki and Indian Olympiad Women's team member IM Bhakti Kulkarni, all three are at 4.5/7 each.
Amonatov - Srihari: 1-0
IM Srihari L R (2404) was playing well against the top seed of the tournament, GM Farrukh Amonatov (TJK, 2622). A blunder in the relatively equal Rook and Pawn endgame cost the teenager the game.
It is quite difficult for White to push either of the pawns or make progress. While White is threatening Kf2, it is nothing but a phantom threat. Black just needs to keep the king cutoff in the third rank. If the distance between the g-pawn and the king is quite a bit, then the rook can go and attack the g-pawn. It is all easier said than done when there is no clock ticking down. Black blundered 58...e4 59.Rxe4 Kxb6 60.Kf2 and it's all over for Black.
Vedant Panesar - Deepan: 1-0
FM Vedant Panesar (2337) got a pleasant position out of the Exchange Grunfeld opening against GM Deepan Chakkravarthy (2478).
20.d7 costs Black the bishop due to the threat of Rxb7 pinning the bishop against the king at g7 looming large. 20...Re7 21.Rfd1 it was possible to take on c8 immediately b6 22.dxc8Q +-. White went on to convert his advantage into a win comfortably.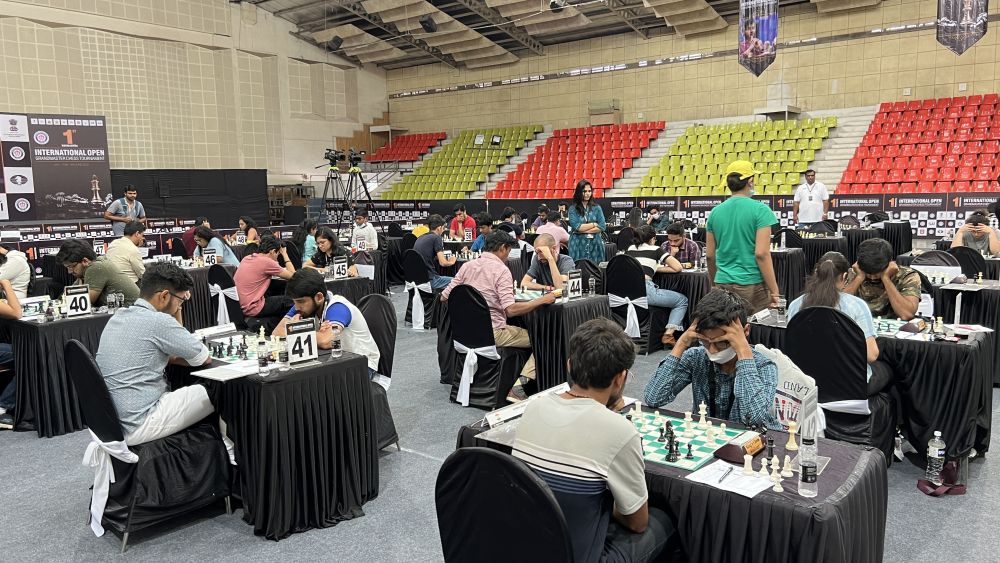 For more Round 7 photos, please click here.
A total of 141 players including 20 GMs, 29 IMs, 6 WGM and 9 WIMs are taking part from 13 countries across the world including India. The tournament is organized by Maharashtra Chess Association from 31st May to 8th June 2022 at Balewadi Sports Complex, Pune, Maharashtra. The eleven-round Swiss league tournament has a time control of 90 minutes + 30 seconds increment from move no.1.
Replay Round 7 games
Round 7 results
Round 8 pairings
---