Farrukh Amonatov wins 1st Maharashtra GM Open 2022, Arjun Kalyan third
GM Farrukh Amonatov (TJK) won his second consecutive tournament, 1st Maharashtra International GM Open 2022 after winning 13th KIIT GM Open, ten days ago. GM Arjun Kalyan gave his heart out in scoring a win in the last round and that is exactly what he achieved. GM Alexej Aleksandrov and Arjun also finished with the same score as Amonatov 8.5/11. Amonatov won the event due to better tie-breaks, Alexej and Arjun had to settle for second and third places. The total prize fund of the tournament was ₹2000000. Top three prizes were ₹300000, ₹200000 and ₹150000 along with a trophy each respectively. IM Bhakti Kulkarni 6.5/11 is the highest finisher among female participants. Photo: Aditya Sur Roy
Kaustuv Kundu scores his maiden IM-norm, Bhakti Best Woman
Kaustuv Kundu is the fourth player of the event to score an IM-norm. It was his first IM-norm. IM Srihari L R and WGM Divya Deshmukh won the Best Emerging Player award in Male and Female category. IM Srihari and IM Neelash Saha are the only two non-GMs to finish in top ten. They secured sixth and tenth place scoring 8/11 and 7.5/11 respectively. IM Anup Deshmukh won the Game of the Tournament prize among Game of the Round winners.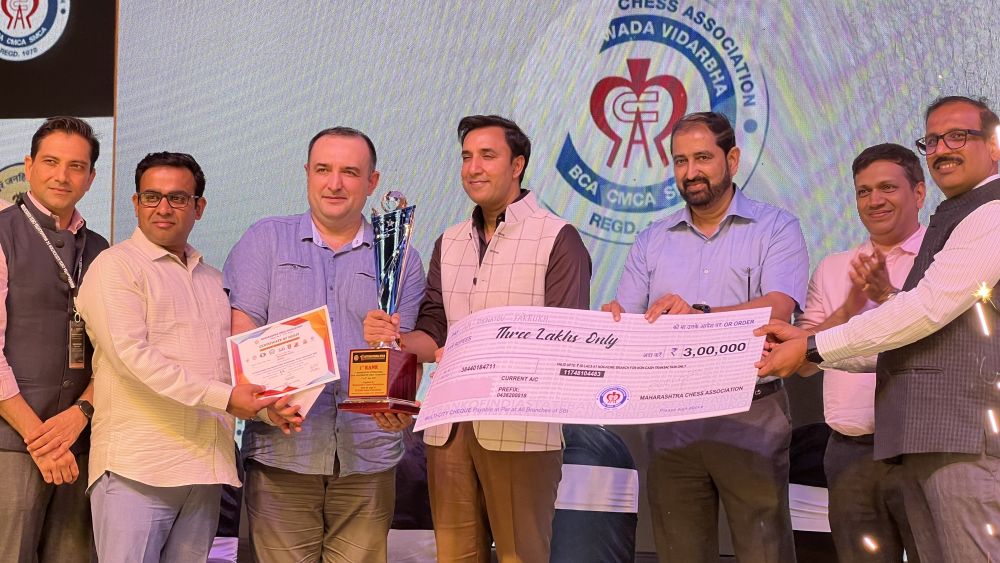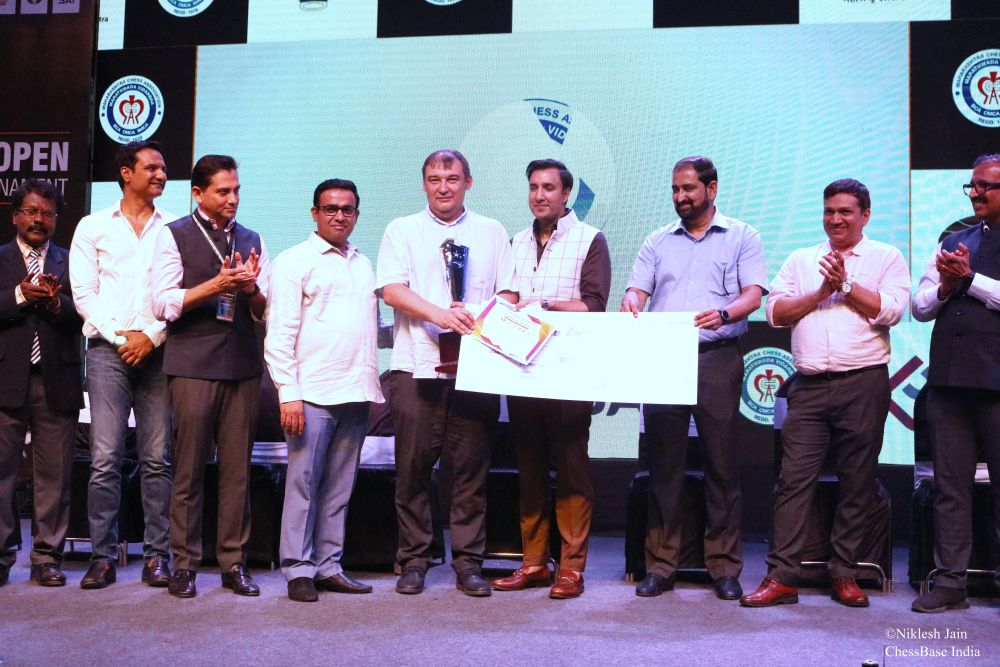 Alexei - Arjun Kalyan: 0-1
GM Arjun Kalyan (2477) was determined to score a win in the final round. It was evident from his play. When the opportunity arose, he did not hesitate to sacrifice his queen for three minor pieces.
Arjun did not hesitate to play 27...Nxe8 28.Bxg7+ Nxg7 29.Qd1 Bxe6 30.Kg1 Rg5 31.Rxe6 Nxe6. Black was ahead in material and he went on to win the game.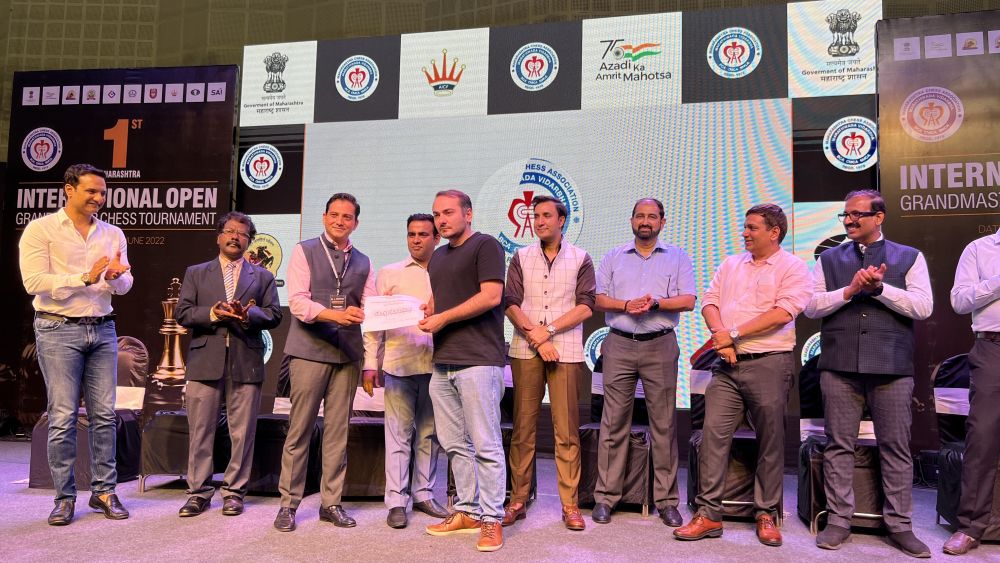 Prize Distribution Ceremony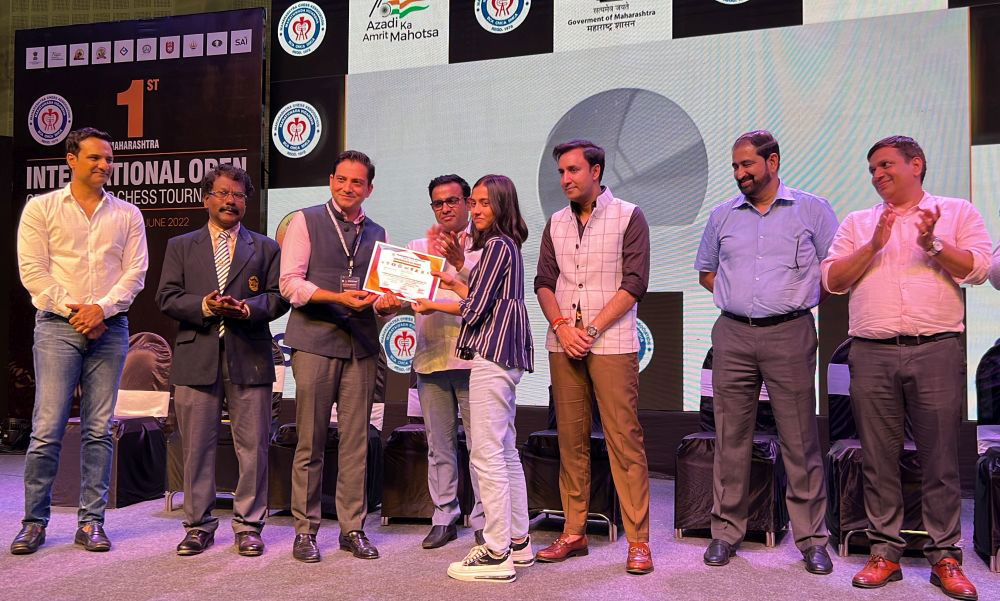 For more Round 11 and Prize Distribution Ceremony photos, please click at the respective links.
A total of 141 players including 20 GMs, 29 IMs, 6 WGM and 9 WIMs participated from 13 countries across the world including India. The tournament was organized by Maharashtra Chess Association from 31st May to 8th June 2022 at Balewadi Sports Complex, Pune, Maharashtra. The eleven-round Swiss league tournament had a time control of 90 minutes + 30 seconds increment from move no.1.
Replay Round 11 games
Round 11 results
Final standings
| | | | | | | | | | | | | | |
| --- | --- | --- | --- | --- | --- | --- | --- | --- | --- | --- | --- | --- | --- |
| Rk. | SNo | | | Name | sex | FED | RtgI | Club/City | Pts. | TB1 | TB2 | TB3 | Rp |
| 1 | 1 | | GM | Amonatov Farrukh | | TJK | 2622 | | 8,5 | 73,0 | 78,5 | 60,25 | 2606 |
| 2 | 7 | | GM | Aleksandrov Aleksej | | BLR | 2492 | | 8,5 | 72,0 | 77,5 | 57,50 | 2613 |
| 3 | 13 | | GM | Arjun Kalyan | | IND | 2477 | | 8,5 | 71,5 | 76,5 | 56,25 | 2623 |
| 4 | 5 | | GM | Sengupta Deep | | IND | 2526 | | 8,0 | 73,0 | 77,0 | 53,25 | 2576 |
| 5 | 2 | | GM | Paichadze Luka | | GEO | 2567 | | 8,0 | 71,5 | 77,0 | 55,00 | 2592 |
| 6 | 24 | | IM | Srihari L R | | IND | 2404 | | 8,0 | 68,0 | 72,0 | 50,75 | 2552 |
| 7 | 17 | | GM | Stupak Kirill | | BLR | 2440 | | 8,0 | 64,0 | 68,5 | 48,50 | 2449 |
| 8 | 6 | | GM | Savchenko Boris | | RUS | 2524 | | 7,5 | 74,0 | 79,5 | 52,25 | 2557 |
| 9 | 8 | | GM | Venkatesh M.R. | | IND | 2490 | | 7,5 | 66,0 | 71,0 | 46,75 | 2477 |
| 10 | 18 | | IM | Neelash Saha | | IND | 2439 | | 7,5 | 65,0 | 70,0 | 45,00 | 2474 |
| 11 | 23 | | GM | Nguyen Van Huy | | VIE | 2405 | | 7,5 | 61,5 | 65,5 | 43,50 | 2383 |
| 12 | 12 | | GM | Deepan Chakkravarthy J. | | IND | 2478 | | 7,5 | 61,0 | 65,0 | 43,75 | 2391 |
| 13 | 27 | | IM | Gusain Himal | | IND | 2396 | | 7,5 | 60,5 | 64,5 | 42,25 | 2367 |
| 14 | 29 | | IM | Krishna Teja N | | IND | 2374 | | 7,5 | 56,5 | 60,5 | 41,00 | 2299 |
| 15 | 11 | | GM | Nikitenko Mihail | | BLR | 2479 | | 7,0 | 70,5 | 74,5 | 44,50 | 2478 |
| 16 | 10 | | GM | Karthik Venkataraman | | IND | 2480 | | 7,0 | 70,0 | 75,0 | 45,25 | 2446 |
| 17 | 53 | | FM | Sharan Rao | | IND | 2274 | | 7,0 | 69,5 | 73,5 | 44,75 | 2505 |
| 18 | 20 | | FM | Samant Aditya S | | IND | 2433 | Maharashtra | 7,0 | 68,0 | 73,0 | 43,75 | 2413 |
| 19 | 9 | | IM | Aditya Mittal | | IND | 2490 | Maharashtra | 7,0 | 68,0 | 71,5 | 42,75 | 2468 |
| 20 | 45 | | | Kaustuv Kundu | | IND | 2327 | | 7,0 | 65,5 | 69,5 | 40,75 | 2446 |
| 21 | 40 | | CM | Kushagra Mohan | | IND | 2343 | | 7,0 | 65,5 | 69,5 | 38,00 | 2392 |
| 22 | 32 | | IM | Viani Antonio Dcunha | | IND | 2364 | | 7,0 | 64,5 | 69,0 | 40,25 | 2322 |
| 23 | 4 | | GM | Fedorov Alexei | | BLR | 2529 | | 7,0 | 64,0 | 68,0 | 40,25 | 2365 |
| 24 | 35 | | IM | Anuj Shrivatri | | IND | 2356 | | 7,0 | 64,0 | 67,0 | 39,00 | 2335 |
| 25 | 106 | | IM | Manish Anto Cristiano F | | IND | 2071 | | 7,0 | 63,0 | 67,5 | 41,25 | 2457 |
| 26 | 15 | | IM | Nigmatov Ortik | | UZB | 2463 | | 7,0 | 62,0 | 66,0 | 37,50 | 2382 |
| 27 | 43 | | IM | Konguvel Ponnuswamy | | IND | 2331 | | 7,0 | 60,0 | 64,0 | 38,75 | 2320 |
| 28 | 33 | | GM | Karthikeyan P. | | IND | 2361 | | 7,0 | 59,0 | 62,5 | 39,00 | 2222 |
| 29 | 3 | | GM | Lalith Babu M R | | IND | 2563 | | 6,5 | 71,5 | 77,0 | 44,00 | 2453 |
| 30 | 26 | | GM | Nguyen Duc Hoa | | VIE | 2398 | | 6,5 | 69,5 | 74,0 | 40,50 | 2475 |
| 31 | 28 | | IM | Audi Ameya | | IND | 2389 | | 6,5 | 68,0 | 73,5 | 42,25 | 2373 |
| 32 | 31 | | IM | Kulkarni Bhakti | w | IND | 2370 | | 6,5 | 67,5 | 72,0 | 38,50 | 2373 |
| 33 | 19 | | GM | Vishnu Prasanna. V | | IND | 2437 | | 6,5 | 67,5 | 71,5 | 40,25 | 2386 |
| 34 | 71 | | | Srihari L | | IND | 2178 | | 6,5 | 65,0 | 68,5 | 37,50 | 2354 |
| 35 | 112 | | CM | Aaditya Dhingra | | IND | 2042 | | 6,5 | 63,0 | 67,5 | 39,00 | 2407 |
---