2nd Maharashtra GM 2023 R9: S Rohith Krishna emerges sole leader
by Shahid Ahmed - 07/06/2023
IM S Rohith Krishna defeated FM Vedant Panesar to emerge sole leader at 2nd Maharashtra GM Open 2023. 13-year-old, reigning two-time National Under-17 Open champion, CM Mayank Chakraborty outplayed GM Alexei Fedorov. The veteran made some positional inaccuracy which the teenager correctly capitalized on. This win earned him his maiden GM and IM-norm. IM Kushagra Mohan and untitled Sanket Chakravarty held the top seed GM Boris Savchenko and the third seed GM Luka Paichadze to a draw each. FM Ayush Sharma defeated IM Sammed Shete after the latter made an incorrect exchange which increased the vulnerability of his king. IM Milosz Szapr and Mayank are trailing Rohith by a half point at 7/9 each. Round 10 starts tomorrow at 3 p.m. IST. Photos: Shahid Ahmed
Mayank Chakraborty scores his maiden GM and IM-norm
13-year-old CM Mayank Chakraborty is having the tournament of his life. He completed a hat-trick of wins by defeating his second consecutive GM of the event. Currently he is performing at 2593 and already gained a whopping 198 Elo rating points.
Rohith - Vedant
12...Bf5 surprised IM S Rohith Krishna as his opponent FM Vedant Panesar was offering two minor pieces for his rook but he had enough compensation. His pawns were strong and White felt that his pieces were uncoordinated. Eventually, Black blundered in the end and lost material.
Mayank - Fedorov
GM Alexei Fedorov (2449) got his position in trouble when he opted for 15...Kf8? 16.Rad1 Ke7 17.Ng5 and White just slowly outplayed Black positionally. A fantastic win by the 13-year-old earned him his maiden GM and IM-norm.
Deep - Laxman
Two strong GMs Deep Sengupta (2473) and Laxman R R (2299) faced each other for the first time in nearly five years since their last Classical battle. Where should the white king go after 36...Qe3+ ? White chose incorrectly and went on to lose the game.
Sammed - Ayush
How should White capture on d4? There is only one correct way.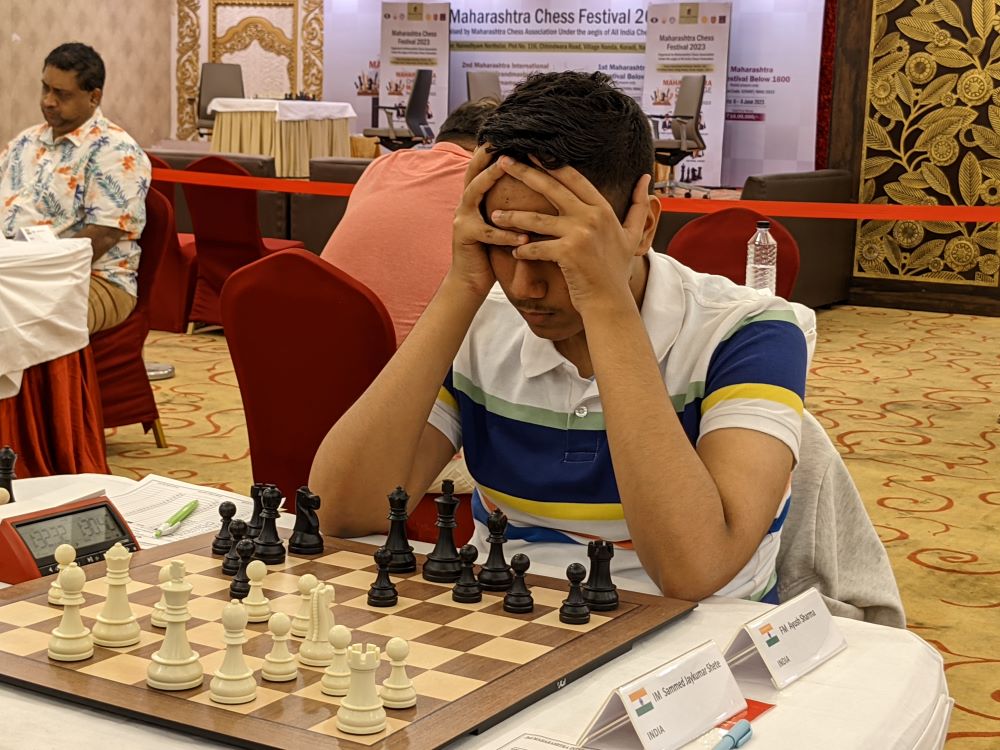 Armen - Kaustuv
IM Armen Barseghyan (2373) blundered 28.Rxa3?? Find out the winning continuation which Kaustuv Kundu (2242) executed.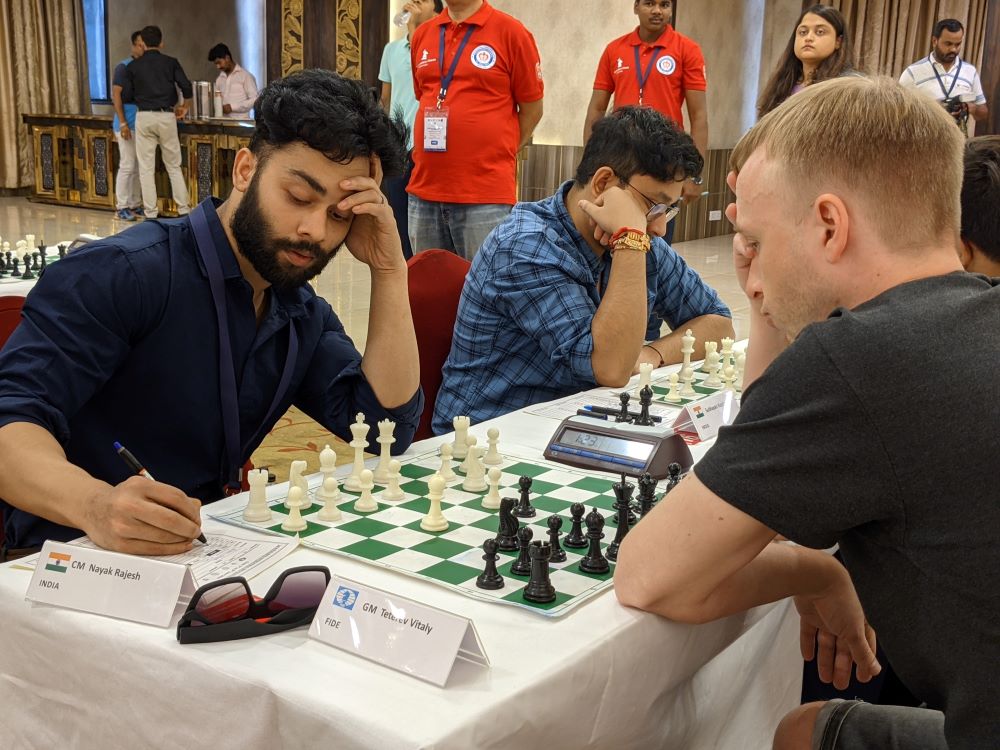 For more GM Round 9 photos, please click here.
Replay GM Open Round 9 games
Round 9 results
| | | | | | | | | | | | | | | | |
| --- | --- | --- | --- | --- | --- | --- | --- | --- | --- | --- | --- | --- | --- | --- | --- |
| Bo. | No. | | | Name | Rtg | Club/City | Pts. | Result | Pts. | | Name | Rtg | Club/City | | No. |
| 1 | 20 | | IM | Rohith, Krishna S | 2411 | TN | 6½ | 1 - 0 | 6½ | FM | Panesar, Vedant | 2387 | MAH | | 22 |
| 2 | 12 | | IM | Szpar, Milosz | 2447 | POL | 6½ | ½ - ½ | 6 | IM | Neelash, Saha | 2440 | WB | | 13 |
| 3 | 64 | | CM | Mayank, Chakraborty | 2141 | ASSM | 6 | 1 - 0 | 6 | GM | Fedorov, Alexei | 2449 | BLR | | 11 |
| 4 | 19 | | IM | Kushagra, Mohan | 2412 | TEL | 5½ | ½ - ½ | 5½ | GM | Savchenko, Boris | 2524 | RUS | | 1 |
| 5 | 21 | | | Sanket, Chakravarty | 2389 | WB | 5½ | ½ - ½ | 5½ | GM | Paichadze, Luka | 2513 | GEO | | 3 |
| 6 | 6 | | GM | Sengupta, Deep | 2473 | PSPB | 5½ | 0 - 1 | 5½ | GM | Laxman, R.R. | 2299 | ICF | | 33 |
| 7 | 8 | | GM | Aleksandrov, Aleksej | 2461 | BLR | 5½ | 1 - 0 | 5½ | GM | Babujian, Levon | 2373 | ARM | | 23 |
| 8 | 14 | | IM | Sammed Jaykumar, Shete | 2440 | MAH | 5½ | 0 - 1 | 5½ | FM | Ayush, Sharma | 2312 | MP | | 31 |
| 9 | 47 | | CM | Vaibhav, Jayant Raut | 2237 | MAH | 5½ | 0 - 1 | 5½ | IM | Viani, Antonio Dcunha | 2417 | KAR | | 15 |
| 10 | 34 | | IM | Raahul, V S | 2299 | TN | 5½ | 1 - 0 | 5½ | IM | Srihari, L R | 2416 | TN | | 17 |
| 11 | 2 | | GM | Zakhartsov, Viacheslav V. | 2514 | FID | 5 | 1 - 0 | 5 | IM | Saravana, Krishnan P. | 2255 | KVB | | 39 |
| 12 | 10 | | IM | Nitish, Belurkar | 2450 | GOA | 5 | 0 - 1 | 5 | IM | Ratnakaran, K. | 2254 | RLYS | | 40 |
| 13 | 16 | | GM | Mirzoev, Azer | 2416 | AZE | 5 | 1 - 0 | 5 | IM | Kulkarni, Vikramaditya | 2237 | MAH | | 46 |
| 14 | 24 | | IM | Barseghyan, Armen Ar. | 2373 | ARM | 5 | 0 - 1 | 5 | | Kaustuv, Kundu | 2242 | WB | | 43 |
| 15 | 25 | | GM | Manik, Mikulas | 2367 | SVK | 5 | ½ - ½ | 5 | FM | Navalgund, Niranjan | 2200 | KAR | | 54 |
Standings after Round 9
| | | | | | | | | | | | | | | | | | | | |
| --- | --- | --- | --- | --- | --- | --- | --- | --- | --- | --- | --- | --- | --- | --- | --- | --- | --- | --- | --- |
| Rk. | SNo | | | Name | Typ | sex | Gr | FED | Rtg | Club/City | Pts. | TB1 | TB2 | TB3 | TB4 | TB5 | Rp | K | rtg+/- |
| 1 | 20 | | IM | Rohith, Krishna S | | | | IND | 2411 | TN | 7,5 | 45 | 47,5 | 39,00 | 0 | 6 | 2488 | 10 | 12,2 |
| 2 | 12 | | IM | Szpar, Milosz | | | | POL | 2447 | POL | 7 | 48 | 51,5 | 39,00 | 0 | 5 | 2465 | 10 | 3,6 |
| 3 | 64 | | CM | Mayank, Chakraborty | | | | IND | 2141 | ASSM | 7 | 46,5 | 49,5 | 37,25 | 0 | 5 | 2593 | 40 | 198 |
| 4 | 22 | | FM | Panesar, Vedant | | | | IND | 2387 | MAH | 6,5 | 46,5 | 50,5 | 34,25 | 0 | 5 | 2401 | 20 | 13,4 |
| 5 | 34 | | IM | Raahul, V S | | | | IND | 2299 | TN | 6,5 | 45,5 | 49 | 33,50 | 0 | 5 | 2499 | 10 | 25,2 |
| 6 | 33 | | GM | Laxman, R.R. | | | | IND | 2299 | ICF | 6,5 | 44 | 47 | 32,25 | 0 | 4 | 2474 | 10 | 22,2 |
| 7 | 8 | | GM | Aleksandrov, Aleksej | | | | FID | 2461 | BLR | 6,5 | 43,5 | 47 | 32,75 | 0 | 5 | 2369 | 10 | -7 |
| 8 | 15 | | IM | Viani, Antonio Dcunha | | | | IND | 2417 | KAR | 6,5 | 42 | 45 | 32,25 | 0 | 4 | 2346 | 10 | -5,3 |
| 9 | 31 | | FM | Ayush, Sharma | | | | IND | 2312 | MP | 6,5 | 41 | 44,5 | 30,75 | 0 | 6 | 2388 | 20 | 22,2 |
| 10 | 13 | | IM | Neelash, Saha | | | | IND | 2440 | WB | 6,5 | 37,5 | 40,5 | 28,25 | 0 | 5 | 2279 | 10 | -10,5 |
| 11 | 3 | | GM | Paichadze, Luka | | | | GEO | 2513 | GEO | 6 | 46,5 | 48,5 | 28,75 | 0 | 4 | 2428 | 10 | -7,5 |
| 12 | 43 | | | Kaustuv, Kundu | | | | IND | 2242 | WB | 6 | 46 | 49,5 | 30,50 | 0 | 4 | 2340 | 20 | 26,4 |
| 13 | 1 | | GM | Savchenko, Boris | | | | FID | 2524 | RUS | 6 | 45,5 | 49,5 | 30,00 | 0 | 5 | 2393 | 10 | -11 |
| 14 | 21 | | | Sanket, Chakravarty | | | | IND | 2389 | WB | 6 | 43,5 | 46,5 | 30,00 | 0 | 3 | 2375 | 20 | 4,8 |
| 15 | 2 | | GM | Zakhartsov, Viacheslav V. | | | | FID | 2514 | FID | 6 | 42 | 45,5 | 29,00 | 0 | 4 | 2358 | 10 | -12,3 |
Round 10 pairings
| | | | | | | | | | | | | | | | |
| --- | --- | --- | --- | --- | --- | --- | --- | --- | --- | --- | --- | --- | --- | --- | --- |
| Bo. | No. | | | Name | Rtg | Club/City | Pts. | Result | Pts. | | Name | Rtg | Club/City | | No. |
| 1 | 12 | | IM | Szpar, Milosz | 2447 | POL | 7 | | 7½ | IM | Rohith, Krishna S | 2411 | TN | | 20 |
| 2 | 15 | | IM | Viani, Antonio Dcunha | 2417 | KAR | 6½ | | 7 | CM | Mayank, Chakraborty | 2141 | ASSM | | 64 |
| 3 | 31 | | FM | Ayush, Sharma | 2312 | MP | 6½ | | 6½ | GM | Aleksandrov, Aleksej | 2461 | BLR | | 8 |
| 4 | 13 | | IM | Neelash, Saha | 2440 | WB | 6½ | | 6½ | IM | Raahul, V S | 2299 | TN | | 34 |
| 5 | 33 | | GM | Laxman, R.R. | 2299 | ICF | 6½ | | 6½ | FM | Panesar, Vedant | 2387 | MAH | | 22 |
| 6 | 1 | | GM | Savchenko, Boris | 2524 | RUS | 6 | | 6 | GM | Mirzoev, Azer | 2416 | AZE | | 16 |
| 7 | 2 | | GM | Zakhartsov, Viacheslav V. | 2514 | FID | 6 | | 6 | | Sanket, Chakravarty | 2389 | WB | | 21 |
| 8 | 3 | | GM | Paichadze, Luka | 2513 | GEO | 6 | | 6 | | Subhayan, Kundu | 2353 | WB | | 26 |
| 9 | 11 | | GM | Fedorov, Alexei | 2449 | BLR | 6 | | 6 | IM | Ratnakaran, K. | 2254 | RLYS | | 40 |
| 10 | 43 | | | Kaustuv, Kundu | 2242 | WB | 6 | | 6 | IM | Kushagra, Mohan | 2412 | TEL | | 19 |
| 11 | 35 | | FM | Dixit, Nikhil | 2289 | MAH | 5½ | | 5½ | GM | Burmakin, Vladimir | 2492 | RUS | | 4 |
| 12 | 37 | | FM | Wagh, Suyog | 2276 | MCA | 5½ | | 5½ | GM | Sengupta, Deep | 2473 | PSPB | | 6 |
| 13 | 7 | | GM | Venkatesh, M.R. | 2469 | PSPB | 5½ | | 5½ | FM | Ritviz, Parab | 2340 | GOA | | 28 |
| 14 | 9 | | GM | Vorobiov, Evgeny E. | 2454 | RUS | 5½ | | 5½ | CM | Vaibhav, Jayant Raut | 2237 | MAH | | 47 |
| 15 | 48 | | | Bhattacharyya, Soham | 2219 | WB | 5½ | | 5½ | IM | Sammed Jaykumar, Shete | 2440 | MAH | | 14 |
Links
Maharashtra Chess Association: Official site, fb page and twitter
---