Mitrabha Guha wins 1st JK's ECA One Day Rapid Rating Open 2023
GM Mitrabha Guha, IM Kushagra Mohan, IM Sharan Rao, GM Vishnu Prasanna V and Jagadish P scored 8/9 each at 1st JK's ECA One Day Rapid Rating Open 2023. Mitrabha won the tournament due to better tie-breaks. The remaining four were placed second to fifth respectively. Mitrabha started with eight consecutive victories. His last round loss against Vishnu did not deter his championship chances. Only Sharan remained undefeated among the top five finishers. The total prize fund of the event was ₹400000, 74 cash prizes and 88 trophies were up for grabs. The top three prizes were ₹50000, ₹35000 and ₹25000 along with a trophy each respectively. Photos: FA FI Juily Kulkarni/JK's Excellence Chess Academy
Top five score 8/9
GM Mitrabha Guha was the sole leader 8/8 heading into the final round. Eight players - IM Kushagra Mohan, IM Sharan Rao, Aditya Savalkar, Keval Nirgun, GM Vishnu Prasanna V, Subhash K V, Jagadish P and Avirat Chauhan were in pursuit at 7/8 each. Vishnu defeated Mitrabha, Kushagra, Sharan and Jagadish won against Keval, Avirat and Subhas respectively. Thus, Mitrabha won the tournament on tie-breaks, Kushagra and Sharan claimed second and third position respectively. This tournament had the highest ever cash prize fund worth ₹400000 for a one-day rapid rating event in Pune, Maharashtra and also for the first time it was organized by a woman of the same city, Pune.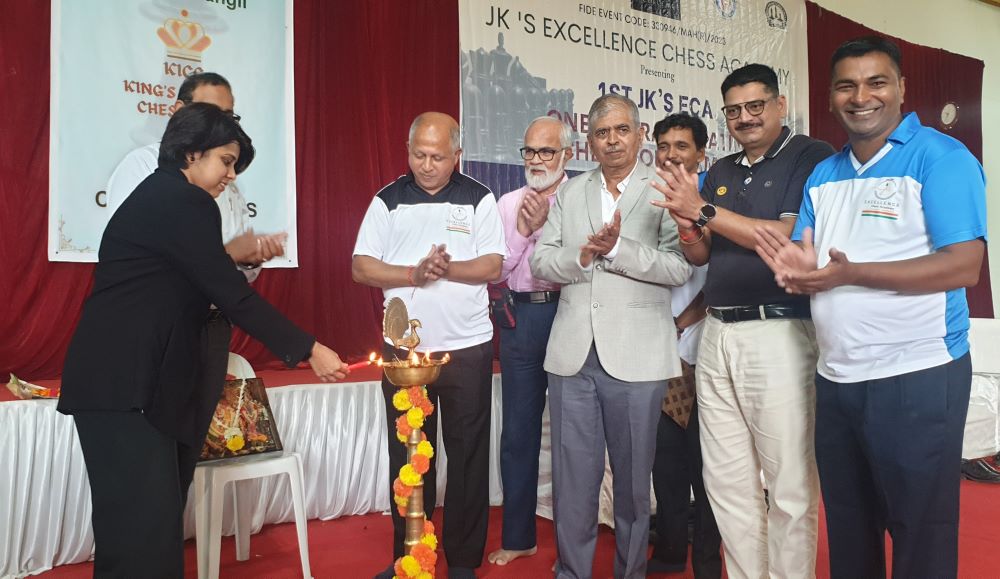 The Chief Guest at the Opening Ceremony was Dr. Girish Chitale, Director, Chitale Agro Industries Pvt. Ltd, Vice President of MCA. Guests of Honor: Mr. Chidambar Kotibhaskar, Vice President, Sangli District Chess Association, Mr. Prasad Mane, Director, Pratima Electricals, Rotarian FM Sajandas Joshi, Veteran Chess Coach and Advisor of AICFB (All India Chess Federation for the Blind).
Chief Guest at the prize distribution - Mr. Prakash Kunte, Vice President, Pune District Chess Circle. Guest of Honor - Mr. Niranjan Godbole, Secretary, Maharashtra Chess Association.
Thanks to FA FI Juily Kulkarni, Tournament Director and Founder of JK's Excellence Chess Academy, for sharing the photos and info about the event.
A total of 401 players including 4 GMs, 4 IMs and a WIM took part from various states across the country in this one-day nine round Rapid Rating Open tournament. It was organized by JK's Excellence Chess Academy, Pune at Kodre Farms in Pune, Maharashtra on 13th August 2023. The time control of the event was 10 minutes + 5 seconds increment per move.
Final standings
| | | | | | | | | | | | | | | |
| --- | --- | --- | --- | --- | --- | --- | --- | --- | --- | --- | --- | --- | --- | --- |
| Rk. | SNo | | Name | Typ | sex | Gr | Rtg | Club/City | Pts. | TB1 | TB2 | TB3 | TB4 | TB5 |
| 1 | 2 | GM | Mitrabha, Guha | | | | 2401 | | 8 | 55,5 | 61 | 53,00 | 0 | 8 |
| 2 | 4 | IM | Kushagra, Mohan | | | | 2255 | | 8 | 54 | 59 | 51,00 | 0 | 8 |
| 3 | 13 | FM | Sharan, Rao | | | | 2147 | | 8 | 51 | 56 | 49,25 | 0 | 7 |
| 4 | 1 | GM | Vishnu, Prasanna. V | | | | 2464 | | 8 | 50,5 | 54,5 | 47,50 | 0 | 8 |
| 5 | 26 | | Jagadish, P | | | | 1788 | | 8 | 47,5 | 51,5 | 46,00 | 0 | 8 |
| 6 | 6 | IM | Ratnakaran, K. | | | | 2221 | | 7,5 | 53 | 57 | 45,50 | 0 | 7 |
| 7 | 8 | IM | Kulkarni, Vikramaditya | | | | 2210 | Mh | 7,5 | 50 | 54 | 44,25 | 0 | 7 |
| 8 | 41 | | Majumder, Shrayan | | | | 1674 | Mh | 7,5 | 45 | 48 | 39,50 | 0 | 7 |
| 9 | 7 | GM | Karthikeyan, P. | | | | 2216 | | 7 | 54 | 58,5 | 43,50 | 0 | 6 |
| 10 | 46 | | Aditya, Savalkar | | | | 1631 | Mh | 7 | 53 | 56 | 41,50 | 0 | 7 |
| 11 | 3 | GM | Deepan, Chakkravarthy J. | | | | 2378 | | 7 | 52,5 | 57 | 42,75 | 0,5 | 6 |
| | 31 | | Sharnarthi, Viresh | U14 | | | 1749 | Mh | 7 | 52,5 | 57 | 42,75 | 0,5 | 6 |
| 13 | 15 | CM | Borgaonkar, Akshay | U14 | | | 2079 | Mh | 7 | 52,5 | 56 | 41,00 | 0 | 7 |
| 14 | 18 | FM | Krishnan, Ritvik | U16 | | | 2055 | Mh | 7 | 51 | 54 | 39,50 | 0 | 7 |
| 15 | 12 | FM | Jain, Kashish Manoj | | | | 2156 | Mh | 7 | 50 | 54,5 | 40,00 | 0 | 6 |
| 16 | 20 | | Lad, Mandar Pradip | | | | 2049 | | 7 | 50 | 52,5 | 38,25 | 0 | 6 |
| 17 | 11 | FM | Aditya, Varun Gampa | | | | 2179 | | 7 | 49 | 53 | 39,00 | 0 | 7 |
| 18 | 76 | | Avirat, Chauhan | U10 | | | 1483 | Mh | 7 | 49 | 53 | 38,00 | 0 | 7 |
| 19 | 24 | | Daksh, Goyal | U16 | | | 1857 | | 7 | 49 | 52,5 | 39,25 | 0 | 6 |
| 20 | 38 | | Nirgun, Keval | | | | 1687 | Mh | 7 | 49 | 52 | 37,00 | 0 | 7 |
| 21 | 22 | | Mahindrakar, Indrajeet | | | | 1961 | Mh | 7 | 48,5 | 52,5 | 38,50 | 0 | 7 |
| 22 | 23 | | Balkishan, A. | | | | 1860 | | 7 | 48,5 | 52,5 | 37,50 | 0 | 7 |
| | 37 | | Subhash, K V | | | | 1706 | | 7 | 48,5 | 52,5 | 37,50 | 0 | 7 |
| 24 | 9 | FM | Ritviz, Parab | | | | 2203 | | 7 | 47,5 | 50 | 37,00 | 0 | 7 |
| 25 | 19 | FM | Deshpande, Aniruddha | | | | 2052 | Mh | 7 | 46 | 49 | 36,50 | 0 | 7 |
Links
---