Sailesh R clinches 1st Maharashtra Chess Festival Below 2000 Rating Tournament 2023
by Shahid Ahmed - 15/06/2023
Sailesh R (TN) scored an unbeaten 8/9 to win 1st Maharashtra Chess Festival Below 2000 Rating Tournament 2023. He finished a half point ahead of the field. Four players - Sriram Adarsh Uppala (TEL), Nikhil M (AP), Umashankar A (PUD) and Arnav Mahesh Koli (MAH) scored 7.5/9 each. They were placed second to fifth respectively according to tie-breaks. The total prize fund of the tournament was ₹1000000. The top three prizes were ₹110000, ₹95000 and ₹85000 along with a trophy each respectively. This is Sailesh's fifth tournament triumph of the year, first open rating tournament victory of his career. The only other rating tournament he won was a Below 1600 event on 1st January 2020. Photos: Shahid Ahmed
Four kids among top ten
Sailesh R had a sole lead 7.5/8 heading into the final round. He drew his game against 13-year-old Sriram Adarsh Uppala, the only person who could overtake him, to become a clear champion. Sriram Adarsh was placed second. Three more players ended up having the same score as him 7.5/9. Third seeded Nikhil M secured third place according to tie-breaks. The Asian Youth Under-10 Open 2022 triple Gold medalist, Madhvendra Pratap Sharma (MP) scored 7/9 to finish eighth.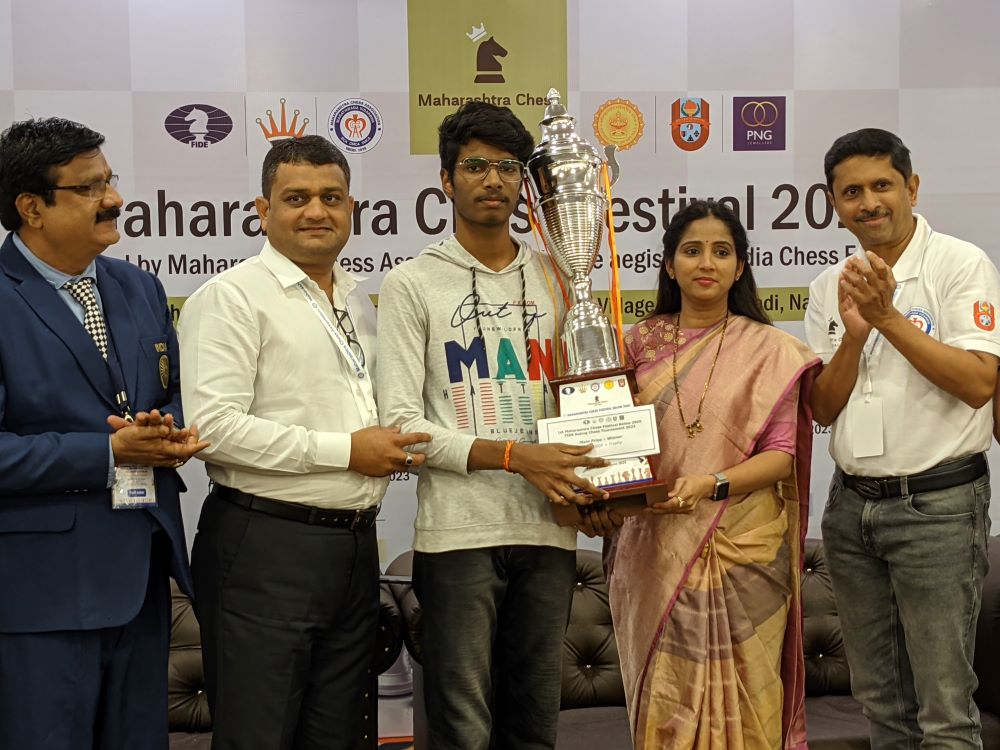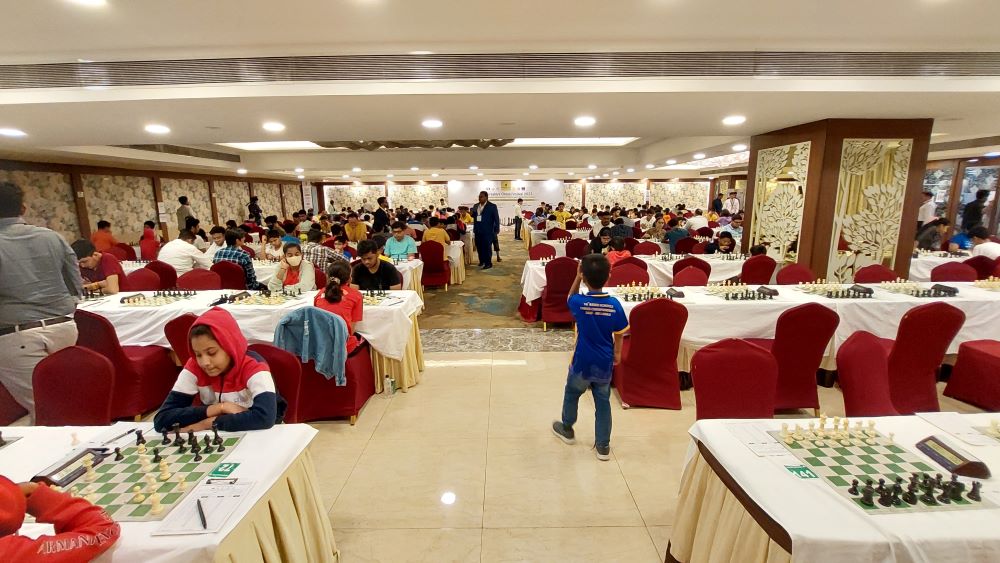 For more photos, please click here.
A total of 274 players took part from Bangladesh, India, Sri Lanka and USA in this four-day nine-round Swiss league Rating tournament which was organized by Maharashtra Chess Association at Naivedhyam Northstar in Nagpur, Maharashtra from 1st to 4th June 2023. The time control for the tournament was 60 minutes + 30 seconds increment.
Final standings
| | | | | | | | | | | | | | | | |
| --- | --- | --- | --- | --- | --- | --- | --- | --- | --- | --- | --- | --- | --- | --- | --- |
| Rk. | SNo | | | Name | Typ | sex | FED | Rtg | Club/City | Pts. | TB1 | TB2 | TB3 | TB4 | TB5 |
| 1 | 36 | | | Sailesh, R | | | IND | 1697 | TN | 8 | 48 | 52,5 | 46,00 | 0 | 7 |
| 2 | 28 | | | Sriram, Adarsh Uppala | U13 | | IND | 1743 | TEL | 7,5 | 52,5 | 57 | 47,00 | 0 | 7 |
| 3 | 3 | | | Nikhil, M | | | IND | 1888 | AP | 7,5 | 48 | 52 | 43,50 | 0 | 7 |
| 4 | 2 | | | Umashankar, A | | | IND | 1891 | PON | 7,5 | 44,5 | 49 | 41,00 | 0 | 7 |
| 5 | 58 | | | Arnav, Mahesh Koli | U13 | | IND | 1628 | MAH | 7,5 | 44,5 | 48 | 40,50 | 0 | 7 |
| 6 | 17 | | | Sharnarthi, Viresh | U13 | | IND | 1781 | MAH | 7 | 49 | 54 | 40,25 | 0 | 6 |
| 7 | 12 | | | Om, Nagnath Lamkane | | | IND | 1840 | MAH | 7 | 47,5 | 52,5 | 39,50 | 0 | 6 |
| 8 | 20 | | | Madhvendra, Pratap Sharma | U11 | | IND | 1766 | MP | 7 | 47 | 50 | 38,00 | 0 | 5 |
| 9 | 4 | | | Sudarshan, Malga | | | IND | 1881 | MP | 7 | 46,5 | 51 | 37,25 | 0 | 6 |
| 10 | 16 | | | Basak, Bishal | | | IND | 1788 | WB | 7 | 46,5 | 50,5 | 37,50 | 0 | 6 |
| 11 | 9 | | | Chandan, Mandal | | | IND | 1858 | DEL | 6,5 | 53 | 57 | 38,25 | 0 | 6 |
| 12 | 38 | | | Sham, R | | | IND | 1686 | TN | 6,5 | 49,5 | 54 | 36,50 | 0 | 5 |
| 13 | 7 | | | Mithun, Anand V | | | IND | 1871 | TN | 6,5 | 49 | 53,5 | 37,25 | 0 | 5 |
| 14 | 37 | | | Mrityunjay, Kumar | | | IND | 1690 | BIH | 6,5 | 47 | 51,5 | 34,00 | 0 | 6 |
| 15 | 11 | | | Jai, Sankar Subramanian | | | IND | 1847 | TN | 6,5 | 45,5 | 50 | 34,25 | 0 | 5 |
| 16 | 13 | | | Patil, Priyanshu | | | IND | 1831 | MAH-V | 6,5 | 45,5 | 49,5 | 35,00 | 0 | 5 |
| 17 | 65 | | | Samal, Ansuman | | | IND | 1609 | ODI | 6,5 | 45,5 | 49,5 | 32,75 | 0 | 6 |
| 18 | 83 | | | Soni, Sangharsh | | | IND | 1567 | MP | 6,5 | 45,5 | 49 | 32,75 | 0 | 6 |
| 19 | 29 | | | Bhoir, Paras Dilip | U15 | | IND | 1727 | MAH | 6,5 | 45 | 49 | 33,00 | 0 | 5 |
| 20 | 64 | | | Sai, Mahati A | | w | IND | 1609 | TEL | 6,5 | 44,5 | 48,5 | 31,75 | 0 | 6 |
---