Vaibhav Jayant Raut dominates Bramhapuri Sports City Trophy Rapid Rating Open 2023
by Shahid Ahmed - 07/10/2023
CM Vaibhav Jayant Raut scored an unbeaten 8.5/9 to win Bramhapuri Sports City Trophy Rapid Rating Open 2023. He finished the tournament a full point ahead of the field. Four players - Roneet Das, Saurabh Lokhande, Chetan Deodhagle and Shaunak Badole scored 7.5/9 each. They were placed second to fifth according to tie-breaks. Vaibhav scored eight straight wins before splitting the point with the eventual second runner-up Saurabh in the final round. The total prize fund of the was ₹100000. The top three prizes were ₹20000, ₹15000 and ₹10000 along with a trophy each. Every single prize winner was awarded a trophy. This is Vaibhav's first rating tournament triumph of the year. Photos: Ritesh Urkude
Vaibhav scores eight straight wins and finishes a full point ahead of the rest
10-year-old Shaunak Badole scored an impressive 7.5/9 to finish fifth in tie-breaks. He is the youngest top ten finisher of the event.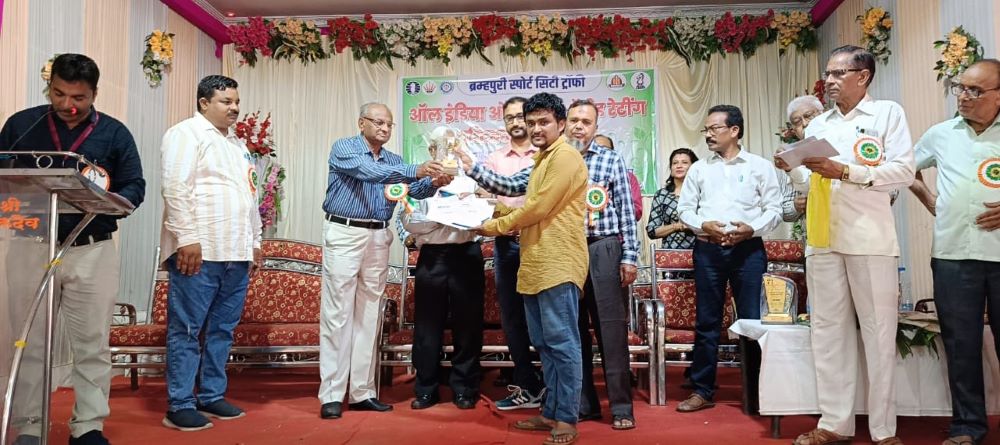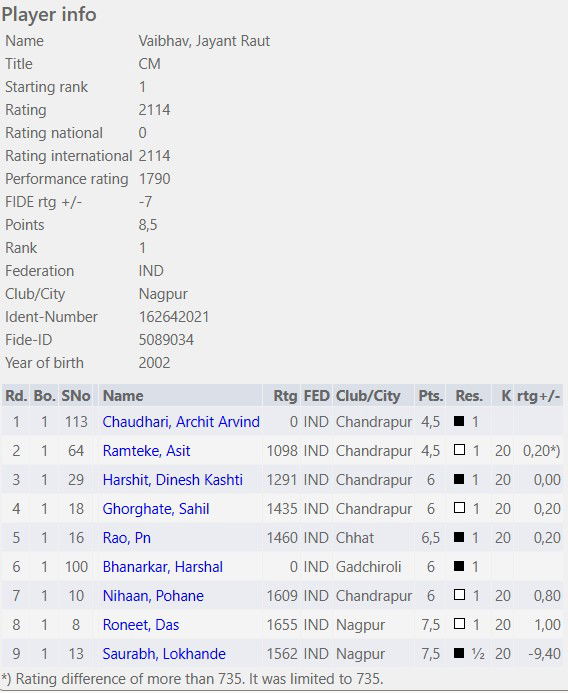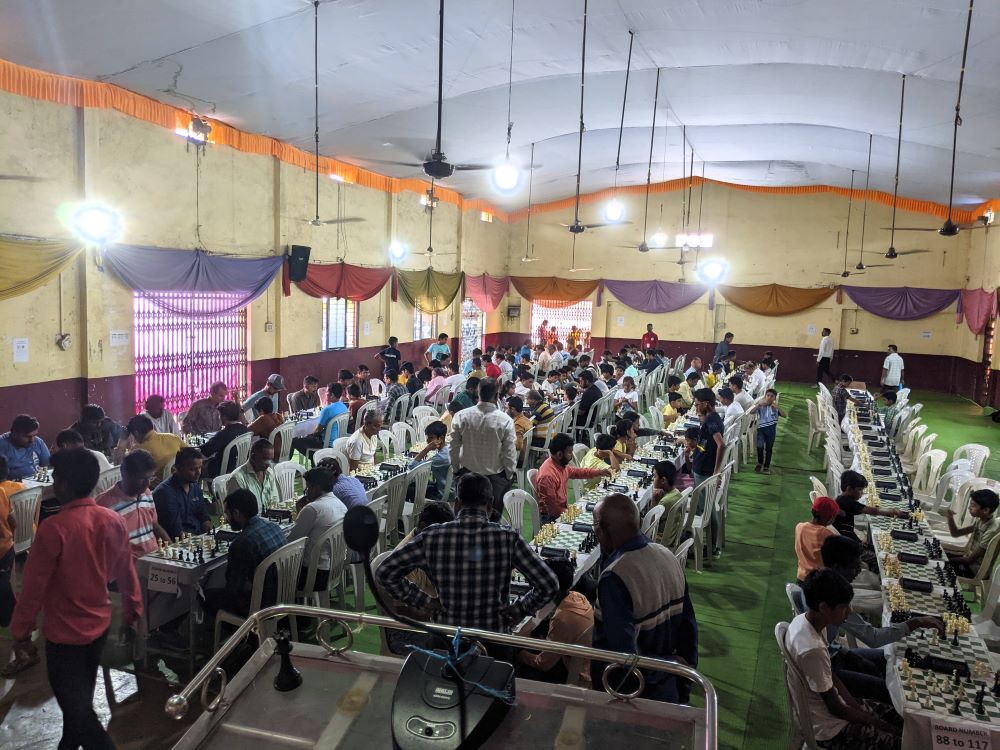 Thanks to Ritesh Urkude for sharing the photos.
A total of 216 players took part from various places all over the country in this two-day nine round Rapid Rating Open tournament. It was organized by Bramhapuri Taluka Chess Association at Vitthal Rukmini Sabhagruha in Bramhapuri, Chandrapur, Maharashtra on 16th and 17th September 2023. The time control of the event was 20 minutes + 5 seconds increment per move.
Final standings
| | | | | | | | | | | | | | | | |
| --- | --- | --- | --- | --- | --- | --- | --- | --- | --- | --- | --- | --- | --- | --- | --- |
| Rk. | SNo | | Name | Typ | sex | FED | Rtg | Club/City | Pts. | TB1 | TB2 | TB3 | TB4 | K | rtg+/- |
| 1 | 1 | CM | Vaibhav, Jayant Raut | | | IND | 2114 | Nagpur | 8,5 | 49,5 | 54 | 50,50 | 0 | 20 | -7 |
| 2 | 8 | | Roneet, Das | | | IND | 1655 | Nagpur | 7,5 | 52 | 56 | 44,50 | 0 | 20 | 25,8 |
| 3 | 13 | | Saurabh, Lokhande | | | IND | 1562 | Nagpur | 7,5 | 51 | 55 | 45,50 | 0 | 20 | 9,4 |
| 4 | 3 | | Chetan, Deodhagle | | | IND | 1971 | Nagpur | 7,5 | 48,5 | 52,5 | 42,25 | 0 | 20 | -28,4 |
| 5 | 12 | | Badole, Shaunak | U11 | | IND | 1574 | Nagpur | 7,5 | 48,5 | 51 | 41,75 | 0 | 40 | 46,8 |
| 6 | 7 | | Kadav, Omkar | | | IND | 1702 | Satara | 7 | 50,5 | 53,5 | 39,00 | 0 | 20 | -21,4 |
| 7 | 20 | | Aditya, Narendra Ukey | | | IND | 1358 | Nagpur | 7 | 48,5 | 51 | 37,00 | 0 | 20 | 31,8 |
| 8 | 19 | | Chafle, Prashant | | | IND | 1398 | Wardha | 7 | 47,5 | 52 | 38,75 | 0 | 20 | 18,6 |
| 9 | 4 | | Aishwin, Daniel | | | IND | 1892 | MP | 7 | 47 | 47,5 | 34,00 | 0 | 20 | -34 |
| 10 | 25 | | Kankam, Kumar | | | IND | 1318 | Chandrapur | 7 | 46 | 50 | 37,00 | 0 | 20 | 25,2 |
| 11 | 48 | | Saksham, Chede | | | IND | 1223 | Chandrapur | 7 | 44 | 48,5 | 36,50 | 0 | 40 | 79,6 |
| 12 | 34 | | Swaraj, Mishra | U07 | | IND | 1262 | Nagpur | 7 | 41,5 | 44 | 31,50 | 0 | 40 | 36,8 |
| 13 | 2 | | Nachiket, Paturkar | | | IND | 2001 | Bhandara | 6,5 | 49 | 53,5 | 37,25 | 0 | 20 | -46 |
| 14 | 16 | | Rao, Pn | S55 | | IND | 1460 | Chhat | 6,5 | 49 | 52 | 32,75 | 0 | 20 | 4,4 |
| 15 | 28 | | Lohit, Rushikesh | | | IND | 1296 | Nagpur | 6,5 | 48 | 51,5 | 34,00 | 0 | 40 | 66,4 |
| 16 | 21 | | Anzar, Ahmad Khan | S55 | | IND | 1339 | Nagpur | 6,5 | 48 | 49,5 | 33,75 | 0 | 20 | 3,4 |
| 17 | 5 | AIM | Chole, Vikrant | | | IND | 1847 | Bramhapuri | 6,5 | 45,5 | 49,5 | 33,75 | 0 | 20 | -47,2 |
| 18 | 51 | | Bhange, Sanjay | S55 | | IND | 1176 | Nagpur | 6,5 | 45,5 | 47,5 | 31,75 | 0 | 20 | 47,4 |
| 19 | 35 | | Heramb, Vicky Nirvan | | | IND | 1258 | Chandrapur | 6,5 | 45 | 47 | 28,75 | 0 | 40 | 54,4 |
| 20 | 11 | | Sastry, P L | S55 | | IND | 1598 | Chhat | 6,5 | 44 | 47,5 | 32,25 | 0 | 20 | -37,8 |
---