S Rohith Krishna aces 2nd Maharashtra GM Open 2023
IM S Rohith Krishna drew his final round game against GM Aleksej Aleksandrov to win 2nd Maharashtra GM Open 2023. The teenager won his third consecutive tournament after winning 19th Malakoff Open 2023 in France and Ostravský Koník Open A in Czech Republic. He won a tournament each in April, May and now June. The boy from Tamil Nadu scored 9/11 and finished a full point ahead of the competition. Six players - GM Laxman R R, IM Raahul V S, GM Aleksej Aleksandrov, IM Viani Antonio Dcunha, IM Kushagra Mohan and IM Neelash Saha scored 8/11 each. They were placed second to seventh respectively according to tie-breaks. The two-time reigning National Under-17 Open champion, CM Mayank Chakraborty earned his maiden GM and IM-norms. Sanket Chakravarty secured his second IM-norm, while FM Goutham Krishna H earned his maiden IM-norm. Photos: Shahid Ahmed
A GM-norm and three IM-norms
The success of a GM tournament is measured in not how many people participated in the event, but the total number of norms scored in that event. One GM-norm and three IM-norms certainly speaks volumes about the tournament being successful. The total prize fund of the tournament was ₹2500000. The top three prizes were ₹350000, ₹275000 and ₹200000 along with a trophy each. The 1st Maharashtra Chess Festival Below 1600 Rating Tournament prize distribution ceremony also took place on the same day. It will be mentioned in detail in a separate report.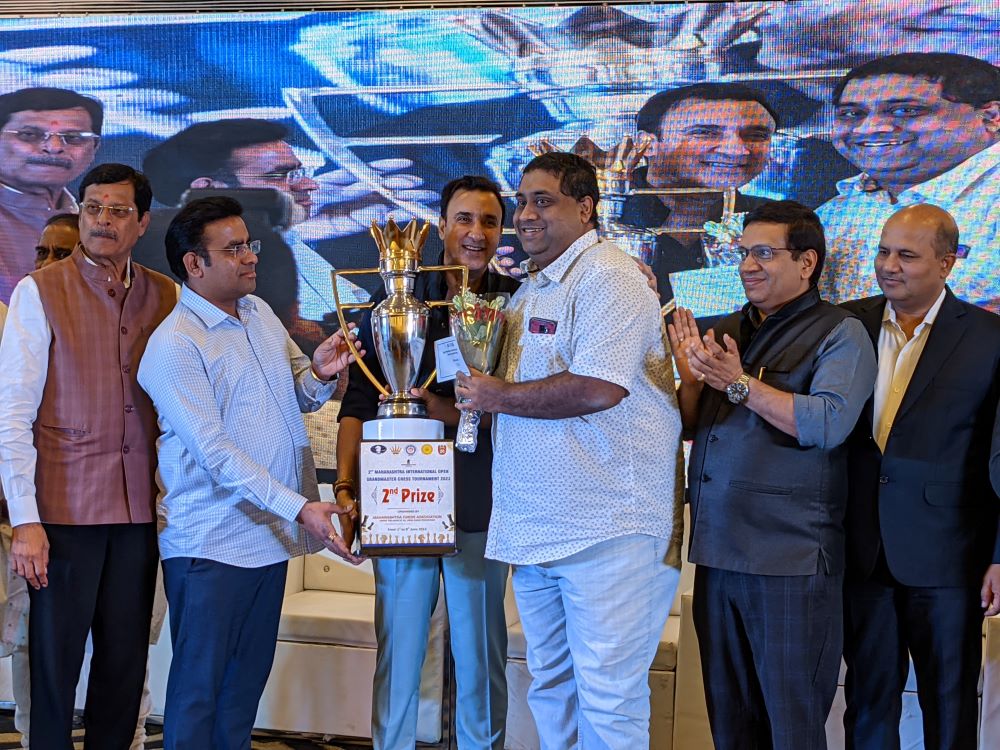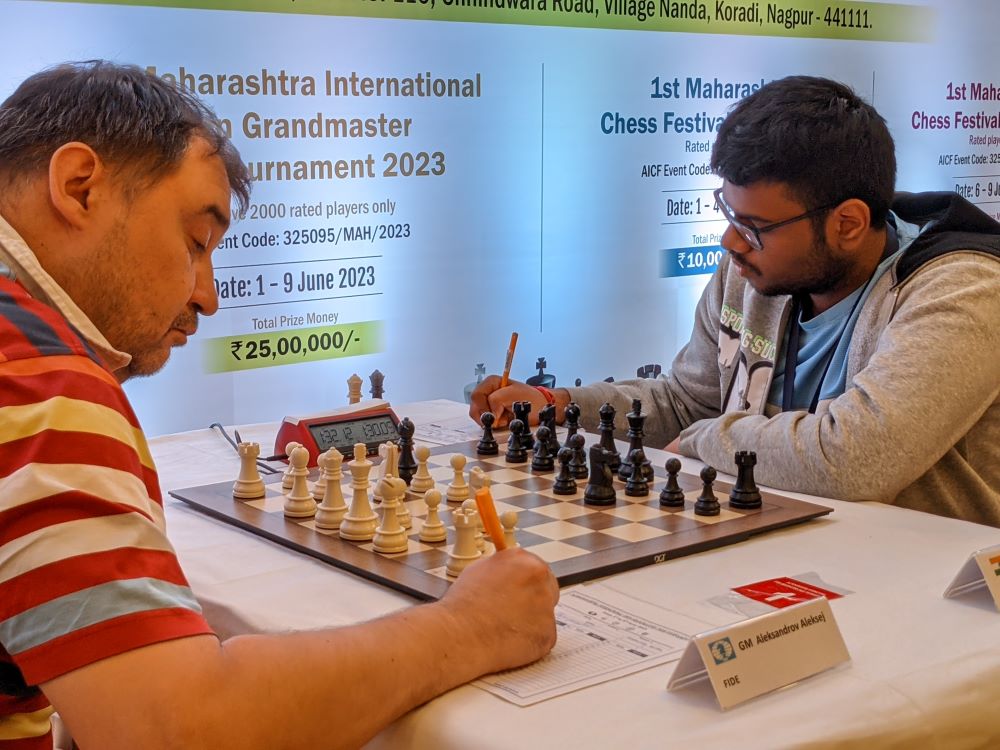 Kushagra - Fedorov
GM Alexei Fedorov (2449) made a big mistake when he played 17...Nf4? to run interference in the queen-bishop battery. 18.Bxg7 Nxe2+ 19.Qxe2 Kxg7 20.Rxd6 bxc4 21.Rhd1 IM Kushagra Mohan (2412) converted his advantage into a win cleanly, without giving any chance to his opponent.
Sanket - Savchenko
GM Boris Savchenko (2524) decided against going for perpetual check, on two different occasion and blundered 44...Qd1?? Find out the correct continuation for White. Sanket Chakravarty (2389) found it and went on to win the game. This win earned him his second IM-norm, crossed 2400 in the live ratings and also got him Best Game of Round 11 prize.
Back row (L to R) - FA Pornima Upalaavikar, FA Anish Ansari, FA Sumukh Sudhakar Gaikwad and FA Gopimohan M S.
Front row (L to R) - FA Mohit Ladhe, IA Swapnil Bansod, IA Ravichandran V, IA Vivek Sohani and FA Deepak Kumtakar.
Norm makers
Prize distribution ceremony photos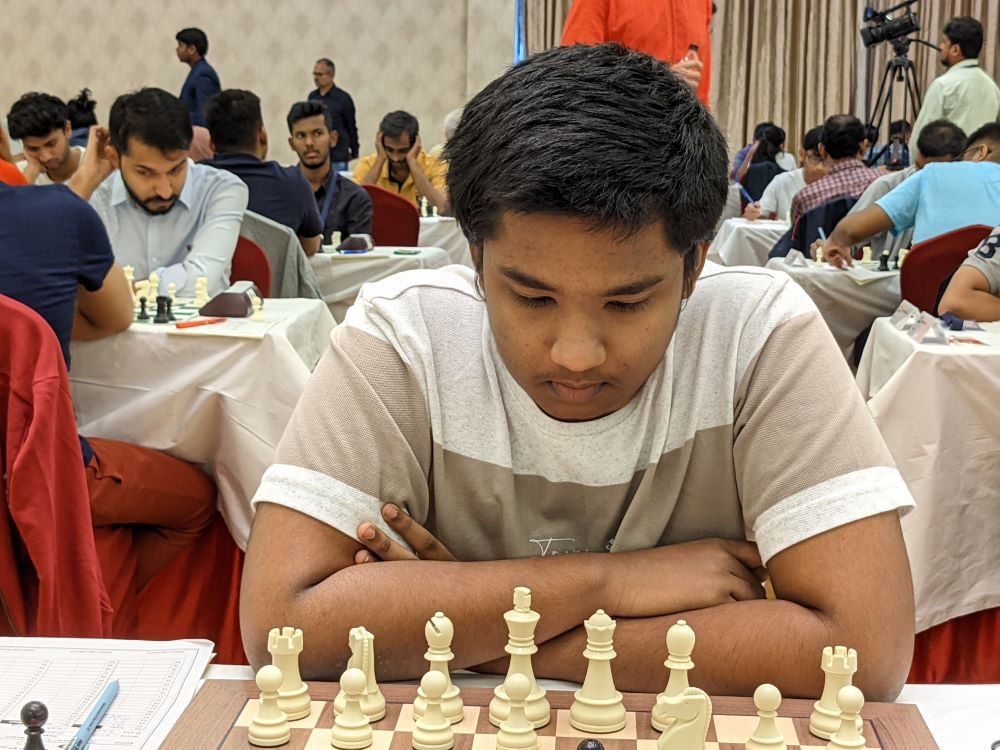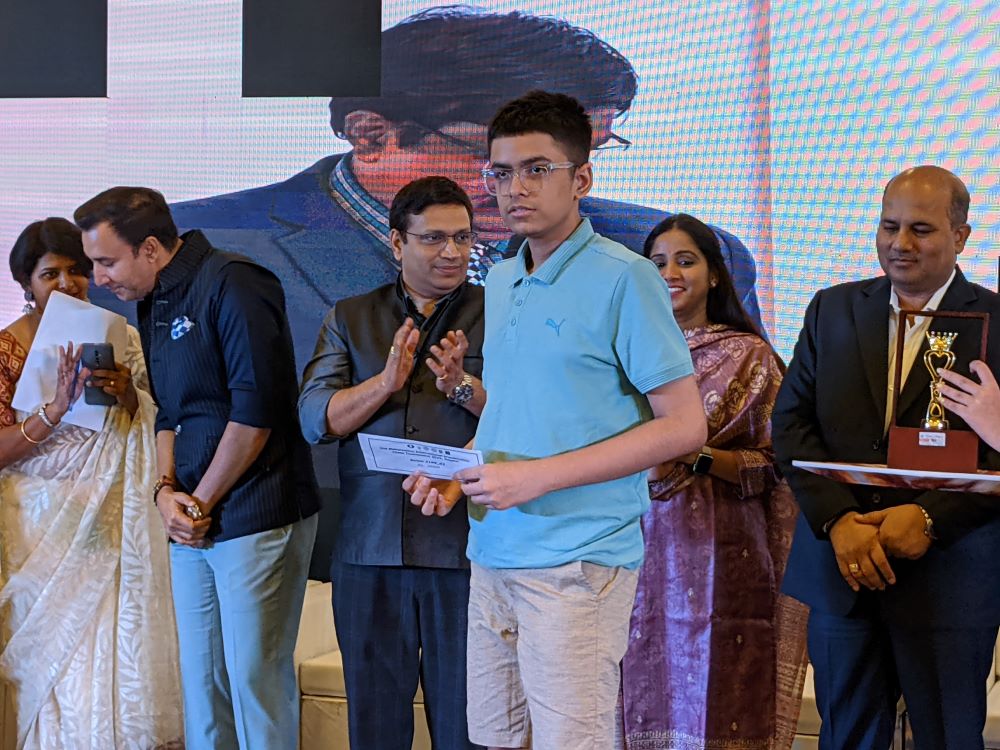 Game of the Round and Tournament
Game of the Round prize was ₹3000 for each round. Game of the Tournament prize was ₹10000.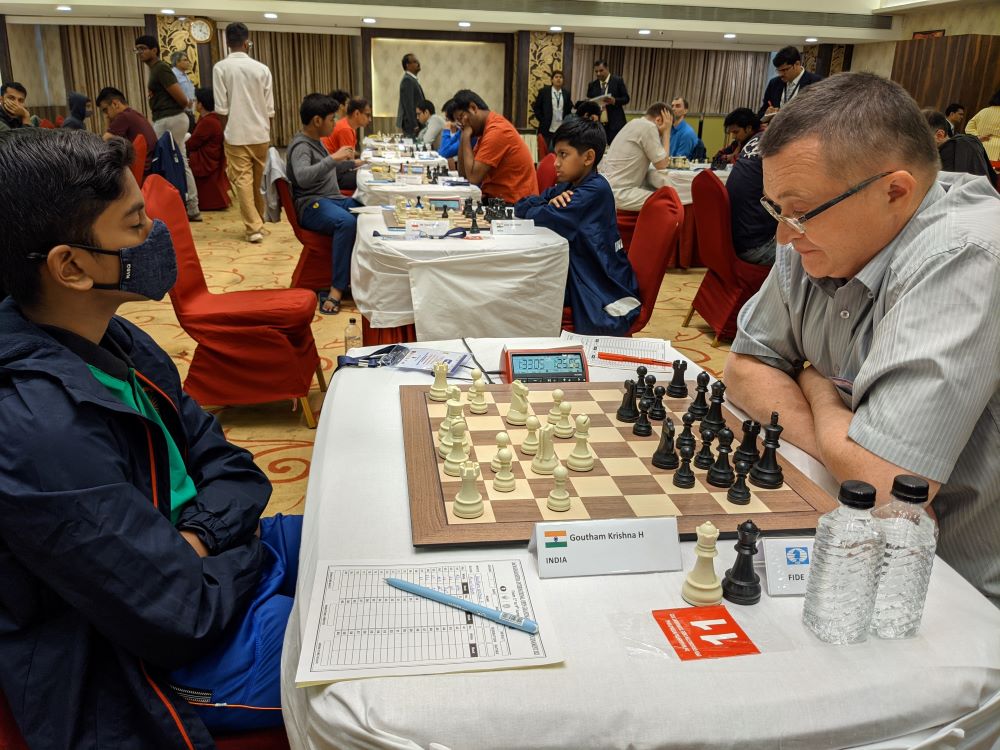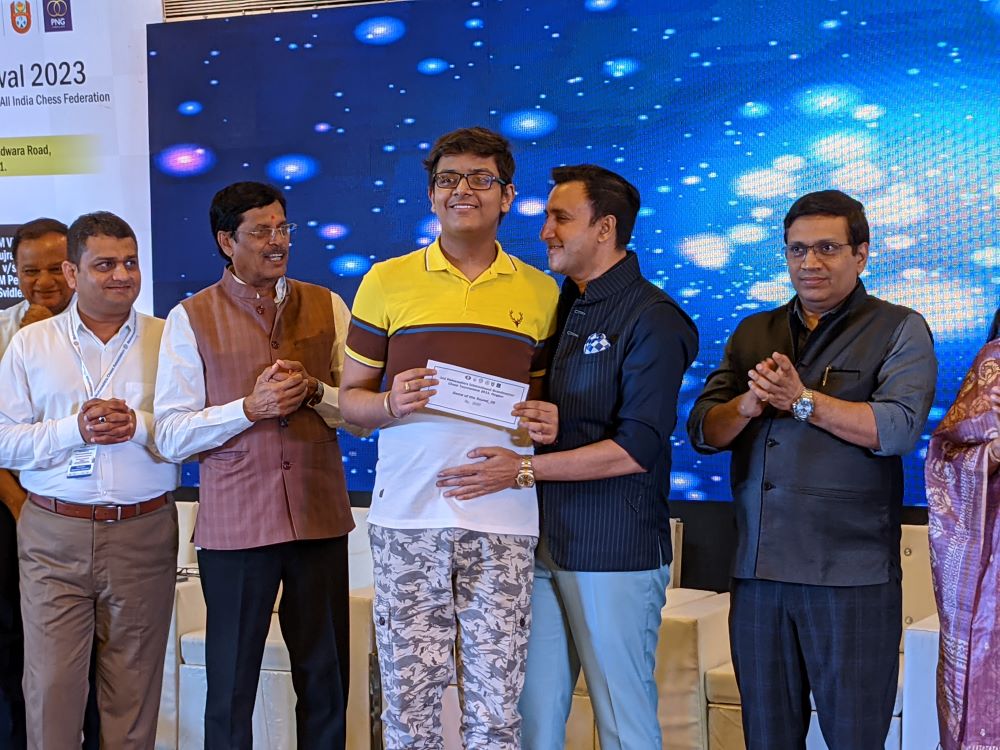 For more GM Round 11, Top 3 and Prize Distribution Ceremony photos, please click at the respective links. More interviews and game videos will be published soon, stay tuned.
Replay GM Open Round 11 games
Round 11 results
| | | | | | | | | | | | | | | | | |
| --- | --- | --- | --- | --- | --- | --- | --- | --- | --- | --- | --- | --- | --- | --- | --- | --- |
| Bo. | No. | | | Name | Rtg | Club/City | Pts. | Result | Pts. | | Name | Rtg | Club/City | | No. | PGN |
| 1 | 8 | | GM | Aleksandrov, Aleksej | 2461 | BLR | 7½ | ½ - ½ | 8½ | IM | Rohith, Krishna S | 2411 | TN | | 20 | PGN |
| 2 | 33 | | GM | Laxman, R.R. | 2299 | ICF | 7½ | ½ - ½ | 7½ | IM | Viani, Antonio Dcunha | 2417 | KAR | | 15 | PGN |
| 3 | 19 | | IM | Kushagra, Mohan | 2412 | TEL | 7 | 1 - 0 | 7 | GM | Fedorov, Alexei | 2449 | BLR | | 11 | PGN |
| 4 | 34 | | IM | Raahul, V S | 2299 | TN | 7 | 1 - 0 | 7 | IM | Szpar, Milosz | 2447 | POL | | 12 | PGN |
| 5 | 64 | | CM | Mayank, Chakraborty | 2141 | ASSM | 7 | 0 - 1 | 7 | IM | Neelash, Saha | 2440 | WB | | 13 | PGN |
| 6 | 21 | | | Sanket, Chakravarty | 2389 | WB | 6½ | 1 - 0 | 6½ | GM | Savchenko, Boris | 2524 | RUS | | 1 | PGN |
| 7 | 22 | | FM | Panesar, Vedant | 2387 | MAH | 6½ | ½ - ½ | 6½ | GM | Zakhartsov, Viacheslav V. | 2514 | FID | | 2 | PGN |
| 8 | 59 | | CM | Nayak, Rajesh | 2168 | ODI | 6½ | 0 - 1 | 6½ | GM | Paichadze, Luka | 2513 | GEO | | 3 | PGN |
| 9 | 6 | | GM | Sengupta, Deep | 2473 | PSPB | 6½ | ½ - ½ | 6½ | | Subhayan, Kundu | 2353 | WB | | 26 | PGN |
| 10 | 28 | | FM | Ritviz, Parab | 2340 | GOA | 6½ | 1 - 0 | 6½ | GM | Vorobiov, Evgeny E. | 2454 | RUS | | 9 | PGN |
| 11 | 14 | | IM | Sammed Jaykumar, Shete | 2440 | MAH | 6½ | 1 - 0 | 6½ | GM | Teterev, Vitaly | 2344 | BLR | | 27 | PGN |
| 12 | 16 | | GM | Mirzoev, Azer | 2416 | AZE | 6½ | 1 - 0 | 6½ | GM | Babujian, Levon | 2373 | ARM | | 23 | PGN |
| 13 | 18 | | IM | Mohammad, Nubairshah Shaikh | 2415 | MAH | 6½ | 1 - 0 | 6½ | FM | Ayush, Sharma | 2312 | MP | | 31 | PGN |
| 14 | 4 | | GM | Burmakin, Vladimir | 2492 | RUS | 6 | 1 - 0 | 6 | IM | Saravana, Krishnan P. | 2255 | KVB | | 39 | PGN |
| 15 | 10 | | IM | Nitish, Belurkar | 2450 | GOA | 6 | 1 - 0 | 6 | FM | Sharan, Rao | 2248 | KAR | | 41 | PGN |
Final standings
| | | | | | | | | | | | | | | | | | | | |
| --- | --- | --- | --- | --- | --- | --- | --- | --- | --- | --- | --- | --- | --- | --- | --- | --- | --- | --- | --- |
| Rk. | SNo | | | Name | Typ | sex | Gr | FED | Rtg | Club/City | Pts. | TB1 | TB2 | TB3 | TB4 | TB5 | Rp | K | rtg+/- |
| 1 | 20 | | IM | Rohith, Krishna S | | | | IND | 2411 | TN | 9 | 67 | 70 | 56,25 | 0 | 7 | 2521 | 10 | 18,4 |
| 2 | 33 | | GM | Laxman, R.R. | | | | IND | 2299 | ICF | 8 | 71 | 76 | 53,75 | 0 | 5 | 2500 | 10 | 30 |
| 3 | 34 | | IM | Raahul, V S | | | | IND | 2299 | TN | 8 | 71 | 76 | 53,50 | 0 | 6 | 2528 | 10 | 34,1 |
| 4 | 8 | | GM | Aleksandrov, Aleksej | | | | FID | 2461 | BLR | 8 | 66 | 70,5 | 49,50 | 0 | 6 | 2407 | 10 | -4,7 |
| 5 | 15 | | IM | Viani, Antonio Dcunha | | | | IND | 2417 | KAR | 8 | 64,5 | 69 | 48,75 | 0 | 5 | 2362 | 10 | -5,2 |
| 6 | 19 | | IM | Kushagra, Mohan | | | | IND | 2412 | TEL | 8 | 64 | 66,5 | 46,50 | 0 | 6 | 2400 | 10 | 2,5 |
| 7 | 13 | | IM | Neelash, Saha | | | | IND | 2440 | WB | 8 | 63,5 | 67 | 47,00 | 0 | 6 | 2308 | 10 | -10,9 |
| 8 | 3 | | GM | Paichadze, Luka | | | | GEO | 2513 | GEO | 7,5 | 70,5 | 73,5 | 46,00 | 0 | 5 | 2428 | 10 | -8,5 |
| 9 | 28 | | FM | Ritviz, Parab | | | | IND | 2340 | GOA | 7,5 | 68,5 | 73,5 | 47,25 | 0 | 6 | 2407 | 20 | 28,6 |
| 10 | 21 | | | Sanket, Chakravarty | | | | IND | 2389 | WB | 7,5 | 68,5 | 72,5 | 48,00 | 0 | 4 | 2432 | 20 | 21,8 |
| 11 | 14 | | IM | Sammed Jaykumar, Shete | | | | IND | 2440 | MAH | 7,5 | 65,5 | 69,5 | 45,25 | 0 | 6 | 2422 | 10 | -0,4 |
| 12 | 18 | | IM | Mohammad, Nubairshah Shaikh | | | | IND | 2415 | MAH | 7,5 | 62 | 67 | 45,00 | 0 | 5 | 2220 | 10 | -19,6 |
| 13 | 16 | | GM | Mirzoev, Azer | | | | AZE | 2416 | AZE | 7,5 | 58 | 61,5 | 39,75 | 0 | 5 | 2330 | 10 | -6,9 |
| 14 | 64 | | CM | Mayank, Chakraborty | | | | IND | 2141 | ASSM | 7 | 74 | 77,5 | 46,75 | 0 | 5 | 2485 | 40 | 185,2 |
| 15 | 22 | | FM | Panesar, Vedant | | | | IND | 2387 | MAH | 7 | 71 | 76 | 45,00 | 0 | 5 | 2368 | 20 | 4, |
Links
Maharashtra Chess Association: Official site, fb page and twitter
---