2nd Maharashtra GM 2023 R8: S Rohith Krishna joins Vedant Panesar and Milosz Szpar in the lead
by Shahid Ahmed - 06/06/2023
IM S Rohith Krishna continues his terrific form. A day after beating the top seed of the tournament, Rohith won against the third seeded, GM Luka Paichadze (GEO). His preparation worked out as the Georgian made some positional inaccuracies and later lost an exchange. FM Vedant Panesar drew his game against IM Milosz Szapar (POL). Thus, Milos, Rohith and Vedant are now in a three-way lead 6.5/8. IM Neelash Saha, CM Mayank Chakraborty and GM Alexei Fedorov are close on their heels at 6/8 each. They defeated FM Ritviz Parab, GM Vladimir Burmakin and IM Sammed Shete respectively. The top three boards will witness - Rohith vs Vedant, Milosz vs Neelash and Mayank vs Fedorov in Round 9. It starts tomorrow at 3 p.m. IST. Photos: Shahid Ahmed
Vidit beats Svidler 17.5-10.5
Vidit Gujrathi drew the third rapid game, won the fourth. Then he lost the fifth blitz game, won the next two and drew the final one to win the match 17.5-10.5. He won the match after the conclusion of the fourth rapid game. Nigel Short started the day with a win in rapid. Raunak Sadhwani immediately struck back. The fifth blitz game was drawn and then Raunak won the next three to win the match 20-8. Maharashtra Challenge Match has been a successful event as both players from Maharashtra - Vidit and Raunak completely dominated Peter Svidler and Nigel Short, two legends of the sport.
Rohith - Luka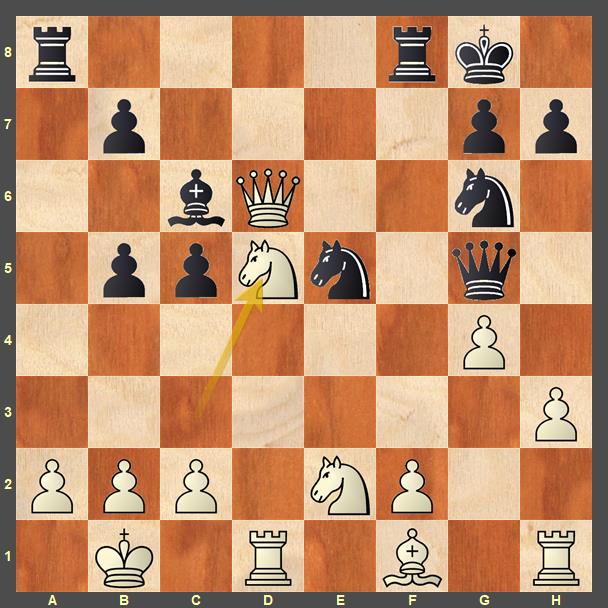 According to IM S Rohith Krishna (2411), his opponent went for a wrong plan 12.g4, 13.h3 it weakened his dark squares. Later, Black sacrificed his d6-pawn to gain some activity 17...c5 18.Qxd6 Qg5+ 19.Kb1 Bc6 20.Nd5?? and we reach the above position. 20...Rad8 forced White to give up an exchange or to lose material. 21.Qe6+ and here Black felt that his opponent missed the Nf7 resource.
Mayank - Burmakin
The veteran GM Vladimir Burmakin (2492) blundered in an equal rook endgame. 43...g5?? dropped the h7-pawn for free and things turned completely into White's favor. 44.Rxh7+- Kg6 45.Rb7 g4 46.Rb8 Kg7 47.Kf1 Rb4 48.b7 Rb2 49.Ke1 and Black resigned.
Replay Vidit-Svidler Rapid Game 3-4 and Blitz Game 5-8
Replay Short-Raunak Rapid Game 3-4 and Blitz 5-8
Replay all Maharashtra Challenge Match games in interactive format and learn from IM Sagar Shah at Chessranga.
For more GM Round 8 and Match Rapid 3 - Vidit vs Svidler and Short vs Raunak photos, please click on the respective links.
Replay GM Open Round 8 games
Round 8 results
| | | | | | | | | | | | | | | | | |
| --- | --- | --- | --- | --- | --- | --- | --- | --- | --- | --- | --- | --- | --- | --- | --- | --- |
| Bo. | No. | | | Name | Rtg | Club/City | Pts. | Result | Pts. | | Name | Rtg | Club/City | | No. | PGN |
| 1 | 22 | | FM | Panesar, Vedant | 2387 | MAH | 6 | ½ - ½ | 6 | IM | Szpar, Milosz | 2447 | POL | | 12 | PGN |
| 2 | 3 | | GM | Paichadze, Luka | 2513 | GEO | 5½ | 0 - 1 | 5½ | IM | Rohith, Krishna S | 2411 | TN | | 20 | PGN |
| 3 | 11 | | GM | Fedorov, Alexei | 2449 | BLR | 5 | 1 - 0 | 5½ | IM | Sammed Jaykumar, Shete | 2440 | MAH | | 14 | PGN |
| 4 | 23 | | GM | Babujian, Levon | 2373 | ARM | 5 | ½ - ½ | 5 | GM | Sengupta, Deep | 2473 | PSPB | | 6 | PGN |
| 5 | 33 | | GM | Laxman, R.R. | 2299 | ICF | 5 | ½ - ½ | 5 | GM | Aleksandrov, Aleksej | 2461 | BLR | | 8 | PGN |
| 6 | 13 | | IM | Neelash, Saha | 2440 | WB | 5 | 1 - 0 | 5 | FM | Ritviz, Parab | 2340 | GOA | | 28 | PGN |
| 7 | 15 | | IM | Viani, Antonio Dcunha | 2417 | KAR | 5 | ½ - ½ | 5 | IM | Raahul, V S | 2299 | TN | | 34 | PGN |
| 8 | 19 | | IM | Kushagra, Mohan | 2412 | TEL | 5 | ½ - ½ | 5 | | Sanket, Chakravarty | 2389 | WB | | 21 | PGN |
| 9 | 64 | | CM | Mayank, Chakraborty | 2141 | ASSM | 5 | 1 - 0 | 4½ | GM | Burmakin, Vladimir | 2492 | RUS | | 4 | PGN |
| 10 | 1 | | GM | Savchenko, Boris | 2524 | RUS | 4½ | 1 - 0 | 4½ | | Garv, Rai | 2198 | DEL | | 55 | PGN |
| 11 | 43 | | | Kaustuv, Kundu | 2242 | WB | 4½ | ½ - ½ | 4½ | GM | Zakhartsov, Viacheslav V. | 2514 | FID | | 2 | PGN |
| 12 | 7 | | GM | Venkatesh, M.R. | 2469 | PSPB | 4½ | 0 - 1 | 4½ | CM | Vaibhav, Jayant Raut | 2237 | MAH | | 47 | PGN |
| 13 | 27 | | GM | Teterev, Vitaly | 2344 | BLR | 4½ | ½ - ½ | 4½ | GM | Mirzoev, Azer | 2416 | AZE | | 16 | PGN |
| 14 | 17 | | IM | Srihari, L R | 2416 | TN | 4½ | 1 - 0 | 4½ | | Anadkat, Kartavya | 2130 | GUJ | | 67 | PGN |
| 15 | 46 | | IM | Kulkarni, Vikramaditya | 2237 | MAH | 4½ | ½ - ½ | 4½ | IM | Barseghyan, Armen Ar. | 2373 | ARM | | 24 | PGN |
Standings after Round 8
| | | | | | | | | | | | | | | | | | | | |
| --- | --- | --- | --- | --- | --- | --- | --- | --- | --- | --- | --- | --- | --- | --- | --- | --- | --- | --- | --- |
| Rk. | SNo | | | Name | Typ | sex | Gr | FED | Rtg | Club/City | Pts. | TB1 | TB2 | TB3 | TB4 | TB5 | Rp | K | rtg+/- |
| 1 | 12 | | IM | Szpar, Milosz | | | | POL | 2447 | POL | 6,5 | 37 | 40,5 | 32,00 | 0 | 5 | 2472 | 10 | 3,7 |
| 2 | 22 | | FM | Panesar, Vedant | | | | IND | 2387 | MAH | 6,5 | 35 | 38,5 | 30,75 | 0 | 5 | 2464 | 20 | 22,8 |
| 3 | 20 | | IM | Rohith, Krishna S | | | | IND | 2411 | TN | 6,5 | 34,5 | 37 | 29,50 | 0 | 5 | 2445 | 10 | 7,5 |
| 4 | 64 | | CM | Mayank, Chakraborty | | | | IND | 2141 | ASSM | 6 | 36 | 38,5 | 27,50 | 0 | 4 | 2556 | 40 | 163,6 |
| 5 | 11 | | GM | Fedorov, Alexei | | | | FID | 2449 | BLR | 6 | 32,5 | 35,5 | 26,00 | 0 | 6 | 2368 | 10 | -4,5 |
| 6 | 13 | | IM | Neelash, Saha | | | | IND | 2440 | WB | 6 | 27,5 | 29,5 | 21,25 | 0 | 5 | 2264 | 10 | -10,6 |
| 7 | 1 | | GM | Savchenko, Boris | | | | FID | 2524 | RUS | 5,5 | 37,5 | 40,5 | 25,00 | 0 | 5 | 2391 | 10 | -9,5 |
| 8 | 34 | | IM | Raahul, V S | | | | IND | 2299 | TN | 5,5 | 37 | 40,5 | 25,75 | 0 | 4 | 2464 | 10 | 18,6 |
| 9 | 3 | | GM | Paichadze, Luka | | | | GEO | 2513 | GEO | 5,5 | 36 | 37,5 | 22,25 | 0 | 4 | 2434 | 10 | -5,8 |
| 10 | 23 | | GM | Babujian, Levon | | | | ARM | 2373 | ARM | 5,5 | 35,5 | 39 | 24,25 | 0 | 5 | 2399 | 10 | 5,5 |
| 11 | 14 | | IM | Sammed Jaykumar, Shete | | | | IND | 2440 | MAH | 5,5 | 35 | 38,5 | 25,00 | 0 | 4 | 2429 | 10 | 0,4 |
| 12 | 33 | | GM | Laxman, R.R. | | | | IND | 2299 | ICF | 5,5 | 34,5 | 37 | 24,25 | 0 | 3 | 2428 | 10 | 14,9 |
| 13 | 31 | | FM | Ayush, Sharma | | | | IND | 2312 | MP | 5,5 | 33,5 | 37 | 24,25 | 0 | 5 | 2336 | 20 | 8,8 |
| 14 | 6 | | GM | Sengupta, Deep | | | | IND | 2473 | PSPB | 5,5 | 33 | 35,5 | 23,00 | 0 | 4 | 2336 | 10 | -10,1 |
| 15 | 21 | | | Sanket, Chakravarty | | | | IND | 2389 | WB | 5,5 | 32,5 | 35,5 | 23,50 | 0 | 3 | 2359 | 20 | 1,4 |
Round 9 pairings
| | | | | | | | | | | | | | | | |
| --- | --- | --- | --- | --- | --- | --- | --- | --- | --- | --- | --- | --- | --- | --- | --- |
| Bo. | No. | | | Name | Rtg | Club/City | Pts. | Result | Pts. | | Name | Rtg | Club/City | | No. |
| 1 | 20 | | IM | Rohith, Krishna S | 2411 | TN | 6½ | | 6½ | FM | Panesar, Vedant | 2387 | MAH | | 22 |
| 2 | 12 | | IM | Szpar, Milosz | 2447 | POL | 6½ | | 6 | IM | Neelash, Saha | 2440 | WB | | 13 |
| 3 | 64 | | CM | Mayank, Chakraborty | 2141 | ASSM | 6 | | 6 | GM | Fedorov, Alexei | 2449 | BLR | | 11 |
| 4 | 19 | | IM | Kushagra, Mohan | 2412 | TEL | 5½ | | 5½ | GM | Savchenko, Boris | 2524 | RUS | | 1 |
| 5 | 21 | | | Sanket, Chakravarty | 2389 | WB | 5½ | | 5½ | GM | Paichadze, Luka | 2513 | GEO | | 3 |
| 6 | 6 | | GM | Sengupta, Deep | 2473 | PSPB | 5½ | | 5½ | GM | Laxman, R.R. | 2299 | ICF | | 33 |
| 7 | 8 | | GM | Aleksandrov, Aleksej | 2461 | BLR | 5½ | | 5½ | GM | Babujian, Levon | 2373 | ARM | | 23 |
| 8 | 14 | | IM | Sammed Jaykumar, Shete | 2440 | MAH | 5½ | | 5½ | FM | Ayush, Sharma | 2312 | MP | | 31 |
| 9 | 47 | | CM | Vaibhav, Jayant Raut | 2237 | MAH | 5½ | | 5½ | IM | Viani, Antonio Dcunha | 2417 | KAR | | 15 |
| 10 | 34 | | IM | Raahul, V S | 2299 | TN | 5½ | | 5½ | IM | Srihari, L R | 2416 | TN | | 17 |
| 11 | 2 | | GM | Zakhartsov, Viacheslav V. | 2514 | FID | 5 | | 5 | IM | Saravana, Krishnan P. | 2255 | KVB | | 39 |
| 12 | 10 | | IM | Nitish, Belurkar | 2450 | GOA | 5 | | 5 | IM | Ratnakaran, K. | 2254 | RLYS | | 40 |
| 13 | 16 | | GM | Mirzoev, Azer | 2416 | AZE | 5 | | 5 | IM | Kulkarni, Vikramaditya | 2237 | MAH | | 46 |
| 14 | 24 | | IM | Barseghyan, Armen Ar. | 2373 | ARM | 5 | | 5 | | Kaustuv, Kundu | 2242 | WB | | 43 |
| 15 | 25 | | GM | Manik, Mikulas | 2367 | SVK | 5 | | 5 | FM | Navalgund, Niranjan | 2200 | KAR | | 54 |
Links
Maharashtra Chess Association: Official site, fb page and twitter
---