2nd Maharashtra GM 2023 R7: Milosz and Vedant Panesar are the coleaders
IM Sammed Shete had a well contested draw against GM Luka Paichadze (GEO) in the seventh round of 2nd Maharashtra GM Open 2023. IM Milosz Szapar (POL) defeated GM Levon Babujian (ARM) to stay in the lead 6/7. FM Vedant Panesar continues his fantastic form as he won against the former Asian Junior Open champion, IM Raahul V S in a dominated fashion. Vedant and Milosz are the only two players at 6/7. They will face each other in the eighth round. IM S Rohith Krishna scored a comfortable victory over the top seed GM Boris Savchenko. Sanket Chakravarty missed a great opportunity to beat the in-form IM Viani Antonio Dcunha. Luka, Sammed and Rohith are trailing by a half point at 5.5/7 each. Round 8 starts tomorrow at 3 p.m. IST. Photos: Shahid Ahmed
Raunak wins the match against Short with a day to spare
GM Raunak Sadhwani has defeated GM Nigel Short by a huge margin 14.5-5.5 and a day to spare. The teenager started the day with a draw in the rapid game. Then he won the next five games - one rapid and four blitz games. Short can score a maximum of eight points tomorrow if he wins all his games but that won't be enough to tie his score. In Cricket terms, it is almost like an innings defeat for the legend. As for Vidit-Svidler, Vidit is currently leading the match 12-8. He needs to bounce back well tomorrow from his three losses in the Blitz.
FM Vedant Panesar has arrived late in his last three games and manage to score smashing victories in two of them. Perhaps, his mind games before making the first move on the board is turning out to be effective.
Vedant Panesar - Raahul
17...Bc6? was the first mistake by Black. It invited 18.d4 exd4 19.cxd4 cxd4 20.N3xd4 Nxd4 21.Qxd4 Ne8 22.Ba3 Bf6? was the second mistake.
23.e5 Bxe5 24.Qh4 g6 25.Rxe5 dxe5 26.Qh6 and Black cannot stop the checkmate threat. This win kept Vedant in the lead and once again, just like the fifth round, his game was the first decisive game among the top boards of the seventh round.
Rohith - Savchenko
11.Nc6? provoked 12.d5 Na5? only worsened it further 13.b3 and now the knight is virtually trapped. It became just a matter of time before it dropped.
15...fxe6 still would have continued the fight. 15...dxe6 dropped the knight 16.b4!+- Nxc4 17.Qe2 and Black just lost the knight for zero compensation. White eventually went on to win the game.
Sanket - Viani
An incorrect pawn push 37...f6 by IM Viani Antonio Dcunha (2417) made things relatively easier for his opponent, Sanket Chakravarty (2389). However, he was unable to make the most out of it. Almost everything is winning for White 54.c4+ Kd6 55.f6 gxf6 56.gxf6 Bc2 57.Kg5 Ke6 and now White needed to play 58.Nd7 to forcefully grab the c5-pawn. An alternative was 54.g6 Kd6 55.Ng4 Ke7 56.Ke5. White missed all his chances and the game ended in a draw.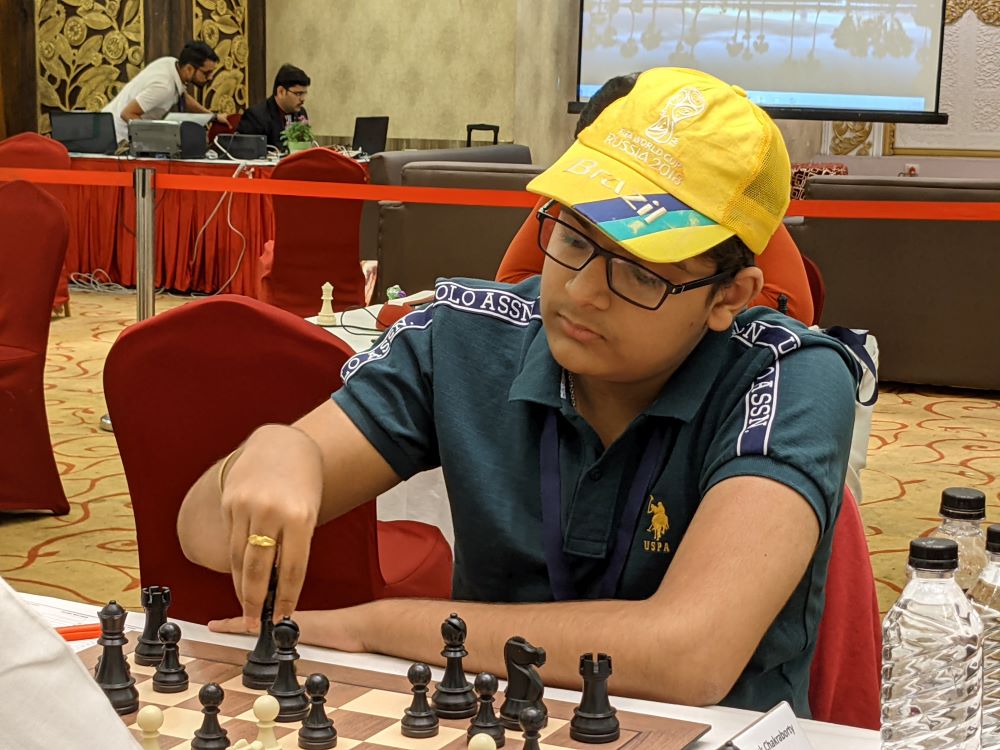 Vidit - Svidler, Rapid Game 1
Vidit made a very nice exchange sacrifice in the first Rapid game 21.Rxh6 Bxe4 22.Bxe4 gxh6 23.Bc6 Qc7 24.Qe4 Be7 25.d4 cxd4 26.Qxd4 Bg5 27.Rc4 Qxc6 28.Rxc6 Rxd4 29.Nxd4 White arrived at a winning endgame. He won the next Rapid game, however he only managed one draw out of the four Blitz games, Svidler won three. Vidit is leading the match 12-8 against Svidler heading into the final day.
Replay Vidit-Svidler Rapid Game 1-2 and Blitz Game 1-4
Replay Raunak-Short Rapid Game 1-2 and Blitz Game 1-4
Replay all Maharashtra Challenge Match games in interactive format and learn from IM Sagar Shah at Chessranga.
For more GM Round 7 and Match Rapid 1, Rapid 2 photos, please click on the respective links.
Replay GM Open Round 7 games
Round 7 results
| | | | | | | | | | | | | | | | | |
| --- | --- | --- | --- | --- | --- | --- | --- | --- | --- | --- | --- | --- | --- | --- | --- | --- |
| Bo. | No. | | | Name | Rtg | Club/City | Pts. | Result | Pts. | | Name | Rtg | Club/City | | No. | PGN |
| 1 | 14 | | IM | Sammed Jaykumar, Shete | 2440 | MAH | 5 | ½ - ½ | 5 | GM | Paichadze, Luka | 2513 | GEO | | 3 | PGN |
| 2 | 12 | | IM | Szpar, Milosz | 2447 | POL | 5 | 1 - 0 | 5 | GM | Babujian, Levon | 2373 | ARM | | 23 | PGN |
| 3 | 22 | | FM | Panesar, Vedant | 2387 | MAH | 5 | 1 - 0 | 5 | IM | Raahul, V S | 2299 | TN | | 34 | PGN |
| 4 | 20 | | IM | Rohith, Krishna S | 2411 | TN | 4½ | 1 - 0 | 4½ | GM | Savchenko, Boris | 2524 | RUS | | 1 | PGN |
| 5 | 21 | | | Sanket, Chakravarty | 2389 | WB | 4½ | ½ - ½ | 4½ | IM | Viani, Antonio Dcunha | 2417 | KAR | | 15 | PGN |
| 6 | 28 | | FM | Ritviz, Parab | 2340 | GOA | 4½ | ½ - ½ | 4½ | IM | Kushagra, Mohan | 2412 | TEL | | 19 | PGN |
| 7 | 2 | | GM | Zakhartsov, Viacheslav V. | 2514 | FID | 4 | ½ - ½ | 4½ | GM | Laxman, R.R. | 2299 | ICF | | 33 | PGN |
| 8 | 4 | | GM | Burmakin, Vladimir | 2492 | RUS | 4 | ½ - ½ | 4 | FM | Ayush, Sharma | 2312 | MP | | 31 | PGN |
| 9 | 6 | | GM | Sengupta, Deep | 2473 | PSPB | 4 | 1 - 0 | 4 | FM | Sharan, Rao | 2248 | KAR | | 41 | PGN |
| 10 | 24 | | IM | Barseghyan, Armen Ar. | 2373 | ARM | 4 | ½ - ½ | 4 | GM | Venkatesh, M.R. | 2469 | PSPB | | 7 | PGN |
| 11 | 40 | | IM | Ratnakaran, K. | 2254 | RLYS | 4 | 0 - 1 | 4 | GM | Aleksandrov, Aleksej | 2461 | BLR | | 8 | PGN |
| 12 | 10 | | IM | Nitish, Belurkar | 2450 | GOA | 4 | 0 - 1 | 4 | CM | Mayank, Chakraborty | 2141 | ASSM | | 64 | PGN |
| 13 | 50 | | FM | Harshad, S | 2211 | TN | 4 | 0 - 1 | 4 | GM | Fedorov, Alexei | 2449 | BLR | | 11 | PGN |
| 14 | 113 | | CM | Adireddy, Arjun | 1968 | TEL | 4 | 0 - 1 | 4 | IM | Neelash, Saha | 2440 | WB | | 13 | PGN |
| 15 | 16 | | GM | Mirzoev, Azer | 2416 | AZE | 4 | ½ - ½ | 4 | | Kaustuv, Kundu | 2242 | WB | | 43 | PGN |
Standings after Round 7
| | | | | | | | | | | | | | | | | | | | |
| --- | --- | --- | --- | --- | --- | --- | --- | --- | --- | --- | --- | --- | --- | --- | --- | --- | --- | --- | --- |
| Rk. | SNo | | | Name | Typ | sex | Gr | FED | Rtg | Club/City | Pts. | TB1 | TB2 | TB3 | TB4 | TB5 | Rp | K | rtg+/- |
| 1 | 22 | | FM | Panesar, Vedant | | | | IND | 2387 | MAH | 6 | 26 | 29 | 24,50 | 0 | 5 | 2489 | 20 | 21,2 |
| 2 | 12 | | IM | Szpar, Milosz | | | | POL | 2447 | POL | 6 | 25,5 | 28,5 | 24,25 | 0 | 5 | 2506 | 10 | 4,5 |
| 3 | 14 | | IM | Sammed Jaykumar, Shete | | | | IND | 2440 | MAH | 5,5 | 27,5 | 30,5 | 23,25 | 0 | 4 | 2495 | 10 | 5,3 |
| 4 | 3 | | GM | Paichadze, Luka | | | | GEO | 2513 | GEO | 5,5 | 27,5 | 29 | 20,75 | 0 | 4 | 2506 | 10 | 0,6 |
| 5 | 20 | | IM | Rohith, Krishna S | | | | IND | 2411 | TN | 5,5 | 24,5 | 27 | 20,50 | 0 | 4 | 2378 | 10 | 1,1 |
| 6 | 34 | | IM | Raahul, V S | | | | IND | 2299 | TN | 5 | 30 | 33 | 21,50 | 0 | 4 | 2467 | 10 | 17 |
| 7 | 64 | | CM | Mayank, Chakraborty | | | | IND | 2141 | ASSM | 5 | 28 | 29,5 | 19,50 | 0 | 3 | 2503 | 40 | 128 |
| 8 | 23 | | GM | Babujian, Levon | | | | ARM | 2373 | ARM | 5 | 27,5 | 31 | 19,50 | 0 | 5 | 2385 | 10 | 4,1 |
| 9 | 28 | | FM | Ritviz, Parab | | | | IND | 2340 | GOA | 5 | 27,5 | 30,5 | 20,00 | 0 | 4 | 2393 | 20 | 16,8 |
| 10 | 33 | | GM | Laxman, R.R. | | | | IND | 2299 | ICF | 5 | 26,5 | 29 | 19,75 | 0 | 3 | 2421 | 10 | 12,8 |
| 11 | 21 | | | Sanket, Chakravarty | | | | IND | 2389 | WB | 5 | 26 | 28 | 19,00 | 0 | 3 | 2348 | 20 | 0,8 |
| 12 | 11 | | GM | Fedorov, Alexei | | | | FID | 2449 | BLR | 5 | 24,5 | 26,5 | 17,00 | 0 | 5 | 2296 | 10 | -9,4 |
| 13 | 6 | | GM | Sengupta, Deep | | | | IND | 2473 | PSPB | 5 | 23,5 | 26 | 18,00 | 0 | 4 | 2327 | 10 | -8,7 |
| 14 | 8 | | GM | Aleksandrov, Aleksej | | | | FID | 2461 | BLR | 5 | 23 | 25,5 | 17,00 | 0 | 4 | 2323 | 10 | -8,7 |
| 15 | 15 | | IM | Viani, Antonio Dcunha | | | | IND | 2417 | KAR | 5 | 23 | 24,5 | 17,50 | 0 | 3 | 2313 | 10 | -6,3 |
Round 8 pairings
| | | | | | | | | | | | | | | | |
| --- | --- | --- | --- | --- | --- | --- | --- | --- | --- | --- | --- | --- | --- | --- | --- |
| Bo. | No. | | | Name | Rtg | Club/City | Pts. | Result | Pts. | | Name | Rtg | Club/City | | No. |
| 1 | 22 | | FM | Panesar, Vedant | 2387 | MAH | 6 | | 6 | IM | Szpar, Milosz | 2447 | POL | | 12 |
| 2 | 3 | | GM | Paichadze, Luka | 2513 | GEO | 5½ | | 5½ | IM | Rohith, Krishna S | 2411 | TN | | 20 |
| 3 | 11 | | GM | Fedorov, Alexei | 2449 | BLR | 5 | | 5½ | IM | Sammed Jaykumar, Shete | 2440 | MAH | | 14 |
| 4 | 23 | | GM | Babujian, Levon | 2373 | ARM | 5 | | 5 | GM | Sengupta, Deep | 2473 | PSPB | | 6 |
| 5 | 33 | | GM | Laxman, R.R. | 2299 | ICF | 5 | | 5 | GM | Aleksandrov, Aleksej | 2461 | BLR | | 8 |
| 6 | 13 | | IM | Neelash, Saha | 2440 | WB | 5 | | 5 | FM | Ritviz, Parab | 2340 | GOA | | 28 |
| 7 | 15 | | IM | Viani, Antonio Dcunha | 2417 | KAR | 5 | | 5 | IM | Raahul, V S | 2299 | TN | | 34 |
| 8 | 19 | | IM | Kushagra, Mohan | 2412 | TEL | 5 | | 5 | | Sanket, Chakravarty | 2389 | WB | | 21 |
| 9 | 64 | | CM | Mayank, Chakraborty | 2141 | ASSM | 5 | | 4½ | GM | Burmakin, Vladimir | 2492 | RUS | | 4 |
| 10 | 1 | | GM | Savchenko, Boris | 2524 | RUS | 4½ | | 4½ | | Garv, Rai | 2198 | DEL | | 55 |
| 11 | 43 | | | Kaustuv, Kundu | 2242 | WB | 4½ | | 4½ | GM | Zakhartsov, Viacheslav V. | 2514 | FID | | 2 |
| 12 | 7 | | GM | Venkatesh, M.R. | 2469 | PSPB | 4½ | | 4½ | CM | Vaibhav, Jayant Raut | 2237 | MAH | | 47 |
| 13 | 27 | | GM | Teterev, Vitaly | 2344 | BLR | 4½ | | 4½ | GM | Mirzoev, Azer | 2416 | AZE | | 16 |
| 14 | 17 | | IM | Srihari, L R | 2416 | TN | 4½ | | 4½ | | Anadkat, Kartavya | 2130 | GUJ | | 67 |
| 15 | 46 | | IM | Kulkarni, Vikramaditya | 2237 | MAH | 4½ | | 4½ | IM | Barseghyan, Armen Ar. | 2373 | ARM | | 24 |
Links
Maharashtra Chess Association: Official site, fb page and twitter
---