Anirudhha Potawad wins The Chembur Gymkhana 1st Rapid Rating Open 2023
by Shahid Ahmed - 29/09/2023
Anirudhha Potawad and IM Vikramaditya Kulkarni scored an unbeaten 8.5/9 each at The Chembur Gymkhana 1st Rapid Rating Open 2023. Anirudhha won the tournament due to better tie-breaks, Vikramaditya secured second place. Aakash Sharadchandra Dalvi, Pushkar Dere, Ankur Mahesh Gokhale and Jeet Shah scored 8/9 each. They were placed third to sixth according to tie-breaks. Anirudhha's sole draw occurred in the final round against the eventual second runner-up, Aakash. The total prize fund of the was ₹200000 and trophies. The top three prizes were ₹20000, ₹10000 and ₹8000. This is Anirudhha's sixth overall, first rating tournament triumph and 14th podium finish of 2023. Aniudhha is certainly delivering great performances this year consistently. Photos: Gajengi Rajababu
Anirudhha's first open rating tournament triumph
Anirudhha Potawad made a blazing start by winning eight games in-a-row. With an 8/8 score, he drew his final round game against Aakash Sharadchandra Dalvi who finished third 8/9. IM Vikramaditya Kulkarni defeated Mihir Shah to secure second place 8.5/9. This is Anirudhha's first open rating tournament victory of his career. The only other rating tournament he won was a Below 1600 event over five years ago in 2018.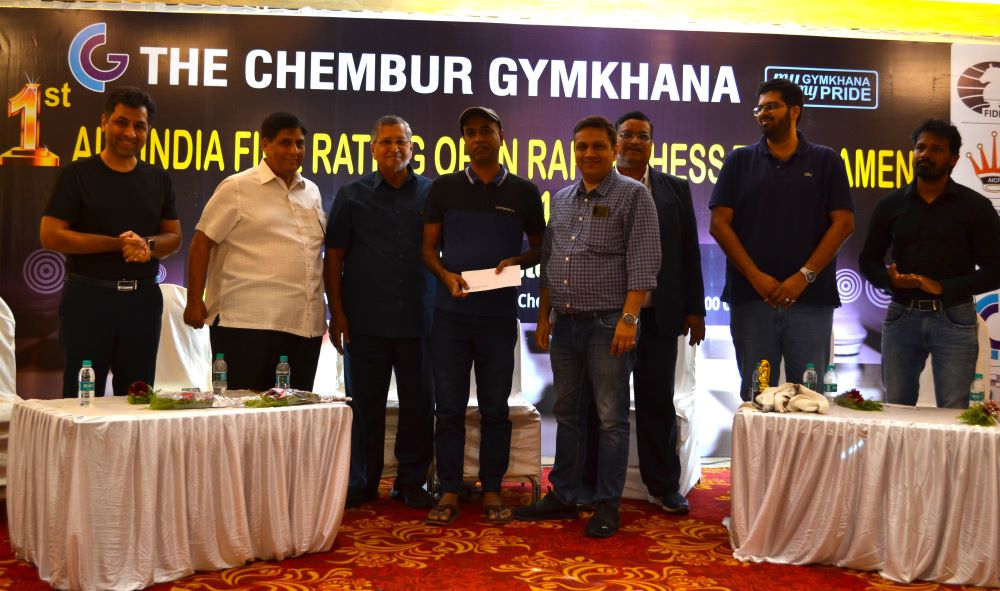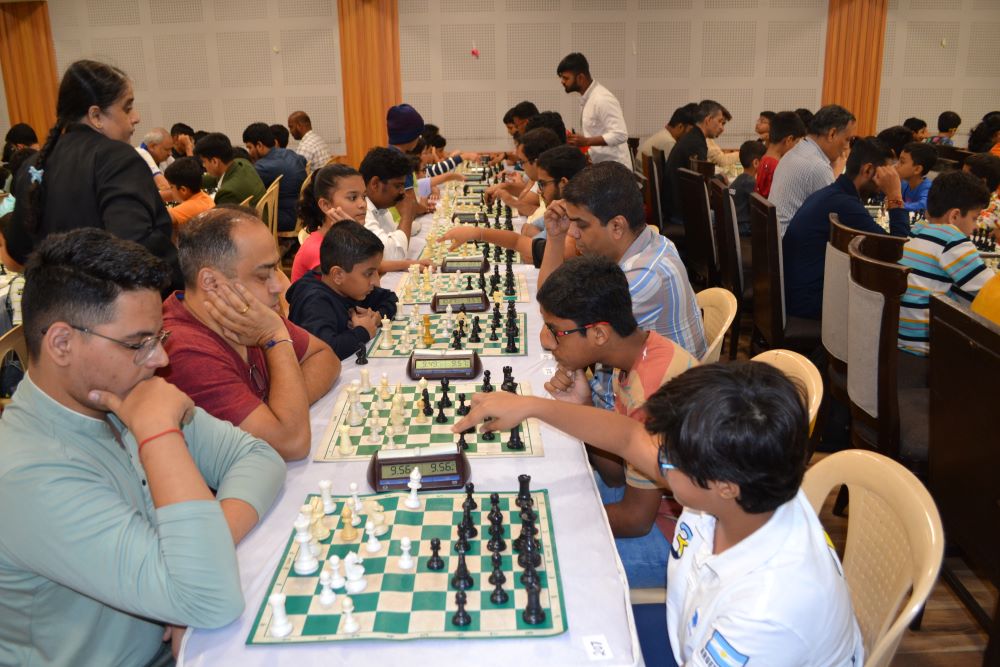 Thanks to Gajengi Rajababu for sharing the photos.
A total of 563 players including 3 IMs and 2 WIMs took part from various places all over the country and one from USA in this one-day nine round Rapid Rating Open tournament. It was organized by Institute for Chess Excellence with the support of and at The Chembur Gymkhana in Mumbai, Maharashtra on 10th September 2023. The time control of the event was 10 minutes + 5 seconds increment per move.
Final standings
| | | | | | | | | | | | | | | | | | | | | | | |
| --- | --- | --- | --- | --- | --- | --- | --- | --- | --- | --- | --- | --- | --- | --- | --- | --- | --- | --- | --- | --- | --- | --- |
| Rk. | SNo | | Name | Typ | sex | FED | Rtg | Bdld | Club/City | Pts. | TB1 | TB2 | TB3 | TB4 | TB5 | Rp | n | w | we | w-we | K | rtg+/- |
| 1 | 10 | | Potawad, Anirudhha | | | IND | 1914 | | | 8,5 | 55 | 57 | 53,00 | 0 | 8 | 2018 | 8 | 7,5 | 5,53 | 1,97 | 40 | 78,8 |
| 2 | 2 | IM | Kulkarni, Vikramaditya | | | IND | 2173 | | | 8,5 | 54 | 58,5 | 54,50 | 0 | 8 | 1965 | 9 | 8,5 | 8,41 | 0,09 | 10 | 0,9 |
| 3 | 4 | | Aakash, Sharadchandra Dalvi | | | IND | 2148 | | | 8 | 58 | 63 | 55,00 | 0 | 7 | 1913 | 9 | 8 | 8,25 | -0,25 | 20 | -5 |
| 4 | 9 | | Dere, Pushkar | | | IND | 1946 | | | 8 | 54,5 | 57,5 | 49,50 | 0 | 8 | 1787 | 8 | 7 | 6,95 | 0,05 | 20 | 1 |
| 5 | 13 | | Ankur, Mahesh Gokhale | | | IND | 1838 | | | 8 | 52,5 | 57,5 | 50,00 | 0 | 7 | 1844 | 8 | 7 | 5,95 | 1,05 | 20 | 21 |
| 6 | 14 | | Shah, Jeet | | | IND | 1828 | | | 8 | 52 | 54 | 47,00 | 0 | 8 | 1709 | 8 | 7 | 7,22 | -0,22 | 40 | -8,8 |
| 7 | 17 | | Shah, Mihir | | | IND | 1747 | | | 7,5 | 54,5 | 59 | 47,00 | 0 | 7 | 1996 | 8 | 6,5 | 3,39 | 3,11 | 20 | 62,2 |
| 8 | 11 | CM | Bagwe, Gaurang | U15 | | IND | 1882 | | | 7,5 | 52,5 | 56 | 45,75 | 0 | 7 | 1604 | 8 | 6,5 | 7,63 | -1,13 | 40 | -45,2 |
| 9 | 3 | IM | Tilak, Sharad S | S60 | | IND | 2159 | | | 7,5 | 51 | 55,5 | 43,75 | 0 | 7 | 1703 | 9 | 7,5 | 8,63 | -1,13 | 20 | -22,6 |
| 10 | 37 | | Ram, Vishal Parab | U13 | | IND | 1487 | | | 7,5 | 50,5 | 53,5 | 41,75 | 0 | 7 | 1732 | 8 | 6,5 | 3,86 | 2,64 | 40 | 105,6 |
| 11 | 16 | ACM | Iyer, Arvind | U15 | | IND | 1791 | | | 7,5 | 50,5 | 52,5 | 41,75 | 0 | 7 | 1643 | 8 | 6,5 | 6,72 | -0,22 | 40 | -8,8 |
| 12 | 15 | | Siddharth, Venkatesh | | | IND | 1827 | | | 7,5 | 49 | 53 | 41,75 | 0 | 7 | 1618 | 8 | 6,5 | 6,85 | -0,35 | 20 | -7 |
| 13 | 38 | | Jagesia, Daksh | U15 | | IND | 1472 | | | 7,5 | 48,5 | 48,5 | 36,75 | 0 | 7 | 1587 | 8 | 6,5 | 5,17 | 1,33 | 40 | 53,2 |
| 14 | 29 | | Pandey, Arpit | | | IND | 1587 | | | 7,5 | 45,5 | 49,5 | 40,25 | 0 | 7 | 1475 | 8 | 6,5 | 7,05 | -0,55 | 20 | -11 |
| 15 | 5 | FM | Mithil, Ajgaonkar | | | IND | 2036 | | | 7 | 53,5 | 58,5 | 41,50 | 0 | 7 | 1751 | 9 | 7 | 7,68 | -0,68 | 20 | -13,6 |
| 16 | 19 | | Subhash, K V | | | IND | 1728 | | | 7 | 52 | 55 | 38,50 | 0 | 7 | 1636 | 8 | 6 | 5,98 | 0,02 | 20 | 0,4 |
| 17 | 34 | | Boricha, Yohan | | | IND | 1523 | | | 7 | 51,5 | 55,5 | 39,00 | 0 | 7 | 1584 | 8 | 6 | 5,19 | 0,81 | 40 | 32,4 |
| 18 | 31 | | Gada, Om | | | IND | 1583 | | | 7 | 50,5 | 54,5 | 39,50 | 0 | 7 | 1598 | 8 | 6 | 5,42 | 0,58 | 20 | 11,6 |
| 19 | 36 | | Soni, Atharv | U13 | | IND | 1496 | | | 7 | 50 | 54 | 40,50 | 0 | 7 | 1551 | 8 | 6 | 5,27 | 0,73 | 40 | 29,2 |
| 20 | 70 | | Parkar, Mayuresh | | | IND | 1343 | | | 7 | 49 | 54 | 39,00 | 0 | 7 | 1554 | 8 | 6 | 4,07 | 1,93 | 40 | 77,2 |
| 21 | 45 | | Bhat, Sannidhi Ramakrishna | F15 | w | IND | 1436 | | | 7 | 49 | 53 | 37,50 | 0 | 7 | 1569 | 8 | 6 | 4,89 | 1,11 | 40 | 44,4 |
| 22 | 44 | | Dharia, Vishal | | | IND | 1442 | | | 7 | 49 | 52,5 | 38,50 | 0 | 7 | 1444 | 8 | 6 | 5,86 | 0,14 | 20 | 2,8 |
| 23 | 24 | | Arnav, Mahesh Koli | U13 | | IND | 1688 | | | 7 | 47,5 | 51,5 | 34,00 | 0 | 7 | 1523 | 8 | 6 | 6,72 | -0,72 | 40 | -28,8 |
| 24 | 26 | AFM | Dabhade, Arnav | U13 | | IND | 1636 | | | 7 | 47,5 | 51 | 38,00 | 0 | 7 | 1550 | 8 | 6 | 6,32 | -0,32 | 40 | -12,8 |
| 25 | 66 | | Kush, Ajay Agarwal | U15 | | IND | 1351 | | | 7 | 47,5 | 51 | 38,00 | 0 | 6 | 1601 | 8 | 6 | 4,03 | 1,97 | 40 | 78,8 |
| 26 | 68 | | Vivaan, Sardana | U13 | | IND | 1351 | | | 7 | 47 | 50 | 37,00 | 0 | 7 | 1617 | 7 | 5 | 2,73 | 2,27 | 40 | 90,8 |
| 27 | 28 | | Rohnit, G Amin | | | IND | 1600 | | | 7 | 47 | 49 | 36,00 | 0 | 7 | 1621 | 8 | 6 | 5,40 | 0,60 | 20 | 12 |
| 28 | 20 | | Aaron, Sanju Thomas | | | IND | 1727 | | | 7 | 46,5 | 51 | 37,00 | 0 | 7 | 1573 | 8 | 6 | 6,59 | -0,59 | 40 | -23,6 |
| 29 | 203 | | Thakur, Anuj | U13 | | IND | 1139 | | | 7 | 46,5 | 50,5 | 36,50 | 0 | 7 | 1571 | 8 | 6 | 1,55 | 4,45 | 40 | 178 |
| 30 | 101 | | Karan, Pandita | | | IND | 1268 | | | 7 | 46,5 | 50,5 | 35,50 | 0 | 7 | 1490 | 7 | 5 | 3,44 | 1,56 | 40 | 62,4 |
| 31 | 85 | | Shetty, Vihaan | | | IND | 1299 | | | 7 | 45,5 | 49,5 | 36,50 | 0 | 7 | 1505 | 8 | 6 | 3,88 | 2,12 | 20 | 42,4 |
| 32 | 1 | IM | Udeshi, Aditya | | | IND | 2421 | | | 7 | 44,5 | 47,5 | 34,50 | 0 | 7 | 1536 | 9 | 7 | 8,98 | -1,98 | 10 | -19,8 |
| 33 | 78 | | Arjun, Singh | U09 | | IND | 1319 | | | 7 | 42,5 | 45,5 | 34,50 | 0 | 7 | 1426 | 7 | 5 | 4,11 | 0,89 | 40 | 35,6 |
| 34 | 88 | | Bhanushali, Neemay | U11 | | IND | 1294 | | | 7 | 40,5 | 42,5 | 34,00 | 0 | 7 | 1327 | 5 | 4 | 3,17 | 0,83 | 40 | 33,2 |
| 35 | 6 | WIM | Thipsay, Bagyashree Sathe | S60 | w | IND | 2035 | | | 6,5 | 53,5 | 57,5 | 39,25 | 0 | 5 | 1598 | 8 | 5,5 | 7,40 | -1,90 | 20 | -38 |
| 36 | 50 | | Godse, Anish | | | IND | 1427 | | | 6,5 | 52,5 | 56 | 36,25 | 0 | 6 | 1694 | 8 | 5,5 | 3,16 | 2,34 | 20 | 46,8 |
| 37 | 109 | | Shah, Veer Kunjan | | | IND | 1256 | | | 6,5 | 49 | 53,5 | 35,25 | 0 | 6 | 1549 | 8 | 5,5 | 2,91 | 2,59 | 40 | 103,6 |
| 38 | 49 | | Aaryan, Amol Waghmare | U11 | | IND | 1427 | | | 6,5 | 48,5 | 52,5 | 36,25 | 0 | 6 | 1458 | 7 | 4,5 | 4,15 | 0,35 | 40 | 14 |
| 39 | 42 | | Iyer, Aarav | U15 | | IND | 1458 | | | 6,5 | 48 | 48,5 | 31,75 | 0 | 6 | 1577 | 8 | 5,5 | 4,94 | 0,56 | 40 | 22,4 |
| 40 | 269 | | Vij, Aarush | U13 | | IND | 1033 | | | 6,5 | 47,5 | 52 | 35,25 | 0 | 6 | 1516 | 8 | 5,5 | 1,03 | 4,47 | 40 | 178,8 |
---