Shanmukha Pulli wins SBI Life Rating Open 2023
by Shahid Ahmed - 28/04/2023
Shanmukha Pulli, IM Vikramaditya Kulkarni and FM Sauravh Khherdekar scored 7.5/9 each at SBI Life All India Rating Open 2023. Shanmukha won the tournament due to better tie-break score. Top seed of the tournament, Vikramaditya and second seeded Sauravh were placed second and third respectively. Fourth place finisher, Arnav Kherdekar defeated the eventual champion in the fifth round. The total prize fund of the tournament was ₹300000. The top three prizes were ₹75000, ₹50000 and ₹30000 each respectively. This is Shanmukha's first Open Rating tournament triumph. Previously he had won two rating restricted (Below 2200) events in Serbia in February 2018 and a Below 1600 rating tournament on 1st January 2017. Photo: IO FT FA Praful Zaveri
Top three score 7.5/9
Shanmukha Pulli and Arnav Kherdekar were the coleaders with a score of 7/8 each, heading into the final round. The former drew his game quickly against Darsh Shetty. The remaining results worked out in his favor as the top seed IM Vikramaditya Kulkarni defeated Arnav and Aayush Shirodkar lost to FM Sauravh Kherdekar. Thus, Shanmukha won the tournament on account of better tie-break score. Vikramaditya and Sauravh were adjudged second and third respectively. 10-year-old Mysha Perwez scored 6/9 to finish 12th overall and won the Best Female prize.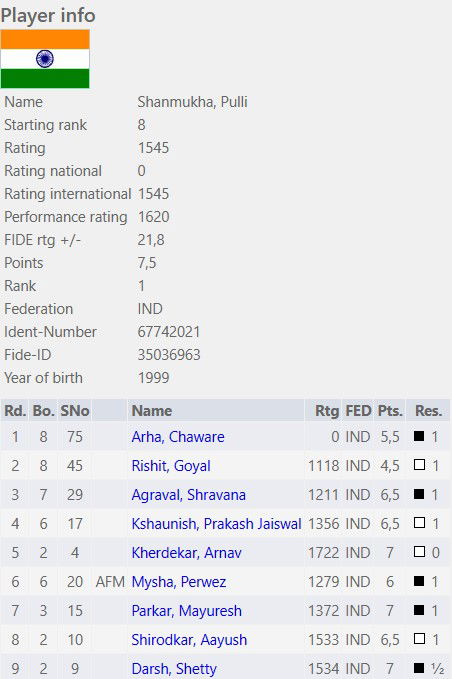 Our very own ChessBase India cofounder and CEO, IM Sagar Shah attended the opening ceremony along with Dr. Elena Remizova, Director of RCSC, Abhay Das, SBI Life Divisional Head. Nishikant Shukla, Regional Manager of SBI Life gave away all the prizes to the prize winners at the closing ceremony.
A total of 138 players including an IM participated from various states across the country. The six-day nine-round Swiss league Rating tournament was organized by Indian Chess School at Russian Centre in Mumbai, Maharashtra from 7th to 12th April 2023. The time control for the event was 90 minutes + 30 seconds increment from move no.1.
Final standings
| | | | | | | | | | | | |
| --- | --- | --- | --- | --- | --- | --- | --- | --- | --- | --- | --- |
| Rk. | SNo | | Name | Typ | sex | FED | Rtg | Pts. | TB1 | TB2 | TB3 |
| 1 | 8 | | Shanmukha, Pulli | | | IND | 1545 | 7,5 | 52 | 56,5 | 46,00 |
| 2 | 1 | IM | Kulkarni, Vikramaditya | | | IND | 2251 | 7,5 | 50 | 54 | 44,25 |
| 3 | 2 | FM | Sauravh, Khherdekar | | | IND | 2090 | 7,5 | 49,5 | 54,5 | 44,50 |
| 4 | 4 | | Kherdekar, Arnav | | | IND | 1722 | 7 | 51,5 | 56 | 41,75 |
| 5 | 9 | | Darsh, Shetty | | | IND | 1534 | 7 | 50,5 | 53,5 | 38,75 |
| 6 | 3 | | Raghav, Srivathsav V | | | IND | 2066 | 7 | 47 | 50,5 | 37,50 |
| 7 | 15 | | Parkar, Mayuresh | | | IND | 1372 | 7 | 46,5 | 50,5 | 36,00 |
| 8 | 7 | | Boricha, Yohan | | | IND | 1639 | 7 | 46,5 | 49,5 | 35,25 |
| 9 | 10 | | Shirodkar, Aayush | | | IND | 1533 | 6,5 | 52 | 55,5 | 37,00 |
| 10 | 6 | | Guru, Prakash | | | IND | 1691 | 6,5 | 48,5 | 53 | 36,50 |
| 11 | 26 | | Ishaan, A Tendolkar | | | IND | 1238 | 6,5 | 48,5 | 51,5 | 34,75 |
| 12 | 17 | | Kshaunish, Prakash Jaiswal | | | IND | 1356 | 6,5 | 47,5 | 51 | 33,75 |
| 13 | 11 | | Sunil, Vaidya | | | IND | 1533 | 6,5 | 42 | 46 | 32,75 |
| 14 | 29 | | Agraval, Shravana | | | IND | 1211 | 6,5 | 40,5 | 42,5 | 27,25 |
| 15 | 49 | | Agharkar, Shriyans | | | IND | 1095 | 6,5 | 39 | 42,5 | 29,00 |
| 16 | 21 | | Samaiya, Atharv | | | IND | 1273 | 6 | 46,5 | 49,5 | 28,50 |
| 17 | 48 | | Sriram, S N | | | IND | 1102 | 6 | 46 | 50 | 31,00 |
| 18 | 18 | | Mistry, Dhruv | | | IND | 1304 | 6 | 45,5 | 49,5 | 29,25 |
| 19 | 20 | AFM | Mysha, Perwez | | w | IND | 1279 | 6 | 45,5 | 49 | 30,00 |
| 20 | 12 | | Soni, Atharv | | | IND | 1478 | 6 | 44,5 | 48,5 | 30,50 |
Links
---