12-year-old Kushagra Jain triumphs at 1st TMCA Rating Open 2022
by Shahid Ahmed - 08/12/2022
12-year-old Kushagra Jain scored an unbeaten 8/9 to win 1st TMCA Rating Open 2022. Three players including the top seed, IM Vikramaditya Kulkarni scored 7.5/9 each. Vikramaditya, and Viresh Sharnarthi were placed second and third respectively according to tie-breaks. 12-year-old Kalyani Sirin is the highest finisher among female participants. She finished fourth overall with a score of 7.5/9 and won the first prize in Rating Category 1301-1600. The total prize fund of the tournament was ₹250000. The top three prizes were ₹40000, ₹25000 and ₹15000 along with a trophy each. The six-day Rating tournament was organized by Tactical Moves Chess Academy. It was their first Rating tournament and they did it without having any sponsor. Photo: Tactical Moves Chess Academy
Kushagra's first Rating tournament triumph
Kushagra Jain won the tournament at a tender age of 12, scoring an impressive 8/9 and remained undefeated. Four players were at 7/8 heading into the final round. They were - Arpan Das, Shrayan Majumder, Viresh Sharnarthi and Kushagra. Despite having the lowest tie-breaks and black pieces in the last round, Kushagra overcame all odds and beat Arpan to become champion. It was his only way to win the tournament and the remaining two results also worked out in his favor.
T V Subramanian scored an impressive 5/9 to secure third prize in the Best Veteran category.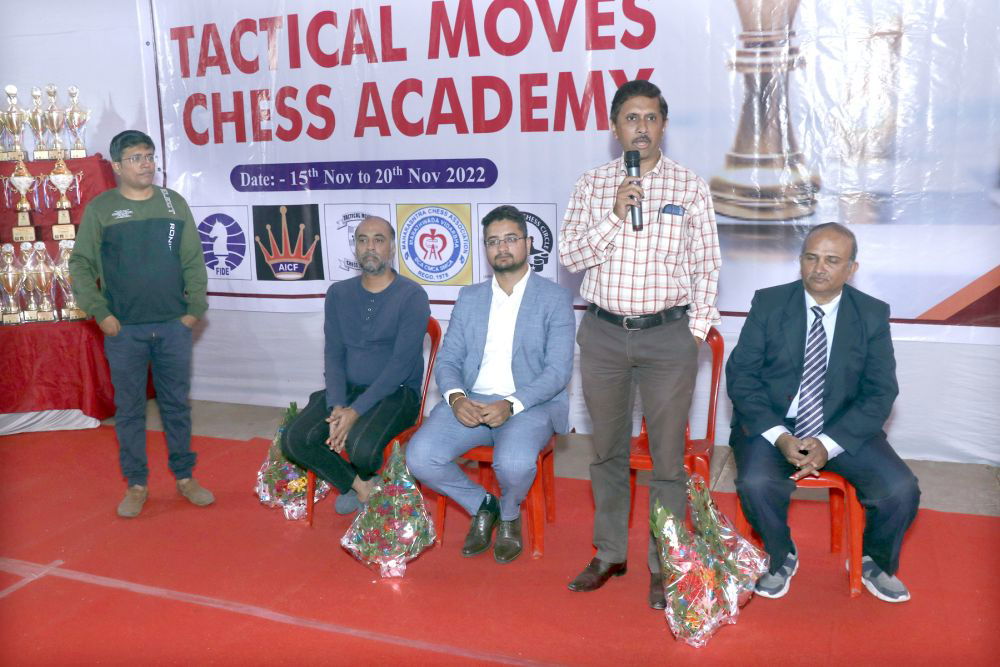 The Chief Guest of the Inauguration Ceremony was Niranjan Godbole, Hon. Secretary, Maharashtra Chess Association. The tournament director FI Pratik Mulay, IA Nitin Shenvi, IM Vikramaditya Kulkarni were present. Shripad Joshi was the presenter.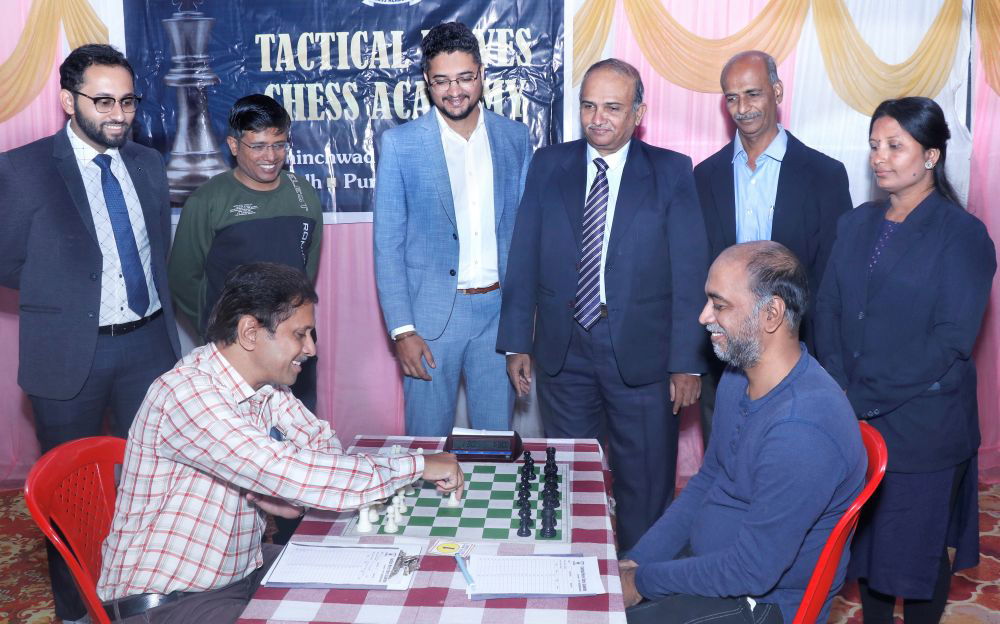 Chief Arbiter IA Nitin Shenvi, FA Atharva Godbole, Deputy Chief Arbiter, FA Milind Naik, SNA Sarika Sable, Mrs. Gayatri Kulkarni, Mr Nitin Undale were also present for inaugural move.
This was the first ever rating tournament in PCMC (Pimpri Chinchwad Municipal Corporation).
Sachin Chinchwade - Corporator and ex-Mayor of PCMC was Chief Guest of prize distribution ceremony. The Guest of honour were Khandushet Chinchwade - Owner of Chinchwade Lawns, Rajendra Gawade - Corporator and Yogesh Chinchwade - BJP town leader. FI Pratik Mulay, Organiser and Founder of Tactical Moves Chess Academy were present along with Shripad Joshi and IA Nitin Shenvi, Chief Arbiter. Shripad was the presenter at the closing ceremony too.
A special thanks to Tactical Moves Chess Academy for sharing the photos and information about the tournament.
A total of 218 players including an IM took part from various parts of India. The six-day nine-round Swiss league Rating tournament was organized by Tactical Moves Chess Academy. It took place at Chinchwade Lawns in Pune, Maharashtra from 15th to 20th November 2022. The time control of the tournament was 90 minutes + 30 seconds increment from move no.1.
Final standings
| | | | | | | | | | | | | | |
| --- | --- | --- | --- | --- | --- | --- | --- | --- | --- | --- | --- | --- | --- |
| Rk. | SNo | | Name | Typ | sex | Gr | Rtg | Pts. | TB1 | TB2 | TB3 | TB4 | TB5 |
| 1 | 11 | | Jain Kushagra | U13 | | PCMC | 1601 | 8 | 45,5 | 50 | 44,75 | 0 | 7 |
| 2 | 1 | IM | Kulkarni Vikramaditya | | | | 2310 | 7,5 | 51 | 56 | 45,50 | 0 | 7 |
| 3 | 4 | | Sharnarthi Viresh | U13 | | | 1742 | 7,5 | 50,5 | 54,5 | 44,00 | 0 | 6 |
| 4 | 15 | | Kalyani Sirin | U13 | w | | 1566 | 7,5 | 47 | 51,5 | 41,25 | 0 | 7 |
| 5 | 2 | | Arpan Das | | | | 2044 | 7 | 54 | 59 | 44,75 | 0 | 6 |
| 6 | 3 | | Majumder Shrayan | | | | 1799 | 7 | 53 | 57 | 41,75 | 0 | 6 |
| 7 | 5 | | Gaikwad Manas | U13 | | | 1738 | 7 | 49 | 54 | 39,50 | 0 | 7 |
| 8 | 13 | | Sachi Jain | U13 | w | | 1581 | 7 | 49 | 52 | 37,00 | 0 | 6 |
| 9 | 7 | | Roneet Das | | | PCMC | 1683 | 7 | 48,5 | 53,5 | 40,25 | 0 | 6 |
| 10 | 32 | | Aditya Saxena | U13 | | PCMC | 1385 | 7 | 43,5 | 47,5 | 33,00 | 0 | 7 |
| 11 | 42 | | Anish Naik | | | | 1328 | 7 | 41,5 | 45,5 | 35,75 | 0 | 6 |
| 12 | 51 | | Salunke Siddhant | U11 | | PCMC | 1300 | 7 | 41,5 | 43 | 31,50 | 0 | 6 |
| 13 | 14 | | Sherla Prathamesh | U11 | | | 1577 | 6,5 | 50 | 53,5 | 35,25 | 0 | 6 |
| 14 | 22 | | Khedkar Prasad | | | | 1447 | 6,5 | 47 | 51 | 34,75 | 0 | 5 |
| 15 | 17 | | Vakcheri Mohitha | | w | | 1535 | 6,5 | 46 | 50,5 | 34,25 | 0 | 6 |
| 16 | 16 | | Sharnarthi Shlok | U13 | | | 1547 | 6,5 | 46 | 50 | 34,25 | 0 | 6 |
| 17 | 31 | | Avirat Chauhan | U09 | | | 1389 | 6,5 | 46 | 49,5 | 32,75 | 0 | 6 |
| 18 | 26 | | Soni Atharv | U11 | | | 1427 | 6,5 | 44,5 | 48 | 31,75 | 0 | 5 |
| 19 | 52 | | Shaashvat Gupta | U11 | | | 1299 | 6,5 | 43 | 45,5 | 29,00 | 0 | 5 |
| 20 | 36 | | Nihira Koul | U11 | w | | 1369 | 6,5 | 42 | 45 | 31,00 | 0 | 5 |
---
Related news
:
Kartavya Anadkat dominates Rotary Thane Midtown Rapid Rating Open 2023

@ 05/09/2023 by Shahid Ahmed (en)
Mitrabha Guha wins 1st JK's ECA One Day Rapid Rating Open 2023

@ 04/09/2023 by Shahid Ahmed (en)
Kartik, Ayush and Kartavya are the winners of 16th G H Raisoni Memorial Chess Festival 2023

@ 02/08/2023 by Shahid Ahmed (en)
Priyanshu Patil wins Late Ramesh Vinayakrao Kotwal Memorial Rapid Rating Open 2023

@ 22/07/2023 by Shahid Ahmed (en)
Disha Patil dominates 1st Maharashtra Chess Festival Below 1600 Rating Tournament 2023

@ 19/06/2023 by Shahid Ahmed (en)
Sailesh R clinches 1st Maharashtra Chess Festival Below 2000 Rating Tournament 2023

@ 15/06/2023 by Shahid Ahmed (en)
S Rohith Krishna aces 2nd Maharashtra GM Open 2023

@ 11/06/2023 by Shahid Ahmed (en)
S Rohith Krishna on the verge of winning 2nd Maharashtra GM Open 2023

@ 08/06/2023 by Shahid Ahmed (en)
Vidit Gujrathi and Raunak Sadhwani win the Maharashtra Challenge Match 2023

@ 08/06/2023 by Shahid Ahmed (en)
2nd Maharashtra GM 2023 R9: S Rohith Krishna emerges sole leader

@ 07/06/2023 by Shahid Ahmed (en)
Diptayan Ghosh and Sammed Shete win 1st RCPP Rapid and Blitz Rating Open 2023

@ 07/06/2023 by Shahid Ahmed (en)
विदित और रौनक नें जीता महाराष्ट्र चैस चैलेंज मैच

@ 06/06/2023 by Niklesh Jain (hi)
2nd Maharashtra GM 2023 R8: S Rohith Krishna joins Vedant Panesar and Milosz Szpar in the lead

@ 06/06/2023 by Shahid Ahmed (en)
2nd Maharashtra GM 2023 R7: Milosz and Vedant Panesar are the coleaders

@ 05/06/2023 by Shahid Ahmed (en)
महाराष्ट्र ग्रांड मास्टर चैलेंज - विदित और रौनक नें क्लासिकल में मारी बाजी

@ 05/06/2023 by Niklesh Jain (hi)
2nd Maharashtra GM 2023 R5-6: Vedant Panesar squashes Boris Savchenko in 20 moves!

@ 04/06/2023 by Shahid Ahmed (en)
2nd Maharashtra GM 2023 R4: Raahul makes an incredible save against Luka

@ 04/06/2023 by Shahid Ahmed (en)
2nd Maharashtra GM 2023 R2-3: Sammed, Luka, Raahul and Harshad make a perfect start 3/3

@ 02/06/2023 by Shahid Ahmed (en)
2nd Maharashtra GM 2023 R1: Arya and Goutham score big upsets

@ 01/06/2023 by Shahid Ahmed (en)
Nagpur to host Vidit vs Svidler, Raunak vs Short + 3 tournaments at the Maharashtra Chess Festival 2023

@ 29/05/2023 by Shahid Ahmed (en)
Aahan Sharma wins LBHM Chess Festival 8th Below 1600 Rating Tournament 2023

@ 22/05/2023 by R Anantharam (en)
Double delight for Neelash Saha at LBHM Chess Festival 9th Rapid Rating Open 2023

@ 20/05/2023 by R Anantharam (en)
Neelash Saha wins Late Bharatbai Halkude Memorial Chess Festival 7th Rating Open 2023

@ 18/05/2023 by R Anantharam (en)
Aakash Sharadchandra Dalvi wins 1st Anjanibai Deshbhratar Rapid Rating Open 2023

@ 17/05/2023 by Shahid Ahmed (en)
Sanskar Gaigore wins All India Below 1600 Rating Tournament 2023

@ 15/05/2023 by Shahid Ahmed (en)
A prelude on LBHM 30 lacs prize money chess festival

@ 04/05/2023 by R Anantharam (en)
Gaurang Bagwe clinches 1st MLA Chasak Rapid Rating Open 2023 convincingly

@ 03/05/2023 by Shahid Ahmed (en)
Shanmukha Pulli wins SBI Life Rating Open 2023

@ 28/04/2023 by Shahid Ahmed (en)
Get ready for Buldana Urban Maharashtra State Under 17 Open and Girls Selection Chess Championship 2023

@ 17/03/2023 by Ankush Raktade (en)
Shriraj Bhosale is the winner of Khasdar Chashak Rapid Rating Open 2023

@ 16/03/2023 by Shahid Ahmed (en)
Sammed Shete dominates Shri Maheshwaranand Saraswati Memorial Rapid Rating Open 2023

@ 06/03/2023 by Shahid Ahmed (en)
Prasannaa S decimates MLA Chashak Rating Open 2023 with a perfect 9/9

@ 23/02/2023 by Shahid Ahmed (en)
Shantanu Bhambure dominates 1st GCH Sharad Pawar Rapid Rating Open 2023

@ 27/01/2023 by Shahid Ahmed (en)
Jaiveer Mahendru clinches 360 One Mumbai Junior U-13 Rating 2022

@ 19/01/2023 by Shahid Ahmed (en)
Sourabh Mhamane dominates 360 One Mumbai Rating Open 2022

@ 17/01/2023 by Shahid Ahmed (en)
The divine tournament - A flashback (Part 1)

@ 22/12/2022 by Praful Zaveri (en)
Diptayan Ghosh dominates 3rd Dombivli Kalyan Rapid Rating Open 2022

@ 07/12/2022 by Shahid Ahmed (en)
Prasannaa victorious at Shantikumarji Firodia Rating Open 2022

@ 03/12/2022 by Shahid Ahmed (en)
Gowrichander wins Nagpur Below 1600 Rating Tournament 2022

@ 09/09/2022 by Shahid Ahmed (en)
Priyanshu Patil wins 5th Young Masters Rapid Open 2022

@ 31/08/2022 by Ganga Pant (en)
Rupam, Anwesh and Siddhant Gawai are the winners at 15th G H Raisoni Memorial Chess Festival 2022

@ 14/07/2022 by Shahid Ahmed (en)
Farrukh Amonatov wins 1st Maharashtra GM Open 2022, Arjun Kalyan third

@ 09/06/2022 by Shahid Ahmed (en)
1st Maharashtra GM Open 2022 R10: Three-way race between Amonatov, Aleksandrov and Arjun Kalyan

@ 08/06/2022 by Shahid Ahmed (en)
Sohil Shaikh wins 1st Pune Open Below 2000 Rating Tournament 2022

@ 07/06/2022 by Shahid Ahmed (en)
1st Maharashtra GM Open 2022 R9: Aditya Samant becomes the new International Master of India

@ 07/06/2022 by Shahid Ahmed (en)
1st Maharashtra GM Open 2022 R8: Resilient Aditya Mittal

@ 06/06/2022 by Shahid Ahmed (en)
1st Maharashtra GM Open 2022 R7: Deep, Arjun Kalyan and Aditya Mittal in pursuit

@ 05/06/2022 by Shahid Ahmed (en)
1st Maharashtra GM Open 2022 R5-6: Srihari L R shines

@ 04/06/2022 by Shahid Ahmed (en)
1st Maharashtra GM Open 2022 R4: The Aditya Samant Ascension

@ 03/06/2022 by Shahid Ahmed (en)
1st Maharashtra GM Open 2022 R2-3: An epic king hunt by Anup Deshmukh

@ 02/06/2022 by Shahid Ahmed (en)
1st Maharashtra GM Open 2022 R1: Praloy Sahoo stuns Chakravarthi Reddy

@ 01/06/2022 by Shahid Ahmed (en)
Aravindh Chithambaram scores a hat-trick by clinching 1st Rejoice CTF Rapid Rating Open 2022

@ 11/05/2022 by Shahid Ahmed (en)
Aravindh Chithambaram successfully retains his National Blitz Chess Championship

@ 02/05/2022 by Shahid Ahmed (en)
Aravindh Chithambaram becomes the MPL National Rapid Champion 2022

@ 30/04/2022 by Sagar Shah (en)
MPL National Rapid and Blitz Chess Championships 2022 preview

@ 20/04/2022 by Shahid Ahmed (en)
Diptayan Ghosh clinches 2nd Dombivli Kalyan Rapid Rating Open 2021

@ 02/01/2022 by Shahid Ahmed (en)
Anish Gandhi wins Late Shripad Kulkarni Memorial All India Rating Open

@ 19/12/2021 by Shahid Ahmed (en)
Women's Day Special: LBHM One Day Rapid witnesses over 330 players participation

@ 12/03/2020 by Shahid Ahmed (en)
Soham Datar wins 4th Young Masters Rapid Open 2020

@ 11/03/2020 by Shahid Ahmed (en)
Sriram Sarja wins 3rd Young Masters Rapid Chess Open 2020

@ 14/02/2020 by Shahid Ahmed (en)
Nubairshah wins Late R B Sapre Memorial Open Rapid Rating 2020

@ 30/01/2020 by Shahid Ahmed (en)
Raghubar and Kanchan win Old Monk's Pune District Veterans Open and Women's Rapid

@ 28/01/2020 by Shahid Ahmed (en)
Let's remember our first national champion of India - R B Sapre

@ 14/01/2020 by Shahid Ahmed (en)
संदीपन चंदा ने जीता पांचवी आईआईएफएल मुंबई इंटरनेशनल का खिताब

@ 09/01/2020 by Nitesh Srivastava (hi)
Rutuja Bakshi creates history by winning Maharashtra State Open 2019

@ 16/11/2019 by Shahid Ahmed (en)
Om Kadam and Shruti Kale win Maharashtra State selection under-11 2019

@ 14/09/2019 by Shahid Ahmed (en)
Aditya Samant wins Young Masters Rapid with a 100% score

@ 06/09/2019 by Shahid Ahmed (en)
Maharashtra State Schools witness over 600 participants

@ 04/09/2019 by Shahid Ahmed (en)
मुंबई मेयर कप -तजाकिस्तान के ओमाण्टोव बने विजेता

@ 30/06/2019 by Nitesh srivastava (hi)
मुंबई मेयर कप 2019-अर्मेनिया के पेट्रोसियन सबसे आगे

@ 14/06/2019 by Nitesh srivastava (hi)
2074 rated Balkishan checkmates two opponents, moves to 5.0/6 at the Mayor's Cup 2019

@ 13/06/2019 by Sagar Shah (en)
Nikhil Dixit wins Varadraj Memorial All India Rapid Rating 2019

@ 11/06/2019 by Shahid Ahmed (en)
16-year-old Keval Nirgun wins Late Babukaka Shirgaokar Open at Sangli

@ 04/06/2019 by Shahid Ahmed (en)
IIFLW 2018-19 - Where quality prevailed over quantity

@ 03/02/2019 by Nisha Mohota (en)
Free training camp from GM Saptarshi Roy on the Art of Attack

@ 24/01/2019 by Sagar Shah (en)
Raahil Mullick wins First Move Chess Club 2019 Rapid, Sameer Kathmale wins blitz

@ 24/01/2019 by Shahid Ahmed (en)
A rapid and blitz tournament with 2 lakh prize fund in Mumbai

@ 17/01/2019 by Shahid Ahmed (en)
मुंबई इंटरनेशनल - भारत के अभिमन्यु नें सम्हाला मोर्चा

@ 06/01/2019 by Niklesh Jain (hi)
IIFLW 2018-19 Round 6: Varshney leads in juniors, Tran Tuan Minh and Visakh in GM section

@ 05/01/2019 by Sagar Shah (en)
The dark knight of IIFLW under-13 - Kashish Jain

@ 04/01/2019 by Sagar Shah (en)
The highest prize money under-13 event and 2100+ GM tournament begins in Mumbai

@ 31/12/2018 by Paras Gudka (en)
Countdown for IIFL 4 begins!

@ 04/12/2018 by Praful Zaveri (en)