IIFLW 2018-19 - Where quality prevailed over quantity
There are many norm tournaments taking place in India these days. However, there is a catch here. Even in the A-category events players with extremely low rating are included so that they get a chance to compete in the same events as grandmasters and best players of the country. While this is an excellent thought for the lower rated players, for the higher rated players, this turns out to be a huge bane. Making norms when facing such lower rated opponents becomes next to impossible. However, IIFLW 2018-19 decided to conduct a tournament with a difference. In the A-category, Indian players above the rating of 2100 were only allowed. The result? Five players made their norms. In this article IM Nisha Mohota thanks the sponsors IIFLW and organizer Praful Zaveri for keeping a strict cut-off.
This article was initially published on Nisha's blog "Through the eyes of Nisha" and has been republished here with her permission
EKA-IIFL Wealth 4th Mumbai International Chess Tournament- setting new standards!
By IM Nisha Mohota
India's commercial capital, Mumbai, (formerly known as Bombay) happens to be one of my favorite cities. The weather is warm, the people more so! It's a city where you can live life the way you want. People work hard on the weekdays and enjoy harder during the weekends. It's a happening city where (as the famous Anupam Kher would say) "kuch bhi ho sakta hai!" (anything can happen!). An ordinary man can turn a star overnight and a star can come down to the streets in no time - such is Aamchi (our) Mumbai! I believe in wonders, so such cities full of possibilities attract me!
It was around the end of November. I had just returned from my Senior Women Nationals and had been browsing through different tournament dates and circulars. The IIFL Mumbai International Chess tournament circular caught my attention. I have known the organiser, Praful Zaveri, for more than two decades now - he had been very supportive at the time of my recruitment in my first office, Life Insurance Corporation of India, back in the year 2000! Obviously I had great faith in Praful's organisational abilities and so I looked further in the circular. Something caught my eyes.
I rubbed my eyes! Did I read it right? The best female prize was Rs.75,000/-! (around 925 euros!). That moment it seemed to me that this IIFL Wealth Mumbai Chess was the Indian version of Gibraltar International Chess Festival! Gibraltar was the first tournament to point out that for every successful tournament, there has to be good women prizes and participation of women players! No wonder, today Gibraltar is the most sought-after tournament in the world! I was extremely happy to see the women prizes in the IIFL Mumbai circular. I have always felt that more than anything else, women need respect and encouragement, in personal life and in the professional field. The prize money for women here catered to both the needs!
IIFL Wealth Mumbai International Chess has been setting new standards since its inception! At first, the organisational novelty of introducing a tournament for the under-13 section was a bold and interesting idea back in 2015! To be honest, if young aspirants ask me for recommendations for tournaments in India, I would land in a difficult situation. But not any more! Yes, there are many tournaments below 1400 or below 1600 rating or you might play the open and improve - that's what I did as a kid! However, one needs to understand that not every kid is a Pragg or Nihal or Gukesh. Many kids are talented in general but need some special motivation to keep them glued to chess. When I was a kid, what worked for me was that I was better than the rest and that motivated me to enjoy chess more! I feel the under-13 section of the tournament is a great platform for aspiring kids - awesome prizes, one round a day, presence of the cream of Indian chess youngsters, international hall and standards!
Another great move made this year was:
After reading about the 2100+ rule in a ChessBase India article, I made the following comment - "2100 cut off for Indians is something we all have been looking forward to in the Indian tournaments! Will be great for norm aspirants and we all thank you for this bold step! Eagerly looking forward to the event and hoping that more Indian organisers follow your path!"
We did have some cut off tournaments in India on paper but most of them were not strictly speaking cutoff, often allowing a lot of exceptions!
I was really looking forward to the tournament and the above is my Facebook post prior to the start of the event. I am known to be very honest and straight forward and most of the Indian organisers have friendly relations with me. So why do I consider this tournament to be the strongest. I can explain this. The lower limit cut off to 2100 combined with a total number of entries to only 120 in the Grandmasters' section is a dream come true for me! For someone new to the chess world, this might sound strange. Aren't we supposed to measure a tournament's success by the number of players? I would say a clear NO! Yes, on a broader level we want chess to spread, we want every Indian and every human in the world to be able to play chess and appreciate it, but we do not want a fish market in a tournament! The lesser the players (and specially with lower limit cut-off), the stronger is the tournament. With lesser players, one tends to meet strong opposition everyday and even if one loses one round, one can win the next and make up for the rating loss and be back in the race. When there are hundreds of players, you lose a game and then you keep paying a big price for the next 3-4 rounds till you get to play against stronger opposition again!
The tournament had a new venue this year - the World Trade Centre with 25,000 square feet area- which meant good space for players and also for the guardians to wait while their little ones make the right moves! There was an Open Event going parallel to our GM event and I was surprised to see so many young girls taking part in it! It is very nice to see that chess is becoming a very important sport in Mumbai!
This year there were four events held in the "Mumbai festival"- Under 13, GM, Open and a blitz. India's pride, and our one and only Viswanathan Anand, is the patron of the event and the simul by Anand on the last day to the youngsters adds a special colour to the event! Next year there is going to be an extra addition, a women's event, as told by Praful and we will really look forward to that one!
What could be improved for the next edition? Probably the addition of a wall clock somewhere in the tournament hall! Watches and cell phones are not allowed in chess tournaments, so a wall clock is a necessity.

What was my kuch bhi ho sakta hai (anything can happen) moment in the tournament? I was leading among the women after the penultimate round but lost the last round to GM Atilla Czebe of Hungary. I was sad that I lost the first women prize of Rs.75,000 and will end up getting no prize! I thought that the loss had pushed me far behind in the ranking. Later my good friend Mrs. Bhagyashree Thipsay gave me the good news that I won the 3rd prize among women. I was richer by Rs.25,000/-. Another reason to thank the prize structure!
The best women prize winners (photo taken from the facebook page of the organisers). WIM Varshini played an excellent tournament, made a WGM norm and deservingly won the best woman prize. My good friend WGM Sarvinoz Kurbonboeva of Uzbekistan won the second prize and yours faithfully, the third! We are with the pillars of Indian chess by our sides, Sri Bharat Singh Chauhan and Sri D.V. Sundar. Both of them have worked very hard to make chess and chess players reach where they are today.
IM Rishi Sardana from Australia won the GM event. I am hoping that more organisers in India conduct such tournaments for us with a rating cut-off and with a limit to the total number of players. If we have many such tournaments in India, it will save a couple of lakhs of my bank balance which I spend in trips abroad every year! I am back in my house in Kolkata but I miss the warm Mumbai and the warmth of the people there! I look forward to the next edition of the tournament in December this year with even greater participation of our top women players!
Rishi Sardana wins the 4th IIFLW Mumbai 2018-19 edition:
By IM Sagar Shah
The IIFLW 2018-19 was keenly contested right until the final moments of the last round. It seemed to everyone that GM Tran Tuan Minh who was leading the tournament throughout the event would come out on top, but he had to settle for the second spot. The top prize went to IM Rishi Sardana of Australia who also scored his maiden GM norm.
Final rankings
Rk.
SNo
Name
sex
FED
Rtg
Club/City
Pts.
TB1
TB2
TB3
TB4
TB5
K
rtg+/-
1
30
IM
Sardana Rishi
AUS
2398
AUS
7,0
0,0
47,0
51,0
38,75
6
10
25,1
2
7
GM
Tran Tuan Minh
VIE
2524
VIE
7,0
0,0
46,5
50,5
37,50
6
10
12,8
3
6
GM
Puranik Abhimanyu
IND
2544
MAH
7,0
0,0
43,5
47,5
37,00
5
10
2,1
4
14
IM
Gukesh D
IND
2466
TN
7,0
0,0
43,5
47,0
36,25
6
10
12,4
5
13
GM
Rahman Ziaur
BAN
2468
BAN
6,5
0,0
44,5
48,5
34,50
5
10
10,9
6
5
GM
Deepan Chakkravarthy J.
IND
2550
ICF
6,5
0,0
43,5
47,5
32,75
5
10
-1,0
7
2
GM
Rozum Ivan
RUS
2589
RUS
6,5
0,0
43,0
47,5
33,50
4
10
-5,7
8
11
IM
Visakh N R
IND
2491
TN
6,5
0,0
42,5
45,5
29,50
5
10
9,1
9
25
GM
Laxman R.R.
IND
2436
ICF
6,5
0,0
42,0
45,5
31,50
5
10
0,6
10
20
IM
Shyaamnikhil P
IND
2448
ICF
6,5
0,0
42,0
45,5
30,75
5
10
1,2
11
18
IM
Khusenkhojaev Muhammad
TJK
2455
TJK
6,5
0,0
40,0
44,5
32,00
5
10
-3,6
12
16
GM
Deviatkin Andrei
RUS
2464
RUS
6,5
0,0
38,0
41,5
29,25
5
10
-2,9
13
28
IM
Muthaiah Al
IND
2408
TN
6,0
0,0
47,0
51,5
32,25
4
10
17,7
14
1
GM
Aleksandrov Aleksej
BLR
2590
BLR
6,0
0,0
44,5
48,5
29,75
4
10
-10,2
15
8
GM
Mosadeghpour Masoud
IRI
2520
IRI
6,0
0,0
42,5
46,5
28,50
5
10
-9,7
16
12
IM
Gajek Radoslaw
AUT
2475
AUT
6,0
0,0
41,5
45,5
28,75
4
10
-5,0
17
29
IM
Rajesh V A V
IND
2402
TN
6,0
0,0
40,0
43,5
28,25
3
10
5,8
18
24
IM
Mohammad Nubairshah Shaikh
IND
2437
MAH
6,0
0,0
40,0
43,5
26,25
5
10
-3,4
19
36
IM
Rathnakaran K.
IND
2366
RLYS
6,0
0,0
39,5
43,5
27,00
6
10
2,2
20
19
IM
Das Sayantan
IND
2453
WB
6,0
0,0
38,0
41,5
26,25
5
10
-8,8
For any tournament organizer, one of the yardsticks to measure the success of his/her tournament is by the number of players who have achieved their norms. At the IIFLW 2018-19 there were five players who achieved their norms:
GM norm - Rishi Sardana
IM norm - Aditya Mittal
IM norm - Saurabh Anand
WGM norm - V. Varshini
WIM norm - Trisha Kanyamarala
This was a big success for the entire IIFLW team as well as the tournament director Praful Zaveri. Making the tournament an above 2100 Elo event would have surely affected the number of entries at his event, but it has helped five Indian players to achieve their norms.
Under-13 section:
The flagship event is definitely the under-13 section, which is world's highest prize money junior (under-13) event. The first prize was Rs.2,00,000 and the event was keenly contested. Have a look at the top seeds of the tournament:
About the author: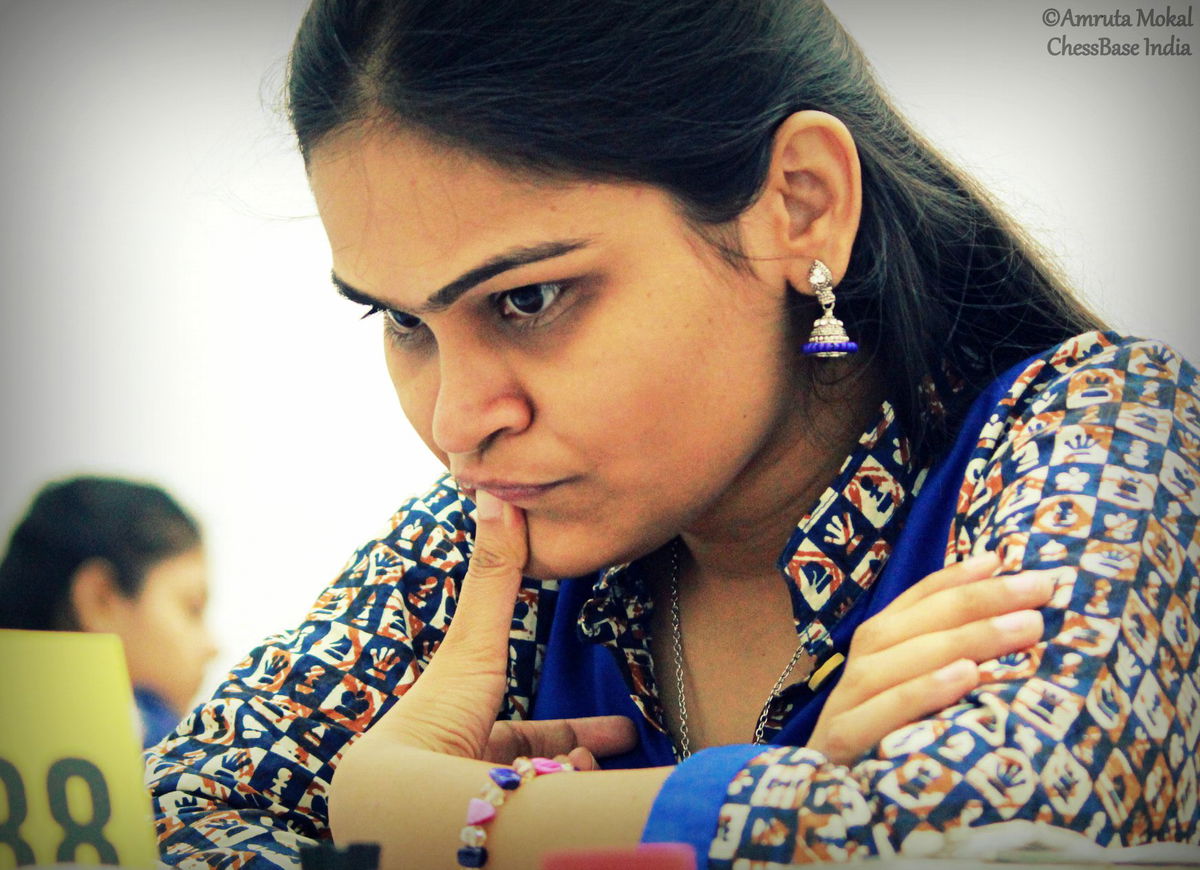 Nisha started playing chess at the age of seven. She became India's youngest WIM in 1995 and India's fourth WGM in 2003. Since February 2011 she is a full IM – her highest ever Elo rating was 2416. Nisha has represented India in 25 countries. Her accomplishments include qualifying for the 2001 and 2008 Women World Chess Championships as well as playing for India in 2004, 2008 and 2010 (Women) Olympiads. She won the Indian National Women Premier title in 2005. Nisha's first love, chess, helps her continue her other passion: writing, photography and travelling. She also loves to learn foreign languages and has a diploma in Spanish, which she wants to master in future! She is employed with Oil India Limited (OIL), a petroleum company, as a sportsperson.
For all those who would like to hear more words of wisdom from Nisha, make sure that you have a look at the ChessBase DVD by her on " Strengthen your chess foundation" from the ChessBase India shop. If you would like to get a glimpse of how she teaches, here's a short video:
---