Nisha Mohota explores her creative side with her mom
IM and WGM Nisha Mohota is an accomplished chess player. She has won multitude of accolades and represented the country in numerous occasion at Olympiad, Women's World Championship, Asian and World Team events. She has also won the National Women's Premier title in 2005. She was the youngest WIM in the country back in 1995 and held the record till 1999 when Humpy broke it. She is also the first WGM from Kolkata, West Bengal. On 24th of April Nisha conceived the idea to make the video on Chess Basics and released it on her mom's 64th birthday on 29th April, to make sure people utilize this downtime due to Covid-19 in a good way. Learn how Chess Basics with Mom came into fruition in this article. Photo: Nisha Mohota
Reigniting chess love among Senior Citizens
Nisha Mohota became the youngest WIM of India back in 1995 and she held the record for four years till Humpy broke it. She has competed in the Women's World Championship in 2001 and 2008. She won the National Women's Premier Championship in 2005. The youngest of the Mohota sisters represented India at the Olympiad in 2004, 2008 and 2010. She has represented the country in countless Asian individual, Asian and World Team events. She became a WGM in 2003 and IM in 2011. She is the first WGM from Kolkata, West Bengal. It is evident that Nisha Mohota has a lot of accolades to her name. When she decided to start a series on her youtube channel, you can be rest assured that she has put a lot of thought and effort to it. Something which is going to be valuable for someone who is (re)starting to learn chess.
When I saw that she completed the series, I decided to ask her a few questions about it. Since it would be great to know her entire thought process behind it.
Shahid Ahmed (SA): What was the inception behind the series?
Nisha Mohota (NM): A couple of things came together as inspiration/motivation for this series.
a) The Covid scare - Covid-19 has shaken all of us, right? I am no exception! I was very worried in the month of March due to this new virus which had shaken humanity! The lockdown had not started in India but deep within me I knew the danger way ahead (may be as I am used to prophylaxis in chess!). I was in touch with friends and relatives abroad and was very concerned about the situation. I wished I could do something to help people, it was the first time I wished that I was a doctor and not a chess player as then I could help people! I felt very helpless! I spent a lot of my time on phone with my near and dear ones and realised that it was specially a hard time for senior citizens and kids - to be not able to step out. Around that time I was watching the TV serials Ramayan and Mahabharat and both taught me one important thing- karma and dharma - basically I realised that I must do my duties, I must do things which are in my control without worrying about things not in my control! Meanwhile after spending many days worrying about the situation, I started doing my regular chess practice with friends. It served two purpose - I was connected with chess and friends and I started feeling better! Chess was like my meditation, helped me relax!
b) Good time to learn chess - Due to Covid the schools were shut and parents were looking for ways to keep their kids glued to something for some time! Some did ask me about chess and I tried to look for material on Youtube for learning chess but my limited search ability did not allow me to get what I was looking for.
c) Curiosity on making videos - I have always been curious as to how people make videos! A good friend of mine, Niranjan Navalgund, had told me sometime back this year that I should try streaming and for some reason he believed that I would do it very well! On 23rd of April, he helped me immensely with the setup after which I could explore and make videos or stream.
d) The spontaneous idea - It was the 24th of April. Mom's 64th birthday was on the 29th of April. 64 is very special for me and I guess for all the chess players too due to the 64 squares of the board. Immediately after I had the setup ready in my computer, this thought came to my mind very spontaneously - I wondered whether I could make a video on chess basics with the help of mom and release all the videos in Youtube for everyone as a gift on mom's birthday! Mom had always wanted to do something of her own, so when I gave her this idea of making videos which would help others learn chess basics, she immediately agreed! I decided to do a trial recording of a video with Mom. We recorded spontaneously, no preparations by me or mom! Mom had no clue what I was gonna ask her, but she sportingly sat for the recording. We recorded the first video and saw. We liked it and I sent the video to Niranjan (he is someone I am very thankful to for all the help!) to get a second opinion. He saw it with his mother and gave a very encouraging feedback! The trial video became the first video of my series! This new adventure thus started!
SA: We are aware of your ChessBase DVD titled 'Strengthen your Chess Foundation'. So what was the reason for choosing Chess Basics out of all possible topics?
NM: Strengthen your chess foundation is for youngsters who already know the game, it is for a solid foundation. I will say that the DVD can be used by players below 2000. On the other hand, through this video series, Chess Basics with Mom, the idea is to teach chess to people who have never touched chess in their life. The idea is to introduce people to this beautiful world of chess! People have the time now, people have the willingness to learn chess now, and this is one sport which can be played through internet while maintaining social distancing! I just decided to do my part. As I mentioned earlier, chess acted as my meditation and helped me relax during these difficult days, so I hope it will help others too!
SA: Who are the target audience in this series?
NM: In general anyone wanting to learn chess from scratch can learn through this video series but I specially want senior citizens to learn chess and remain mentally fit. My aim is not to make champions - I want to be helpful to people who want to keep themselves intellectually engaged through chess for mental fitness. I feel that mom being in the video and making mistakes and still learning/re-learning chess will encourage other senior citizens to learn chess. This post in my FB while posting the final video answers the question better... - "I kept telling from day 1 that this project is for the senior citizens because I want chess to be played not just for this rat race to become number one in it, I think the bigger potential of chess is that it is a mental gym. There is a hype that chess players are super intelligent and although this gives chess and chess players a great status, it also drives the common man away from chess! Look at me, I am an example that you don't have to be super intelligent to be a WGM or an IM. Chess helps people to keep their brains active and I think this is important for people of all ages. Since the Covid threat started occupying my mind, I realised that nothing is more important for people than health, be it physical or mental. So I decided to contribute a small bit to society so that everyone can be active mentally while enjoying my favorite game!"
I want to mention an incident when I was in France in 2018 (I have mentioned this in my videos also). I met a senior citizen in France. He was playing a tournament, enjoying chess, although I did not see him become a great player in the near future. On the other hand he was a very accomplished person in some other field in life. I asked him what was his interest in playing chess. His answer was very interesting - "I play chess so that I don't get Alzheimer's in future!" His answer really made an impression in my mind. Chess could also be played for other reasons, not just to be the number one! Probably this explains my target audience - senior citizens!
SA: We know that your father and sister are chess professionals, did you mother also used to play chess professionally at some point?
NM: My dad used to play chess tournaments till 1975 and the same year he got married. He was very passionate about chess. After marriage, family members told mom that dad gets so engrossed in chess at times that even if you lock him in one room with a chessboard, he does not realise it! This made mom curious and when she went to visit her maternal house after marriage, she learnt the basics of chess from her music teacher! So technically mom learnt chess before we were born but as she does not get a chance to touch the chess board for years at a stretch, she forgets lots of stuff. Mom has been a homemaker and even friendly games with dad have taken place quite rarely. She has never played any tournament but she is the one who brought my elder sister Swati Mohota and me to this wonderful world of chess (Dad had just taught us chess as a pastime at home but mom insisted in 1988 that we make a debut in The Telegraph School's Chess Championship! That tournament changed our life!).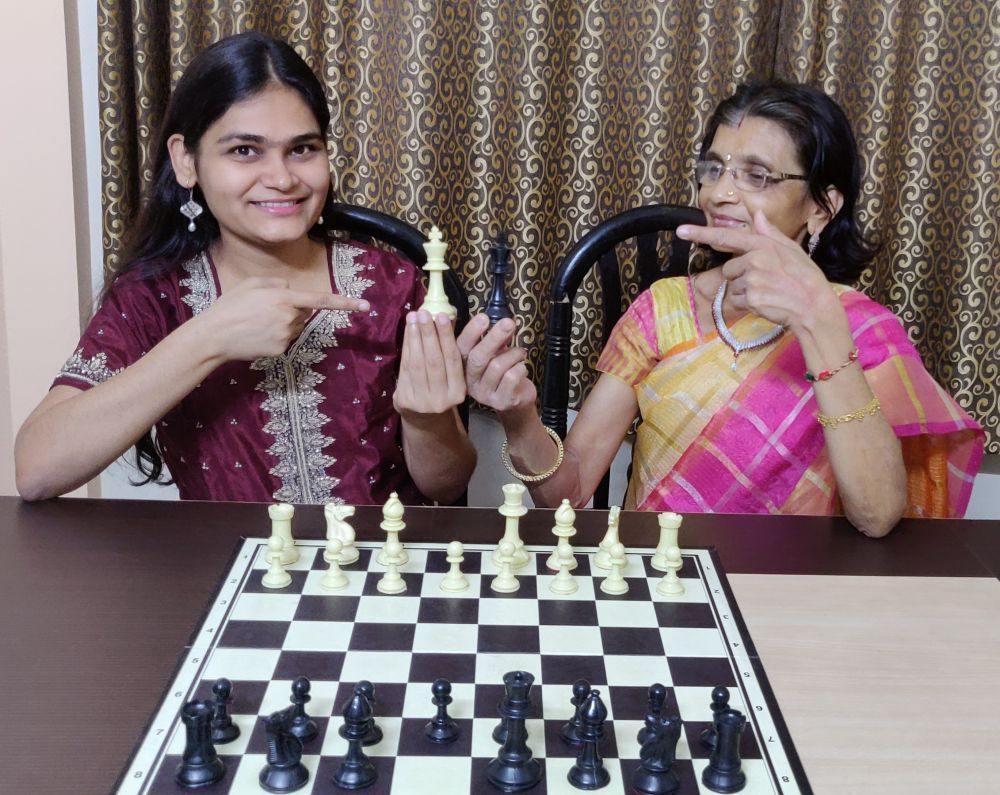 Also, mom had never before seen chess in a computer and many things like notation etc., were new to her before we started this series! That is why I was very happy when she agreed to learn/re-learn in front of the camera! I never told her the topic of the recording as I wanted to keep it very natural.
SA: How easy or difficult it was to make nine videos and publish them within a month?
NM: This FB post when posting the last video answers it - "Hi Friends! I am very happy today as I uploaded the final part of my video series with mom in my Youtube! This I take as a personal accomplishment as teaching the basics of chess is the most challenging thing for me! Teaching advanced level obviously comes naturally to me but teaching the absolute basics was something not easy, so I am happy to have done it! When this idea of this series came to my mind, I was thinking that I will come out with the complete package of all the videos in one go on Mom's birthday on 29th April. A few recordings did not get over before the start, so I changed my plan and later realised that making the last few parts of this series was not easy! Recording was obviously not a big deal, I am not camera shy in general, but I felt some visuals were required to clarify some topics and that really took a lot of time, specially as I was learning things and doing. My close friends know that when I do something, I try to give it my 100%. I have tried to do my best to make learning chess easy and understandable for freshers. This project took me exactly one month - I casually recorded the first video on 24th April (a very spontaneous decision to do the recording as a trial and ultimately I decided to publish it to keep everything natural) and today was the final day that I worked on it - so dot 24th to 24th! Today also happens to be my favorite Mamaji's (Maternal Uncle's) Marriage Anniversary, so I thought it would be good to start the project on Mom's birthday and to take out the last part on Mamaji-Mamiji's anniversary! My Mamaji was the one who went with my mom back in 1988 to enroll didi (My elder sis) and my name in our first ever chess tourney!"
P.S. - My dad and sister, Swati Mohota, helped me with their suggestions on how to explain some concepts as they are more used to teaching the beginners. So after recording, I showed my videos to dad and he would suggest for e.g. to show things through some visual effects. That is why my 7th and 9th (final) video took me a lot of time as papa felt that I should show some slides and I had to put in a lot of effort on it. I enjoyed lot of things related to giving some visual effects and I enjoyed the learning process!
SA: Will there be another series on a different topic?
NM: I am not really sure! I might take out one video in 15 days so that I don't forget all the technical stuff I learnt while making this video series! But right now I am not sure... maybe if there is a public demand!
I must add here - This project has kept my mind away from the worries of Corona! I have been in my own world - just focusing on the video-making and learning the technicalities! It has been a lovely journey and as this project is with my mom, it will always be close to my heart!
Links
Subscribe to Nisha Mohota's Youtube channel
---