Rupam, Anwesh and Siddhant Gawai are the winners at 15th G H Raisoni Memorial Chess Festival 2022
by Shahid Ahmed - 14/07/2022
Rupam Mukherjee scored an unbeaten 9/10 to win 15th G H Raisoni Memorial Rating Open 2022. He finished a half point ahead of the field. IM Anwesh Upadhyaya scored an unbeaten 8.5/10 to secure second position. He also won the Rapid Rating Open scoring 8.5/9 and finished second in the Blitz Rating Open with the same score. 14-year-old Siddhant Gawai scored 8/10 to secure third place according to tie-breaks in the Classical event. He also won the Blitz event scoring 8.5/9. Total prize fund combining all three tournaments was ₹400000. Top three prizes in the Classical were ₹50000 and a trophy, ₹30000 and ₹25000.
Rupam wins Classical, Anwesh Rapid and Siddhant Gawai Blitz Rating Open
15-year-old Lad Mandar Pradip and Sumedh Ramteke scored 8/9 each. They were placed second and third in the Rapid Rating. Top three prizes in the Rapid event were ₹21000 and a trophy, ₹10000 and ₹5000. Lad Mandar Pradip also secured third place in the Blitz event with the same score 8/9. Top three finishers in the Blitz won a trophy each, the champion won a DGT Clock.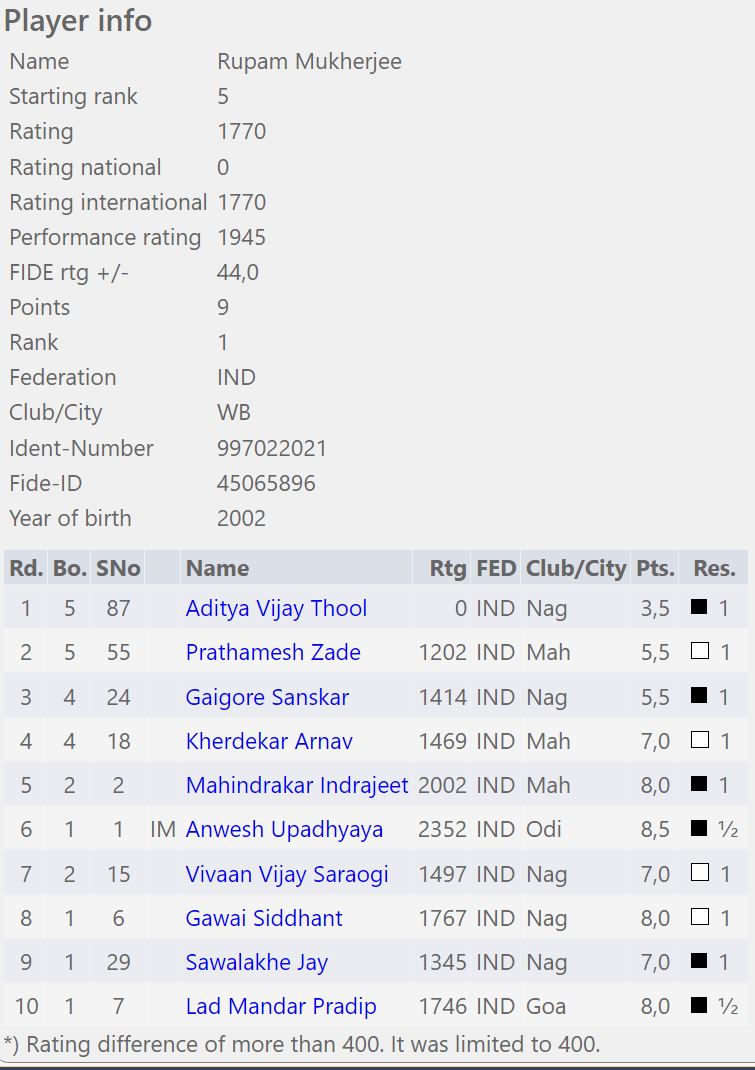 A total of 161 in the Classical, 341 in the Rapid and 259 players in the Blitz including an IM took part in this eight-day three Rating tournaments in three formats of the sport. The events were organized by G H Raisoni Sports and Cultural Foundation and Kalpana Prakash Welfare Foundation in Nagpur, Maharashtra from 25th June to 2nd July 2022. The time control for the Classical, Rapid and Blitz Rating Open were 90 minutes + 30 seconds, 15 minutes + 5 seconds and 3 minutes + 2 seconds increment each respectively.
Final standings in Classical
| | | | | | | | | | | | | | | |
| --- | --- | --- | --- | --- | --- | --- | --- | --- | --- | --- | --- | --- | --- | --- |
| Rk. | SNo | | Name | Typ | sex | FED | Rtg | Club/City | Pts. | TB1 | TB2 | TB3 | TB4 | TB5 |
| 1 | 5 | | Rupam Mukherjee | | | IND | 1770 | WB | 9,0 | 64,0 | 67,5 | 59,75 | 0,0 | 8 |
| 2 | 1 | IM | Anwesh Upadhyaya | | | IND | 2352 | Odi | 8,5 | 65,5 | 69,5 | 57,00 | 0,0 | 7 |
| 3 | 6 | | Gawai Siddhant | U15 | | IND | 1767 | Nag | 8,0 | 63,5 | 66,5 | 49,75 | 0,0 | 7 |
| 4 | 2 | | Mahindrakar Indrajeet | | | IND | 2002 | Mah | 8,0 | 63,0 | 65,5 | 49,75 | 0,0 | 7 |
| 5 | 7 | | Lad Mandar Pradip | | | IND | 1746 | Goa | 8,0 | 58,5 | 61,5 | 42,00 | 0,0 | 6 |
| 6 | 122 | | Nihaan Pohane | U11 | | IND | 0 | Vid | 7,5 | 53,5 | 58,0 | 41,50 | 0,0 | 6 |
| 7 | 66 | | Badole Shaunak | U11 | | IND | 1139 | Nag | 7,5 | 53,5 | 57,0 | 41,75 | 0,0 | 6 |
| 8 | 4 | AGM | Kiran Panditrao | S55 | | IND | 1798 | Mah | 7,0 | 61,0 | 65,5 | 43,00 | 0,0 | 7 |
| 9 | 120 | | Mradul Yadav | U15 | | IND | 0 | Nag | 7,0 | 60,0 | 66,0 | 44,75 | 0,0 | 5 |
| 10 | 15 | | Vivaan Vijay Saraogi | U11 | | IND | 1497 | Nag | 7,0 | 60,0 | 64,5 | 35,00 | 0,0 | 7 |
| 11 | 18 | | Kherdekar Arnav | | | IND | 1469 | Mah | 7,0 | 59,0 | 62,0 | 37,00 | 0,0 | 7 |
| 12 | 21 | | Saksham Singh | U15 | | IND | 1458 | Nag | 7,0 | 58,0 | 62,0 | 41,50 | 0,0 | 4 |
| 13 | 23 | | Pranay Akula | U13 | | IND | 1428 | Tel | 7,0 | 57,0 | 60,0 | 37,75 | 0,0 | 5 |
| 14 | 10 | | Suthar Pradip | | | IND | 1621 | Mah | 7,0 | 56,5 | 60,5 | 36,75 | 0,0 | 6 |
| 15 | 19 | | Khedkar Prasad | | | IND | 1467 | Mah | 7,0 | 56,0 | 59,0 | 37,00 | 0,0 | 7 |
Final standings in Rapid
| | | | | | | | | | | | | | | |
| --- | --- | --- | --- | --- | --- | --- | --- | --- | --- | --- | --- | --- | --- | --- |
| Rk. | SNo | | Name | Typ | sex | FED | Rtg | Club/City | Pts. | TB1 | TB2 | TB3 | TB4 | TB5 |
| 1 | 1 | IM | Anwesh Upadhyaya | | | IND | 2348 | Odi | 8,5 | 54,5 | 59,5 | 55,75 | 0,0 | 8 |
| 2 | 17 | | Lad Mandar Pradip | | | IND | 1513 | Goa | 8,0 | 53,5 | 57,5 | 49,00 | 0,0 | 8 |
| 3 | 38 | | Ramteke Sumedh | | | IND | 1392 | Nag | 8,0 | 51,0 | 55,0 | 48,00 | 0,0 | 8 |
| 4 | 16 | | Gawai Siddhant | U15 | | IND | 1514 | Nag | 7,5 | 52,0 | 55,0 | 43,75 | 0,0 | 7 |
| 5 | 3 | FM | Thakur Akash | | | IND | 2136 | Mah | 7,5 | 51,0 | 55,0 | 43,75 | 0,0 | 7 |
| 6 | 15 | | Kherdekar Arnav | | | IND | 1535 | Mah | 7,5 | 49,0 | 53,0 | 44,25 | 0,0 | 7 |
| 7 | 47 | | Gaigore Sanskar | U13 | | IND | 1345 | Nag | 7,5 | 43,5 | 47,0 | 39,75 | 0,0 | 7 |
| 8 | 6 | | Mahindrakar Indrajeet | | | IND | 1844 | Mah | 7,0 | 55,0 | 58,0 | 42,00 | 0,0 | 7 |
| 9 | 30 | | Chandwani Prateek | | | IND | 1438 | MP | 7,0 | 52,0 | 55,0 | 39,00 | 0,0 | 7 |
| 10 | 9 | | Krishna Karthik N | | | IND | 1661 | Tel | 7,0 | 51,5 | 54,0 | 38,50 | 0,0 | 6 |
| 11 | 77 | | Sabir Adnan | | | IND | 1219 | Nag | 7,0 | 49,5 | 52,5 | 37,50 | 0,0 | 7 |
| 12 | 8 | | Nichat Aditya | | | IND | 1730 | Mah | 7,0 | 49,0 | 51,5 | 37,25 | 0,0 | 6 |
| 13 | 31 | | Prerak Jayant Darvekar | U15 | | IND | 1417 | Nag | 7,0 | 48,5 | 53,0 | 39,00 | 0,0 | 7 |
| 14 | 27 | | Vivaan Vijay Saraogi | U11 | | IND | 1454 | Nag | 7,0 | 48,0 | 51,5 | 39,25 | 0,0 | 6 |
| 15 | 12 | | Devansh Ratti | | | IND | 1577 | Nag | 7,0 | 47,5 | 52,0 | 37,50 | 0,0 | 7 |
| 16 | 32 | | Nihaan Pohane | U11 | | IND | 1406 | Mah | 7,0 | 47,5 | 51,0 | 37,00 | 0,0 | 6 |
| 17 | 10 | | Gade Bhupesh | | | IND | 1615 | Nag | 7,0 | 46,0 | 49,5 | 35,00 | 0,0 | 7 |
| 18 | 62 | | Chandrani Shlok | U15 | | IND | 1257 | Mah | 7,0 | 45,0 | 48,0 | 35,00 | 0,0 | 6 |
| 19 | 46 | | Tahilianey Dhruv | | | IND | 1349 | Mah | 7,0 | 43,5 | 46,0 | 34,25 | 0,0 | 6 |
| 20 | 49 | | Wadhwani Kapil | | | IND | 1312 | Mah | 7,0 | 38,5 | 41,0 | 32,00 | 0,0 | 7 |
Final standings in Blitz
| | | | | | | | | | | | | | | |
| --- | --- | --- | --- | --- | --- | --- | --- | --- | --- | --- | --- | --- | --- | --- |
| Rk. | SNo | | Name | Typ | sex | FED | Rtg | Club/City | Pts. | TB1 | TB2 | TB3 | TB4 | TB5 |
| 1 | 6 | | Gawai Siddhant | U15 | | IND | 1811 | Mah | 8,5 | 56,0 | 60,0 | 55,75 | 0,0 | 8 |
| 2 | 1 | IM | Anwesh Upadhyaya | | | IND | 2325 | Odissa | 8,5 | 54,0 | 59,0 | 55,25 | 0,0 | 8 |
| 3 | 18 | | Lad Mandar Pradip | | | IND | 1528 | Goa | 8,0 | 51,5 | 53,5 | 45,00 | 0,0 | 8 |
| 4 | 3 | | Mahindrakar Indrajeet | | | IND | 2060 | Mah | 8,0 | 50,5 | 54,5 | 48,00 | 0,0 | 8 |
| 5 | 76 | | Patil Akshaj | U15 | | IND | 1177 | Mah | 7,5 | 50,0 | 51,5 | 41,25 | 0,0 | 7 |
| 6 | 38 | | Ramteke Sumedh | | | IND | 1345 | Mah | 7,5 | 45,0 | 48,0 | 39,75 | 0,0 | 7 |
| 7 | 9 | | Krishna Karthik N | | | IND | 1672 | Tel | 7,0 | 53,5 | 58,5 | 42,00 | 0,0 | 7 |
| 8 | 4 | AGM | Kiran Panditrao | S55 | | IND | 2033 | Mah | 7,0 | 52,5 | 56,5 | 38,00 | 0,0 | 7 |
| 9 | 81 | | Badole Shaunak | U11 | | IND | 1154 | Mah | 7,0 | 51,0 | 54,0 | 39,00 | 0,0 | 7 |
| 10 | 7 | | Nichat Aditya | | | IND | 1730 | Mah | 7,0 | 49,5 | 53,0 | 38,50 | 0,0 | 7 |
| 11 | 19 | | Chandwani Prateek | | | IND | 1517 | MP | 7,0 | 49,0 | 51,5 | 36,50 | 0,0 | 7 |
| 12 | 42 | | Tahilianey Dhruv | | | IND | 1331 | Mah | 7,0 | 48,0 | 52,5 | 37,50 | 0,0 | 7 |
| 13 | 57 | | Nihaan Pohane | U11 | | IND | 1248 | Mah | 7,0 | 46,0 | 49,0 | 34,00 | 0,0 | 7 |
| 14 | 262 | | Vedant Nege | U15 | | IND | 0 | Mah | 7,0 | 44,0 | 46,5 | 30,00 | 0,0 | 7 |
| 15 | 83 | | Chaudhary Bhavik | U15 | | IND | 1146 | Mah | 7,0 | 44,0 | 46,5 | 29,50 | 0,0 | 7 |
| 16 | 85 | | Vishwaditya Awasthi | U11 | | IND | 1144 | MP | 7,0 | 43,5 | 46,5 | 34,00 | 0,0 | 7 |
| 17 | 28 | | Sawalakhe Jay | U15 | | IND | 1399 | Mah | 7,0 | 43,0 | 46,5 | 35,00 | 0,0 | 6 |
| 18 | 31 | | Awghad Shyam | | | IND | 1372 | Mah | 7,0 | 41,0 | 44,5 | 34,50 | 0,0 | 7 |
| 19 | 8 | | Himanshu S Chhabra | | | IND | 1688 | Mah | 6,5 | 52,0 | 57,0 | 38,75 | 0,0 | 6 |
| 20 | 75 | AIM | Kanwar Raj Singh Sodhi | | | IND | 1180 | Delhi | 6,5 | 51,5 | 56,0 | 38,75 | 0,0 | 6 |
---