Laxman wins All India Rapid Rating at Nagpur
Top seed GM Laxman R R of ICF scored an unbeaten 8.0/9 to win All India Rapid Rating at Nagpur, Maharashtra. Local player FM Shailesh Dravid of Nagpur also finished at 8.0/9, however since he suffered a loss against the eventual champion in round 5, he was placed second. IM Nubairshah Shaikh scored 7.5/9 to secure third position. Total 218 players from nine different states across the nation participated in this two-day rapid rating tournament organized by Jai Sai Welfare Foundation at Nagpur, Maharashtra on 31st October and 1st November 2019. Total prize fund ₹302000 was distributed among the prize winners. Photo: IA Swapnil Bansod
Laxman wins his fifth tournament of the year
Ten days after winning Inter-Railway individual tournament, GM Laxman R R scored an unbeaten 8.0/9 to win All India Rapid Rating at Nagpur, Maharashtra.
Local lad FM Shailesh Dravid of Nagpur, Maharashtra scored eight wins and zero draws. His only loss of the tournament was against the eventual champion of the tournament, Laxman.
Three players finished at 7.5/9, out of them IM Nubairshah Shaikh had the best tie-break, thus he was placed third. He remained undefeated too.
The tournament was inaugurated by India's 65th and Nagpur's first GM Raunak Sadhwani. The eminent guests present were Mr. Dilip Kamdar, President NDCA, K K Barat, Secretary NDCA, Mr. R N Shriwas, Secretary VCA and also Mr. Bharat Sadhwani & Mrs. Heena Sadhwani (parents of Raunak Sadhwani), Tournament Organizing Secretary of Jai Sai Welfare Foundation and Mr. IA Swapnil Bansod, Chief Arbiter of Tournament.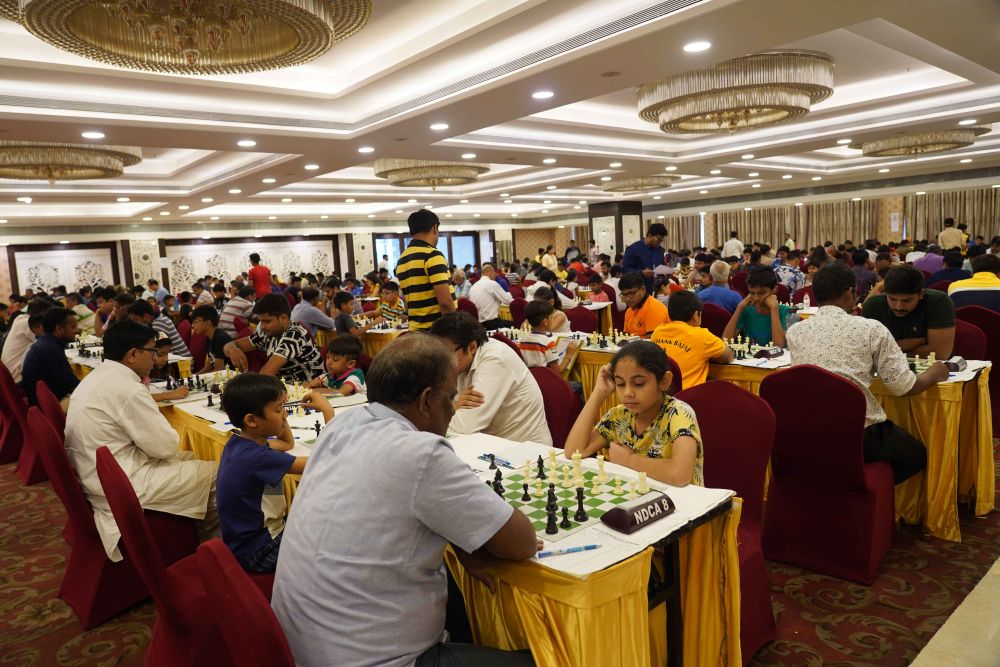 The Prizes were distributed by Mr. Piyush Ambulkar, Sport Department, Krida Sanskritik Officer, Other guests present were Mr. Manish Tiwari, Executive Naivedhyam North Star, FA Umesh Panbude Tournament Secretary NDCA, SNA Sushant Jumde, Organising Secretary and IA Swapnil Bansod Chief Arbiter.
The tournament was organized Jai Sai Welfare Foundation on 31st October and 1st November at Naivedhyam Northstar, Nagpur in Maharashtra. Total 218 players participated from nine different states across the nation. Total prize fun ₹302000 was distributed among the prize winners.
Final Standings
| | | | | | | | | | | | | | | | | | |
| --- | --- | --- | --- | --- | --- | --- | --- | --- | --- | --- | --- | --- | --- | --- | --- | --- | --- |
| Rk. | SNo | | | Name | Typ | sex | FED | Rtg | Club/City | Pts. | TB1 | TB2 | TB3 | TB4 | TB5 | K | rtg+/- |
| 1 | 1 | | GM | Laxman R.R. | | | IND | 2403 | ICF | 8,0 | 1,0 | 53,0 | 57,0 | 49,75 | 7 | 20 | 10,4 |
| 2 | 6 | | FM | Shailesh Dravid | | | IND | 2160 | MAH-N | 8,0 | 0,0 | 55,0 | 59,0 | 51,00 | 8 | 20 | 20,2 |
| 3 | 5 | | IM | Mohammad Nubairshah Shaikh | | | IND | 2198 | MAH | 7,5 | 0,0 | 52,5 | 57,5 | 46,25 | 6 | 20 | 30,0 |
| 4 | 3 | | IM | Sai Agni Jeevitesh J | | | IND | 2273 | TEL | 7,5 | 0,0 | 50,0 | 54,5 | 42,75 | 7 | 20 | 4,4 |
| 5 | 43 | | | Sawalakhe Jay | U09 | | IND | 1374 | MAH-N | 7,5 | 0,0 | 46,5 | 49,5 | 38,00 | 7 | 20 | 57,0 |
| 6 | 4 | | IM | Sankalp Gupta | | | IND | 2264 | MAH-N | 7,0 | 0,0 | 54,0 | 59,0 | 43,75 | 6 | 20 | 1,8 |
| 7 | 24 | | | Patil Priyanshu | | | IND | 1518 | MAH-N | 7,0 | 0,0 | 53,0 | 56,0 | 40,75 | 6 | 20 | 12,4 |
| 8 | 2 | | IM | Girinath P.D.S. | | | IND | 2310 | AP | 7,0 | 0,0 | 50,5 | 54,5 | 39,00 | 7 | 20 | -9,2 |
| 9 | 61 | | | Mudliyar Kshitij | U15 | | IND | 1267 | MAH-N | 7,0 | 0,0 | 49,5 | 52,5 | 37,50 | 7 | 20 | 70,4 |
| 10 | 9 | | | Suraj Jaiswal | | | IND | 1724 | MAH | 7,0 | 0,0 | 49,0 | 54,0 | 40,50 | 7 | 20 | -4,4 |
| 11 | 45 | | | Gawai Siddhant | U13 | | IND | 1356 | MAH-N | 7,0 | 0,0 | 48,5 | 49,5 | 35,25 | 6 | 20 | 59,8 |
| 12 | 8 | | | Vaibhav Jayant Raut | | | IND | 1748 | MAH-N | 7,0 | 0,0 | 45,5 | 49,5 | 36,00 | 7 | 20 | -14,4 |
| 13 | 12 | | | Saurabh Lokhande | | | IND | 1667 | MAH-N | 7,0 | 0,0 | 43,5 | 46,5 | 34,50 | 7 | 20 | -4,2 |
| 14 | 36 | | | Dhanvij Ansh | U13 | | IND | 1407 | MAH-N | 7,0 | 0,0 | 42,0 | 45,0 | 34,75 | 6 | 20 | 24,2 |
| 15 | 19 | | | Shanmukha Pulli | | | IND | 1581 | TEL | 6,5 | 0,0 | 48,0 | 51,5 | 33,25 | 6 | 20 | 16,0 |
| 16 | 50 | | | Gaigore Sanskar | U09 | | IND | 1313 | MAH-N | 6,5 | 0,0 | 46,5 | 50,5 | 34,25 | 6 | 20 | 61,0 |
| 17 | 69 | | | Piyush Narsikar | | | IND | 1223 | MAH | 6,5 | 0,0 | 45,0 | 48,0 | 30,25 | 6 | 20 | 40,4 |
| 18 | 119 | | | Chitre Arush | U09 | | IND | 1076 | MAH-N | 6,5 | 0,0 | 44,5 | 49,0 | 33,25 | 6 | 20 | 80,2 |
| 19 | 27 | | AGM | Shivasubramanian R | | | IND | 1494 | MAH-N | 6,5 | 0,0 | 44,0 | 48,0 | 32,50 | 6 | 20 | -13,2 |
| 20 | 59 | | | Krishna Taori | F13 | w | IND | 1270 | MAH-N | 6,5 | 0,0 | 44,0 | 47,0 | 31,75 | 5 | 20 | 44,8 |
---