Laxman wins Pearl City All India Open and a brand new Maruti Alto 800
Top seed of the tournament GM Laxman R R wins Pearl City All India Open 2019 by scoring 9.0/11. Two more players GM P Karthikeyan and IM Al Muthaiah also finished at the same score, however due to a better tie-break score Laxman clinched the championship, Karthikeyan and Muthaiah were placed second and third respectively. Laxman won a unique prize of Brand new Maruti Alto 800 Car along with a trophy and cash prize. Karthikeyan and Muthaiah's unique prizes were bike and laptop respectively. In this article we also learn about Laxman's performance through an interview. Photo: Chessplug
Top seed dominates at Pearl City, Hyderabad
GM Laxman R R has played various tournaments all over the world and this is his second tournament win of 2019, but for the first time he has won a unique prize of brand new Maruti Alto 800 which is quite rare in chess tournaments.
Are you wondering what Laxman is going to do with the brand new car he has won? Well you will find it out in the interview below.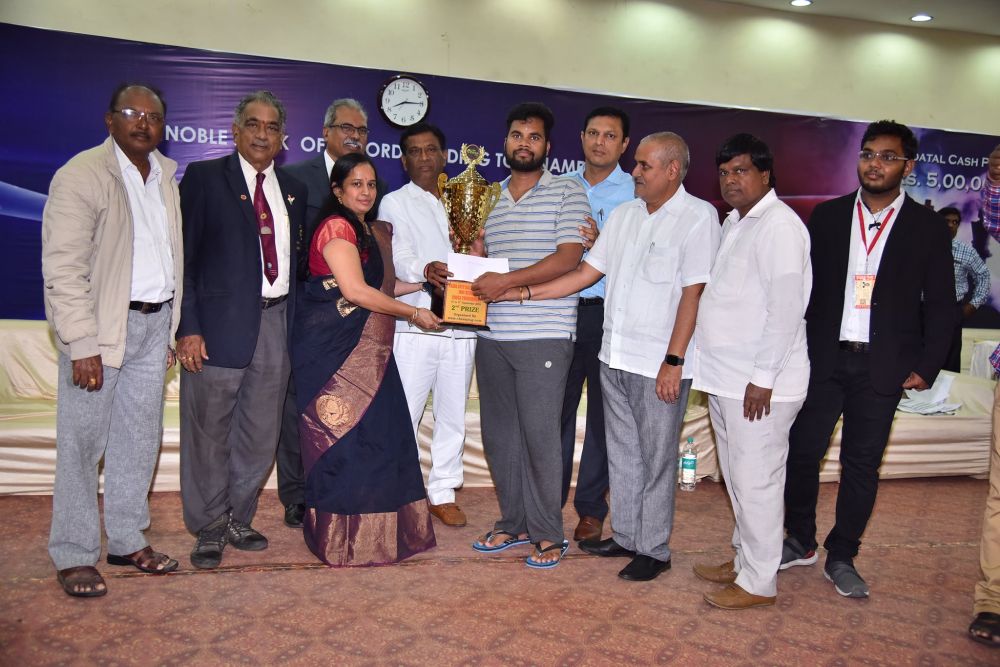 Laxman sent us an annotated game of his from the tournament.
I caught up with Laxman for an interview before he started playing his next tournament at Udaipur.
Shahid Ahmed (SA): How does it feel to win the tournament unbeaten?
Laxman R R (LRR): I always feel elated whenever I win an event of this stature and will cherish pleasant memories especially when I remained unbeaten throughout the course of the event.
SA: You have won a unique prize of a brand new car. Generally in chess tournaments, that is quite rare. What are you planning to do with it?
LRR: First of all I came to the event with the sole intention of winning the first prize of Alto car which I wanted to gift to my father Dr. N Rajaram who has an inexplicable fancy for all brands of cars. I elicited my best effort to produce this result.
SA: You have played various tournaments all over the world. What other unique prizes have you won?
LRR: I don't think I have won any other unique prize like this one. Wherever I go for chess events, I would get cash prizes and would benefit financially only. I feel this is a very commendable and appreciable gesture on the part of the organising team to gift a brand new Alto car to the winner.
SA: Statistically top seeds have a hard time winning the tournament. However you won it without any trouble, how did you manage to do that?
LRR: Although I was given the top billing at the start of the event, I never let pressure supercede my general confidence level when I played the games. I feel this is a basic necessity for a champion whether he is the top seed or not.
SA: Do you feel starting out as a top seed of the tournament, puts an automatic target on your back?
LRR: Yes starting as top seed does have a tendency to mount pressure. But being top seed also has its pros and cons. You will also subconsciously feel that you are worthy of getting the first prize and will work towards achieving the commendable feat.
SA: Who was the toughest opponent of the tournament?
LRR: The toughest rival was undoubtedly IM Mitrabha Guha rated 2414. I had a long gruelling battle with him where I finally emerged as the victor in the rook endgame.
SA: Eleven round tournaments have reduced a lot these days. Do you feel we should have more eleven round tournaments or less is also okay?
LRR: I think the number of rounds must depend on the number of players participating in the event. If the number of players is under 300 then nine or ten rounds is good enough. As it gives ample opportunities to make the player who plays the best in that event, emerge as the winner. Conversely if the number of players exceed 300 or 350, eleven rounds seem logical.
SA: You have scored seven wins and four draws. Was there any missed opportunity or a close match?
LRR: I wriggled out of a tenacious complex situation and managed to salvage a draw although I was not concretely worse at any point against IM Dhulipalla Prasad rated 2422.
Conversely I had a very nagging and pleasant edge against IM VAV Rajesh which I failed to convert into a well deserved victory, so ultimately luck evens out at some point.
SA: This is your second tournament victory of the year since 'Triple C All India Open'. Which performance would you rate higher?
LRR: I think this event would increase my level of confidence as I rate my performance here as superior to the Triple C event. Although I was leading the event for a long time, I was never complacent at any stage. Complacency factor is a major drawback and shortcoming which acts as a hindrance for sustained and prolonged success for a player in any sport...not only chess.
SA: What's next for you?
LRR: Even as I am writing this mail, I am already in Udaipur to participate in the Lake City Grandmasters event which gets underway from tomorrow, 13th of September 2019. After Udaipur, I have plans to proceed to Ahmedabad Grandmasters event too. So another two Grandmasters event in succession.
SA: Thank you Laxman for taking the time to answer all these questions. I wish you all the best in your future endeavors.
LRR: Thanks to you too.
Prize distribution ceremony photos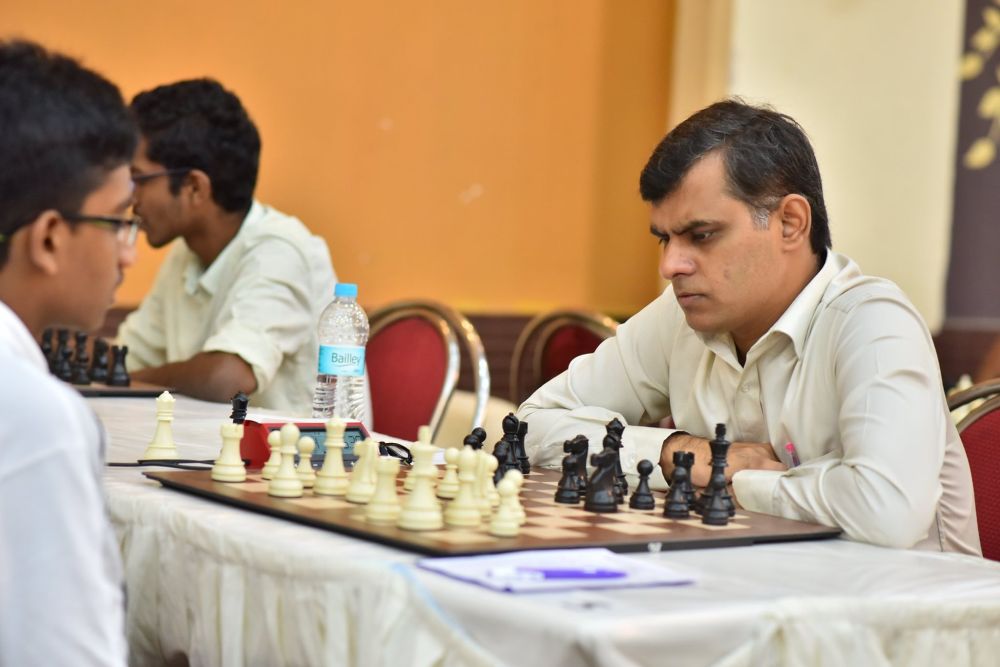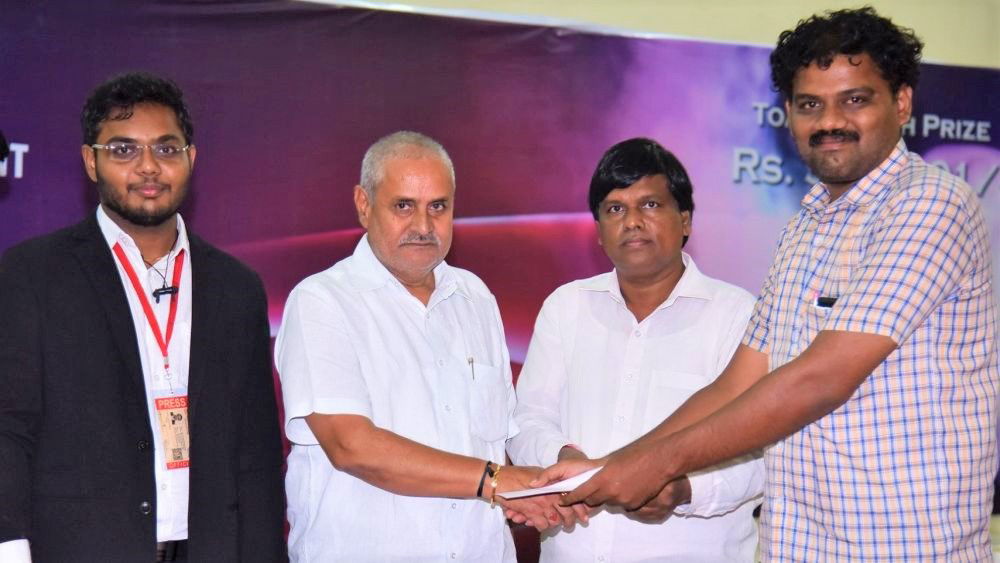 For more prize distribution ceremony photos, click here.
The tournament witnessed a total participation of 332 players including 3 GMs, 6 IMs from 14 different states and one union territory. It was organized by Chessplug from 6th - 11th September at Maruthi Gardens in Hyderabad, Telangana.
Final Standings
| | | | | | | | | | | | | | | |
| --- | --- | --- | --- | --- | --- | --- | --- | --- | --- | --- | --- | --- | --- | --- |
| Rk. | SNo | | Name | Typ | sex | FED | Rtg | Club/City | Pts. | TB1 | TB2 | TB3 | TB4 | TB5 |
| 1 | 1 | GM | Laxman R.R. | | | IND | 2437 | ICF | 9,0 | 0,0 | 80,0 | 84,5 | 67,50 | 7 |
| 2 | 6 | GM | Karthikeyan P. | | | IND | 2408 | ICF | 9,0 | 0,0 | 78,5 | 84,5 | 68,25 | 7 |
| 3 | 8 | IM | Muthaiah Al | | | IND | 2373 | TN | 9,0 | 0,0 | 77,0 | 83,0 | 66,50 | 8 |
| 4 | 7 | IM | Rajesh V A V | | | IND | 2389 | TN | 8,5 | 0,0 | 79,5 | 85,0 | 63,00 | 7 |
| 5 | 11 | | Kaustuv Kundu | | | IND | 2302 | Wes | 8,5 | 0,0 | 76,0 | 82,0 | 61,75 | 6 |
| 6 | 4 | FM | Mitrabha Guha | | | IND | 2414 | Wes | 8,5 | 0,0 | 76,0 | 82,0 | 60,25 | 8 |
| 7 | 3 | IM | Dhulipalla Bala Chandra Prasad | | | IND | 2422 | AP | 8,5 | 0,0 | 75,5 | 80,5 | 60,25 | 7 |
| 8 | 5 | GM | Himanshu Sharma | | | IND | 2408 | IT | 8,5 | 0,0 | 74,5 | 79,5 | 59,75 | 8 |
| 9 | 15 | | Ram S. Krishnan | | | IND | 2212 | TN | 8,5 | 0,0 | 74,0 | 79,5 | 59,50 | 7 |
| 10 | 18 | | Dhananjay S | | | IND | 2139 | Chh | 8,5 | 0,0 | 74,0 | 77,5 | 55,50 | 7 |
| 11 | 13 | | Senthil Maran K | | | IND | 2273 | TN | 8,5 | 0,0 | 73,0 | 78,5 | 59,25 | 6 |
| 12 | 20 | CM | Prraneeth Vuppala | U13 | | IND | 2123 | Tel | 8,5 | 0,0 | 73,0 | 78,5 | 57,75 | 8 |
| 13 | 14 | | Lokesh N. | | | IND | 2225 | TN | 8,5 | 0,0 | 72,5 | 77,5 | 57,25 | 8 |
| 14 | 9 | IM | Nitin S. | | | IND | 2361 | S Rlys | 8,5 | 0,0 | 72,0 | 77,0 | 57,00 | 7 |
| 15 | 21 | | Balkishan A. | | | IND | 2120 | Kar | 8,0 | 0,0 | 74,0 | 79,0 | 55,50 | 8 |
| 16 | 23 | | Manigandan S S | | | IND | 2103 | TN | 8,0 | 0,0 | 72,0 | 77,0 | 53,00 | 8 |
| 17 | 28 | | Ramakrishna Perumalla | | | IND | 1971 | AP | 8,0 | 0,0 | 71,5 | 77,0 | 52,50 | 7 |
| 18 | 19 | | Syed Anwar Shazuli | | | IND | 2137 | ICF | 8,0 | 0,0 | 71,5 | 75,5 | 51,00 | 7 |
| 19 | 30 | | Rishabh Nishad | | | IND | 1898 | UP | 8,0 | 0,0 | 68,5 | 74,0 | 50,50 | 8 |
| 20 | 45 | | Nidheshpa S | | | IND | 1753 | TN | 8,0 | 0,0 | 67,5 | 72,0 | 49,00 | 7 |
| 21 | 44 | | Katiyar Prashant | | | IND | 1754 | UP | 8,0 | 0,0 | 67,0 | 72,0 | 49,00 | 8 |
| 22 | 47 | | Sibi Srinivas Einstein | | | IND | 1751 | Tel | 8,0 | 0,0 | 66,0 | 70,5 | 47,50 | 8 |
| 23 | 2 | IM | Mohammad Nubairshah Shaikh | | | IND | 2434 | Mah | 7,5 | 0,0 | 77,5 | 82,5 | 52,75 | 7 |
| 24 | 12 | | Pradeep Kumar R A | | | IND | 2276 | TN | 7,5 | 0,0 | 75,0 | 80,5 | 52,00 | 6 |
| 25 | 22 | | Venkata Ramana J | | | IND | 2107 | Tel | 7,5 | 0,0 | 74,5 | 79,5 | 50,75 | 7 |
---