ChessBase DVDs helped Kaustuv win 1st Hyderabad Open
Top seed of the tournament Kaustuv Kundu scored an unbeaten 8.0/9 and finished a half point ahead of the pack of five players to win the tournament. Ram Prakash of Punjab scored 7.5/9 and he was placed second due to his better tie-break score and local lad Bharat Kumar Reddy Poluri of Telangana secured the third position. Total 274 players from all over the country participated in this tournament from 1st - 5th October 2019, organized by Prufer Logic and Sphoorthi Chess Academy. The total prize fund ₹310500 was distributed among the prize winners. This was the third consecutive open rating tournament in Hyderabad which makes the City of Pearls a chess destination for all chess players and enthusiasts. Photo: Kaustuv Kundu
Kaustuv becomes unbeaten champion by self-learning
Kaustuv wins his second tournament of the year by scoring an unbeaten 8.0/9 and winning 1st Hyderabad All India Open. His first open rating tournament win of the year was in Goa back in April. Kaustuv played three consecutive tournaments in Hyderabad and he managed to finish in top 10 in all of them.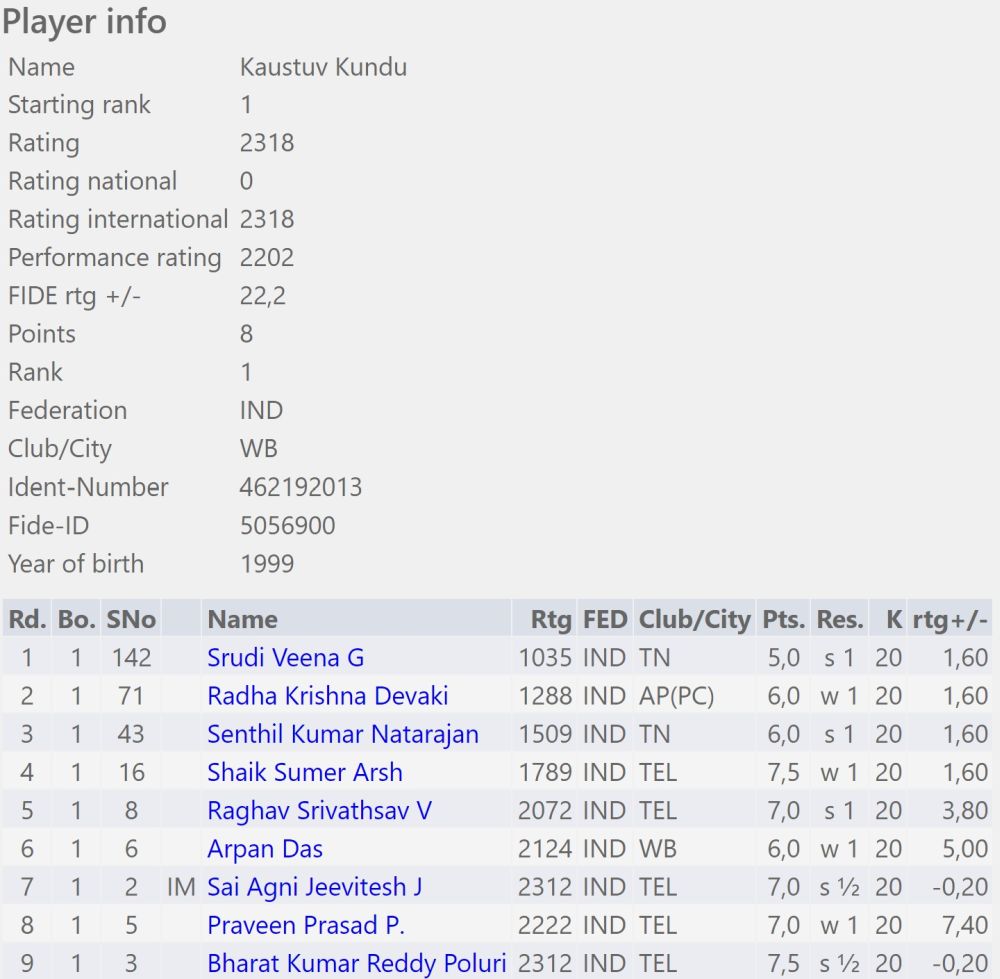 A quick interview with Kaustuv after he finished as the first runner-up in 57th West Bengal State Senior Open. That report will be published soon.
Here are a couple of annotated games by the champion himself at 1st Hyderabad Open 2019
Kaustuv also sent us his best game from 3rd Unique All India Open at Goa against Vinoth Kumar
Total 274 players participated from all over the country. The tournament was organized by Prufer Logic and Sphoorthi Chess Academy from 1st - 5th October 2019 at L B Stadium in Hyderabad.
Final Standings
| | | | | | | | | | | | | | |
| --- | --- | --- | --- | --- | --- | --- | --- | --- | --- | --- | --- | --- | --- |
| Rk. | SNo | | Name | Typ | FED | Rtg | Club/City | Pts. | TB1 | TB2 | TB3 | K | rtg+/- |
| 1 | 1 | | Kaustuv Kundu | | IND | 2318 | WB | 8,0 | 0,0 | 54,0 | 59,0 | 20 | 22,2 |
| 2 | 9 | | Prakash Ram | | IND | 2060 | PUN | 7,5 | 0,0 | 53,0 | 58,0 | 20 | 15,4 |
| 3 | 3 | | Bharat Kumar Reddy Poluri | | IND | 2312 | TEL | 7,5 | 0,0 | 53,0 | 57,5 | 20 | 4,0 |
| 4 | 4 | | Varun V | | IND | 2260 | TEL | 7,5 | 0,0 | 52,0 | 56,5 | 20 | -9,6 |
| 5 | 16 | | Shaik Sumer Arsh | U11 | IND | 1789 | TEL | 7,5 | 0,0 | 48,5 | 52,5 | 40 | 54,0 |
| 6 | 13 | | Mushini Ajay | | IND | 1943 | AP | 7,5 | 0,0 | 47,5 | 51,5 | 20 | 11,0 |
| 7 | 2 | IM | Sai Agni Jeevitesh J | | IND | 2312 | TEL | 7,0 | 0,0 | 54,0 | 58,0 | 10 | -2,5 |
| 8 | 5 | | Praveen Prasad P. | | IND | 2222 | TEL | 7,0 | 0,0 | 52,0 | 56,0 | 20 | 7,0 |
| 9 | 7 | FM | Ramakrishna J. | | IND | 2090 | Andhra Bank | 7,0 | 0,0 | 51,0 | 54,0 | 20 | -7,0 |
| 10 | 12 | | Kumar S. | | IND | 1950 | TN | 7,0 | 0,0 | 49,0 | 52,5 | 20 | 3,6 |
| 11 | 15 | | Shanmukha Pulli | | IND | 1823 | TEL | 7,0 | 0,0 | 48,0 | 50,0 | 20 | 3,0 |
| 12 | 8 | | Raghav Srivathsav V | | IND | 2072 | TEL | 7,0 | 0,0 | 47,5 | 52,0 | 20 | -11,0 |
| 13 | 14 | | Gajanan Vijay Jayade | | IND | 1840 | MAH | 7,0 | 0,0 | 47,5 | 48,5 | 20 | -4,4 |
| 14 | 18 | | Srinivasa Rao G.V. | S55 | IND | 1771 | TEL | 7,0 | 0,0 | 46,0 | 48,0 | 20 | -1,8 |
| 15 | 21 | | Bipin Raj S | | IND | 1728 | TEL | 7,0 | 0,0 | 45,0 | 49,0 | 20 | -6,4 |
| 16 | 30 | | Sreehith Reddy R | U13 | IND | 1654 | TEL | 6,5 | 0,0 | 53,0 | 57,5 | 40 | 93,6 |
| 17 | 10 | | Hemanth Raam | | IND | 1992 | TN | 6,5 | 0,0 | 52,0 | 57,0 | 20 | 0,4 |
| 18 | 17 | | Kari Venu | | IND | 1772 | TEL | 6,5 | 0,0 | 50,5 | 52,5 | 20 | 16,0 |
| 19 | 11 | | Ramakrishna Perumalla | | IND | 1992 | TEL | 6,5 | 0,0 | 49,5 | 53,5 | 20 | 6,4 |
| 20 | 42 | | Rama Krishna Murthy Malladi | | IND | 1513 | TEL | 6,5 | 0,0 | 47,5 | 50,0 | 40 | 49,2 |
---