Boris Savchenko registers second consecutive tournament victory this month
Russian Grandmaster Boris Savchenko is the winner of Tetrasoft Hyderabad Marriott GM Tournament 2019 that came to conclusion yesterday on the 27th of August. This was his second tournament victory in a row this month after Athens of the East International Open which was held in Madurai, Tamil Nadu. The Hyderabad Tetrasoft GM was dominated by foreign players as the top places were all acquired by them, but as is customary these days several Indians stole the limelight from time to time by unexpectedly toppling their higher rated opponents. Particularly noteworthy were performances by Odisha's Utkal Ranjan Sahoo, Tamil Nadu's Hari Madhavan N B, and West Bengal's Kaustuv Kundu all of whom finished just half a point behind the leaders. IM Raja Rithvik R and thirteen-year-old Pranav V also managed to grab eyeballs by beating top seeded Savchenko and Pavel Smirnov in the fifth and fourth rounds of the event.
The Tetrasoft Hyderabad Marriott Grandmaster Chess Tournament 2019 was held from the 20th to 27th of August in Marriott Hyderabad, Telangana. Organized by Mr. Srikanth Sharma, this was a ten-rounds swiss event following a time control of 90 minutes for the entire game with 30 seconds increment per move starting from move one. Both Boris Savchenko of Russia and Adam Tukhaev of Ukraine finished with 8.0/10 points each but the former was declared champion based on better tie-break score.
IM Raja Rithvik R. had the white pieces against top seed Boris Savchenko in round five of the event. The game opened with 1.Nf3 d6 and the position remained dynamically balanced till move 45 when a grievous error turned the tables on Black.
Raja Rithvik R - Boris Savchenko, Round 5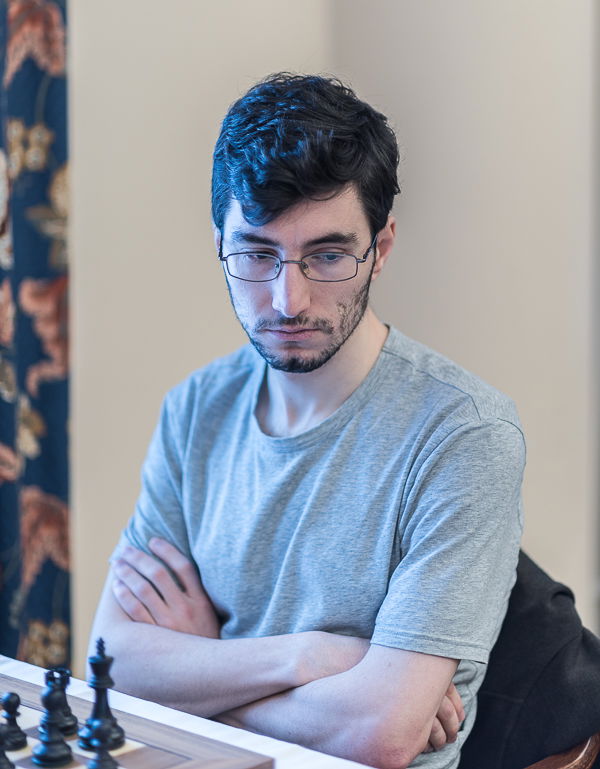 Tukhaev's final round game against Savchenko started off with an unusual line of the Zukertort opening. The Ukrainian Grandmaster had the chance to take initiative more than once during the encounter but instead he blundered which enabled the Russian to finish things off in a mere thirty-nine moves. Let's have a look at how the game ended.
Adam Tukhaev - Boris Savchenko, Round 10
Six players followed just half a point behind the leaders scoring 7.5/10. The Indians among these six players were Utkal Ranjan Sahoo from Odisha, India's blitz king Laxman Rajaram, Tamil Nadu's Hari Madhavan, and West Bengal's Kaustuv Kundu. Grandmaster Laxman Rajaram's last round victory against IM Rathnakaran K., who is famously dubbed as the Indian Tal, is particularly noteworthy.
Rathnakaran K - Laxman Rajaram, Round 10
The best way would have been to go 30...e3! after which White really runs out of options. If 31.fxe3 then 31...Nf6 looks devastating, White's bishop on c1 is completely boxed in. 31.f3 is no remedy either as then simply 31...Rh8 32.Rh1 Bd3 renders White absolutely helpless. In the game however, after 30...Rf7 31.Be3 etc Rathnakaran was able to fight on.
Sixteen-year-old Hari Madhavan N B from Tamil Nadu created a stir with his unbeaten performance in this event as he beat two Grandmasters back-to-back in rounds seven and eight and went on to gain a whopping 58.4 Elo points!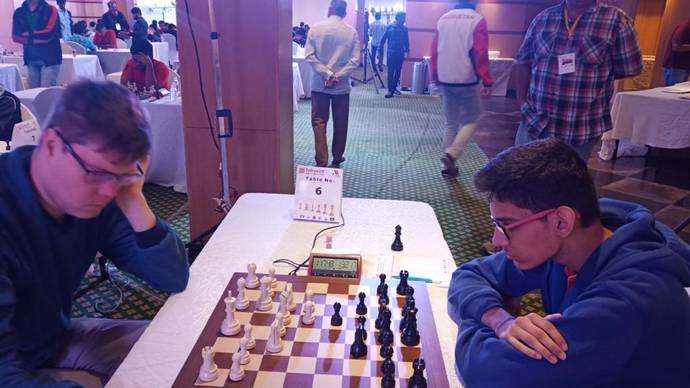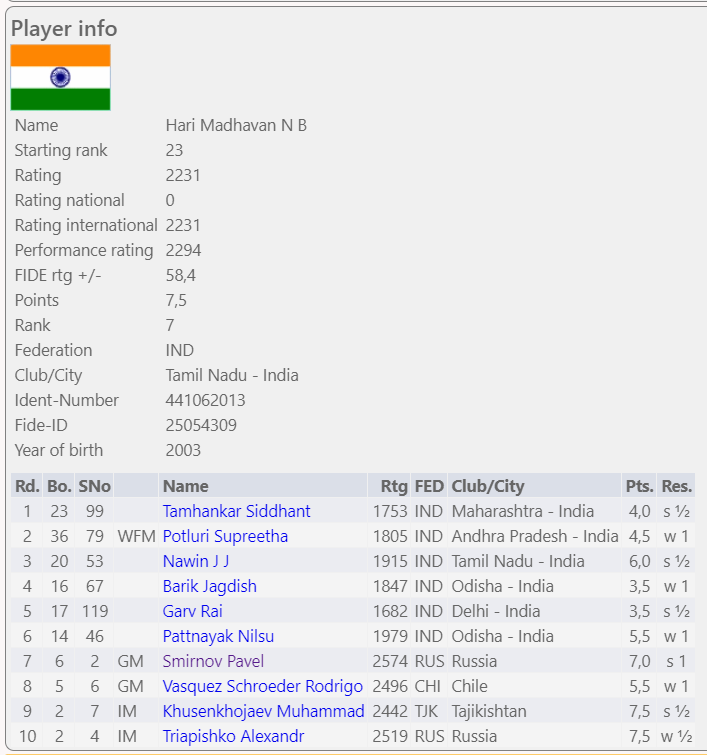 Let us have a look at the highlights of his eighth round encounter against GM Vasquez Schroeder Rodrigo. Hari had the White pieces in this game and opened with 1.Nf3 but the position transposed into a Slav after the second move itself.
Hari Madhavan - Vasquez Schroeder Rodrigo, Round 8
Another noteworthy achievement came from thirteen-year-old Pranav V who managed to outwit Grandmaster Pavel Smirnov in a Sicilian Rossolimo. Pranav scored a commendable 7.0/10 and finished eleventh, gaining 16.4 Elo points.
Final standings of the event after ten rounds
| | | | | | | | | | | | | | |
| --- | --- | --- | --- | --- | --- | --- | --- | --- | --- | --- | --- | --- | --- |
| Rk. | SNo | | | Name | FED | Rtg | Club/City | Pts. | TB1 | TB2 | TB3 | TB4 | TB5 |
| 1 | 1 | | GM | Savchenko Boris | RUS | 2576 | Russia | 8,0 | 1,0 | 59,5 | 63,0 | 50,50 | 7 |
| 2 | 3 | | GM | Tukhaev Adam | UKR | 2541 | Ukraine | 8,0 | 0,0 | 60,5 | 65,0 | 51,00 | 7 |
| 3 | 7 | | IM | Khusenkhojaev Muhammad | TJK | 2442 | Tajikishtan | 7,5 | 0,0 | 63,0 | 66,5 | 48,00 | 5 |
| 4 | 4 | | IM | Triapishko Alexandr | RUS | 2519 | Russia | 7,5 | 0,0 | 59,5 | 65,5 | 47,25 | 6 |
| 5 | 18 | | | Sahoo Utkal Ranjan | IND | 2278 | Odisha - India | 7,5 | 0,0 | 58,5 | 63,5 | 45,50 | 6 |
| 6 | 8 | | GM | Laxman R.R. | IND | 2426 | ICF | 7,5 | 0,0 | 57,5 | 60,0 | 41,75 | 6 |
| 7 | 23 | | | Hari Madhavan N B | IND | 2231 | Tamil Nadu - India | 7,5 | 0,0 | 53,5 | 57,0 | 41,75 | 5 |
| 8 | 16 | | | Kaustuv Kundu | IND | 2295 | West Bengal - India | 7,5 | 0,0 | 52,5 | 56,5 | 41,25 | 6 |
| 9 | 5 | | GM | Mosadeghpour Masoud | IRI | 2509 | Iran | 7,0 | 0,0 | 60,5 | 66,0 | 43,50 | 5 |
| 10 | 12 | | IM | Raja Rithvik R | IND | 2364 | Telangana - India | 7,0 | 0,0 | 58,0 | 62,5 | 41,00 | 6 |
| 11 | 14 | | | Pranav V | IND | 2316 | Tamil Nadu - India | 7,0 | 0,0 | 57,0 | 59,5 | 38,00 | 6 |
| 12 | 2 | | GM | Smirnov Pavel | RUS | 2574 | Russia | 7,0 | 0,0 | 56,0 | 59,5 | 39,00 | 6 |
| 13 | 19 | | FM | Aaryan Varshney | IND | 2272 | Delhi - India | 7,0 | 0,0 | 55,0 | 60,0 | 40,75 | 5 |
| 14 | 20 | | CM | Kushagra Mohan | IND | 2252 | Telangana - India | 7,0 | 0,0 | 53,5 | 57,5 | 37,00 | 6 |
| 15 | 10 | | | Sammed Jaykumar Shete | IND | 2416 | Maharashtra - India | 7,0 | 0,0 | 52,5 | 56,5 | 37,00 | 6 |
| 16 | 24 | | GM | Ziatdinov Raset | USA | 2228 | USA | 7,0 | 0,0 | 51,5 | 55,5 | 37,25 | 5 |
| 17 | 55 | | | Ayushh Ravikumar | IND | 1907 | Tamil Nadu - India | 7,0 | 0,0 | 50,5 | 54,5 | 36,00 | 5 |
| 18 | 26 | | | Baivab Mishra | IND | 2215 | Odisha - India | 7,0 | 0,0 | 49,5 | 53,5 | 34,75 | 6 |
| 19 | 28 | | FM | Ramakrishna J. | IND | 2155 | Andhra Bank | 7,0 | 0,0 | 46,5 | 50,0 | 34,75 | 6 |
| 20 | 13 | | IM | Rathnakaran K. | IND | 2337 | S Rly | 6,5 | 0,0 | 60,5 | 64,5 | 40,00 | 5 |
Overview of performances by Indian players
| | | | | | | | | | | | | | | | | |
| --- | --- | --- | --- | --- | --- | --- | --- | --- | --- | --- | --- | --- | --- | --- | --- | --- |
| SNo | | Name | Rtg | FED | 1 | 2 | 3 | 4 | 5 | 6 | 7 | 8 | 9 | 10 | Pts. | Rk. |
| 8 | GM | Laxman R.R. | 2426 | IND | 1 | 1 | 1 | ½ | 1 | ½ | ½ | 0 | 1 | 1 | 7,5 | 6 |
| 9 | GM | Karthikeyan P. | 2422 | IND | 1 | 1 | 1 | 1 | 0 | 1 | 0 | ½ | 1 | 0 | 6,5 | 21 |
| 10 | | Sammed Jaykumar Shete | 2416 | IND | ½ | 1 | 1 | 0 | 0 | 1 | 1 | 1 | 1 | ½ | 7,0 | 15 |
| 11 | IM | Muthaiah Al | 2384 | IND | 1 | ½ | 1 | ½ | ½ | 1 | ½ | ½ | 0 | 1 | 6,5 | 22 |
| 12 | IM | Raja Rithvik R | 2364 | IND | 1 | 1 | 1 | ½ | 1 | 0 | 0 | 1 | 1 | ½ | 7,0 | 10 |
| 13 | IM | Rathnakaran K. | 2337 | IND | 1 | 1 | 0 | 1 | 1 | 1 | ½ | ½ | ½ | 0 | 6,5 | 20 |
| 14 | | Pranav V | 2316 | IND | 1 | 1 | 1 | 1 | ½ | ½ | 0 | 0 | 1 | 1 | 7,0 | 11 |
| 15 | | Bharat Kumar Reddy Poluri | 2299 | IND | 1 | 1 | 0 | 1 | 1 | 1 | ½ | ½ | 0 | ½ | 6,5 | 23 |
| 16 | | Kaustuv Kundu | 2295 | IND | 1 | 0 | 1 | 1 | 1 | ½ | ½ | 1 | 1 | ½ | 7,5 | 8 |
| 17 | | Bhambure Shantanu | 2288 | IND | 1 | 1 | 1 | 0 | 1 | 0 | 1 | ½ | 0 | 0 | 5,5 | 45 |
| 18 | | Sahoo Utkal Ranjan | 2278 | IND | 1 | 1 | 1 | ½ | 0 | 1 | 1 | ½ | ½ | 1 | 7,5 | 5 |
| 19 | FM | Aaryan Varshney | 2272 | IND | 1 | 1 | 1 | ½ | ½ | 0 | ½ | ½ | 1 | 1 | 7,0 | 13 |
| 20 | CM | Kushagra Mohan | 2252 | IND | 1 | 1 | 1 | 0 | 1 | 0 | 1 | ½ | 1 | ½ | 7,0 | 14 |
| 21 | | Varun V | 2251 | IND | 1 | 1 | 0 | 1 | 1 | 0 | 1 | ½ | 0 | 1 | 6,5 | 27 |
| 22 | | Nayak Rajesh | 2250 | IND | 1 | 1 | 0 | 1 | 1 | 0 | 0 | 0 | 1 | ½ | 5,5 | 48 |
| 23 | | Hari Madhavan N B | 2231 | IND | ½ | 1 | ½ | 1 | ½ | 1 | 1 | 1 | ½ | ½ | 7,5 | 7 |
| 25 | | Patil Pratik | 2216 | IND | 1 | 1 | 0 | 1 | ½ | 1 | 0 | 1 | 0 | 1 | 6,5 | 26 |
| 26 | | Baivab Mishra | 2215 | IND | 1 | 1 | 0 | 0 | ½ | 1 | 1 | 1 | 1 | ½ | 7,0 | 18 |
| 27 | CM | Prraneeth Vuppala | 2207 | IND | 1 | 0 | 0 | 1 | 0 | 0 | 0 | 0 | 0 | 0 | 2,0 | 145 |
| 28 | FM | Ramakrishna J. | 2155 | IND | 1 | 0 | 1 | 1 | ½ | ½ | 0 | 1 | 1 | 1 | 7,0 | 19 |
| 29 | | Surendran N | 2152 | IND | 1 | 1 | ½ | 0 | 0 | 1 | 1 | 1 | 0 | 1 | 6,5 | 25 |
| 30 | | Pimpalkhare Vedant | 2123 | IND | 1 | 1 | 0 | ½ | ½ | 1 | ½ | ½ | 1 | 0 | 6,0 | 33 |
---