Laxman R R wins Dr. Ajit Kumar Singh Kasliwal and Suneeta Singh Memorial All India Rapid Rating Open
Starting out as the third seed of the tournament, GM Laxman R R of Integral Coach Factory, scored an unbeaten 8.0/9, to finish a half point ahead of the competition and win Dr. Ajitkumar Singh Kasliwal and Suneeta Singh Memorial All India Rapid Rating Open. Kartavya Anadkat, IM Dinesh Kumar Sharma, Harish Sharma, IM Himal Gusain, Priyanshu Patil and Chandrajeet Singh Rajawat scored 7.5/9 each. They were placed second to seventh according to the tie-breaks. The tournament had the total prize fund of ₹125000 with the first prize being ₹21000 and a trophy. It took place on 19th and 20th November at The Emerald Heights International School at Indore, Madhya Pradesh. Photo: Nubairshah's youtube channel
Six players finish at 7.5/9
8-year-old Madhvendra Pratap Sharma scored an impressive 7.0/9, including a draw with the top seed and former National Blitz champion, IM D K Sharma. The little boy from Madhya Pradesh secured 9th position after starting out as the 94th seed. He is also the youngest player to finish in top 10 at the event.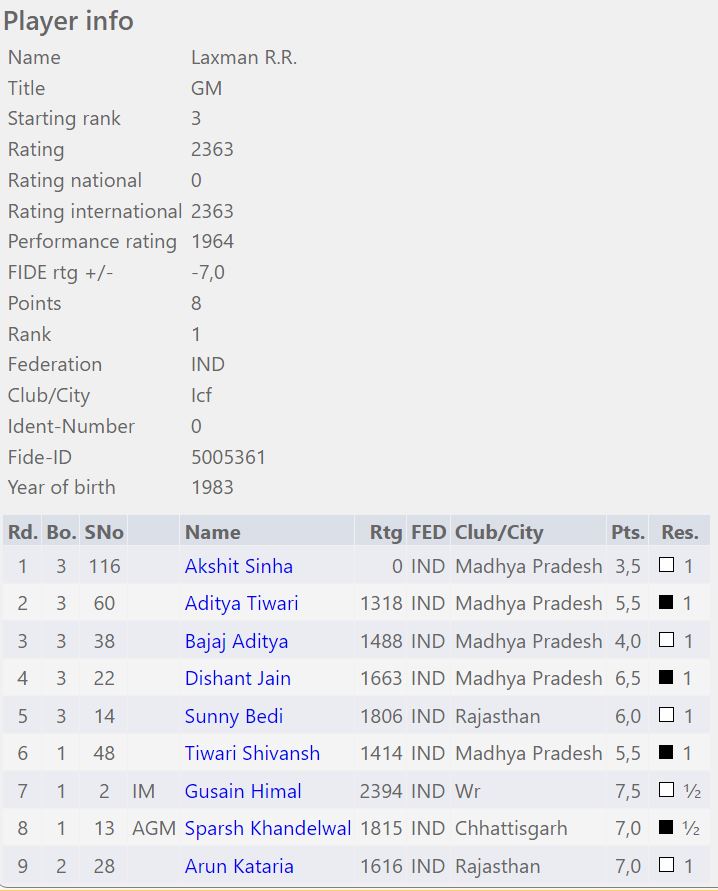 Check out Laxman's thoughts about his triumph, final moments of his final round game against Arun Kataria, in a short interview conducted by IM Nubairshah Shaikh.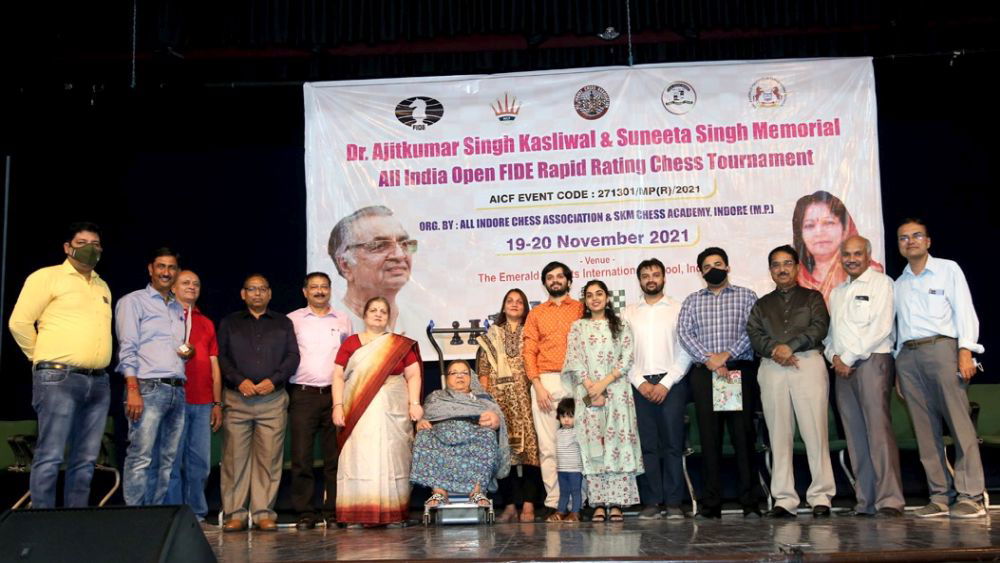 Mr. Achal Choudhary, the founder of IPS Academy, Siddharth Singh, Principal of Emerald Heights International School, Vimala Kasliwal, Dr. Sunil Somani, Apoorva Jain, Arpan Jain, Shailendra Pabale, Rajendra Chimnani, Arun Upadhyay, IA Yashpal Arora, IA Sunil Soni, FA Yash Tulapurkar and R D Sharma were present at the closing ceremony.
The tournament was organized by All Indore Chess Association & Sanjay Kasliwal Memorial Chess Academy on 19th and 20th November 2021 at The Emerald Heights International School at Indore, Madhya Pradesh. A total of 221 players including a GM and two IMs took part in the nine-round Swiss league event which had a time control of 15 minutes + 10 seconds increment from move no.1.
Final Standings
| | | | | | | | | | | | | | |
| --- | --- | --- | --- | --- | --- | --- | --- | --- | --- | --- | --- | --- | --- |
| Rk. | SNo | | Name | Typ | sex | Gr | FED | Rtg | Club/City | Pts. | TB1 | TB2 | TB3 |
| 1 | 3 | GM | Laxman R.R. | | | | IND | 2363 | Icf | 8,0 | 49,0 | 52,5 | 45,25 |
| 2 | 10 | | Anadkat Kartavya | | | | IND | 1871 | Gujarat | 7,5 | 53,0 | 56,0 | 44,25 |
| 3 | 1 | IM | Sharma Dinesh K. | | | | IND | 2422 | Lic | 7,5 | 52,0 | 56,5 | 45,50 |
| 4 | 6 | | Sharma Harish | | | | IND | 2060 | Delhi | 7,5 | 51,5 | 54,5 | 44,25 |
| 5 | 2 | IM | Gusain Himal | | | | IND | 2394 | Wr | 7,5 | 51,5 | 53,0 | 42,25 |
| 6 | 39 | | Patil Priyanshu | | | | IND | 1485 | mah | 7,5 | 48,0 | 51,0 | 40,25 |
| 7 | 17 | AGM | Chandrajeet Singh Rajawat | | | | IND | 1743 | Rajasthan | 7,5 | 45,5 | 47,5 | 37,75 |
| 8 | 13 | AGM | Sparsh Khandelwal | | | | IND | 1815 | Chhattisgarh | 7,0 | 56,0 | 60,5 | 45,25 |
| 9 | 94 | | Madhvendra Pratap Sharma | U09 | | | IND | 1109 | Madhya Pradesh | 7,0 | 53,5 | 58,0 | 44,50 |
| 10 | 24 | CM | Singh Ojasva | | | | IND | 1647 | Madhya Pradesh | 7,0 | 45,5 | 47,5 | 34,50 |
| 11 | 28 | | Arun Kataria | | | | IND | 1616 | Rajasthan | 7,0 | 45,0 | 48,5 | 34,50 |
| 12 | 46 | | Gourav Nigam | | | | IND | 1426 | Madhya Pradesh | 7,0 | 44,0 | 45,0 | 31,50 |
| 13 | 34 | | Vrashank Chouhan | | | | IND | 1536 | Rajasthan | 7,0 | 43,5 | 46,5 | 31,50 |
| 14 | 35 | | Gupta Dinesh | | | | IND | 1523 | Madhya Pradesh | 7,0 | 40,5 | 43,5 | 33,00 |
| 15 | 8 | | Pimpalkhare Vedant | | | | IND | 1887 | Maharashtra | 6,5 | 49,0 | 50,5 | 34,25 |
---