Kishan Kumar victorious at Chess for Everyone Rating Open in Sagar, Madhya Pradesh
The top seed of the tournament, Kishan Kumar scored an unbeaten 8/9 to win Chess for Everyone Rating Open 2023 in Sagar, Madhya Pradesh. He finished a half point ahead of the competition. Four players - Kamad Mishra, Sandeep K Gupta, Shubham Pareta and Muralilal Kori scored 7.5/9 each. They were placed second to fourth respectively according to tie-breaks. Kishan faced all of them in the last four rounds. He defeated sandeep and Shubham, drew against Kamad and Murailal. The total prize fund of the tournament was ₹50000. The top three prizes were ₹11000, ₹8000 and ₹6000 along with a trophy each respectively. The five-day nine-round Swiss league Rating tournament was organized by Deepak Memorial Sports Academy and Jila Shatranj Sangh, Sagar. Photo: FA Ankur Singh Thakur
Top two finishes in the same order
Kishan Kumar had a sole lead heading into the final round 7.5/8. He drew against Murailal Kori to become a clear champion. His only other pursuer, Kamad Mishra also drew his game against Amarjeet Singh Bagga. This is Kishan's second Rating Open tournament triumph of the his career. He has won three tournaments in this year overall. Earlier this year, he won a Rapid Open and became Bihar State Team champion for team Purnia 'A'. The only other Rating tournament he won was back in January 2020 where he also scored the same points in the exact same pattern.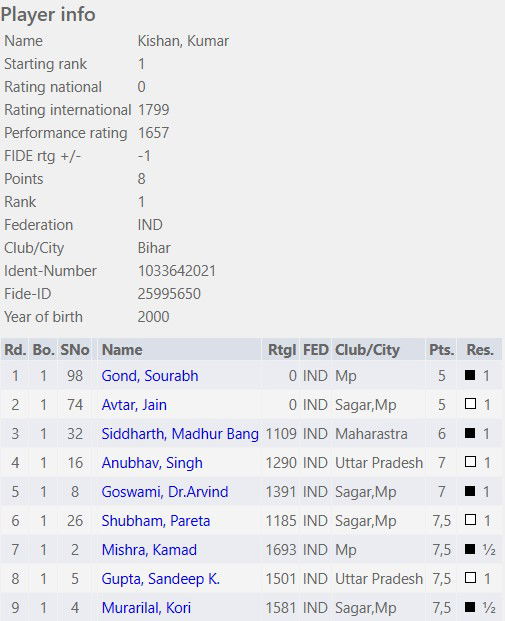 The tournament was inaugurated by the Mayor of Sagar, MP - Mrs. Sangeeta Sushil Tiwari and Mr. Sushil Tiwari.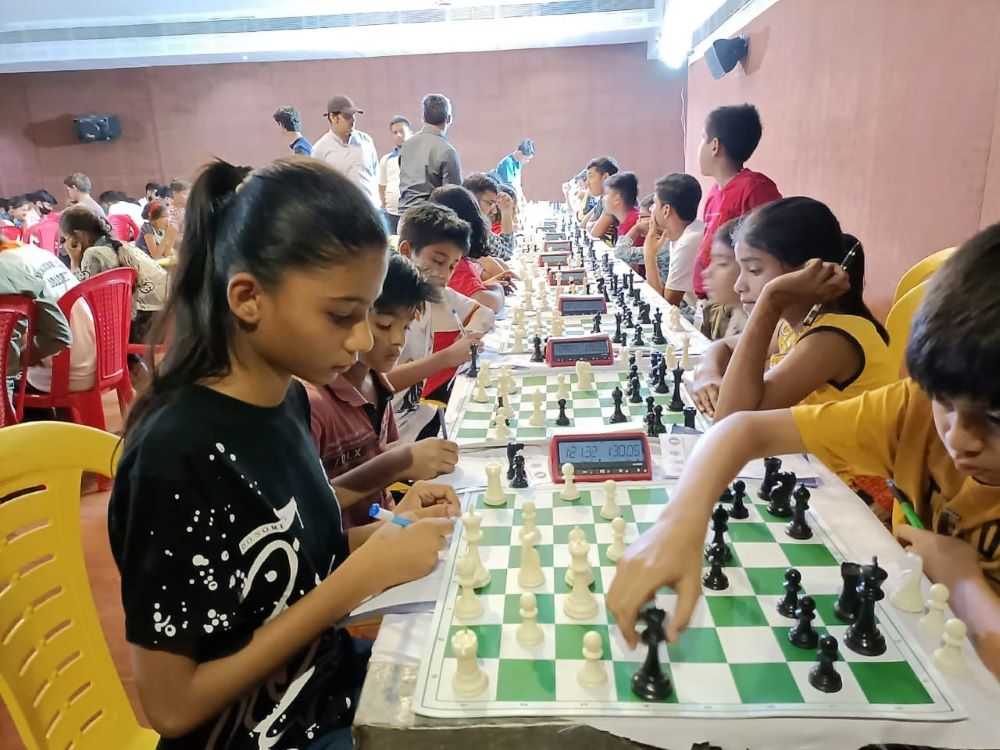 Principal Mrs. Ritoo Jaiswal of Deepak Memorial Academy where the tournament was held, was very helpful towards providing all help for tournament.
Thanks to FA Ankur Singh Thakur for sharing photos and info about the tournament.
A total of 180 players participated from various states across the country. The five-day nine-round Swiss league Rating tournament was organized by Deepak Memorial Sports Academy and Jila Shatranj Sangh, Sagar at Deepak Memorial Academy, Sagar in Madhya Pradesh from 17th to 21st April 2023. The time control for the event was 90 minutes + 30 seconds increment from move no.1.
Final standings
| | | | | | | | | | | | | | | | |
| --- | --- | --- | --- | --- | --- | --- | --- | --- | --- | --- | --- | --- | --- | --- | --- |
| Rk. | SNo | | Name | Typ | sex | Gr | FED | RtgI | Club/City | Pts. | TB1 | TB2 | TB3 | TB4 | TB5 |
| 1 | 1 | | Kishan, Kumar | | | | IND | 1799 | Bihar | 8 | 55 | 60 | 52,50 | 0 | 7 |
| 2 | 2 | | Mishra, Kamad | U17 | | | IND | 1693 | Mp | 7,5 | 52,5 | 55,5 | 45,25 | 0 | 6 |
| 3 | 5 | | Gupta, Sandeep K. | | | | IND | 1501 | Uttar Pradesh | 7,5 | 49,5 | 53,5 | 40,75 | 0 | 7 |
| 4 | 26 | | Shubham, Pareta | | | | IND | 1185 | Sagar,Mp | 7,5 | 47,5 | 50 | 33,25 | 0 | 7 |
| 5 | 4 | | Murarilal, Kori | | | | IND | 1581 | Sagar,Mp | 7,5 | 46 | 50 | 42,50 | 0 | 7 |
| 6 | 8 | | Goswami, Dr.Arvind | S60 | | | IND | 1391 | Sagar,Mp | 7 | 48 | 52 | 39,00 | 0 | 7 |
| 7 | 24 | | Amarjeet, Singh Bagga | S60 | | | IND | 1193 | Mp | 7 | 47,5 | 52 | 39,50 | 0 | 6 |
| 8 | 19 | | Sanyam, Arya | U19 | | | IND | 1224 | Mp | 7 | 47,5 | 51 | 34,00 | 0 | 7 |
| 9 | 15 | | Vivaan, Jain | U13 | | | IND | 1291 | Mp | 7 | 47 | 50,5 | 32,00 | 0 | 7 |
| 10 | 16 | | Anubhav, Singh | | | | IND | 1290 | Uttar Pradesh | 7 | 46 | 49 | 35,50 | 0 | 7 |
| 11 | 31 | | Mahajan, Sagar | U19 | | | IND | 1122 | Maharashtra | 6,5 | 50 | 53 | 35,00 | 0 | 5 |
| 12 | 28 | | Ojas, Joshi | U11 | | | IND | 1133 | Rajsthan | 6,5 | 48,5 | 52,5 | 35,25 | 0 | 6 |
| 13 | 17 | | Abhijeet, Awasthi | | | | IND | 1287 | Sagar,Mp | 6,5 | 46,5 | 50,5 | 35,25 | 0 | 5 |
| 14 | 33 | | Asish, Ojha | U17 | | | IND | 1094 | Uttar Pradesh | 6,5 | 46 | 50 | 35,25 | 0 | 6 |
| 15 | 14 | | Subodh, Kumar Singh | | | | IND | 1291 | Chhattisgarh | 6,5 | 45,5 | 48 | 30,25 | 0 | 6 |
---