Anabil Goswami dominates Chess for Everyone Rating Open in Tripura
Anabil Goswami scored an unbeaten 8/9 to win AICF's Chess for Everyone Rating Open 2023 in Tripura. He finished the tournament a half point ahead of the field and drew with the remaining podium finishers in the last two rounds. Prasenjit Namasudra made sole 7.5/9 to finish second. Four players - Debankur Banerjee, Bapu Debbarma, Nalinakhya Kashyap and the top seed of the event, Avigyan Ghosh scored 7/9. Debankur was adjudged third due to better tie-break score. The total prize fund of the tournament was ₹33000. The top three prizes were ₹5000, ₹4000 and ₹2500 along with a trophy each respectively. The five-day nine-round Swiss league Rating tournament was organized by All Tripura Chess Association. Photo: All Tripura Chess Association
Anabil's first rating tournament triumph
17-year-old Anabil Goswami started the tournament with seven straight victories. He gained a full point heading into the penultimate round. The teenager drew his last two games to finish first without the need of tie-breaks. This is the first time in his nascent chess career, he has won a rating tournament. Earlier this year, he won a rapid tournament. Tripura's very own Anabil has played 23 tournaments since his first event in March 2019. It was also a rating tournament which took place in Agartala, Tripura.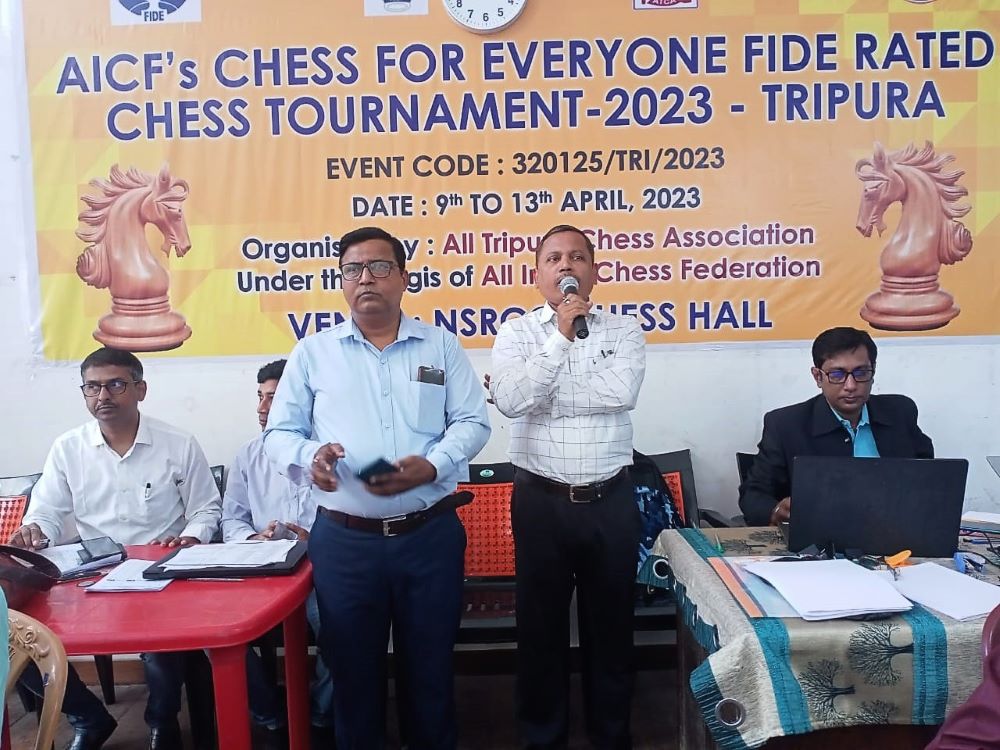 Chief Guest for the inauguration ceremony was Mr. Dipak Saha, Secretary of All Tripura Chess Association. Mr. Saha inaugurated the event by welcoming all the players. President of All Tripura Chess Association, Mr. Prasanta Kundu and Treasurer, Mr. Mithu Debnath were present during the ceremony.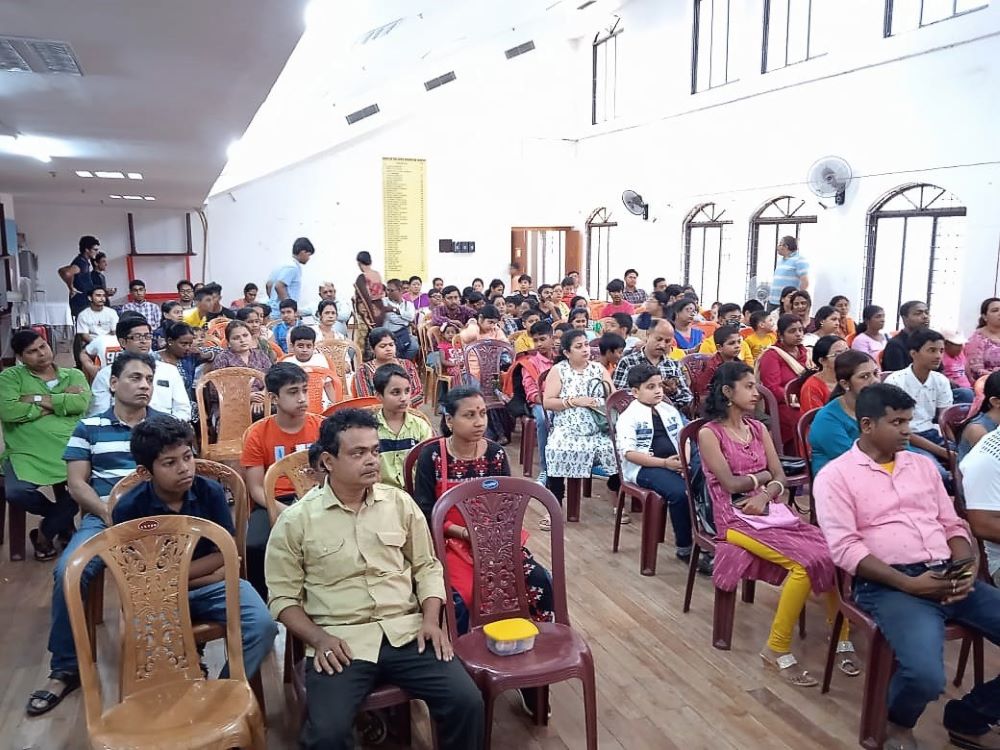 The Chief Guest at the Prize distribution ceremony was Mr. Satyabrata Nath, Director, Youth Affairs & Sports, Govt. of Tripura, Mr. Saraju Chakraborty, Joint Secretary, Tripura Sports Council was special guest of the ceremony.
Thanks to Dipak Saha, Secretary of All Tripura Chess Association, for sharing the photos and info about the tournament.
A total of 106 players participated from various states across the country and one from Bangladesh. The five-day nine-round Swiss league Rating tournament was organized by All Tripura Chess Association at NSRCC Chess Hall in Agartala, Tripura from 9th to 13th April 2023. The time control for the event was 90 minutes + 30 seconds increment from move no.1.
Final standings
Rk.
SNo
Name
Typ
sex
FED
Rtg
Club/City
Pts.
TB1
TB2
TB3
TB4
TB5
Rp
K
rtg+/-
1
6
Anabil Goswami
IND
1407
TRI
8
50
53
45,75
0
7
1605
40
71,6
2
16
Prasenjit Namasudra
IND
1257
TRI
7,5
49,5
51,5
40,50
0
7
1576
40
117,6
3
4
Debankur Banerjee
IND
1503
TRI
7
51
53,5
39,50
0
5
1470
40
-4,4
4
5
Bapu Debbarma
IND
1416
TRI
7
50,5
54,5
41,00
0
5
1529
20
25
5
8
Nalinakhya Kashyap
U15
IND
1372
ASM
7
50
54
39,00
0
6
1495
40
45,6
6
1
Avigyan Ghosh
U15
IND
1808
TRI
7
49,5
53
38,75
0
6
1443
40
-66
7
12
Swarnadeep Nath
U13
IND
1326
TRI
6,5
46
50
32,00
0
6
1351
40
-0,4
8
13
Mehekdwip Gope
U11
IND
1284
TRI
6,5
44,5
47,5
32,00
0
5
1308
40
2,8
9
26
Aaradhya Das
U09
w
IND
1164
TRI
6,5
43,5
47,5
32,00
0
5
1312
40
23,6
10
9
Shakya Singha Modak
U11
IND
1360
TRI
6,5
43,5
47,5
31,75
0
6
1283
40
-20
11
23
Pankaj Debnath
S50
IND
1182
TRI
6,5
42,5
46
29,25
0
6
1303
40
9,2
12
28
Atraya Roy Barman
IND
1155
TRI
6
50
53,5
32,00
0
6
1413
40
74
13
11
Anurag Bhattacharjee
U13
IND
1329
TRI
6
49,5
54
31,50
0
6
1307
40
-14,4
14
25
Sushil Chakraborty
IND
1167
TRI
6
42,5
46,5
30,25
0
5
1235
40
25,2
15
22
Aurko Narayan Banerjee
U15
IND
1190
WB
6
42,5
46
28,50
0
6
1275
40
-22,4
16
21
Rajib Chakraborty
IND
1198
TRI
6
41
45
29,50
0
4
1206
40
0,4
17
18
Nil Kumar Datta
S50
IND
1250
TRI
6
40
43,5
28,25
0
5
1239
20
0
18
15
Ramesh Kalai
S50
IND
1279
TRI
6
39,5
41
23,00
0
6
1278
20
-11,4
19
7
Dipak Chowhan
IND
1380
TRI
5,5
50
53
28,75
0
5
1250
20
-27,6
20
101
Sreyashi Saha
U13
w
IND
0
TRI
5,5
47
50
28,00
0
4
1335
---