Anurag Jaiswal convincingly clinches Chess for Everyone Rating Open 2023 in Jharkhand
Anurag Jaiswal scored an unbeaten 8/9 to win Chess for Everyone Rating Open 2023 in Jharkhand. He finished a full point ahead of the competition. Eight players scored 7/9 each. Out of them, 10-year-old Adhiraj Mitra and Akshat Negi were placed second and third according to tie-breaks. The winner Anurag defeated the eventual runner-up, Adhiraj in the final round to become a clear champion. The total prize fund of the tournament was ₹75000 + trophies. Top three prizes were ₹15000 + trophy, ₹10000 and ₹7000. The tournament was held from 5th to 9th August 2023 at St. Xavier's Welfare Center in Chaibasa, Jharkhand. It was organized by West Singhbhum District Chess Association. This was Anurag's first rating tournament triumph in almost four years. The objective of Chess for Everyone is to attract more players to participate in tournaments, get rating in an event which has low entry fee barrier of only ₹250. Photos: Basant Khandelwal
10-year-old Adhiraj Mitra secures second place
Adhiraj Mitra (JHAR) and Anurag Jaiswal (WB) were the coleaders 7/8 heading into the final round of the tournament. Adhiraj had better tie-breaks and Akshat Negi (DEL) had the possibility of catching up if Adhiraj and Anurag drew their game against each other. Being in a virtual must-win situation, Anurag defeated Adhiraj to become a clear champion 8/9. Adhiraj finished second 7/9. Akshat defeated 11-year-old Shreyan Gupta Barman (WB) to finish third 7/9.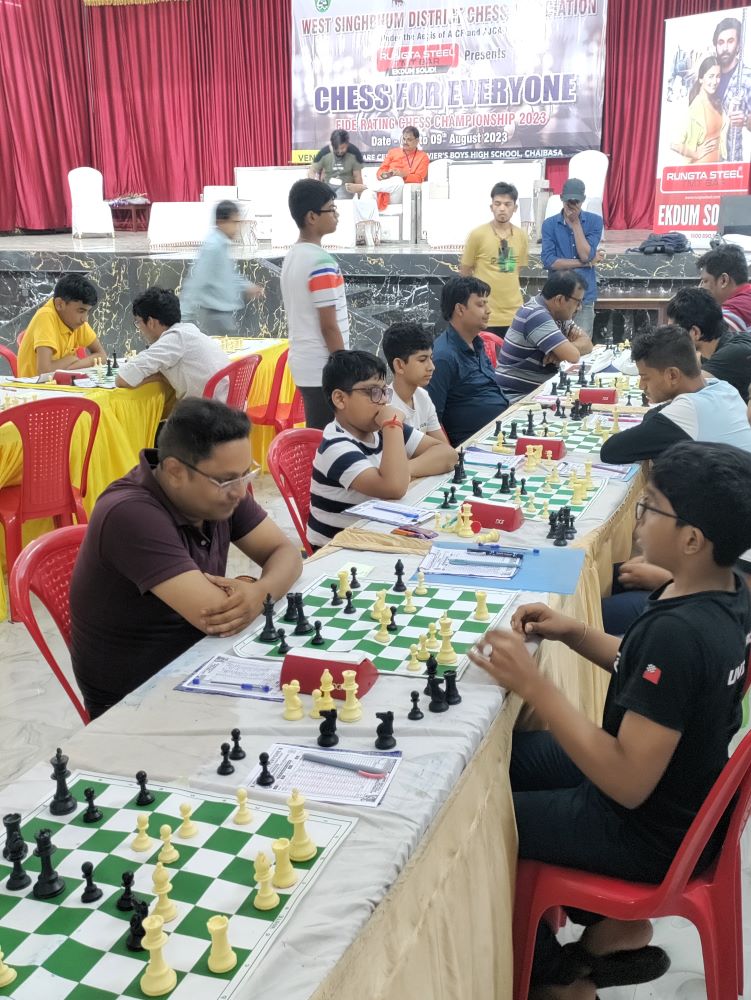 The prizes were given by Ananya Mittal, D C West Singhbhum, Ms. Shruri Rajlakshmi, Assistant Collector of West Singhbhum, Mukund Rungta and other dignitaries.
Thanks to Basant Khandelwal, Organizing Secretary, for sharing the photos and info about the tournament.
A total of 164 players took part from various states across the country in this five-day nine round Swiss-league Rating tournament which was organized by West Singhbhum District Chess Association at St. Xavier's Welfare Center in Chaibasa, Jharkhand from 5th to 9th August 2023. The time control of the event was 90 minutes + 30 seconds increment from move no.1.
Final standings
| | | | | | | | | | | | | | | | | |
| --- | --- | --- | --- | --- | --- | --- | --- | --- | --- | --- | --- | --- | --- | --- | --- | --- |
| Rk. | SNo | | | Name | Typ | sex | Gr | FED | Rtg | Club/City | Pts. | TB1 | TB2 | TB3 | TB4 | TB5 |
| 1 | 7 | | | Anurag, Jaiswal | | | | IND | 1708 | West Bengal | 8 | 50 | 54,5 | 48,75 | 0 | 7 |
| 2 | 6 | | | Adhiraj, Mitra | U11 | | | IND | 1716 | Jharkhand | 7 | 51,5 | 55,5 | 40,75 | 0 | 6 |
| 3 | 9 | | | Akshat, Negi | | | | IND | 1644 | Delhi | 7 | 50 | 55 | 41,75 | 0 | 6 |
| 4 | 2 | | | Rohan, Vijay Shandilya | | | | IND | 1918 | Jharkhand | 7 | 47,5 | 52,5 | 39,00 | 0 | 7 |
| 5 | 13 | | | Kamal Kishore, Debnath | | | WS | IND | 1560 | Jharkhand | 7 | 47,5 | 52 | 39,00 | 0 | 5 |
| 6 | 3 | | | Biswajit, Chatterjee | | | WS | IND | 1852 | Jharkhand | 7 | 46,5 | 49,5 | 36,75 | 0 | 6 |
| 7 | 8 | | | Manish, Sharma | | | WS | IND | 1665 | Jharkhand | 7 | 45,5 | 50 | 38,00 | 0 | 5 |
| 8 | 27 | | AFM | Abhiraj, De | U13 | | | IND | 1363 | Jharkhand | 7 | 44,5 | 48 | 35,75 | 0 | 6 |
| 9 | 46 | | | Shreyan, Gupta Barman | U13 | | | IND | 1230 | West Bengal | 7 | 43,5 | 47 | 35,75 | 0 | 6 |
| 10 | 5 | | | Kishan, Kumar | | | | IND | 1791 | Bihar | 6,5 | 51 | 55,5 | 38,25 | 0 | 5 |
| 11 | 20 | | | Ranit, Maity | U13 | | | IND | 1416 | West Bengal | 6,5 | 48,5 | 53 | 36,75 | 0 | 4 |
| 12 | 1 | | | Tripathy, B C | S55 | | | IND | 1930 | Jharkhand | 6,5 | 48,5 | 53 | 35,75 | 0 | 5 |
| 13 | 4 | | | Rajesh, Kumar | | | WS | IND | 1796 | Jharkhand | 6,5 | 46,5 | 51,5 | 34,75 | 0 | 6 |
| 14 | 18 | | | Debanjan, Sinha | U13 | | | IND | 1423 | Jharkhand | 6,5 | 46 | 49,5 | 33,00 | 0 | 6 |
| 15 | 24 | | | Narendra, Agarwal | U09 | | | IND | 1385 | West Bengal | 6,5 | 45 | 48,5 | 32,00 | 0 | 6 |
| 16 | 25 | | | Raja, Bose | | | | IND | 1381 | Jharkhand | 6,5 | 44,5 | 48,5 | 34,25 | 0 | 5 |
| 17 | 16 | | | Vibhash, Kumar Sinha | | | | IND | 1515 | Jharkhand | 6,5 | 44 | 48,5 | 33,75 | 0 | 6 |
| 18 | 17 | | | Rishan, Debnath | U13 | | | IND | 1511 | West Bengal | 6 | 49 | 52,5 | 32,25 | 0 | 5 |
| 19 | 15 | | | Sagnik, Halder | U13 | | | IND | 1539 | West Bengal | 6 | 46,5 | 51 | 32,50 | 0 | 4 |
| 20 | 22 | | | Sinjan, Roy | U13 | | | IND | 1395 | West Bengal | 6 | 46 | 50 | 30,75 | 0 | 5 |
---