Arpan Das dominates 1st HDCA All India Rating Open 2022
The second seed of the tournament, Arpan Das scored an unbeaten 8.5/9 to win 1st HDCA All India Rating Open 2022. He finished a half point ahead of the field. Top seed of the tournament, IM FT Suvrajit Saha made 8/9 to finish second. 16-year-old Ayush Jha was placed third with a score of 7.5/9. The entire top three finishers remained undefeated. Total prize fund of the tournament was ₹250000. Top three prizes were ₹50000 and a trophy, ₹30000 and ₹20000 cash respectively. Check out the champion's thoughts on his triumph and the tournament. He also took time to annotate his favorite game of the event, hours before leaving for his next event at Guwahati, Assam. Photo: Shahid Ahmed
Unbeaten podium finishers
"The HDCA tournament was quite well organized for a first time event. I was expecting to finish in the top 3, so I wasn't super surprised by finishing first, but it was definitely a welcome as I didn't really play particularly well in the event.
I actually had quite a tough start. I messed up winning positions in rounds 3-5; the first two I salvaged by grinding out the endgame, the last one didn't work out and was a draw. The penultimate day was quite tumultuous; while I only made one major mistake in the morning round, it would've been very tough to survive if he had exploited it. The afternoon round, I made a really bad decision regarding my pawn structure; and had my opponent blown up the centre with a sacrifice, with my knights on the flank and my king stuck in the centre; I probably would've lost. Thankfully, he opted to manoeuvre, and eventually blundered and I won it.
The last game was definitely the best game I played in the tournament, versus Kumar Gaurav. I out-prepared him and gained a 35+ minutes time advantage just out of the opening. A few more accurate-ish moves, while he made two minor mistakes; then a major one, and suddenly I was significantly better and he was under time pressure. If I drew, and IM Suvrajit Saha won, I could very well be second because my Buchholz was quite bad for some reason; so I opted to play on. It was the correct decision since apparently, that position was winning for white. Maybe with more time he could've defended better, but this time, I took home the full point and the trophy." - Arpan Das on winning 1st HDCA All India Rating Open 2022.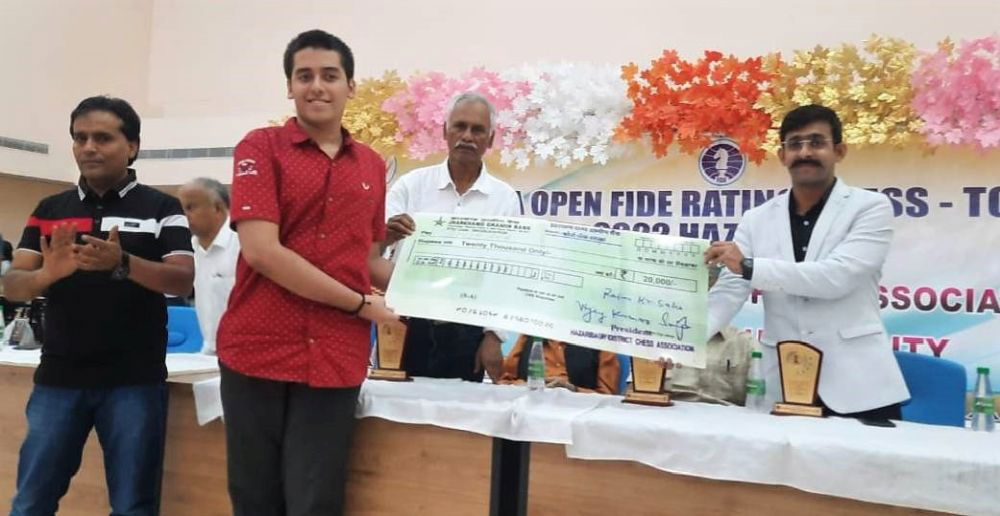 Arpan - Gaurav, Round 9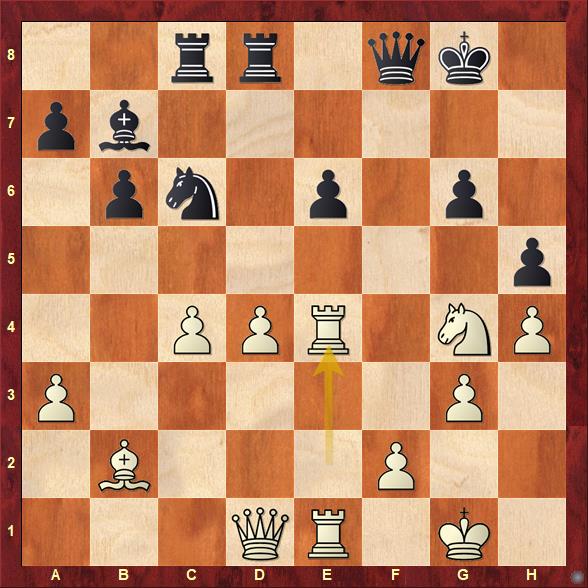 Arpan offered his knight for sacrifice as he had a devastating attack planned on his opponent king. 26.Rxe4 Black accepted the knight sacrifice hxg4 27.Rxg4 Ne7 28.d5 the bishop joins the attack as a sniper. White checkmated the black king in another six moves. White could not have asked for a better way to win the game and the tournament.
Prize distribution ceremony was held on 26th June 2022 at 3 p.m. Prize winners are awarded by Chief Guest Mr. Rishav Garg, IPS, Mr. Ashish Kumar, President, CDCA , Mr. Vijay Kumar Singh, President, HDCA, Mr. Keshav Kumar, Mr. Surendra Pd. Singh, Mr. Narendra Kumar, Mr. Mayur Jha, Mr. Shyama Nand Singh, Mr. Manoj Singh and Mr. Raj Verma.
The tournament was inaugurated by Mr. Mukul Narayan Dev, VC, Vinoba Bhave University on 22nd June 2022 at Multipurpose Hall, Vinoba Bhave University, Hazaribag (Jharkhand) in presence of Mrs. Richa Sanchita, Executive President, AJCA with Mr. Vijay Kumar Singh, President, HDCA, Mr. Surendra Prasad Singh, Social worker, Mr. Manmeet Akela, Org. Secretary and IM FT Suvrajit Saha.
A total of 220 players including an IM took part in this five-day Classical Rating tournament. The event was organized by Hazaribag District Chess Association at Multipurpose Hall, Vinoba Bhave University, Hazaribag, Jharkhand from 22nd to 26th June 2022. The nine-round Swiss League tournament had a time control of 90 minutes + 30 seconds increment.
Final standings
| | | | | | | | | | | | | |
| --- | --- | --- | --- | --- | --- | --- | --- | --- | --- | --- | --- | --- |
| Rk. | SNo | | Name | Typ | sex | FED | Rtg | Club/City | Pts. | TB1 | TB2 | TB3 |
| 1 | 2 | | Arpan Das | | | IND | 2121 | WB | 8,5 | 51,0 | 55,0 | 52,75 |
| 2 | 1 | IM | Suvrajit Saha | | | IND | 2178 | WB | 8,0 | 50,5 | 55,5 | 48,25 |
| 3 | 13 | | Ayush Jha | U17 | | IND | 1825 | WB | 7,5 | 51,0 | 53,5 | 44,00 |
| 4 | 4 | | Kumar Gaurav | | | IND | 2045 | BIHAR | 7,0 | 54,5 | 58,5 | 43,25 |
| 5 | 7 | | Pradip Ghosh | | | IND | 2001 | WB | 7,0 | 50,5 | 54,0 | 39,50 |
| 6 | 5 | | Rohan Vijay Shandilya | | | IND | 2014 | JHAR (ESDCA) | 7,0 | 49,5 | 54,0 | 37,25 |
| 7 | 6 | | Nath Rupankar | | | IND | 2009 | WB | 7,0 | 49,0 | 53,0 | 39,75 |
| 8 | 3 | | Arindam Mukherjee | | | IND | 2045 | WB | 7,0 | 45,0 | 48,0 | 36,25 |
| 9 | 9 | | Singh Pritam | | | IND | 1928 | JHAR (ESDCA) | 7,0 | 45,0 | 46,5 | 35,50 |
| 10 | 8 | | Ashutosh Kumar | | | IND | 1932 | BIHAR | 6,5 | 51,0 | 55,5 | 34,00 |
| 11 | 18 | | Garima Gaurav | F19 | w | IND | 1690 | BIHAR | 6,5 | 50,5 | 54,5 | 33,00 |
| 12 | 15 | | Kishan Kumar | | | IND | 1747 | BIHAR | 6,5 | 50,5 | 54,0 | 35,25 |
| 13 | 11 | | Sharma Vivek | | | IND | 1853 | BIHAR | 6,5 | 50,0 | 53,0 | 34,75 |
| 14 | 16 | | Basak Bishal | | | IND | 1723 | WB | 6,5 | 48,0 | 51,5 | 34,25 |
| 15 | 23 | | Ayush Das | U17 | | IND | 1514 | WB | 6,5 | 47,5 | 50,5 | 34,25 |
| 16 | 31 | | Bivor Adak | U13 | | IND | 1416 | WB | 6,5 | 47,0 | 51,5 | 34,75 |
| 17 | 14 | | Verma Sanjay | | | IND | 1811 | S.E.Rly | 6,5 | 47,0 | 51,0 | 35,50 |
| 18 | 10 | | Biswajit Chatterjee | | | IND | 1895 | S.E.Rly | 6,5 | 46,0 | 49,0 | 33,75 |
| 19 | 203 | | Shubham Kumar | U19 | | IND | 0 | BIHAR | 6,5 | 46,0 | 48,0 | 32,50 |
| 20 | 12 | | Rajesh Kumar | | | IND | 1832 | S.E.Rly | 6,5 | 45,0 | 48,0 | 33,75 |
| 21 | 49 | | Anirban Nandi | U15 | | IND | 1253 | WB | 6,5 | 44,5 | 47,5 | 33,50 |
| 22 | 50 | | Adhiraj Mitra | U11 | | IND | 1252 | JHAR (ESDCA) | 6,5 | 41,0 | 44,5 | 31,75 |
| 23 | 25 | | Vishal Sharma | U17 | | IND | 1462 | BIHAR | 6,0 | 52,0 | 55,0 | 33,50 |
| 24 | 19 | | Ishant Kumar | U15 | | IND | 1674 | JHAR (Dhanbad) | 6,0 | 49,0 | 53,0 | 33,50 |
| 25 | 20 | | Aman Kumar | | | IND | 1651 | BIHAR | 6,0 | 48,0 | 51,0 | 29,00 |
| 26 | 34 | | Shankhadeep Maity | U17 | | IND | 1388 | WB | 6,0 | 47,0 | 49,5 | 30,50 |
| 27 | 21 | | Sneha Halder | F13 | w | IND | 1589 | WB | 6,0 | 46,5 | 50,5 | 31,50 |
| 28 | 27 | | Raja Bose | | | IND | 1447 | JHAR (Dhanbad) | 6,0 | 46,5 | 50,0 | 30,00 |
| 29 | 35 | | Aniket Narayan Biswas | U17 | | IND | 1349 | WB | 6,0 | 46,5 | 49,5 | 32,00 |
| 30 | 17 | | Sudhakar Prem Dutt | | | IND | 1716 | JHAR (Palamu) | 6,0 | 45,5 | 50,0 | 30,00 |
---